Mornings are lovely – start each one with a cup of coffee, or even a better wake up call, SEX. That's right! If you wake up with your boo right next to you, yet ya'll don't surprise each other in the morning, then you're just not doing your morning any justice. Personally, I do not prefer morning sex. Why? Uhm, maybe because I do not want to be blown away by anybody's nasty breath in the morning. I would rather smell coffee.
Then again, different people, different preferences. So, here are morning sex positions for couples who would still want to hit it before going to the office. Before that, why would anyone have morning sex? Apart from your horny a** needing the attention, sex in the morning is great for many other reasons. Like, it can put you in a constant good mood throughout the day, it's able to boost your energy as well as making you confident, and it helps ease your workday with a lot more efficiency.
So, if you want to experience the ultimate morning pleasure, then please keep on reading to find out how.
1. Spooning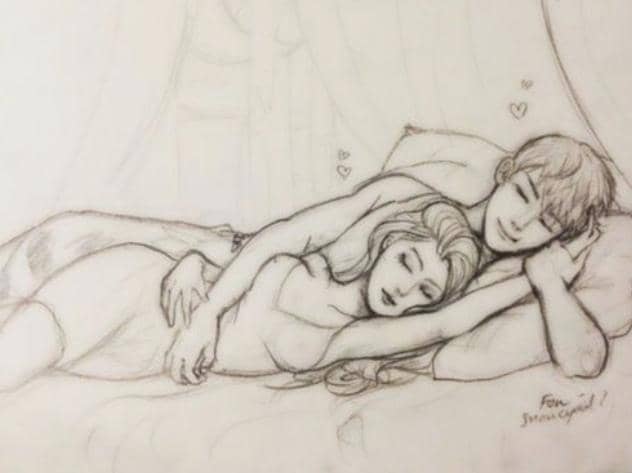 The spooning position is the easiest to do, especially when both of you are just waking up from a cuddling position. Spooning is when you're lying on your side, with your back facing the male's frontal area, and he has his hands wrapped around you. Ladies, if you push you butt in just a little, you can feel that morning bulge and it needs to be treated ASAP.
A comfortable position, yet sexy and one where your partner is able to get full control of your body. Getting some action going with kisses on the back of your neck is just perfect to get your morning going.
2. Missionary 
If you wake up with a strong urge for pleasure that needs to be satisfied instantly, missionary is your answer. A position that allows for deeper penetration and vigorous thrusting. Just wake your partner up and get going, or, you can gradually move from the spooning position to a missionary position. Adds to the pleasure and fun.
Missionary can be done with your legs around his waist or, your legs on his shoulder. Legs on his shoulder definitely gives more exposure and gives way for deeper and faster penetration. This position allows him to see your face – your panting and moaning is definitely going to get him going.
3. Reverse Cowgirl 
If you're feeling super energetic, I say hop on that d*ck, honey! Reverse cowgirl is a great morning sex position and also your man is going to love seeing your a** bouncing on his shaft – that's like his morning wet dream. A great way to start off your morning exercise.
4. Some Shower Action 
Maybe not in bed, but things can get pretty steamy early morning in the shower. Listen ladies, if your man wants to barge in when you're showering in the morning, give the man your permission. There's nothing that drives him wild like seeing you n*ked and wet. If you have a mirror, continue the action in front of a mirror and see yourselves get wet and nasty – that will definitely boost both of your confidence when ya'll see how good you look on each other.
5. The Lotus 
Straddle his waist, and with some gentle bouncing, you can ride to both your highs. This is a soft and what I'd like to say romantic position, because the man can get to hug you while leaving soft trails of kisses around your neck and boobies. It's the perfect morning snuggle and 'f-me' position.
6. Modified Doggy 
A regular doggy-style is too much for a fresh morning sex position, thus, a modified doggy is a better option. Ladies, lay yourself flat on your stomach and have your man tower over you from behind while entering you. Let him lean down against your back and start thrusting away.
This is an amazing position, as there's more friction provided for the clitoris and because your legs are held together, it makes everything down there a little tighter for your man.
So, there ya go. Positions that will change your mornings from hereon after!
More on sex? Read these: