I love to travel and it has always been my dream job to be a journey-alist! Luckily for me, I was in for a treat. Just recently, Lipstiq had the pleasure of visiting none other than Penang's hottest attraction, the ESCAPE theme park! It was a staycation that lasted two days and one night, and was jam-packed with novel experiences.
I was really looking forward to this trip, because it's my first time traveling without my family (so basically, I was in a bus full of strangers!). Just before the journey began, we journalists from different organisations gathered at Centrepoint Bandar Utama at about 7am. I had to wake up super early just to avoid the traffic and reach there on time. Once everyone arrived, we boarded the bus and off we went. The journey took approximately 4 hours or so, including the time we stopped at the RnR spots for toilet breaks. Since it was just a two day and one night thing, the itinerary was pretty simple. Our main focus there was the ESCAPE theme parks' latest attraction. But still, I managed to have some good times with other things (especially food!).
Day 1
The first day in Penang was sort of tiring. Once we arrived, we headed straight to the ESCAPE theme park. It's been ages since I visited Penang, but I could still remember certain places I last visited. The route the bus took was along the seaside. It was definitely beautiful. There were boats and shops along the beach side and the weather was also good, so it was definitely a sight to enjoy.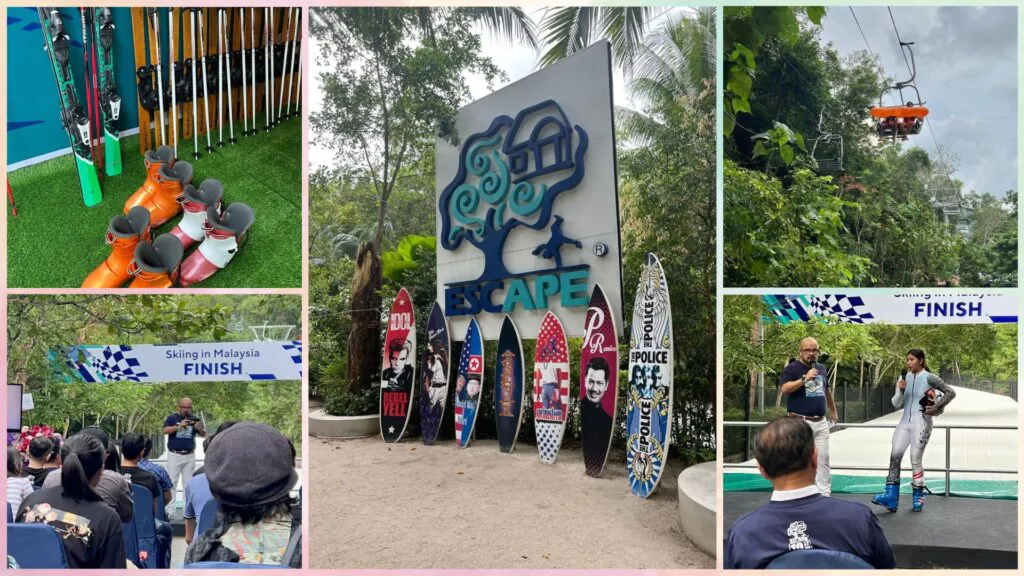 Once we arrived at ESCAPE, we were escorted into the theme park, where we had to walk right to the point of assembly. There, we were given some time to relax, recharge and have our lunch. Lunch was pretty basic, but it was good (or maybe I was just too hungry). Right after lunch, we were supposed to gather for the launch of ESCAPE's two new attractions. Unfortunately, it started raining and we had to wait. The PR people handed us a rain poncho and I was super excited to wear it. But then, the rain stopped!
For the launch, we were welcomed by the emcee of the day, Malaysian actor and comedian, Harith Iskander. Boy, I was super excited to see him. I watched some of his shows online and he's really good with his jokes. Never did I imagine that I'd be standing right next to him! Then there was Aruwin Salehuddin, the Malaysian Alpine Skier who recently competed at the Beijing 2022 Olympics, who showcased her skills at the 302-metre Ski Slope, attesting to the world-class nature of this new attraction. Skiing is definitely not my thing, but watching her ski flawlessly was just mind-blowing. I learned that she started skiing as young as 2!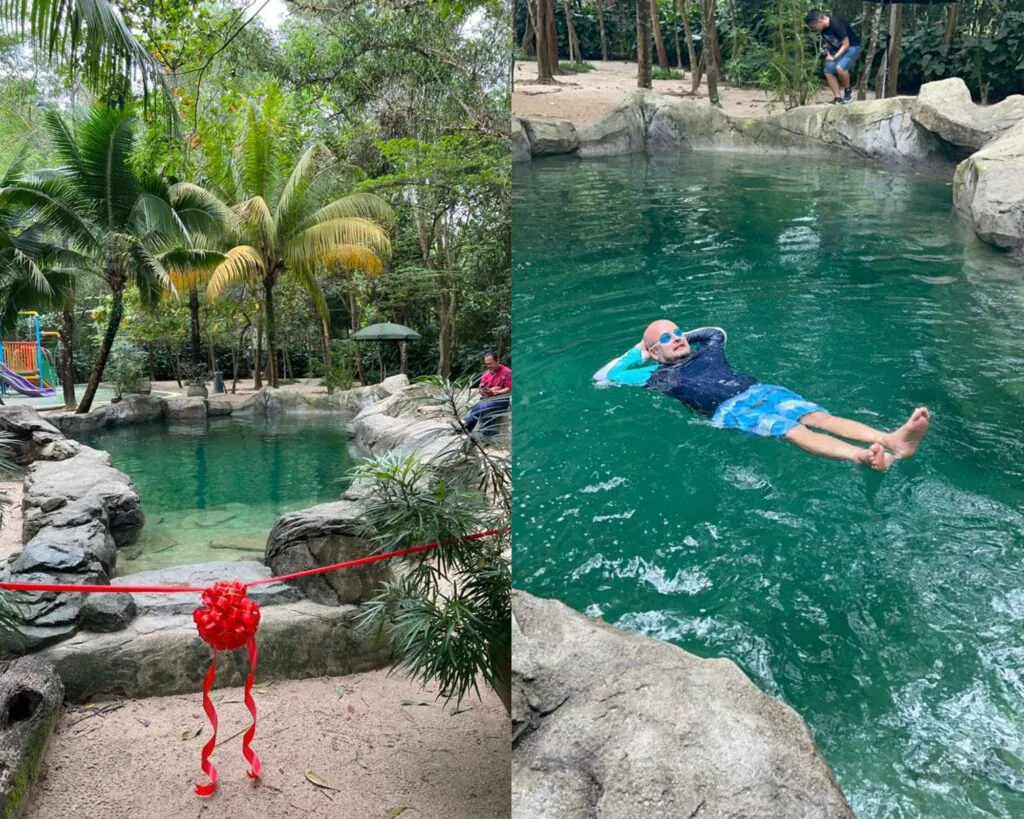 Right after the Ski Slope launch, we headed to the wet area where another new attraction was inaugurated. The Dead Sea Pool ain't like any regular pool. No matter how much you weigh, you basically can't sink. That's because the pool is highly concentrated with salt. Also, you can't just dive in, cause you need to gear up with a pair of goggles. I really wish I had brought my swimming attire, because the pool was just so tempting amidst the hot weather.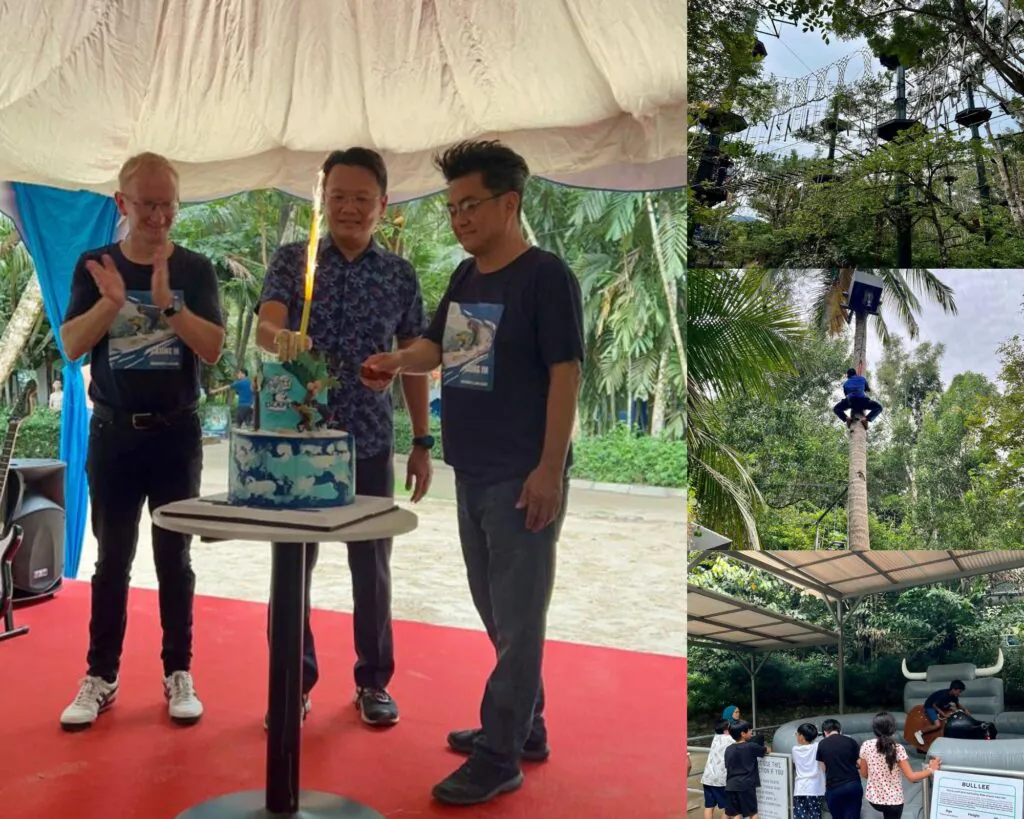 Next, we headed to a tent nearby to celebrate ESCAPE's 10th anniversary. The prominent peeps cut a gorgeous blue cake (which never came to us, btw!) and we had A&W for refreshment. Once we were done, we had time to explore the park a little bit more, before it closed at 6pm. ESCAPE was surely a nice place to be. If you have kids or enjoy being outdoors, this is the ideal place for you. The environment is also beautiful, cooling and very close to nature. You get this beachy, tropical kinda feel there. If I had a chance to head back to Penang, I would definitely visit ESCAPE again.
Jawi House, Penang
From ESCAPE, we headed straight for dinner. After a long day of travelling, all you want is a place where you can unwind. And at Jawi House, I experienced that. Just a short distance from Armenian Street's popular tourist attraction (mural art), there's a modest café cum art gallery within. This place does not only serve good food, but almost every corner of it is Insta-worthy, making entering it feel like entering a time vortex that transports you to the centre of Peranakan culture. The atmosphere had a homey, laid-back air, and the food was reasonably priced. Also, I was impressed with the sincere service provided by their articulate personnel. Note that there are two parts to the restaurant – one side is the main dining area and right next to it is a bigger space which is great for bigger groups.
Since food is kinda my thing, it would be a sin not to talk about it. So here we go.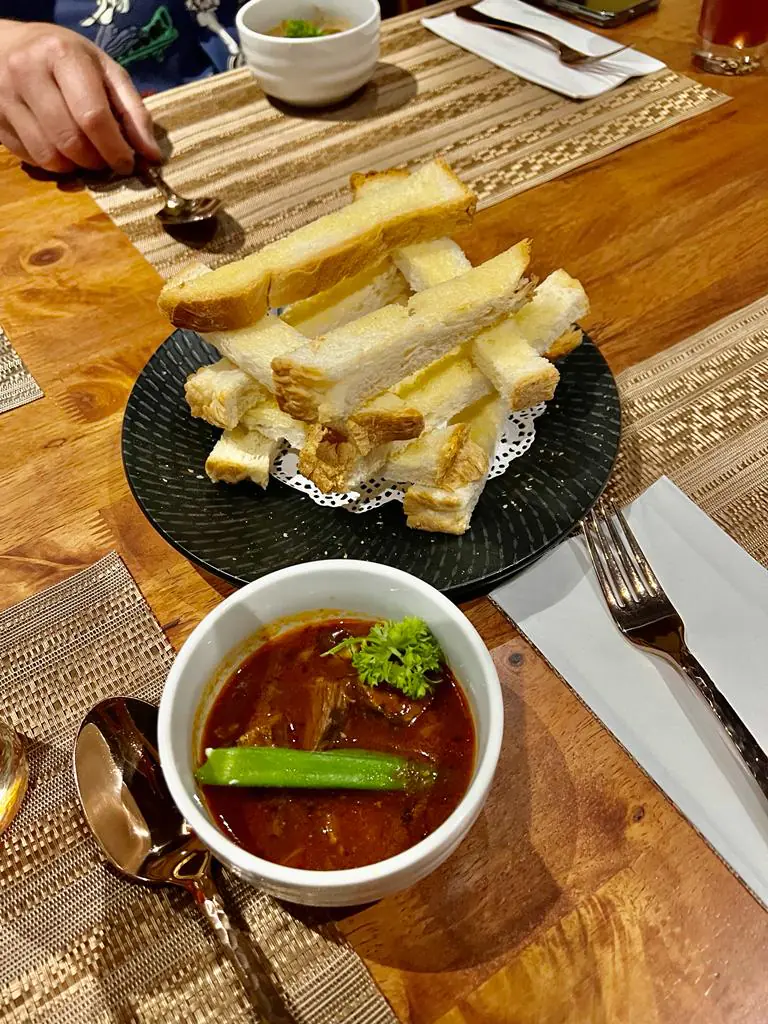 We were served with a full-course Peranakan meal, starting from an appetizer right up to a dessert. For the appetizer, we had Lamb Banieh. This Jawi Peranakan tomato-based stew is prepared using boneless lamb and served with okra and Benggali breadsticks. The stew itself is quite flavorful and lacked any unsavoury gamey lamb flavour. I really love this simply stew and it almost tastes like Indian lamb curry. The lamb was tender and the flavour was really great. It had a hint of spiciness and you can taste the spices from the stew. The breadsticks were really crispy. You can eat it as it is, or dip it into the stew.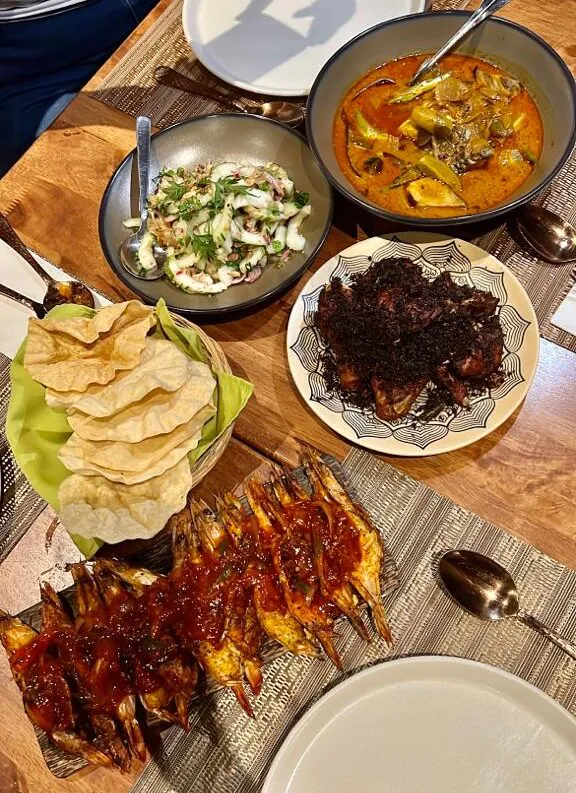 For mains, we had two types of rice: Nasi Lemuni and Nasi Kacang; Fish Curry with Okra, Fried Chicken with Rempah, Grilled Prawn Sambal, Cucumber Kerabu and Papadom. The Lemuni Rice is one of their best-selling and distinctive meals. Lemuni (Vitex trifolia) leaves, blue telang flowers, garlic, ginger, lemongrass, onions, and coconut milk are used to prepare the rice. In Penang, this meal is not frequently served. That is probably why it is the most popular signature meal. As for the Nasi Kacang, the rice is cooked with lentils, and flavoured with fresh turmeric, herbs, lemongrass, onions and coconut milk. Both rice dishes have their distinctive flavours and fragrances, and they were perfectly cooked as well.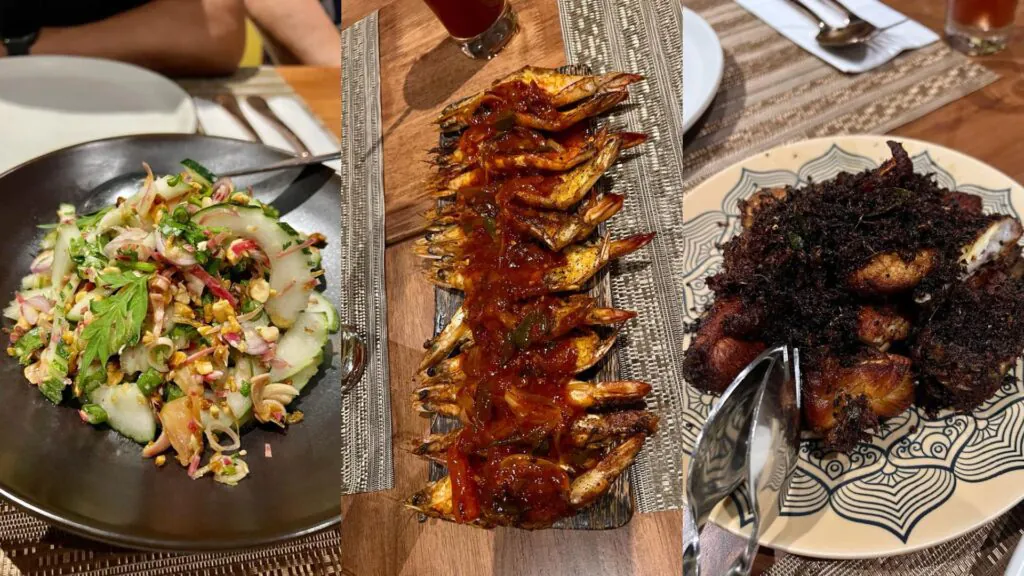 I went with the Lemuni Rice and I paired my rice with the Fish Curry and Okra. The fish curry is made using the fish of the day. For those who don't enjoy eating fish because of the bones, this meal is perfect for you because they use boneless fillet in mild curry sauce with coconut milk, onion, tomatos, herbs and spices. I really loved this dish and would say it's one of my favourites. This fish curry reminded me of home and how my mum would cook fish curry. It's creamy, not too sour and not too spicy. The fish curry at Jawi House really tickled my taste buds and I very much enjoyed it.
The Fried Chicken with Rempah was also not that bad. It was fried to perfection, crispy on the outside and juicy on the inside. Next up was also one of my favourites, Grilled Prawn Sambal. The prawns are grilled with butter, spices and mint and topped with spicy sambal. It sure was spicy, cause I was hissing a lot, but it was finger licking good. The best part of eating the grilled prawns is that they're already peeled! All you have to do is scoop the prawn meat and enjoy. Then there's the Cucumber Kerabu. Kerabu is basically a Malay salad that combines green mango strips, chilies, lemongrass, ginger, coriander, dried shrimp and peanuts, tossed in light sweet and sour dressing. As for Jawi House's kerabu, everything is about it is the same – but with cucumber added to the mix. I don't eat kerabu very much, but I did, however, enjoy this one. It was refreshing and goes really well with rice. I liked the crunchy peanuts in the salad especially.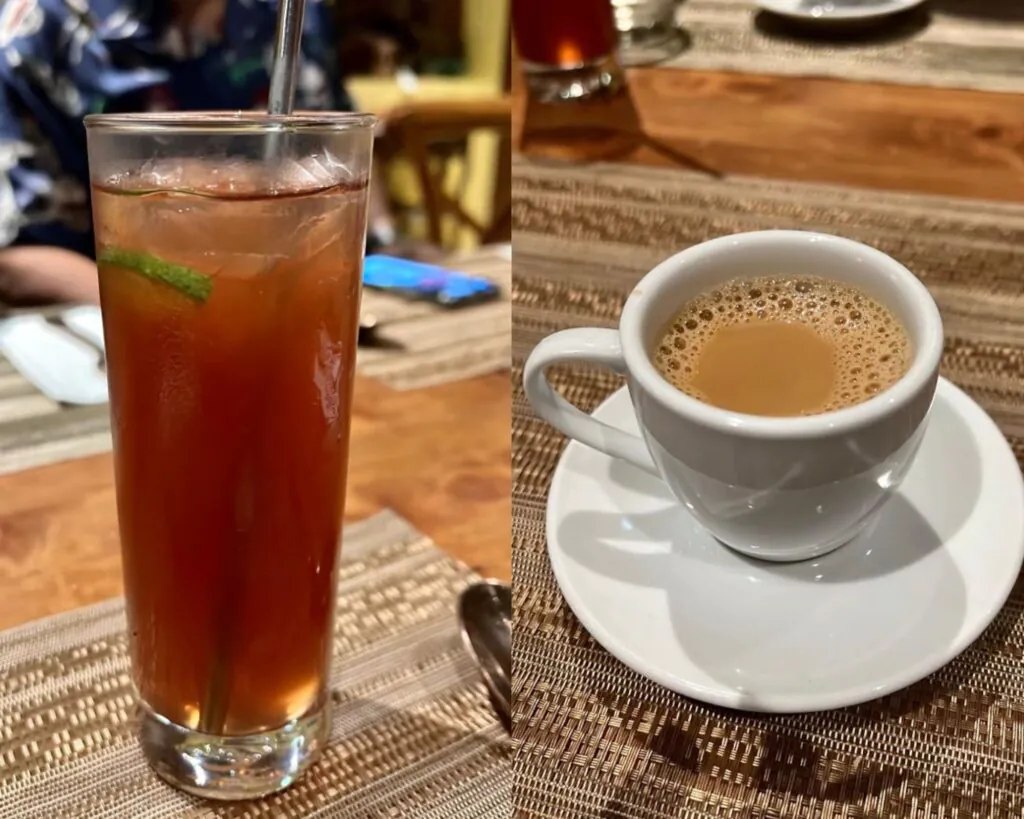 For drinks, we had Penang Nutmeg and Teh Tarik. Actually, I didn't know it was nutmeg juice until the server told us. Nutmeg has this warm and nutty flavour with notes of clove. Spicy drinks are not my thing. But I'll admit, the nutmeg juice wasn't all that bad. It tasted more like 'asam jawa' rather than a spice drink. Forget nutmeg juice, you're not Malaysian if you don't go crazy over teh tarik. I was craving tea the entire day and finally, I got one. Jawi House's teh tarik was just amazing. Although I wish the glass was bigger (not that I'm ungrateful), this tiny cuppa of tea carried a strong flavour of tea. I'm not sure what kind of tea they used, but I could taste and smell a hint of roses.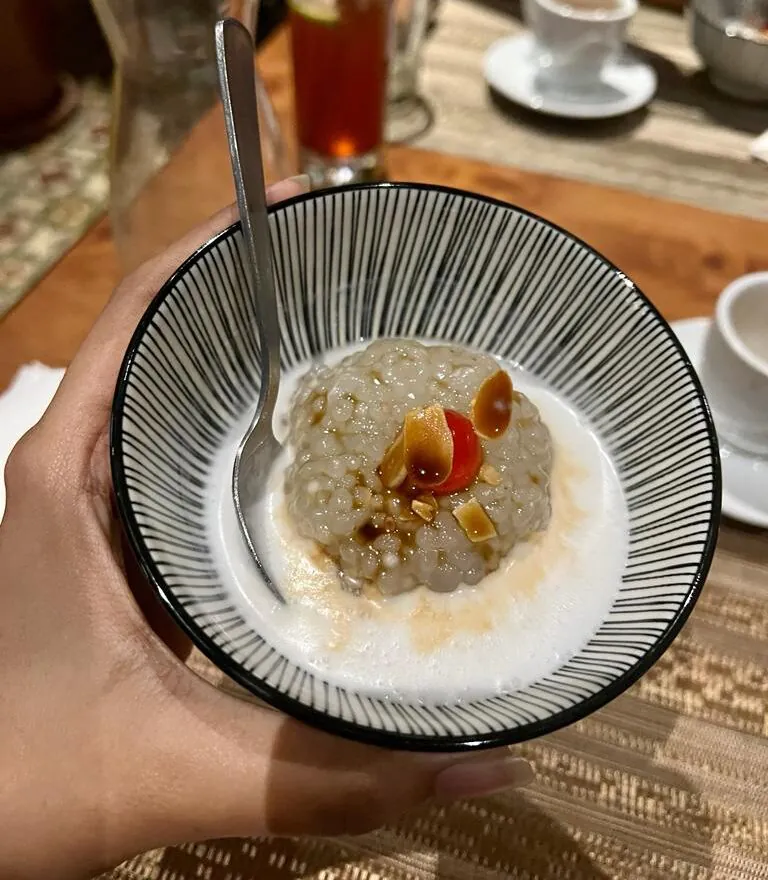 Last but not least, dessert. For dessert, we had Sago Pudding. The starch pearls from sagu palm, served with coconut milk and palm sugar, is sweet enough to give you a sugar rush. The taste was really authentic and I really, really enjoyed my dessert. Overall, the meal at Jawi House was amazing and for those in Penang or heading to Penang, you better check this place out.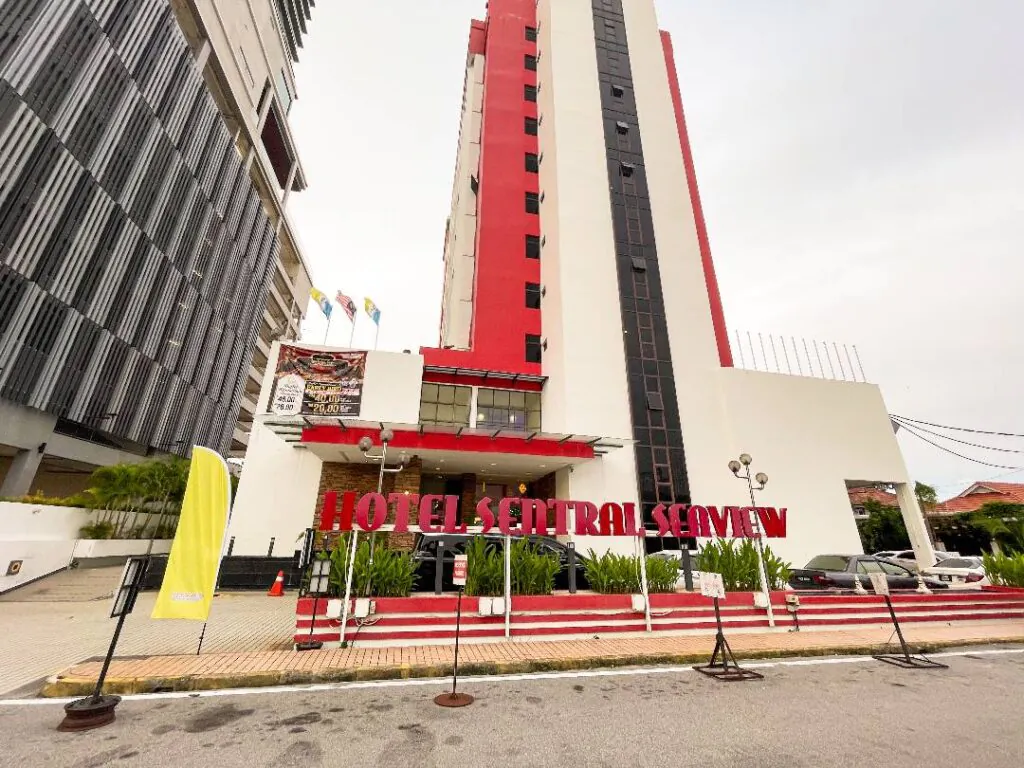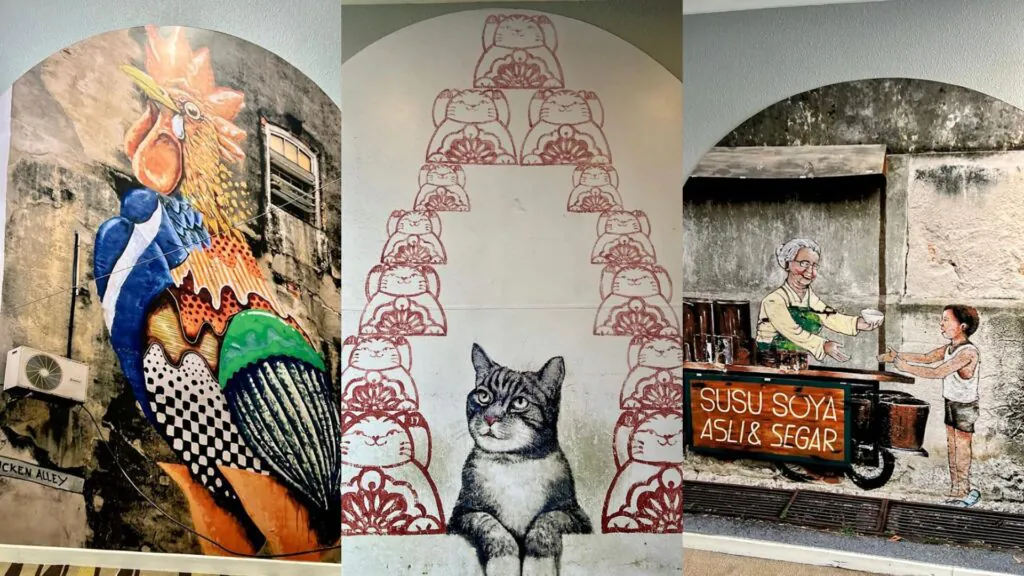 That was basically the end of Day 1. We checked into Hotel Sentral Seaview Penang for the night and most of us dozed off after a long, tiring day (definitely not me, cause the room was creepy AF!). The hotel rooms were okay, but I feel like they could upgrade, cause it felt dim and dull. The only thing I liked about the hotel was probably the murals on the wall.
Day 2
The next morning, we had ample time to sleep in. I was just too hungry and decided to have breakfast early, which I regretted. The breakfast at Hotel Sentral Penang was basic, but I felt like they could have done so much better. The thing with me and hotels is that I prefer having Western or American breakfasts, because you can always get Nasi Lemak and Mee Goreng every other day. My go-to breakfast is always cereal with milk, toasted bread, red beans and salad. So, I started off with toasted bread and red beans. I was extremely disappointed cause the red beans were cold as ice! So, f*ck breakfast – I decided to take a walk at the beach.
The beach is located right behind the hotel and there are two ways to head there. One, you go through the pool area and the other, you walk out of the hotel and take the road on the left. For some reason, there was quite a number of people there on that day. I took a stroll on the beach, wet my legs and was picking up some shells. The weather was great and the sun was shining so brightly – I really felt like I needed the view. Also, the beach was really clean.
After spending an hour at the beach, I headed back to my room, grabbed my bag and checked out of the hotel. I'll credit the hotel for the beach, but not for the rooms and breakfast. After boarding the bus, we headed into town for lunch before leaving.
The Table &  Co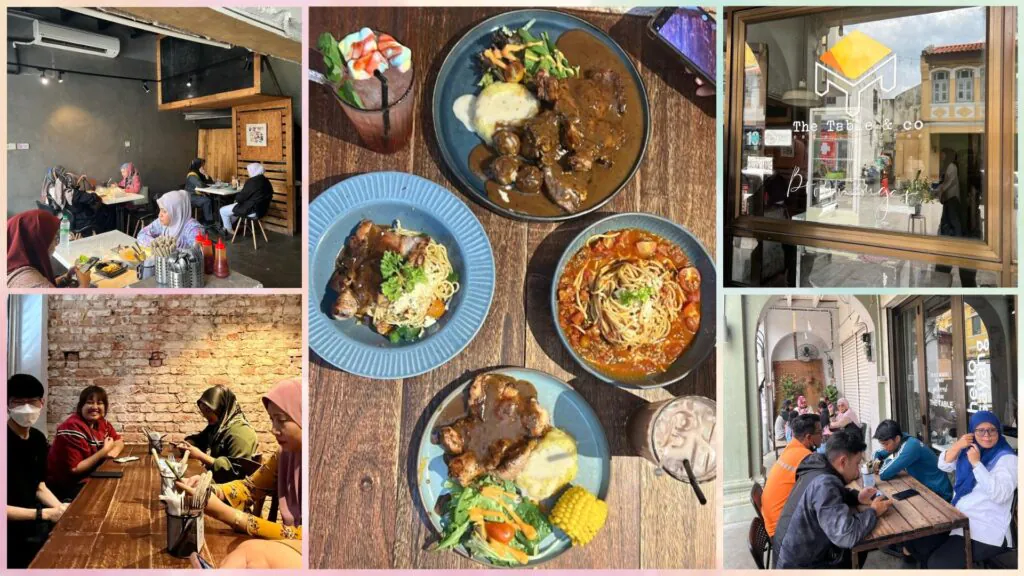 The Table Penang is a little café that is close to the intersection at 27, Lebuh Carnarvon. It's one of the few halal restaurants in Georgetown that serves Western cuisine. Since the café is located along a narrow road, driving there could be a hassle since you'll most likely struggle to get parking. For us, the bus decided to drop us off by the roadside and we had to cross the road to head to the café. If you love aesthetic vibes, this spot is ideal for you. The brick walls, spiral stairs and wooden tables made it a unique and aesthetic place to dine in.
The café has two floors. And by small, I really mean small. If you're going with big groups, best book beforehand cause they don't always cater for big groups. Our group was big, and we ordered our food the night before and we had a closed seating area. Since breakfast didn't go so well for me, I decided to try my Western luck at this café. So, I ordered the classic Bolognese Beef Spaghetti and Iced Lemon Tea. The spaghetti here is to die for. It looks like a lot, but seriously, with just a few slurps, I was done! A generous amount of gravy, chunks of meat in every bite, grated parmesan and freshly chopped cherry tomatoes, made this meal hearty and delightful.
And that's about it. Two days in Penang with a one-of-a-kind experience. I really wish there was more time to explore Penang, seeing that the architecture there was amazing and there were countless tourist spots. I do hope I get the chance to head to Penang and play tourist again soon.
More on travels? Read: