As much as it's exciting to travel across the world and see the sights, you have to admit, the most dreadful part of travelling is… travelling. Of course, getting there is half the fun, or so they say. But if there were a means for us to just teleport to a destination, I'd be the first to do it.
And don't get me started on the hassle of taking a flight. The stress that our skin goes through on flights is just devastating. Sitting on a plane for hours in dry, recycled air can take a toll on your largest organ. Find out how:
How Does Air Travel Affect Your Skin?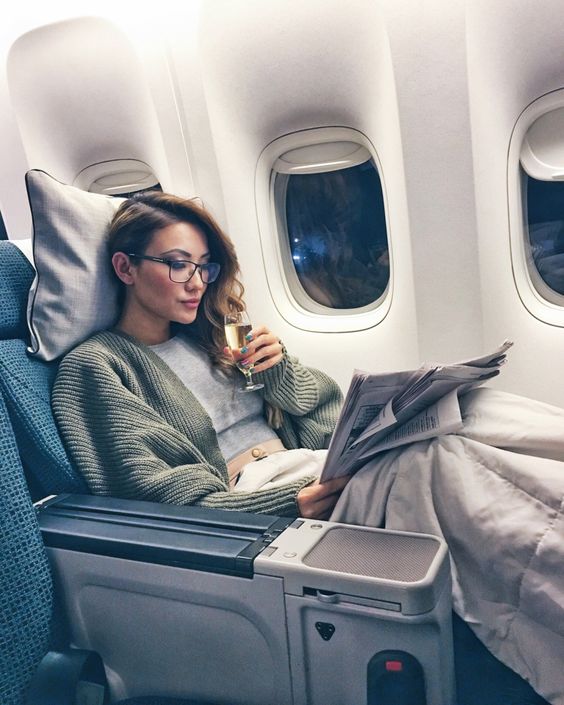 Because flight cabins often have extremely low humidity, you are quite likely to have dry and parched skin. Low humidity draws moisture from the deepest layers of your skin, making a dry complexion seem and feel more dry. If you have oily skin, on the other hand, the absence of moisture in your skin will cause your face to get greasier since there is no moisture to pull from your skin.
Thus, it's safe to say that airplanes can definitely cause chaos on all skin types.
But there's a solution to this problem. If you've already booked your next ticket for your holiday and are concerned about how your skin will fare throughout the flight, we've made your life a lot easier by providing you with tips on how to take care of your skin before and during your flight.
Before Take Off 
Prep Your Skin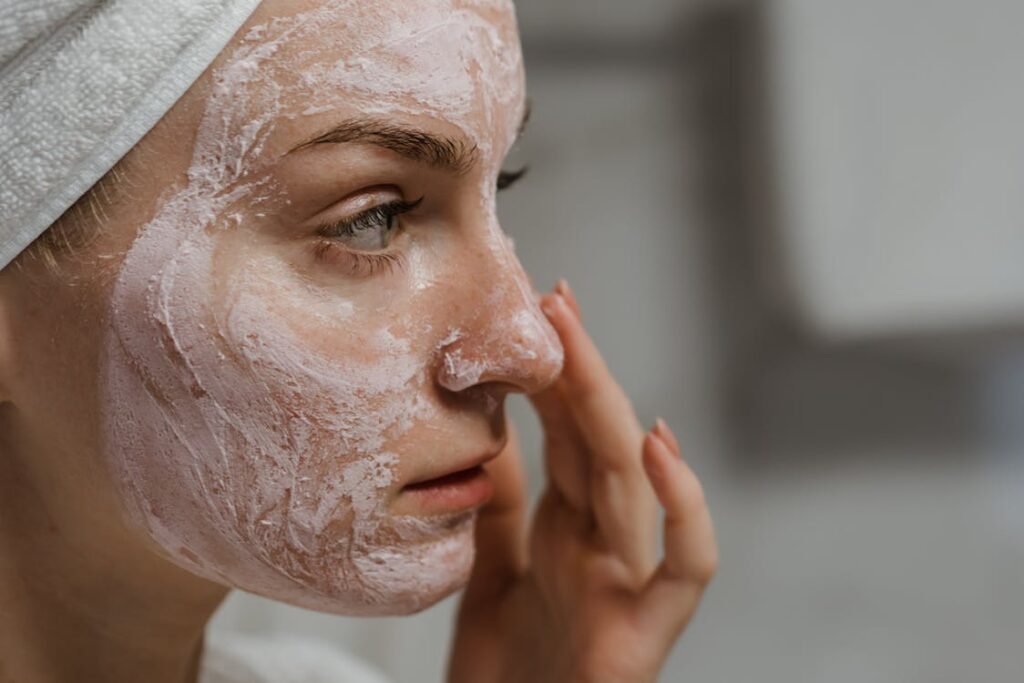 Prepping your skin before your flight is extremely crucial considering that you basically need to pack everything your skin needs before you board your flight. Getting a good night's sleep before leaving for the airport, as well as following your skincare regimen from beginning to end, is critical to preventing your skin from being overly dry on the flight.
Pro Tip: Load up your skin with deep-hydrating products such as toner and moisturizer, and lock it all up with your go-to sunscreen to seal all of that moisture in.
Try To Get A Window Seat During Check-In
Getting a window seat is vital to controlling the amount of UV rays you're getting throughout the flight. Hence, why sunscreen is so important and should be the last step in your skincare routine. When you're on an aircraft, you're quite near the sun, which can cause rapid skin ageing and even increase your chances of acquiring skin cancer. So if you're by the window, you can close the shade and protect yourself from the harmful UV lights.
During Flight
Sanitise Your Seat
Go Naomi Campbell when you arrive at your seat. Sanitise TF out of your area, because you can only imagine how much germs, dirt, grime and oil is on that seat. Just use a pack of disinfectant wipes, and wipe every surface area you can before you take a seat and settle for a long journey to your well-deserved vacation.
Wear A Face Mask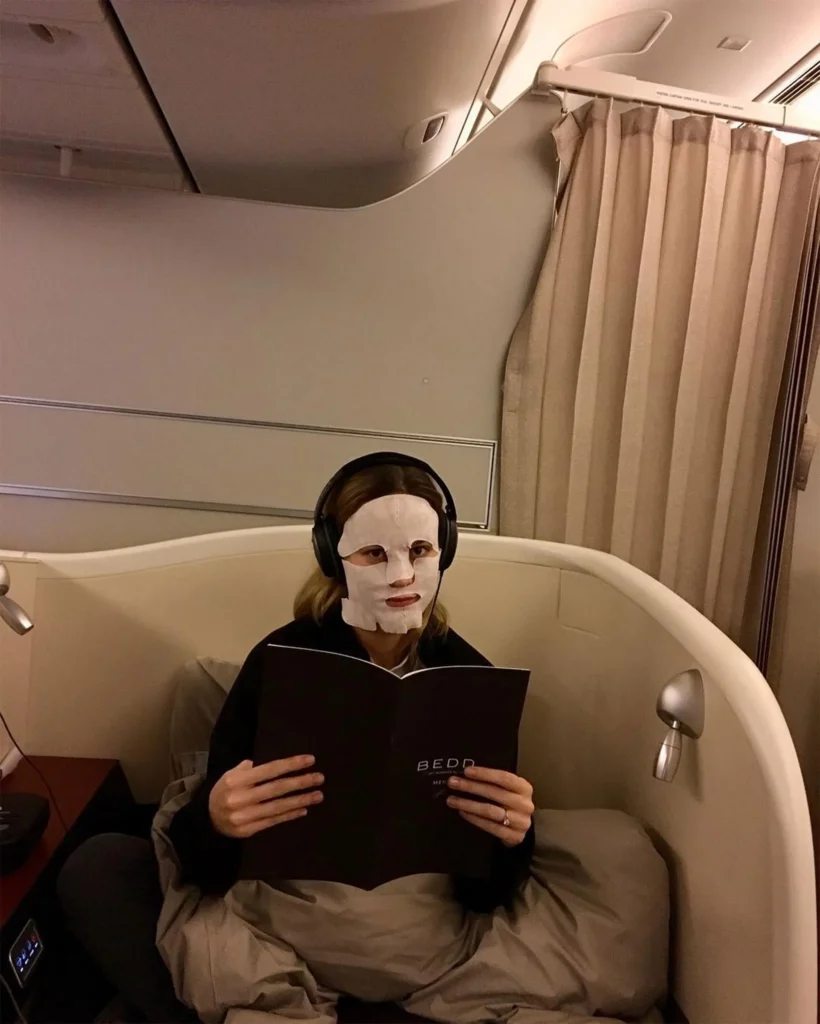 If you don't want to startle your neighbours, skip this step and instead, use a moisturising serum every hour during your journey. If you absolutely don't care, smother your skin with a deep-hydrating face mask. Your skin is much more valuable in your life than how others see you, so face mask all the way, sis. Plus, landing with deeply hydrated and nourished skin is the goal here to start your vacation with.
Drink Lots Of Water
Do not skip on hydration. And drink only water – no alcohol, soda or even fruit juice. It is critical that you keep your body hydrated at all times during your travel. Not only does your skin require it, but so do your interior cells, so drink plenty of water when flying.
Get Some Much Needed Rest And Stretch Whenever You Can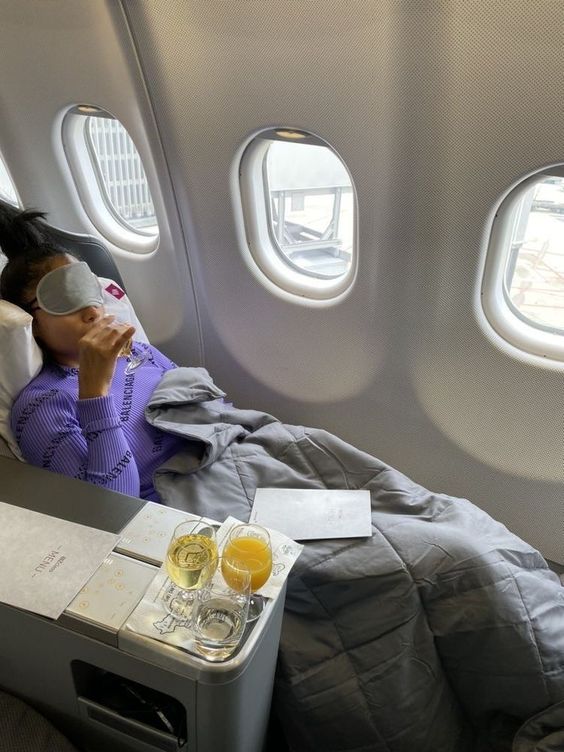 With long hours on the plane, you may as well rest before beginning your vacation the instant your plane touches down. Bring an eye-pillow and a blanket, and you'll be able to get the rest you need. Also, depending on the length of your trip, stretch your limbs to ensure that all of the blood in your body is adequately circulated. If necessary, walk along the aisle. Avoid sitting for extended periods of time to avoid feeling sluggish at the end of your journey.
More on skincare? Read these:
Putryana Is A Malaysian Nano-Tech Skincare Line & We're OBSESSED!