Nowadays, it seems a little odd if a celebrity doesn't endorse a beauty product. Beauty is, after all, a huge industry. Therefore, it should come as no surprise that an increasing number of celebrities are launching their own cosmetic lines and dipping their toes into the beauty industry.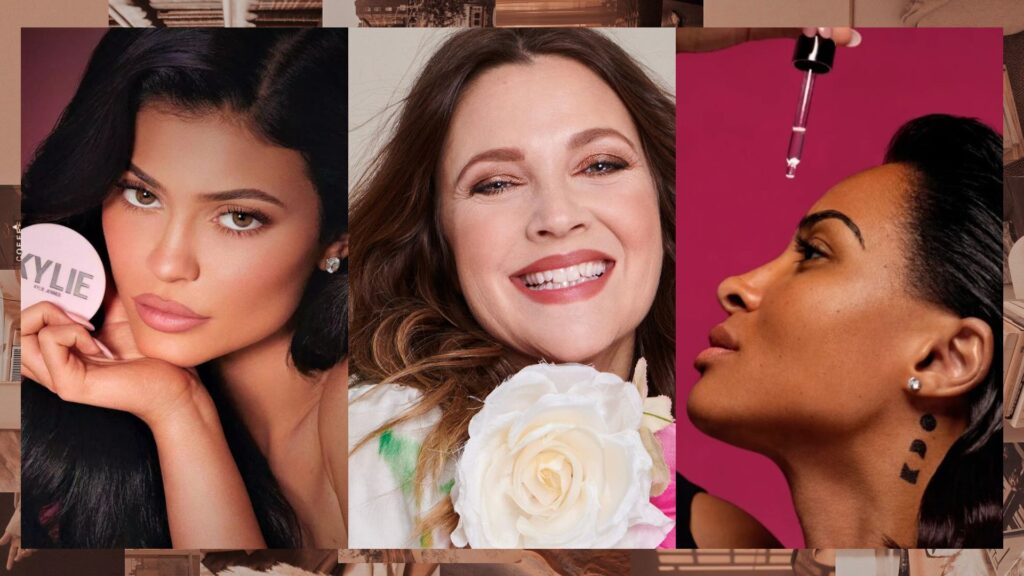 This increase in celebrity-owned businesses began in 2020, when Halsey and Jennifer Lopez opened their own businesses five days after the start of the year. Then, it picked up momentum with OAM Skin from Ciara; Golf le Fleur, Tyler the Creator's nail and fragrance business; Know Beauty, a partnership between Vanessa Hudgens and Madison Beer, and Anomaly, Priyanka Chopra Jonas' hair-care line.
Countless of celeb beauty brands are in the making, but we believe that the following cosmetic brands are deserving of the buzz, whether it's to make your face glow or to make you pop with additional colours.
Ariana Grande, a supreme vocalist, accomplished actress, eager mentor (she serves as a coach on The Voice), and successful businesswoman, has dabbled in every aspect of the entertainment industry. Now, the singer, known by her stage name Ari, is debuting a brand-new project: her eagerly anticipated beauty line.
Ariana Grande's r.e.m. beauty, which is named for the deep sleep state in which "your most imaginative, unlimited, and vivid dreams occur," exhorts us to make our dreams come true by using these cosmetics! You can purchase tools to mimic the singer's characteristic makeup, including her dramatic cat-eye, long lashes, and nude lip. Ariana's vision for her beauty brand is to be able to create a product line for absolutely everybody and anybody who wants to wear it and feel incredible. To her, makeup is so personal and to have the opportunity to help people feel even more beautiful than they already are in their own skin, and also to provide tools that support and encourage people in their creativity and self-expression, is a gift that she'll never take for granted.
Lady Gaga, a pop icon, used her appeal to add her perspective on inclusive beauty to the discussion. Making self-love the cornerstone of her Haus Labs brand, the mental health advocate has always been outspoken about her own struggles with anxiety, bullying, melancholy, and post-traumatic stress disorder. It debuted exclusively on Amazon in September 2019 and was inspired by her own journey with beauty. The goal of Haus Labs, a vegan and cruelty-free cosmetics company, is to promote generosity, fearlessness, and creativity. This collection features high-impact eye makeup, lipsticks, highlighters, and other adaptable products that encourage self-expression.
This year, Haus Labs by Lady Gaga was relaunched with 90 items in seven categories, which are not meant to make you look more like, well, Lady Gaga, with her stage cosmetics, or her red carpet makeup. Of course, the star uses this make up on stage, but she wants this makeup to stand out from the competition and be accessible to all women. The line contains supercharged components and skin care ingredients.
We know Alicia Keys has amazing skin, since she's gone barefaced on the red carpet and award shows. But were we shocked when she revealed she was starting a new beauty line? I won't say that we weren't. A few years ago, Alicia Keys declared that she would stop wearing cosmetics. Since then, she has continued to maintain a dewy, scarcely there, skin-focused makeup look. When it comes to internal beauty, glass packaging, nourishing the mind and soul, and adding a serum to your routine, her line – Keys Soulcare – could be compared to an improved version of crunchy granola.
She made it clear, though, that she isn't against makeup; she just doesn't appreciate being forced to wear it. The brand first concentrated on ritualistic, sensory goods like face masks, cleansing balms, and touch-your-skin-connect-to-humanity things. With products like the Golden Cleanser, Comforting Balm, Be Luminous Exfoliator, Skin Transformation Cream, and Harmony Mask, as well as the introduction of tools to improve your self-care, like the Sage + Oat Milk Candle and the Obsidian facial roller, her line is intended to improve the health of the skin.
Despite the fact that Keys' debut of makeup caught us off guard, the items are generally in line with what you might anticipate from the famous person who shuns makeup: If you prefer to use a tool instead of your fingers to apply your makeup, include a cheek brush, tinted lip balm, clear brow gel, illuminating primer, and cream blush. Consider using them as products on days when you wear minimal makeup. My five-minute, everyday cosmetic routine only requires a dab of concealer.
This, too, is not your typical celebrity-endorsed beauty line. Selena Gomez, a singer and actress, founded Rare Beauty in an effort to challenge people's preconceived notions of beauty. The feel-good blushers, weightless foundations, and glosses were developed with everyone in mind, but they are also a celebration of makeup rather than a way to hide your individuality. Rare Beauty doesn't make an effort to hide its true nature. In fact, the brand focuses mostly on straightforward, user-friendly makeup.
Rare Beauty is dismantling irrational ideals of perfection. ​Because Rare Beauty is about being who you are and not trying to be someone else, this makeup is designed to help you feel beautiful without masking what makes you distinctive. By redefining what beautiful is, Rare Beauty is on a mission to empower everyone to celebrate their uniqueness. The company's goal is to encourage self-acceptance and provide people with the resources they require to feel less isolated in the world. ​
The fact that all of Rare Beauty's products are vegan and cruelty-free is one of its finest features. As a result, you can use them with confidence, knowing that no animals were harmed during their development. Selena has always had a strong commitment to animal rights, and she is thrilled to use Rare Beauty to share her enthusiasm with her audience.
Selena Gomez is pleased with Rare Beauty, because it wasn't made with harsh chemicals or parabens. You can use these products with confidence knowing that you're doing something good for your skin because they have been dermatologically tested and are cruelty-free.
When Rihanna, a.k.a Badgalriri, debuted her own cosmetics line, Fenty Beauty, in September 2017, she established a new benchmark for the beauty sector by catering to a wide spectrum of skin tones that had previously gone unnoticed. After years of trying with the finest in beauty, Rihanna was motivated to launch Fenty Beauty because she continued to notice a need in the market for products that worked well on all skin tones and types. She started a makeup collection to make sure that everyone could be represented, concentrating on a variety of typically difficult-to-match skin tones, developing formulations that are effective on all skin types, and identifying common hues.
Since then, Rihanna has released 50 concealer colour options to go along with the Pro Filt'R foundation line's 50 existing tones. Rihanna's strong emphasis on inclusivity and high-quality products has disrupted the beauty industry, causing other brands to scramble to catch up. She has released eight bronzer shades that cater to the fairest to the deepest of skin tones and has models of different skin tones front marketing campaigns. The lightweight texture of Fenty Beauty products is intended to make skin look as natural as possible while simultaneously providing buildable coverage that layers easily.
As of 2020, the singer has introduced a new line of skincare products under the name Fenty Skin, including body moisturizers, cleansers, and more. The goal of Fenty Skin's intelligent skincare is to treat, smoothen, and tighten the appearance of pores day and night, under makeup, and over time. For smoother, brighter, and tighter-looking skin, Fenty Skin addresses the one factor that alters everything. You'll notice smoother skin and a brighter, more even tone when you consistently use Fenty skin. Just wash, treat, and repeat. Always pure, animal-free, and gluten-free. More refillable packaging, recyclable materials, and post-consumer recycled materials than ever before make this product sleek, environmentally conscientious, and luxurious.
Gwen Stefani— GXVE  
Inspired by Gwen Stefani's legendary looks and years of performing onstage with her own makeup. GXVE is where performance meets play. High-payoff formulas with a high level of artistry were developed for cosmetics enthusiasts who wish to use makeup to show off their creativity and personality. Its purpose is to uncover the remarkable in the commonplace. For people who enjoy playing around, washing it all off, and starting over. For people who don't mind turning up the volume.
GXVE's simple-to-use products are designed for every role you wish to play, from the stage to school drop-off or a night out, and everything in between. They also have wearable hues and splashes of colour. Their high-impact products provide budge-proof colour with considerable staying power, wearing comfortably wherever the day takes you. They range from sweat-proof brow pencils to waterproof eyeliner.
GXVE contends that clean makeup need not be understated. Its formulations are strong and expressive, with vibrant colour payoff that won't budge. They are also free of parabens, phthalates, sulphates, and synthetic perfumes and are 100% vegan and cruelty-free. Materials that are sustainable are used to make GXVE goods. Their main containers are composed of sustainable materials like PCR (post-consumer recycled) plastic or glass, while their outer boxes are 100% recyclable and constructed of FSC-certified paperboard.
More on celebrity? Read: