The #ForeverGuilty universe continues to pursue a liberated notion of passion, with Gucci Guilty Parfum Pour Homme and Gucci Guilty Eau de Parfum Intense Pour Femme. Launching in time for Valentine's Day, the scents reinterpret the classic Gucci Guilty fragrances in a move that elevates the perfumes and their packaging to higher levels of intensity.
For those looking for a declaration of love free from the rules and definitions of society, the two scents are designed to act as emblems of the connection between like-minded, eccentric lovers. In the campaign featuring #ForeverGuilty protagonists Jared Leto and Lana Del Rey, the Woody Aromatic Ambery scent for him and the Ambery Floral Woody scent for her are redressed in block metallic shades of dark anthracite and powerful bronze, and placed within a new vintage diner setting.
Gucci Guilty Parfum Pour Homme – For Him (RM560)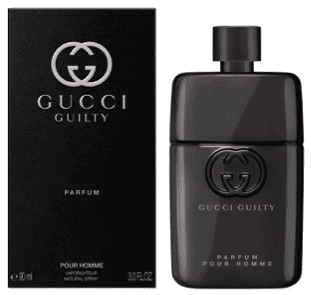 Gucci Guilty Parfum Pour Homme is a Woody Aromatic Ambery fragrance that magnifies the true essence of the Gucci Guilty Pour Homme signature. A new and intense vision of masculinity, Gucci Guilty Parfum Pour Homme opens with a lighter, milder and more modernised aromatic hook of French Lavandin Abrialis and uplifting Lemon Sfumatrice that combine perfectly with the intensity of Juniper. The true essence of Gucci Guilty Pour Homme is magnified at the heart with the deep ambery signature of Spanish Cistus, combined with the floral richness of Orange Flower and a spicy hint of Nutmeg. Finally, the mysterious elegance of Indonesian Patchouli is reinforced with the long-lasting sensation of Dry Woods and Musks.
Gucci Guilty Eau de Parfum Intense Pour Femme – For Her (RM585)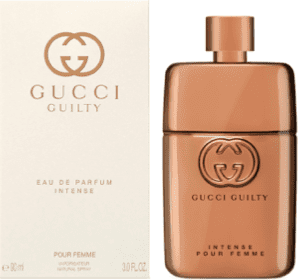 Gucci Guilty Eau de Parfum Intense Pour Femme is an Ambery Floral Woody fragrance that rewrites the Gucci Guilty Pour Femme signature's essential core. The bold vibrancy of Mandora and the generosity of Lychee come together to modernise the cosmetic touch provided by notes of Violet. At its heart, an audacious floral bouquet of Ylang Ylang and Tuberose is enhanced by the mysterious sensuality of a dark Plum accord. Finally, the empowered woody effect of Patchouli and Vetiver meet the indulgence of Vanilla for a bold, long-lasting feminine signature.