No matter what season it may be, there's only one that every Malaysian eagerly anticipates – DURIAN season. No Malaysian can deny their love for the King of Fruits. Hard and thorny on the outside, but soft and yellow on the inside, this fruit has a spot in every Malaysian's heart.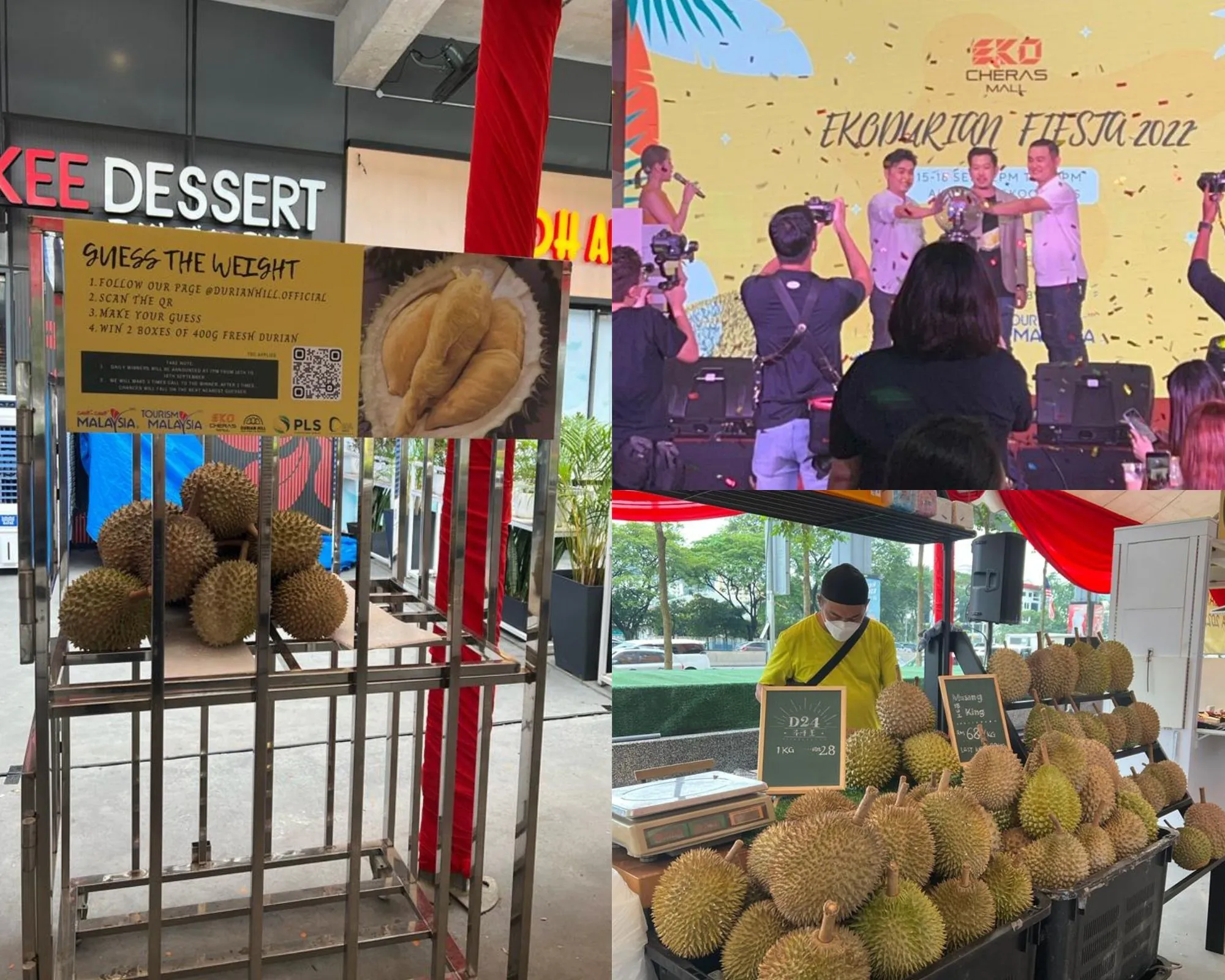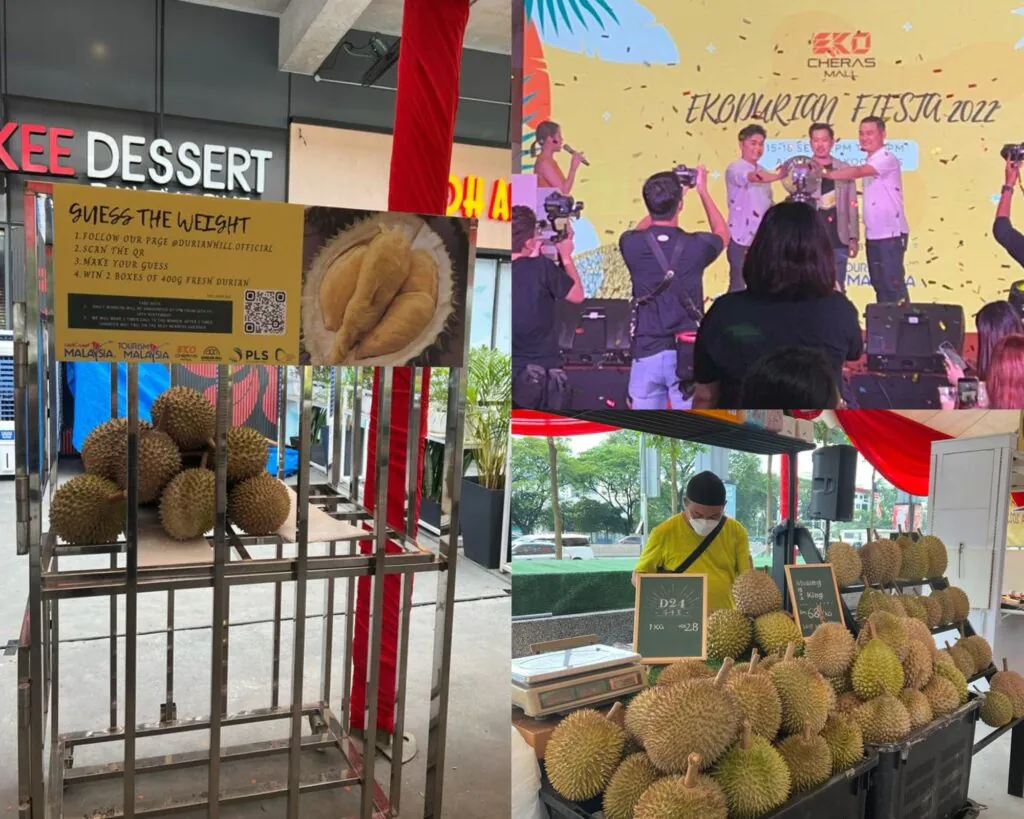 Well aware of this, Durian Hill returned last week with another exciting durian extravaganza, to delight the fruit's fans. Held in collaboration with Eko Cheras last week, the EkoDurian Fiesta 2022 celebrated Mid-Year Season Phase 2 Durians.
Running from 15 to 18 September at Alfresco Eko Cheras, the event saw various performances, a speech by chief guests from FAMA, MOTAC and MOA, and a mouth-watering durian feast. It was indeed a fun-filled and wonderful event, as guests indulged in activities and of course, had lots and lots of durian. From Red Prawn to D24 and Musang King, assorted durians were available for guests to try and purchase.
EkoDurian X Duke Fine Durian and Hannah & Nooj Ice Cream
Have you ever tried durian fine-dining? If your answer is nope, then you need to try it ASAP! Ever since its opening, I've always wanted to try some of the pastries offered at Duke Fine Durian. Why? Simply because I know I wouldn't regret it. For the Fiesta, the cafe served durian in a variety of surprising forms – pastries, cakes and iced latte!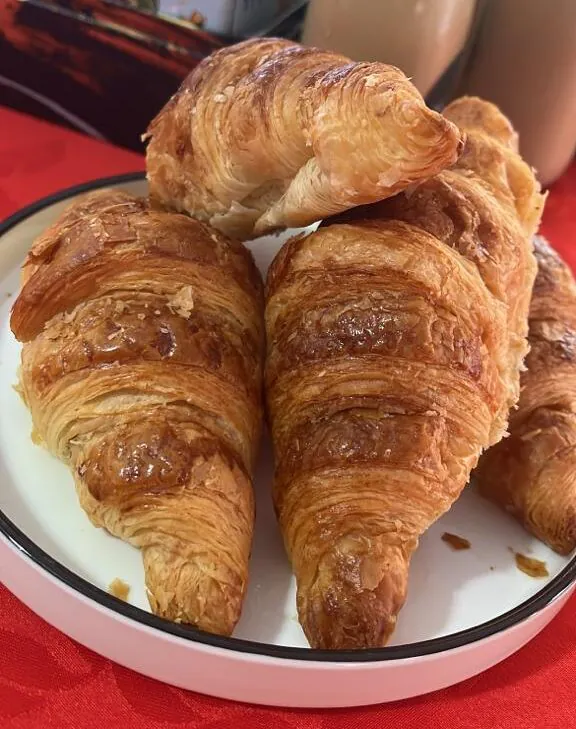 Generally, I love having durian as it is, not in cakes or puff pastries – but I think I've changed my mind! I started off my Fiesta adventure with the Durian Croissant. It was big, flaky and smelled just like any other croissant. The twist was that it contained a generous amount of Musang King filling. Taking bites from the croissant, I had this warm and cozy feeling. The durian filling was super rich, creamy and sweet. The best part is, it didn't taste synthetic at all. Like, legit, it felt like eating an actual durian. I would say it's a hearty pastry and I really enjoyed it.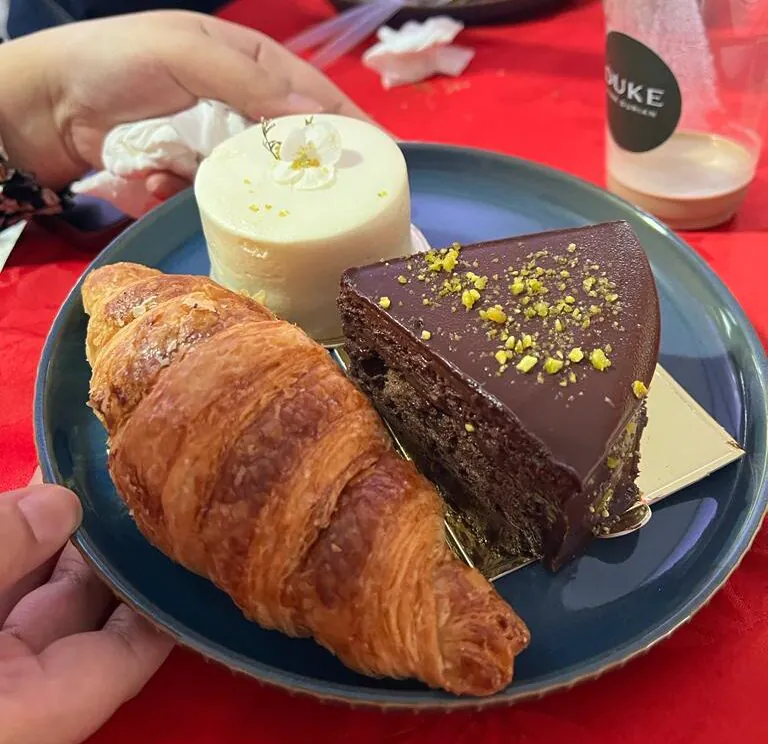 Next up were the cakes. The one that first caught my eye was the MSK Chiffon Cake. It's some sort of petite cake with with a huge burst of smell, as well as flavour. This signature chiffon cake had a pure and thick Musang King durian paste layer, and was covered in a light cream icing. It smelled sweetly sulfuric and had a rich, candy-sweet flavour. You could eat it at room-temperature, but for me, I prefer having it cold.
If you're not a fan of durian, or you just want something else to balance things out, you can opt for this chocolate cake. The Varhona Chocolate Cake contains no durian, which is a good thing, because it helps cleanse your palate. It's rich, fluffy, sweet and absolutely chocolaty. I love chocolate cake and this cake really met my expectations. It wasn't extremely sweet, but was sweet enough to have at any time of the day.
So, we had cakes and pastries. So, of course, you need to drink something. That's where the Premium Durian Latte came in. This premium coffee had a powerful durian flavour and scent, since it is brewed with fresh milk, high-quality Brazilian coffee beans, and only 100% pure Musang King durian. That's right, PURE MUSANG KING! Honestly, I wasn't into this coffee. I mean, the taste was not too good and not too bad. I just feel that coffee and durian should be indulged in separately, since both have strong aromas and flavours. I did notice some people actually enjoying the durian latte. I guess it's just not my thing.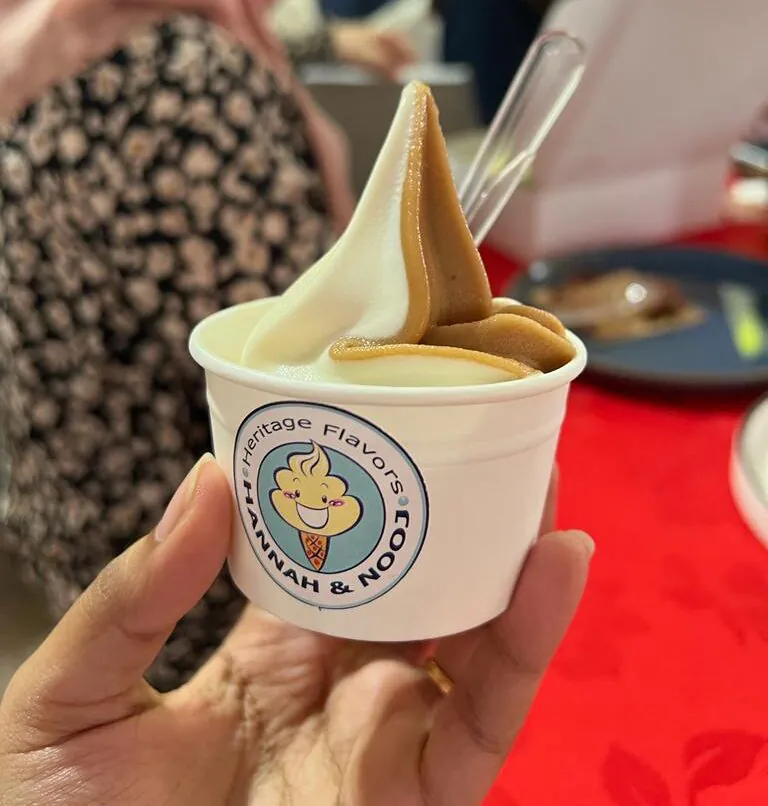 Last, but not least, there was ice cream. Who doesn't love ice cream, right? And this ice cream was definitely one of a kind. During the four-day durian fiesta, Hannah & Nooj served three types of soft serves: Musang King, Coconut Candy and a combo of both. I decided to go for the combo cause' it was definitely the best of both worlds. The white part was the coconut flavour, whereas the brownish part was the Musang King. I kinda liked the ice cream. It wasn't too much – the combo complimented each other perfectly. It was sweet, but with a balance, and the durian flavour was just nice. An interesting combo, I would say.
Overall, everything at the durian fiesta was amazing. In case you missed out on this amazing event, no worries. You can still check out Duke Fine Durian and try some of the amazing durian treats and coffees they have.
More on food and drinks? Read these: