Porn is fantastic, babe! Ain't nobody is saying otherwise. Porn is like watching a movie, but one without the suspense and just a load of action that leave you on the edge of your seat, ready to release. You know that favourite movie of yours that you damn well know could never be replicated in real life? Well, as hard as it may be to accept it, pornography is pretty much the same.
AH! Hold it, bishes. I can hear some of you – "I'm subscribed to porn for the rest of my life" – getting offended. The thing is, pornography is based on acting, and porn stars are considered professional actors. Which means, certain scenes and stunts that they do in pornography is purely based for entertainment and quite impossible to be carried out in reality. Now, if you are highly against this statement, my apologies – and, oh wait, I forgot – I don't give two sh*ts.
Anyhoosy, for those of you who are wondering – here are some pornography sex positions that just don't make sense for the world of reality that we live in.
1. Stand While Carrying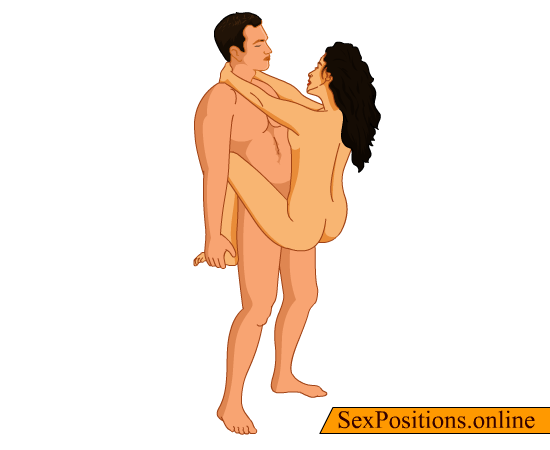 Sure, you can get into this position, but I guarantee you this will not be very pleasurable sex especially for the male partner or, whoever it is that is on the giving end. Listen, you could be as light as a feather and your man can be a bodybuilder, but sex in this position is just tiring and it will make a man's back ache like hell.
At the end of your sesh, your man's hand could be on the verge of falling off and thrusting in this position can be hard when the receiving partner weighs a thousand pounds. No offense, but it is true. Sex with hand pain and back ache isn't exactly how you wish to release. Also, having sex in this position isn't really guaranteed to give you your cum-fest. Although, it might seem awesome on screen, it simply isn't achievable in reality.
2. Body In The Air 
Now, this, is also another position that doesn't seem realistic for me. This is the position where the receiving partner's shoulders are at rest, while their body is in the air – being held up by the giving partner.
And, the reason why I say this position isn't realistic is because – for one, your body is constantly in the air, applying pressure on the person that is holding you up. During sex it is much more pleasurable for one to be laid on a flat surface, fully enjoying the rapture – instead of you guys trying to pull off a gymnastic stunt. Also, for some people, the lower half of their body might be heavier than the rest, so you could only imagine the struggles of your partner.
3. Legs Behind Head 
Nah-uh, bish! Hell nah! If the receiving partner's legs are behind her head, and she's screaming each time you strike in – lemme just tell you, it ISN'T because of an intense orgasm – rather, she is probably feeling her muscles tearing and her legs cramping.
Doesn't sound much like sex, huh? Exactly! So unless, your girl is a gymnast or a ballerina and would totes not mind getting f*cked this way, it simply isn't possible for a normal, average woman.
4. Double Stuffing
You know the gangbang or threesome genre in which two penises are inserted in the same vagina? Yeah – that's not going to work in reality for most women. In fact, women during sex tend to feel full with just one penis up in there and no matter how adventurous you and your partner feel, the two penises in a vagina isn't going to work.
It MAY NOT be pleasurable for the woman as well, and it doesn't necessarily give way for a hardcore session. And, even thrusting normally would be a struggle. It isn't achievable in reality and the physical as well as emotional stability for a woman to withstand that during sex is quite unfathomable.
5. Tit-Fvck 
Listen, you CAN do it – but only for 5 mins and then ya'll are gonna wanna step out of this game. Tit-fucking is totes enjoyable when you're watching from behind a screen, allowing paid actors to get it on. But, when it's intimate time for you and you boo – this position isn't really going to give you or your partner any immense pleasure and instead, it can even make you turned off after a few strokes in.
6. Wheelbarrow 
How many times do I have to say, sex is SEX, it ain't no "show me you can do a handstand with a shaft up in you" kinda moment. Sex is pure intimacy, it demands love, care and utmost attention for one another.
Honestly, why do people treat sex like it's the Olympics? Like really bish, you couldn't run a marathon in school but now you wanna try out this totally unrealistic sex position? Positions like this are better done by the experts on screen, alright? Let's just stick to that good old missionary and doggy-style, shall we?
7. Reverse Cowboy 
As much as we women love a good male booty, NO WOMAN would wanna be f*cked while being face-to-face with a hairy, muscular bootyhole.
Reverse cowboy position is where the male gets on top of the woman, facing away from her, he then has to insert his penis in a backside motion, and rides the female partner like he is riding a horse. This is a HELL NO on so many levels.
As lovely as it is watching it on screen, this is defo not pleasurable for both the man and the woman. I mean, I can't really imagine a woman reaching her high while looking at a hairy, probably not so flattering bootyhole bouncing on her vagina.
8. Reverse Cowgirl With Legs In The Air 
Unless you have abs and a steady core, then don't even think of getting into this position. Adult actors know what they're doing when they get into this position – can't say the same for all of us at home though. This is the position where the female is in reverse cowgirl, but has her legs up in the air as if she's doing the Russian Twists ab workout.
For pornography, yes it may work as it allows the cameraman to get a full shot of the action going on. But, realistically speaking, this position is rather hard to maintain, especially when thrusting and grinding.
So, there ya have it – 8 sex positions that will totes not work in reality. Hey, this is just an article – if you do wanna prove the internet wrong then by all means, go ahead and try out these positions. But don't tell me I didn't warn ya!
More on sex? Read these: