Sex isn't just for physical pleasure – it's an essential activity for happiness and health that everyone should be able to enjoy, no matter their circumstance. That's right, ho – you heard that right! You could be on your death bed, paralyzed or brain dead, but if you want some d*ck or p*$$y in your mouth, then that is what you should receive.
Sex isn't easy for some people, especially those with limited mobility. In other words, having sex with certain physical disabilities can be hard. Some people have even concluded that people with physical limitations can simply not have sex. Says who, bish?
Like I said, sex is for everyone to enjoy. Sex can be carried out in various positions and so many ways. You just need to know how to have sex depending on the restrictions you are faced with. But before you get into anything, it's always safer to consult your doctor and ask them any questions you have regarding this topic. I mean, come on, you can't blindly trust the internet – you can trust me, but still – you know what I mean!
So, here are a few ways sex can be enjoyable for people with limited mobility.
1. Modified Missionary 
Missionary is by far the safest sex position for anyone to try. Depending on your comfortability and ability to move, the partner with limited mobility will lie on the bed with their butt slightly off the edge. The other partner can stand in between their legs and lift their partner's legs to place it over their shoulders. Your position should look something like the image above.
If having your legs on your partner's shoulder isn't much help, then you may even rest your leg on a chair placed behind your partner's legs. In this position, the recumbent partner is able to explore the other partner's erogenous zones with their hands.
This position is perfect for partners who have limited mobility, such as the obese, pregnant women and people with an ostomy bag attached to them.
2. Face-to-Face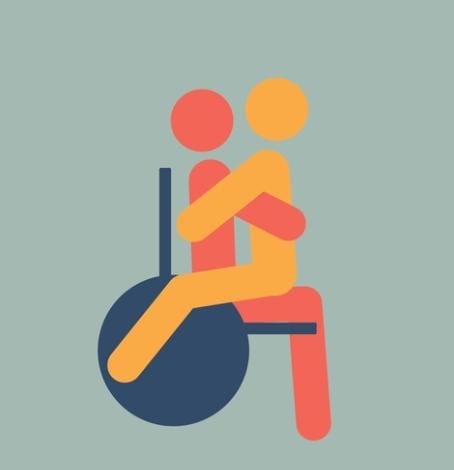 For people who are wheelchair-bound, this is sort of a twist on the Lotus sex position. The partner who is seated can choose to remove the armrest and place the wheelchair at the edge of the bed. The other partner can now climb onto their partner's lap and straddle their hips with their legs placed on the edge of the bed. With a little bit of dry humping and grinding, the both of you will be on your way to cum-land in no time. Also, while you're at it, don't forget to put those hands to good use.
This position comes in handy for people who have muscle spasm as well as chronic fatigue.
3. Modified Doggy-Style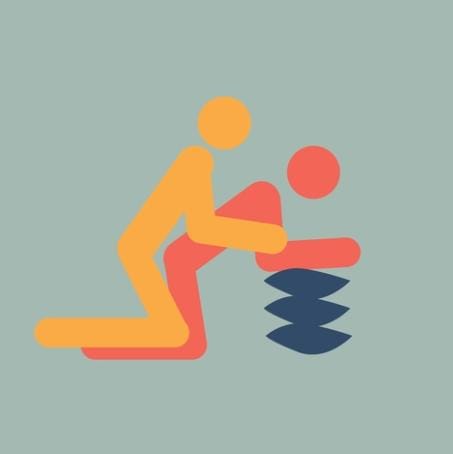 If doggy-style is your favourite – but banging in that position seems to be a challenge – maybe all you really need is a few pillows for a more raised surface.
Depending on where you are shagging, arrange a few pillows on the floor or bed as a form of support for the partner with lesser mobility to lean on. Once the receiving partner is situated comfortably on the pillows, the giving partner can lie on top of the receiving partner's back and position themselves for penetration.
This way, doggy-style won't be a pain in the a$$ and both you and your partner can ride away to cumfest. Doggy-style has never looked better than this.
3. Lotus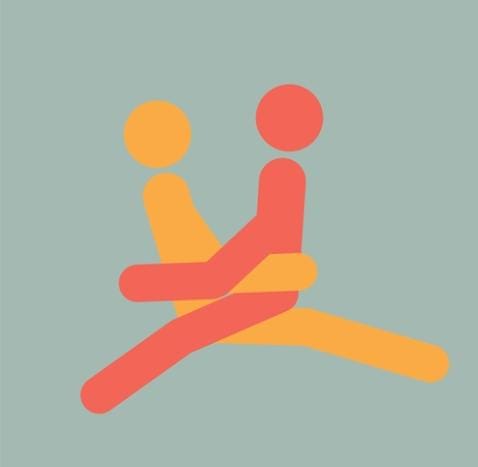 This position is handy, especially if the giving partner has limitations from the hip downwards. The giving partner should be seated on the bed, as seen in the image above, while the receiving partner can rest their vaginal or anal opening on their partner's shaft for penetration. Also, having your woman ride you in this position is just pure bliss – for the mind, and your dear manfriend.
This position is great for close intimacy, as well as suitable for controlling your pace and rhythm. Totes an awesome position for people with disabilities from their waist down.
4. Spooning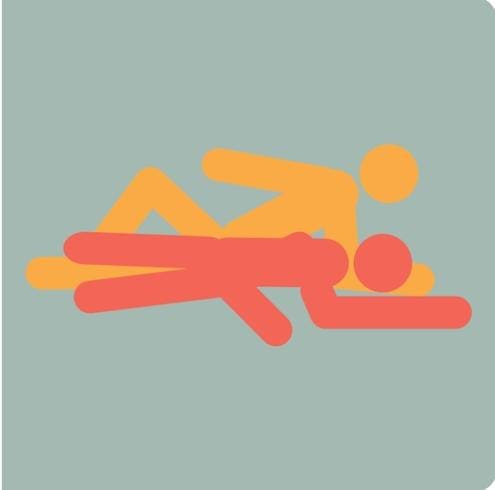 The other easiest way to bang when you can't move much is the spooning position. Both you and your significant other should lie on your sides – with the giving partner spooning the receiving partner from behind.
This position allows the giving partner to use their hands and caress the receiving partner's erogenous body parts to increase arousal and facilitate the climax. Ya can't go wrong with spooning, honestly!
5. On A Wheelchair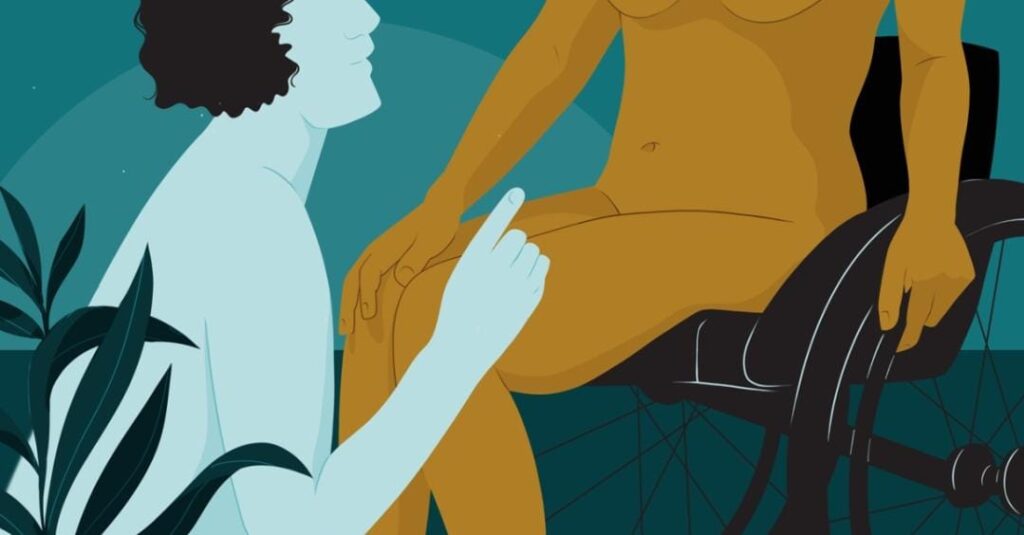 I think in this situation, the position should be called "the chair of fortune". The partner with lesser mobility, who is preferably seated on a wheelchair, can get naked and be ready to enjoy what their partner's hands can do.
The giving partner can use their hands to give the receiving partner nipple stimulation, clitoral stimulation, fingering, boob massages, etc. You will be surprised how your hands can make her reach her climax even before your d*ck can.
Other Ways You Can Enjoy Sexual Pleasure
Sex Toys 
Of course, apart from penetrative sex, which includes all of the positions above, there are other ways you may truly enjoy sex. Sex toys are a huge advantage for people with limited movement. There are so many ways sex toys can be incorporated into your sex escapades.
All you need to do is have a talk with your partner and figure out how you guys are going to have fun with the use of sex toys. Then again, a sex toy can also be used solo. So, you don't always need a partner for sexual release. Grab yourself a sex toy and enjoy your personal intimate moment.
Foreplay 
Our bodies are full of sensitive and erogenous parts that react very well to touching, teasing, kissing, etc. If sex isn't always enjoyable for you guys, foreplay is also an awesome way to spice up your sexual escapades. Both you and your partner can easily explore each other's body just by using your hands. And, of course, in some cases, where hands aren't accessible, using your mouth and even feet to caress your partner would totes work.
Listen, when you're horny, anything can work. You just need to be creative and look past your disabilities for you to enjoy a good, steamy and wet sex sesh.
More on sex? Read these: