Intimacy, heat and nudity – the shower's seductive aura. When it comes to shower sex, theory is nearly always better than practice. In every romantic film ever, one person walks into the shower to find their companion freshly washed – and then things get heated up just in a snap! It's unbelievable how perfect shower sex only happens in the movies. But, you know what? Shower sex can be really good at times – and it's not impossible.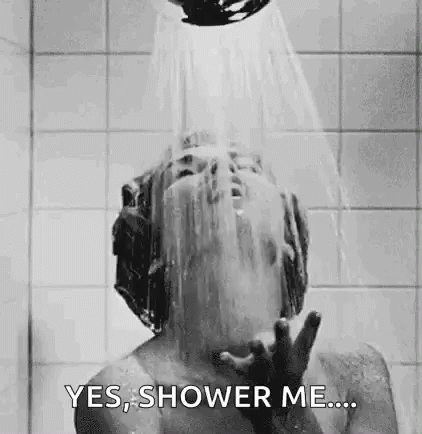 It doesn't have to be perfect and spotless. Like what is sex if you don't get down and dirty, right? You're not alone if you've ever experienced shower sex that made you feel like a wet dog – shivering, uneasy and awkward AF. It's considerably more complicated than any rom-com to become dirty in a place that gets you clean. But no worries okay – we've got you, and we've assembled the best positions for you to try to spice up your shower time.
1. Standing Up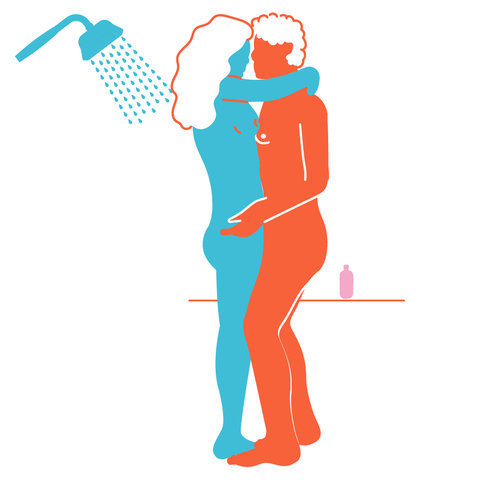 A pretty basic one. The trick is to experiment with more standing postures. But hey, standing in the shower isn't just a wet version of from-the-rear penetration. Instead, get inventive with your clit-stimulating activity by adding aspects of the shower itself. If you're going the standing up route, you can try out different poses, as long as you can properly support yourselves against a wall. Because you're both standing straight, you can lean against the wall for support. If you want it to be more intimate, don't hug the wall and instead, face your spouse.
How to do it: One of you rest against a shower wall, while the other stimulates the clitoris area with their hands – or the shower head – from the front (or back, if you like!).
2. Ballet Dancer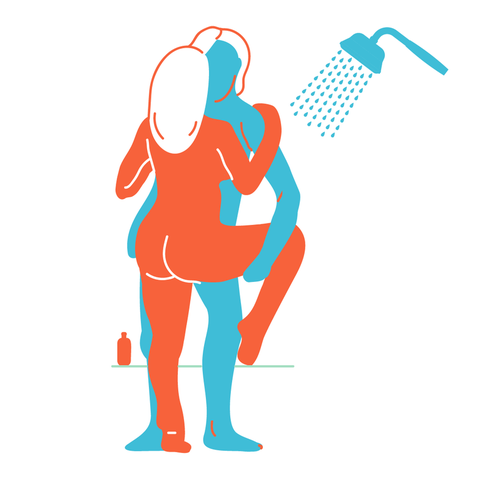 This is a terrific alternative for another entertaining front-facing posture (that demands a bit less balance on your partner's part). While it may appear simple, this popular standing-sex manoeuvre can increase closeness by allowing for face-to-face contact, as well as a steamy makeout.
How to do it: Stand face to face with your partner, while one of you lifts your leg and gently wrap it around the waist of the other. This enables for penetration and stimulation while you and your partner are both standing in a more comfortable position. Allow the water to trickle down your back, and remember to turn 180 degrees so that your partner isn't left out in the cold for too long. The different angle gives an exciting twist to a typical shower, and the added sensation of warm water on your back doesn't hurt either.
3. Shower Head
It's time to use your detachable shower head if you have one. This position will require a lot of oral action. Your partner is going to feel a wave of pleasure from all of your kissing, licking, and sucking.
How to do it: Make the individual experiencing oral sex stand in a stable, comfortable position. Standing on two feet, leaning against a wall, or wrapping one foot around your partner are a few ways you can choose to perform this action. Then, your partner can bend down and give you a particularly sexy shower head.
If the person doing the oral sex has a vaginal opening, they can use the shower head to stimulate their clitoris while pleasing their partner. If they have a penis, they can use the shower head to tickle or stimulate their partner's genitals. Believe us when we say that the shower head will do wonders and reach all of the correct spots.
4. Face-Off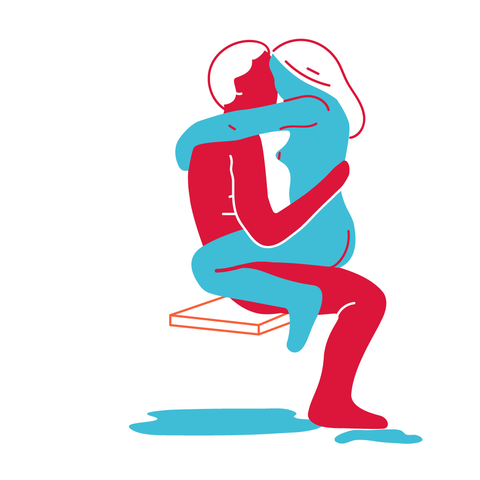 Another posture that will allow you to make the most of that shower seat is this one. This approach is simple if you have a bath tub, a dressing table, or even a toilet seat in your shower.
How to do it: Crisscross your partner, facing forward, with your knees and/or shins on the bench to provide leverage. Grind against your partner, bracing yourself against the wall if necessary for balance. The friction between his pubic bone and your clitoris should be quite arousing, but if your knees or legs starts to hurt, pretzel them behind your partner's back.
5. The Chairman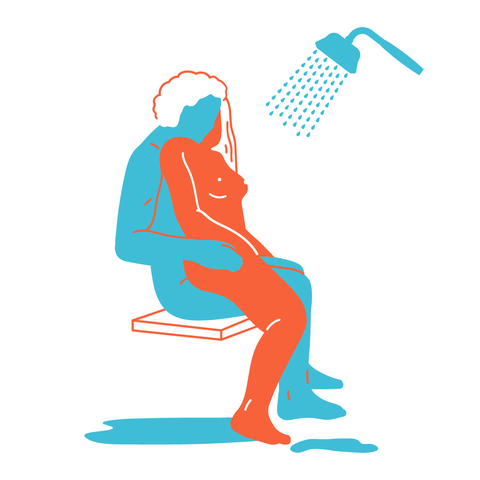 Do you have one of those fancy seat-shelves in your shower? If you don't, now is the time to get one! If you prefer girl-on-top showering, this sitting rear-entry posture is ideal. Other options might be the tub or dressing table.
How to do it: Sit on the bench with your partner's feet on the floor. Sit on their lap, straddling them, facing away from them. Here, you choose how wide to spread your legs based on your stability. Your hands will be free to play with your clit or any other erogenous zone while you pump up and down. You can even have your partner hold your wrists so that you can lean forward and attack the problem from an angle.
6. Wet Doggie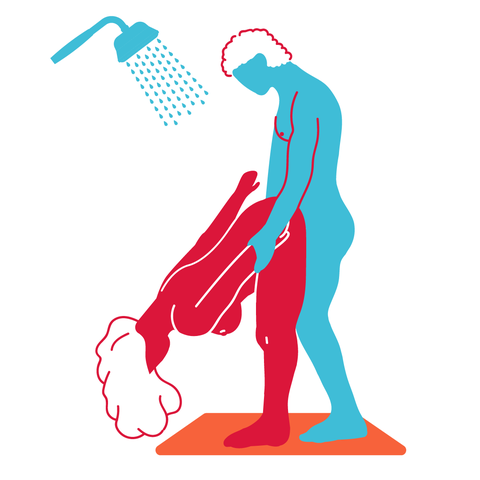 When it's wetter, this classic manoeuvre gets better. The wetter variation, similar to the typical doggy-style position, enables for greater penetration and excitement, with both partners more securely planted. This posture provides plenty of G-spot and clitoral stimulation, allowing you to quickly get in and out of the shower.
How to do it: With both you and your partner's feet firmly planted on the ground, the penetrating partner stands while the receiving partner bends forward in front, hips and booty high against the standing partner's pelvis. To manage penetrative depth and stability, the receiving partner can put their hands on the shower wall, a ledge, or the floor. To spice things up, the standing partner can clasp the receiver's wrists or hold their arms back for a love bondage-style activity.
7. Upstanding Citizen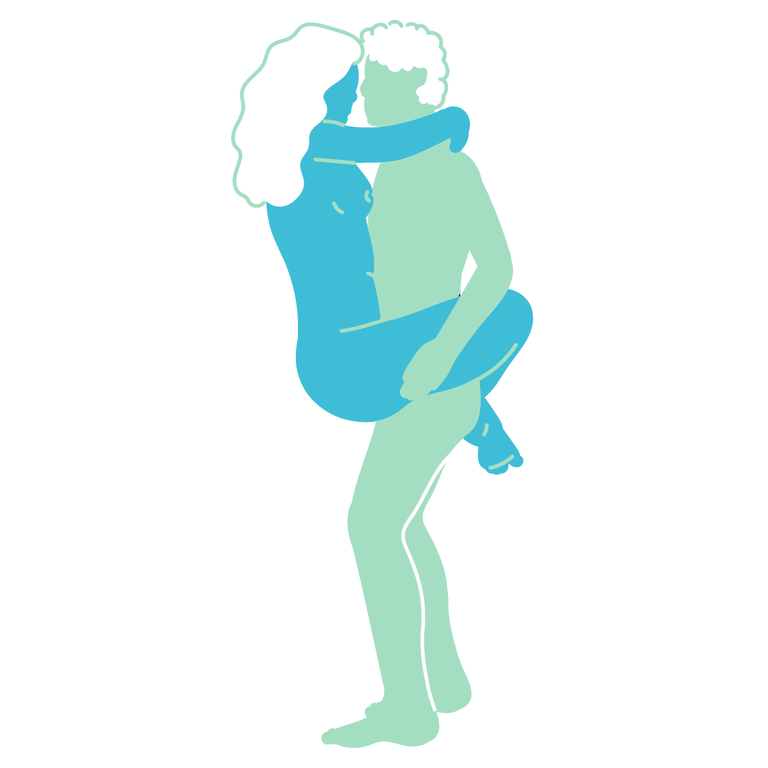 A shower shelf seat may make this posture easier, but it isn't absolutely necessary. However, you might not want to start with this position – consider it more of a finisher. It's vital to bear in mind that this position necessitates a lot of physical power as well as a secure, slip-free space to stand.
How to do it: Allow your partner to enter you from the front, with your back against the wall. You can wrap both of your legs around their waist, or if that's too slippery in the shower, try dropping one foot to the floor and leaving the other raised.
8. The Caboose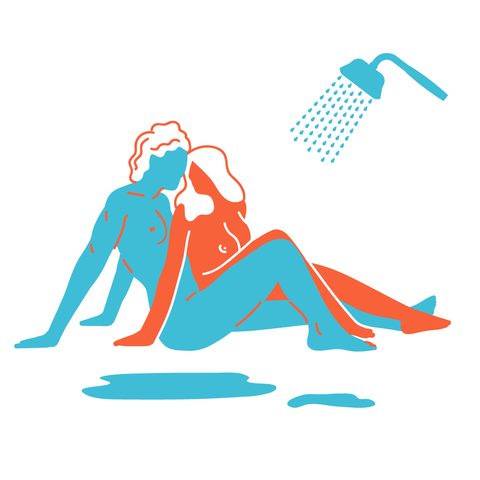 No one in their right mind would recommend having sex while showering (a bunch of lame people). But there's no reason you can't have sex in the shower while sitting down. In fact, there's every incentive to go for it: if you're already on flat ground, you can't fall.
How to do it: Place the shower head where it will hit both of your bodies, then have your partner sit on the shower floor with his hands behind him to support him. Then scooch your hips in front of him till you're seated on top of him.
9. Take A Seat
If you have a tub (or maybe a swimming pool), this position is gonna be a whole lot fun to do. All you have to do is sit down (duh, the name says it all!) Get comfy sitting in the tub, on the floor against the wall or on the stairs of the pool. I guess this is one of the safest ways to have sex while being wet.
How to do it: Allow the partner with a penis to sit in the tub with their back against the tub's end and their legs extended straight out. This allows the other partner to straddle them without having to worry about anyone falling down. Position the shower head so that it does not spray anyone in the face before sitting down. Instead, tip it downward so the straddling partner can feel the warm water tickling their inner thighs and the penetrating partner can feel it tickling their back. Easy isn't it?
More on sex? Read this:
https://lipstiq.com/wellness/180916/diy-os-4-ways-to-make-masturbating-more-omgthatfeelssogood/