'Another day, another Starbies!' 
I love Starbucks. It's my go-to place for coffee. Starbucks, of course, is a well-known coffee shop that serves delectable drinks and food. And it's no surprise that everybody loves it! But the only problem is that they're quite expensive.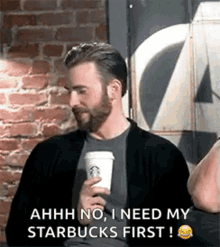 If you're on a budget like me, but still want a good cup of Starbucks coffee, there's great news for you. You can now make Starbucks coffee right at home with some copycat knockoff recipes. The internet has plenty of Starbucks recipes – but I've compiled a list of my favourite (and pretty good ones) just for you!
So, instead of emptying you wallet for your coffee fix, try these Starbucks recipes at home! From frappuccino to Chai Latte, these copycat recipes are no longer a mystery and are super easy to make.
1. Starbucks Vanilla Sweet Cream Cold Brew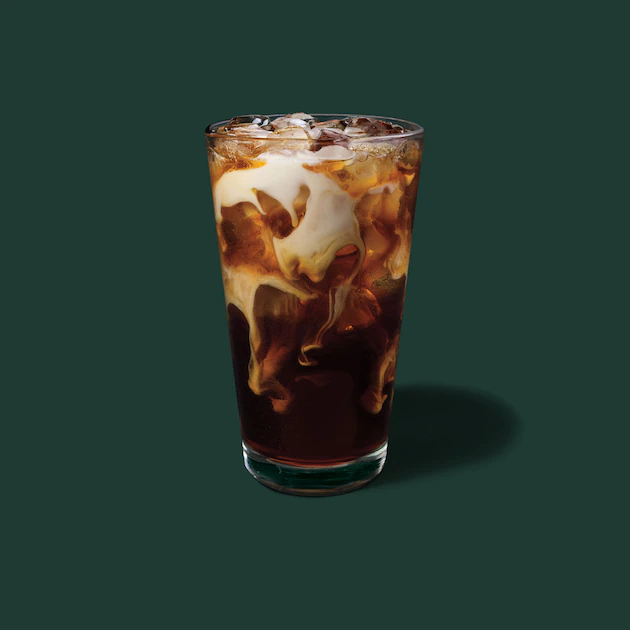 Vanilla Sweet Cream Cold Brew is an iced coffee from Starbucks that is created with vanilla-flavored cold brew coffee and sweetened with vanilla sweet cream. You can use any kind of coffee, from light to dark roast, for this recipe – but to keep it more original, go with Starbucks Cold Brew. Half and half is basically a shortcut to make the Starbucks sweet cream. To make this copycat recipe, you'll only need four ingredients:
Cold brew
Vanilla syrup
Half and half
Ice
Start off by stirring together half and half with vanilla syrup to make your sweet cream. In a cup of ice, pour in some vanilla syrup, cold brew and sweet cream. The sweetness is entirely up to you – add as much sweet cream as you want!
2. Starbucks Iced Caramel Macchiato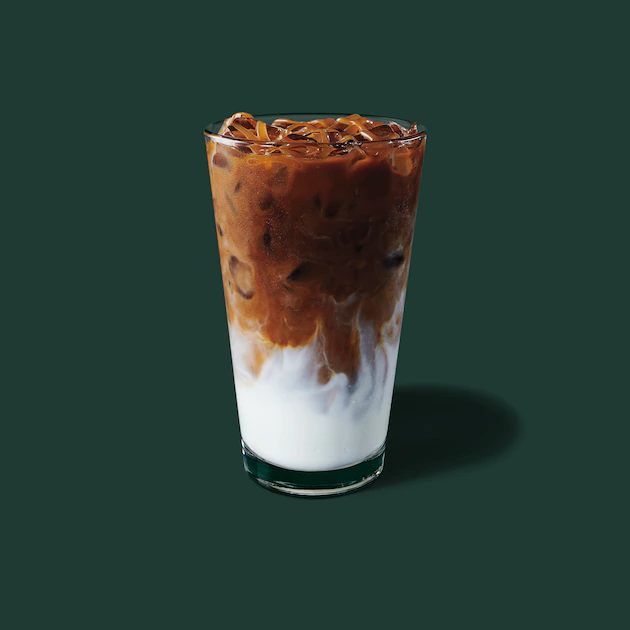 Starbucks' Iced Caramel Macchiato is a vanilla-flavored espresso drink with ice, a drizzle of caramel, and cold milk. The drizzle on top is the only portion of the drink that contains caramel. The way this drink is created is unique, with the vanilla syrup and milk on the bottom, espresso shots on top of the milk and ice, and then a drizzle of caramel on top. An Iced Caramel Macchiato requires the milk to be at the bottom of the cup and the espresso to be on top.
For this recipe, you'll need:
Espresso
Caramel sauce
Vanilla syrup
Milk
Ice
Two very easy steps. In a cup, combine vanilla syrup, milk, and ice, and add espresso shots on top. Next, add your caramel drizzle.
3. Starbucks Strawberry Frappuccino
A pretty, pink drink! Even non-coffee people can enjoy Starbucks with this copycat recipe. Starbucks' Strawberry Crème Frappuccino is frozen strawberry milk mixed in a blender. Whipped cream with a vanilla flavour is served on top of the drink. There's no coffee or any sort of caffeine in this drink, so it's a popular choice for non-coffee drinkers. Six components are used to make this Starbucks knockoff, including a homemade Frappuccino base syrup.
Frappuccino base
Strawberry syrup
Vanilla syrup
Milk
Heavy cream
Ice
This base syrup, which is produced with sugar, water, and xanthan gum, is required to make smooth Frappuccinos. Make it ahead of time and use it to make Frappuccinos anytime you want. To make this pink drink, start by whisking the heavy cream and vanilla syrup to make whipped cream and set it aside. Next, blend your strawberry syrup, milk, ice and homemade frappuccino base until you get a smooth consistency.
To assemble your drink, pour in some strawberry syrup into your cup followed by your frappuccino and top it off with the whipped cream.
4. Starbucks Iced Cinnamon Dolce Latte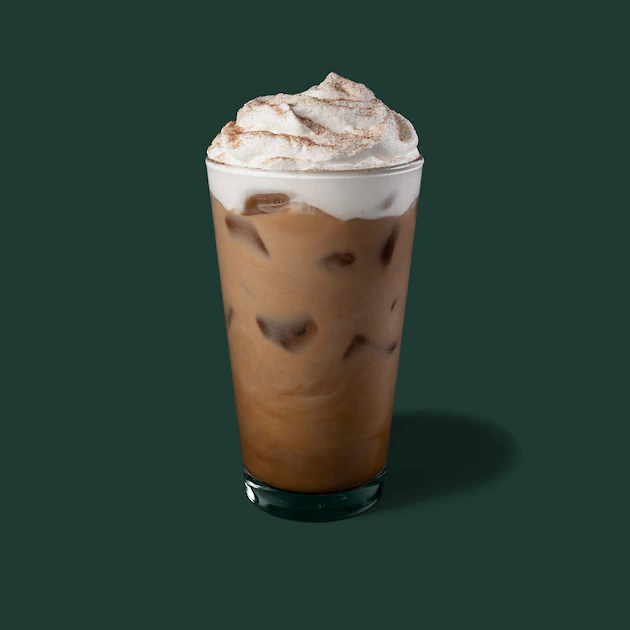 Starbucks' Iced Cinnamon Dolce Latte is a chilled coffee beverage made with espresso, Cinnamon Dolce syrup, milk, ice, whipped cream, and Cinnamon Dolce sprinkles. The cinnamon syrup can be homemade or store bought and this recipe is easily recreated to save your money and a trip to Starbucks. For this recipe you'll need:
Espresso
Cinnamon syrup
Vanilla syrup
Heavy cream
Milk
Cinnamon + sugar
Ice
Using a handheld milk frother, whisk together heavy cream and vanilla syrup to make your whipped cream. In a cup of ice, pour in your cinnamon syrup, espresso and milk. Next, grab a spoon and scoop the whipped cream onto your drinks. Finish off with sprinkling some cinnamon and sugar.
5. Starbucks Iced Chai Tea Latte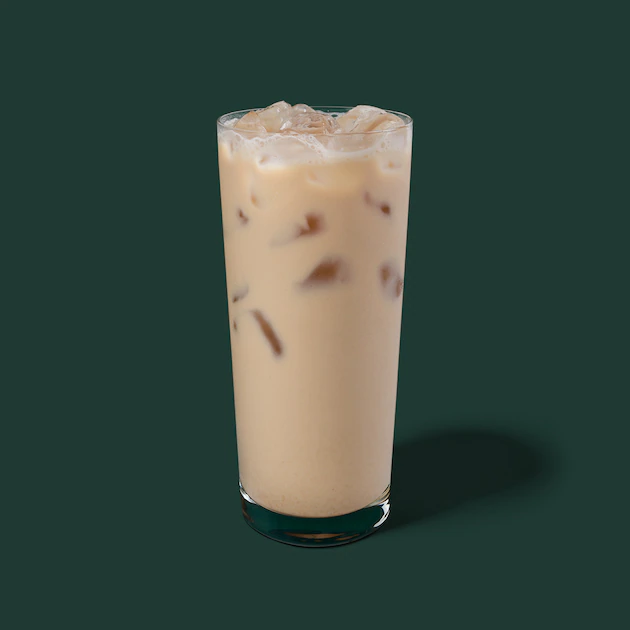 This one's for all tea lovers! Starbucks' recreation of the delicious Iced Chai Tea Latte drink, which requires only three ingredients and takes around a minute to prepare. To make it taste exactly like Starbucks', use Tazo Classic Chai Latte – but if you want to make your own, it's pretty simple. Just make black tea, concentrated with cinnamon, ginger, cardamom, and vanilla.
Again, two easy steps (or pretty much one). Pour in your chai concentrate and milk into a cup. Add ice. If you prefer it hot, make sure your chai concentrate and milk are heated up and skip the ice. This drink is definitely perfect if you're down with a cold or for rainy days.
6. Starbucks Peppermint Mocha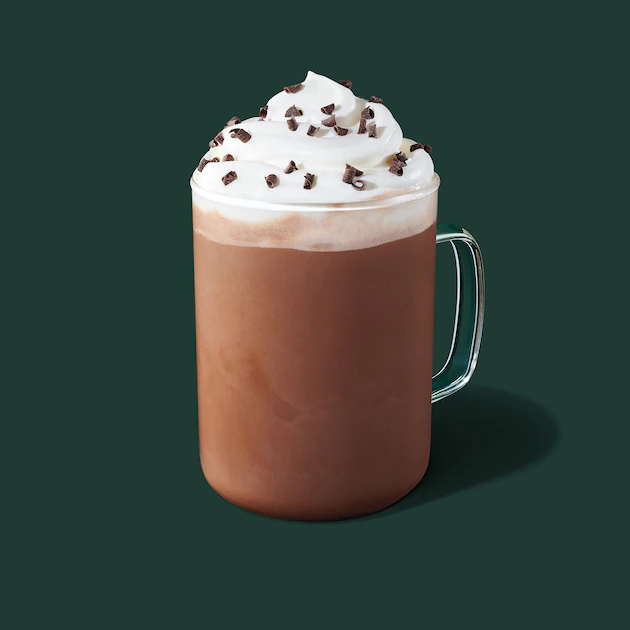 Every time it's Christmas, I'd be sure to grab this drink from Starbucks. But guess what – I don't have to anymore, cause I can make them right at home! Starbucks' Peppermint Mocha is a chocolate and peppermint-flavored espresso drink with milk. Whipped cream and chocolate curls are on top. This drink brings Christmas to life in a big way. You'll need:
Chocolate syrup
Peppermint syrup
Milk
Chocolate curls
Espresso
Heavy cream
Whisk heavy cream and vanilla syrup to make whipped cream and set it aside. In a cup, pour in your espresso, peppermint syrup and chocolate syrup. Next, pour in your steamed milk. Last but not least, top your drink with chocolate curls or cocoa powder. You can also turn this drink into a frappuccino. Just use ice and frappuccino base syrup.
7. Starbucks Pumpkin Spice Latte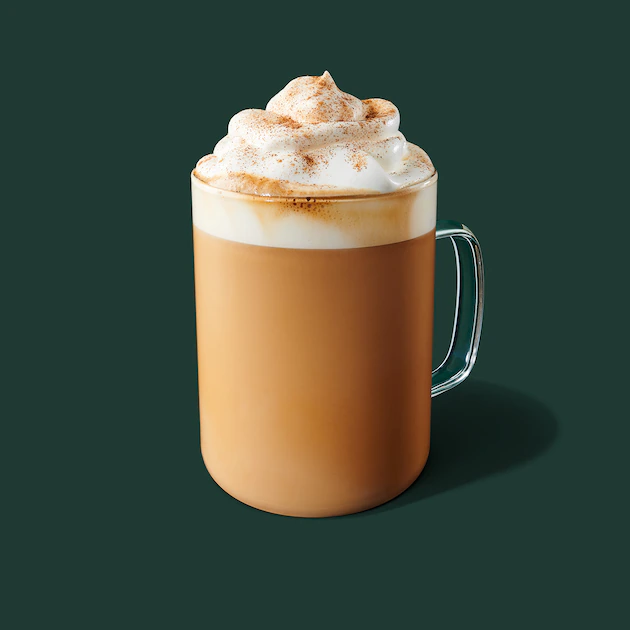 The Starbucks Pumpkin Spice Latte (abbreviated as PSL) is a popular fall beverage. It's a pumpkin spice-flavored espresso and milk beverage that's been sweetened. It's a tasty and warming hot beverage with flavours like pumpkin, cinnamon, nutmeg, and clove. You'll need:
Pumpkin spice sauce
Espresso
Pumpkin spice
Heavy cream 
Milk
Whisk the heavy cream and vanilla syrup to make your whipped cream and set it aside. Since it's a hot drink, best use a mug. In a mug, pour in the espresso, pumpkin spice sauce and steam or hot milk. Using a spoon, scoop your whipped cream onto your drink. Finish by sprinkling some pumpkin spice. If you prefer a cold Pumpkin Spice Latte, use a cocktail shaker to shake your espresso, milk and pumpkin spice sauce and top it with ice.
8. Starbucks Java Chip Frappuccino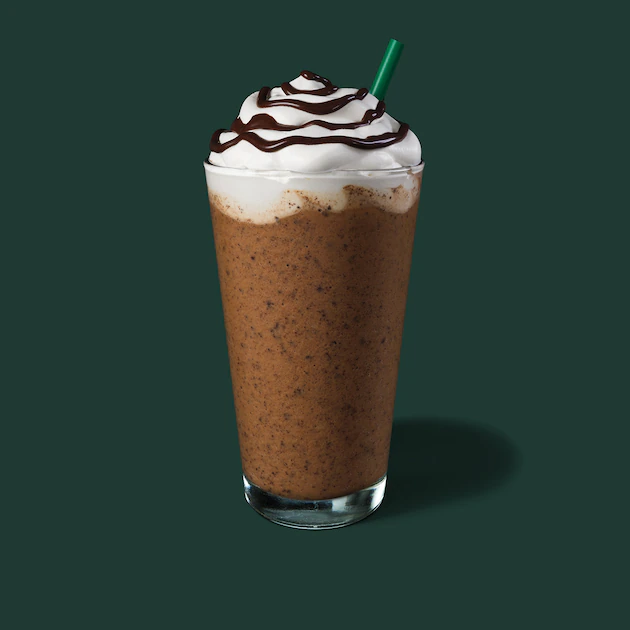 My absolute favourite drink. Any time I'm having a bad day or just need a boost of good vibes, I get myself a Java Chip Frapp. Great news is that I can save lots of money by making them myself. Not to mention, this beverage is enjoyable.
A Starbucks frozen drink created in a blender is the Java Chip Frappuccino. The drink is made with ice, whole milk, coffee Frappuccino base syrup, instant coffee, mocha sauce, and Starbucks Frappuccino chips, and then topped with whipped cream. The cookie crumble in Frappuccino chips set them apart from conventional chocolate chips.
For this recipe you'll need:
Milk
Vanilla syrup
Chocolate chips
Chocolate syrup
Heavy cream
Instant coffee
Ice
Frappuccino base
Basic stuff – whip your heavy cream and vanilla syrup and set them aside. In a blender, add chocolate sauce, chocolate chips, instant coffee, milk, ice, and homemade Frappuccino base syrup and blend until smooth. Grab a cup and pour in your frappuccino. Top your drinks with whipped cream and chocolate drizzle. You can also use a dark chocolate bar or dark chocolate chips if you want additional chocolate chunks in your drink.
9. Starbucks White Chocolate Frappuccino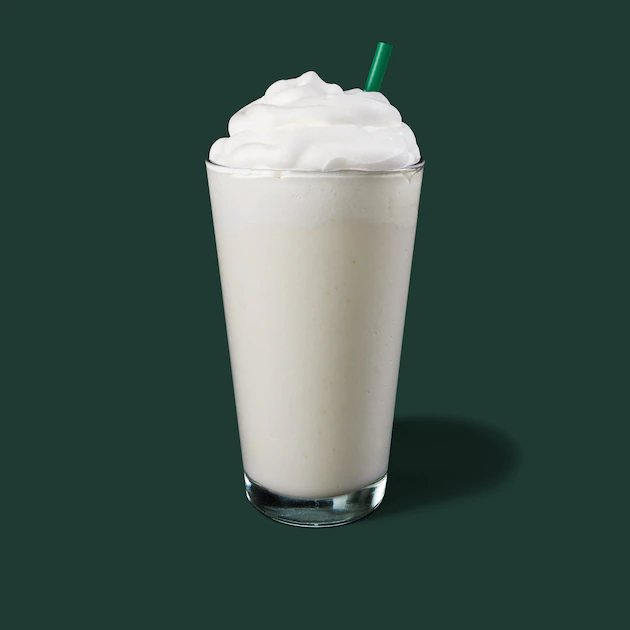 Just 5 minutes and you have an all-white beverage! Another Starbucks frozen drink is the White Chocolate Crème Frappuccino. Ice, milk, creme Frappuccino syrup, white chocolate mocha sauce, and vanilla flavoured whipped cream are used to make this drink. And just like the Strawberry Frappe, this drink has no caffeine. For this recipe, you don't necessarily need to use Frappuccino base syrup – but not including it will make your drink icy and not creamy.
You'll need:
Heavy cream
Vanilla syrup
White chocolate sauce
Frappuccino base
Milk
Ice
Whisk heavy cream and vanilla syrup and set it aside. Blend white chocolate sauce, milk, ice, and homemade frappuccino base syrup until smooth. Grab a cup and pour in your drink. Top your drink with whipped cream. If it doesn't seem appealing enough (since it's all white), drizzle some chocolate or caramel syrup, or sprinkle some cocoa powder or colourful chocolate rice. It's your beverage after all, so looks don't matter.
More recipes? Read this:
Read All ABIA It: Disney's Grilled Cheese Sandwich Is My True Love (With Recipe!)