Let's be real. We have tonnes and tonnes of clothes in our closet, but raiding our bae's clothes gives us the utmost satisfaction. Men's clothing is extremely fashionable and easy to wear. They are classically cut and, when worn by women, create the ideal oversized look.
There are actually lots of your bae's accessories you can style with. There are watches, belts, jackets, cuff links, sunglasses, rings, bracelets and perfume. But what I find most attractive and easy to style is definitely the shirt. There's no reason why you shouldn't wear your boyfriend's clothes – unless he is vehemently opposed to it (though it wouldn't be difficult to persuade him).
No boyfriend? No worries – just go shopping at the men's department, and you can try out these styles!
1. Layering It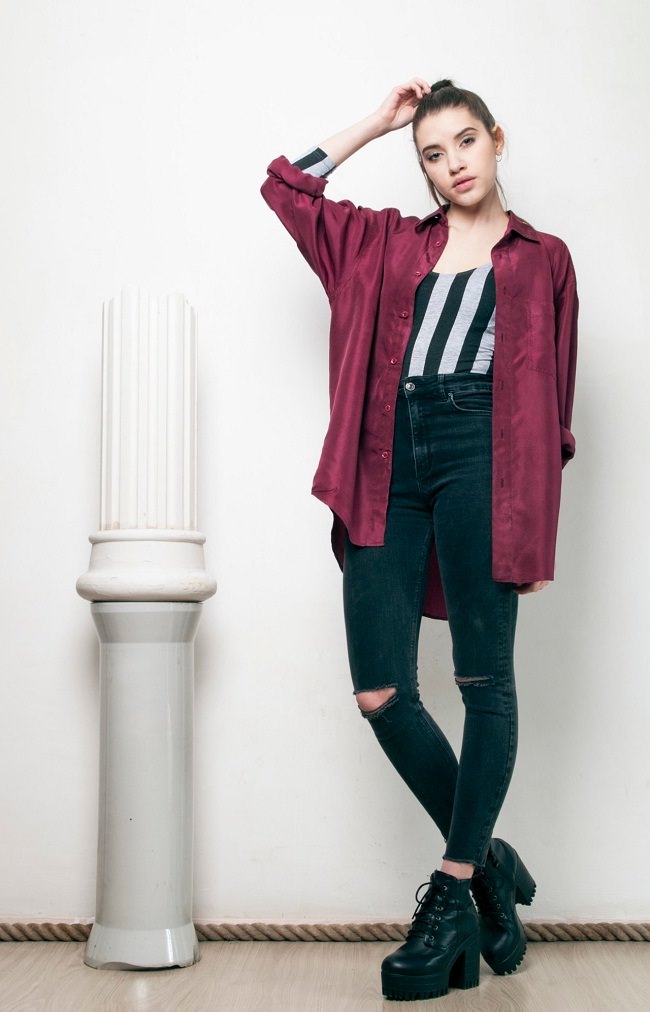 The most straightforward and practical way to wear a man's shirt is as a layering piece. Simply layer it over a printed, striped, or plain tee. You have the option of leaving the buttons open or closing them and tucking in a portion of the shirt. In either case, it looks fantastic. The colour of the shirt doesn't really matter though!
2. Wear as a Dress
Dress shirts are fashionable. You don't need to worry about the pants because they're long anyways. However, if it becomes breezy, you can still wear shorts underneath it. Grab any shirt and throw it on for this look. A white dress shirt will give you a deceptively casual appearance. Accessorize your dress shirt with chains, belts, shoes, or wedges; almost anything goes with a dress shirt.
3. Wear it With Jeans
Skinny, bootcut, wide or flared, any kind of jeans goes well with bae's shirt. One of the best features of the bae shirt is how easily it transitions from chic to casual. If you enjoy wearing jeans, we've got the look for you. You can choose to let loose, tie or tuck in the shirt. To avoid a saggy look, pull your hair up in a chic top-knot or a low pony tail and add some simple earrings. Choose a statement bag. Booties or sandals are ideal for footwear, but heels can also be worn.
4. Wear it With Shorts
This style is fun, fresh, and cute for a slightly different take on the classic boyfriend shirt! This summer outfit is ideal for a sports day or while on vacation. The shirt looks best with a bralette underneath. Leave the top buttons undone and tie the shirt's front ends at the waist. Next, put on a pair of high-cut shorts and a sneaker. This look is definitely cute, but it also has a hint of sexiness to it.
5. Wear it Over Your Dress
Try this on for size – for the perfect evening beach walk, or a casual date! Put on your favourite dress or a little black dress and pair it with your bae's shirt! The fabric is light and airy, and when paired with a cute hairstyle and sandals, you'll look fabulous.
6. Wear With Statement Belt
This style is similar to the dress shirt, but the emphasis is more on the oversized statement belt around the shirt. Put on the shirt and wrap a belt around your waist. It can be a simple black belt or something fancier. Then, roll up those sleeves or leave it unrolled. Pair this outfit with boots or heels maybe, and you've just upgraded yourself to a new look!
More on stylish bae's accessories? Read this: