The end of the year is near, which means that top hotels are showering guests with fabulous festive promotions. Among them are the world-renowned Ritz-Carlton Langkawi and the beloved Sheraton Petaling Jaya, which are pulling out all the stops with their incredible holiday promotions. Read on, then check-in!
The Ritz-Carlton Langkawi
The Ritz-Carlton Langkawi is going EXTRA in December, and is dazzling guests with phenomenal deals and displays for Christmas as well as New Year's.
Christmas Offerings
The Ritz-Carlton Langkawi has erected its epic Christmas tree, which is decorated with ornaments made by children from the Langkawi Autism Care Centre. They have written their Christmas wishes on the ornaments and are waiting for someone to make them come true. That someone could be you!
The Ritz-Carlton's The Library has been transformed into 'Nutcracker Café', where you can enjoy a Festive Afternoon Tea of mouthwatering sweet treats, freshly-baked scones, and a delectable selection of seasonal savouries, served in true festive style. To add to the fun, a la carte desserts and Christmas goodies are available for purchase.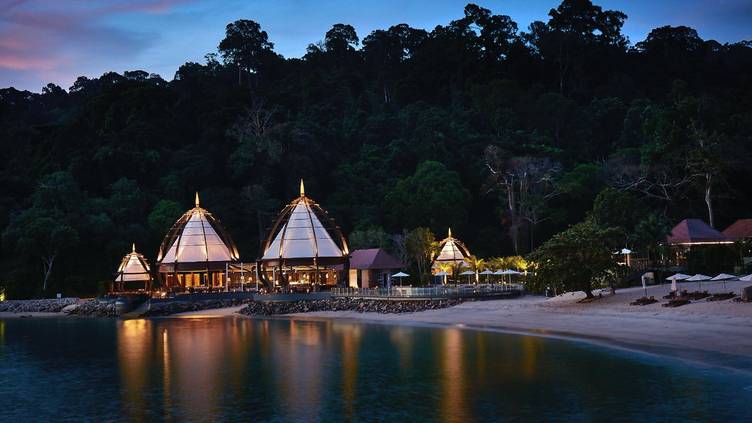 On Christmas Eve, The Beach Grill invites you to The Ritz-Carlton Langkawi's Christmas Festive Buffet, which includes a kaleidoscope of decadent seasonal favourites, novel creations, and international flavours, as well as lively music and spectacular ocean views. If buffets aren't your thing, don't worry, because they're also serving four-course Christmas dinners at The Beach Grill, Hai Yan, and Langkawi Kitchen.
The Beach Grill serves Rockefeller oysters and homemade grouper star ravioli, Hai Yan serves crab meat soup and wok-fried black angus beef, and Langkawi Kitchen serves fried snapper with honey tamarind sauce and slow-cooked lamb shank in spiced gravy.
On Christmas Day, take a Cocktail Masterclass by The Ritz-Carlton's resident mixologist, at the Coco Beach Cafe, to create delectable drinks that capture the spirit of the season.
New Year's Offerings
Begin the year with a Taste of Malaysia Buffet at Langkawi Kitchen, where chefs have curated a spread of the best Malaysian dishes for a true representation of traditional and signature favourites from across the country.
If you think The Beach Grill only serves Christmas fare, think again! On New Year's Eve, the restaurant will host a BBQ Buffet Dinner complete with free-flow champagne and live music, with a menu thoughtfully curated with a contemporary selection of international flavours.
Alternatively, enjoy a New Year's Eve Seven-Course Dinner at Hai Yan, where you can dine on a delectable seven-course menu created by Jay Go, Ritz-Chinese Carlton's Chef de Cuisine, on the water's edge. While you wait for the sun to set, savour signature dishes like braised Alaskan king crab, conpoy and fish maw soup, pan-fried Australian lobster in sea urchin sauce, wok-fried wagyu beef with prawn stuffing and morel mushrooms, and more.
It's only natural to want to party on New Year's Eve. So get dressed up for The Ritz-Carlton Langkawi's 'Into the New Year White Party' at Horizon. Prepare for a magical evening filled with many flavours and culinary delights, as well as endless dancing and music by guest DJ Edwin Francis! The evening will conclude with fireworks to bid farewell to 2022 and welcome the New Year of 2023, with the stars and the ocean as backdrops.
Festive Indulgence
The Ritz-Carlton Spa is also presenting luxury at its sweetest – with chocolate! It elevates luxury treatments to new exotic heights with its Festive Indulgence Spa Treatment, which revitalises your skin with antioxidant-rich chocolate. Begin with a 60-minute chocolate body wrap, followed by a 60-minute body massage and a 15-minute chocolate face mask. Your treatment will conclude with a hot chocolate drink while you gaze out at the Andaman Sea.
For F&B reservations, send an email to restaurant.langkawi@ritzcarlton.com.
Sheraton Petaling Jaya
Celebrate the season of giving with an exquisite selection of festive offerings from Sheraton Petaling Jaya Hotel. As the Christmas spirit fills the air, its team of creative chefs and associates has curated a selection of festive treats and gifts that are the ideal accompaniments to the season.
Holiday Takeaways
Choose from a variety of holiday takeaways that are ideal as gifts, or as treats for family reunions. Guests can enjoy a range of holiday staples, such as Slow-Roasted Whole Chicken with Sage, Roasted Australian Leg of Lamb, Herb Roasted Potatoes, Pumpkin & Feta Salad, and more.
Guests can also share the season's sweetness with the team's interpretations of Christmas classics, like Chocolate Fruitcake, Dresdner Stollen, and their Classic Chocolat Gianduja Log Cake. This assortment of sweets and savoury treats is sure to impress guests and add a festive touch to your holiday table.
Sheraton Petaling Jaya Hotel offers an Artisanal Christmas Gift Box filled with festive treats for your loved ones and valued business associates. Chocolate Fruitcake, Festive Macaroons, Christmas Cookies, Apricot Jam, Frosted Almonds, and Raspberry Meringues are included in the gift box.
Festive takeaways can be ordered at Sheraton Petaling Jaya Hotel's online store beginning December 1, 2022.
Festive Dining
Feast, the hotel's all-day dining restaurant, transports you to the warmth of a cosy log cabin with an array of hearty, festive fare. From the 15th to the 25th of December 2022, a Cabin Christmas at Feast will be available for RM138nett.
For a more intimate dining experience, Miyabi and Yue offers sweet reunions with friends and family, accompanied by a selection of festive specialties.
Chef Tetsuya Yanagida has created a six-course Festive Omakase menu for two at Miyabi for RM1200nett. The Festive Omakase menu, which is available for dine-in from the 24th of December until the 31st of December 2022, features seasonal dishes such as Foie Gras served with Teriyaki Sauce and Salt, and Teppanyaki Lobster served with a Teriyaki Butter Sauce.
Guests at Yue, on the other hand, can savour a variety of Chinese-inspired festive delights with loved ones. Guests can celebrate the festive season with dishes like Stir-fried Australian Beef Tenderloin with Chef's Special Sauce and Braised Pumpkin Soup served with Pan-fried Fish Maw, which start at RM228nett per person. Yue's holiday specialties will be available on the 24th, 25th, 31st, and 1st of January 2023.
To reserve your table, email Sheraton Petaling Jaya at dining.spj@sheraton.com.
Giving Back For The Holidays
While Christmas is a time to celebrate and cherish your loved ones, it's also the season for giving back. Sheraton Petaling Jaya Hotel would like to help the House of Love in Taman Klang Jaya, Klang, this Christmas. House of Love is a children's home that provides pastoral care to orphans. The Sheraton Petaling Jaya Hotel will distribute limited-edition Sheraton Ducky plush toys to guests who donate RM50 or more to the House of Love during the festive season.
The proceeds from this fundraising campaign will be donated to the House of Love. From December 1st, 2022, guests can make donations at the hotel's reception and all-day dining restaurant, Feast, on Level 3.
Are you a foodie? Read these: