I'm all about office romance, hun – and if you are too, then we are going to be besties. But some people take office romance to another level. I mean, imagine getting fingered in the office when your boss is passing by, and you doing everything in your power to not even let out the slightest moan. Not quite sure if this is disturbing or sexy. But, seriously – hats off to anybody who has managed to complete a full f*ck session in the office in broad daylight! You guys deserve some type of reward – and here it is.
Figuring out a fantastic place to shag in the office might be difficult. Why? Because it's a freaking workplace surrounded by surveillance cameras and people. But I figured it would be helpful to come up with a guide for your horny ass to misbehave without getting caught – or at least, to not get exposed. So, here are a few places the internet has suggested where horny people at work can still enjoy a few minutes of a sexual escapade – in relative privacy and without getting fired.
Oh! Before that – a disclaimer: Please f*ck at your own risk. Companies can fire and even sue you if they catch your naked butt grinding into another person at the office. Also, if you work at airports, banks and schools – I urge you to please keep your intimate activities to your home. You don't wanna be featured on the front cover of a newspaper the next day. Anyhoo, let's get on with the topic.
1. Supply Closet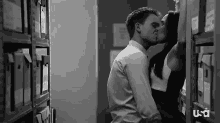 The number one and safest place in an office to have sex in would be the supply closet. Literally no one walks into the supply closet, and you guys are likely able to have a few minutes to yourselves without getting interrupted. Unless the janitor forgets stuff and returns to collect them. Then, BUSTED!
But other than that, it's completely safe to hit it out in the closet. Also, try doing it as quietly as possible, yeah? And, DO NOT touch anything. Be sure to not leave any evidence behind. Rumours spread like wildfire in an office.
2. In A Meeting Room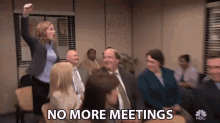 Meeting rooms aren't always occupied, and nobody would suddenly enter a meeting room, unless there's a meeting. So, spending a few minutes to make out and maybe give a blowjob wouldn't be such a bad idea. Just make sure that you find a meeting room that does not have a surveillance camera in it. Trust me – there's always one room without any cameras.
3. Cafeteria Washrooms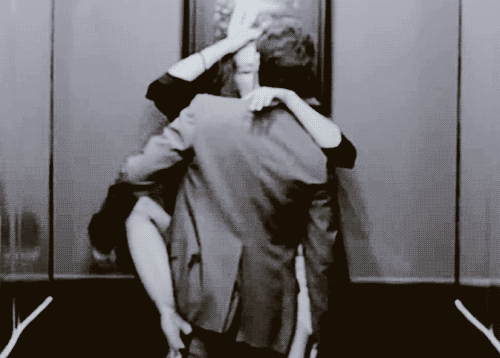 If you have a cafeteria in your office – BINGO – that's the spot. A cafeteria washroom is usually hidden and not many people use it, unless it's the only washroom in the building, which is impossible. It's a quiet and private area (possibly even stinky), that is able to give you two (or more?) a lil moment together. Nobody will ever know you guys are having your Fifty Shades Of Grey session in there. Maybe try keeping the tap water running – you might let a moan or two slip out, and like I said – nobody must find out.
4. Under Your Desk 
If you have your own little office room, then under your desk is the right place to let your office lover devour you. Like the scenes you see in the movies. Just replay them in real life. Wear a dress or a skirt to make things easier, and maybe a G-string might do you favours on that day. You know what they say – less is more. In this case, the less there is to remove, the easier and faster it is to get down and dirty.
5. Car Parking Lot
I guess if you'd prefer having an oral after lunch to freshen your palette, you might wanna lock yourself in your car and get down to business. Also, minimise your movements because sex in a car can be obvious, especially when you're bouncing and thrusting. A car park intimate moment may best suit oral sex.
Remember to chew gum or spritz some breath freshener after – I don't think you want to talk to someone with your breath smelling like d*ck.
6. In Your Boss' Office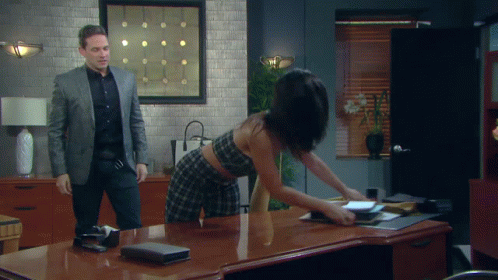 Baby, if you are banging your boss at work, you have hit the jackpot. Lemme remind you that you are a badass queen! But, really though, if you and you boss have a lil sumthin-sumthin goin on, then office sex will never be a problem. Why, you might ask?
Well, for one thing, he/she is the BOSS, so it's their office and you guys can literally make love anywhere. The best part is, nobody has the power to call you out. Secondly, their office is off-limits to most people, so you get all the privacy you need. You can legit have a BDSM moment, and nobody would dare walk in.
Now, get going gurl. He's probably waiting to spank the sh*t outta you.
7. A Dark Stairwell
Every office has that one haunted stairwell that no one dares go near – a hauntingly awesome place to moan out a load. A quickie by the stairwell or a full make out session where you're both eating each other's face out can be totes accomplished by the stairwell. And, if you have an ugly moan, you might just be able to freak everyone out and make them think it's a soul crying out for help. Now you've just secured the whole place to yourselves!
There ya have it, folks. Seven sex-friendly places in your office where you can refresh your mind and p*$$y mid-day. Have fun and DON'T GET BUSTED! If you do, tell them I had nothing to do with it.
More on sex? Read these:
https://lipstiq.com/sex/206641/bonking-positions-for-horny-people-with-knee-pain/
https://lipstiq.com/sex/206454/no-horny-places-where-you-should-never-do-the-nasty/