Unless by the end of it, you're lady ain't screaming your name and you ain't panting and thrusting very much, then it just ain't sex, buddy. The best kinds of sex are the ones for which you lose count of how many times you orgasm in a row. Sex is easy, orgasm… not so much. But there are techniques and positions that can help you and your partner reach climax faster, and with more satisfaction.
For males, it is relatively easier to orgasm, as you just have to insert yourself in someplace closed and moist. All that's left to do is thrust and repeat. For the ladies, however, there is more to be done. There are several parts in the female sexual organ that need to be touched and stimulated in order to allow the ultimate orgasm to take place. Remember this, boys, you are only a man if she screams your name in bed. So, read on to discover the positions that allow you and your partner to have a great time while helping you both reach orgasm faster.
THE STANDING POSITION 
*Visit afremov.com for more images 
This position is where the male stands at the edge of the bed (or the kitchen counter) while the female lies on her back and places her legs either upon the chest of the man or over his shoulders, depending on the comfort level. The male can then grab the waist of his partner and enter.
One thing to remember when making love to your woman is that there are three parts in her that help her reach climax – the clitoris, the g-spot and her nipples. If these three are touched and stroked in the right way then, sir, you are on the right track. The standing position gives access to all these spots in your lady which makes orgasm easier and faster for the both of you.
THE SPOONING POSITION
Ladies, this one is your man's personal favourite. This position is suitable for days where you are too lazy to move around, but still want to get the job done. The spooning position is where both you and your partner lie on your sides facing the same direction. Ladies, adjust your position and push your rear end towards his penis for easier access to your vagina. This gives plenty of room for the male to access the female clitoris and breasts. While thrusting, try making contact with her clitoris with your hands and give some action other than just the usual rocking and hip thrusts. Sometimes, women orgasm not because of sex, but because of clitoris stimulation. This position is very handy for deep penetration and close body contact.
LEGS ON HIS SHOULDERS 
This one is a staple sex position, as it enables deeper vaginal penetration, allowing the male to hit her G-Spot. This one is definitely an eye-to-eye love making position. If you and your lover are going for a more romantic, slow and bonding sex, this position is perfect. The female is on her back, with her legs draped over the man's shoulders, and the male gets ahold of the female's legs while thrusting. Or, the man can just place his hands on either sides of the woman's body (which I personally find sexy, because of the guarding position).
You can always adjust to your liking. It can take a small difference between not orgasming at all and orgasming within seconds or minutes.
COWGIRL 
Cowgirl is a universal sex position and was voted as most favourite position by men in a study. There are various positions to this, like the reverse cowgirl and such. Experiment with your partner and figure out which one works best for the both of you. Basically, the man lies down on his back and gets the lady to straddle his waist with her legs on either side of his torso.
Thrusting in this position allows contact between the female clitoris and the male frontal. This positions helps with quicker orgasm mostly because it allows the female to be in charge – and what speeds up the climax is her being in control.
THE SIDEWAY ACCESS POSITION 
This position might not be everyone's favourite, but it will help you reach your high. You know what, this might be the position if you want to undress, get it done and get the f*ck out. Men, have your woman lie down on her side. Kneel down with your legs between her left leg, like you're straddling it, then have her right leg bent on the right side of your waist. This is yet another position that helps deeper penetration. And since the male is fully open to the female body, stroking her breasts and playing with her clitoris should be easy to achieve.
GOOD OLD MISSIONARY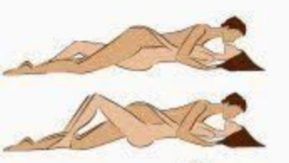 Nothing can go wrong when your man is on top (my personal favourite). This one is a classic and also a position that is favoured by many couples. This position is packed with physical and emotional intimacy and also a position that quite likely describes sex the best. Ladies, lay with your back facing down and let your man get on top of you while positioning himself towards your entrance. Then, wrap your legs around his waist as he rocks and thrusts. This allows the clitoris to have some friction against you man's lower abdomen. This position also gives way for deeper penetration that can hit the G-Spot, sending you to your high within minutes of intercourse. This one is also a beginner's position.
So, what are ya waiting for? Go get into these positions and ride away to your high… and you're welcome!
More on sex? Read these:
Intercourse-metics: SEX-Proof Makeup That Will Stay On All Night Long!