Last Friday (3rd June), Lipstiq was present for the grand debut of L'Étape Malaysia in the gorgeous Desaru Coast of Johor Bahru. It was a three-day, two-night stay filled with thrilling events at the Festival Village and watching stunning men and women cyclists compete in "the World's Greatest Amateur Cycling Event" in L'Étape Malaysia on June 4th.
But before we get into the incredible plethora of events and activities that L'Étape Malaysia had to offer, let's retrace the path leading up to the unforgettable launch, beginning with our arrival at the Lotus Desaru Beach Resort & Spa!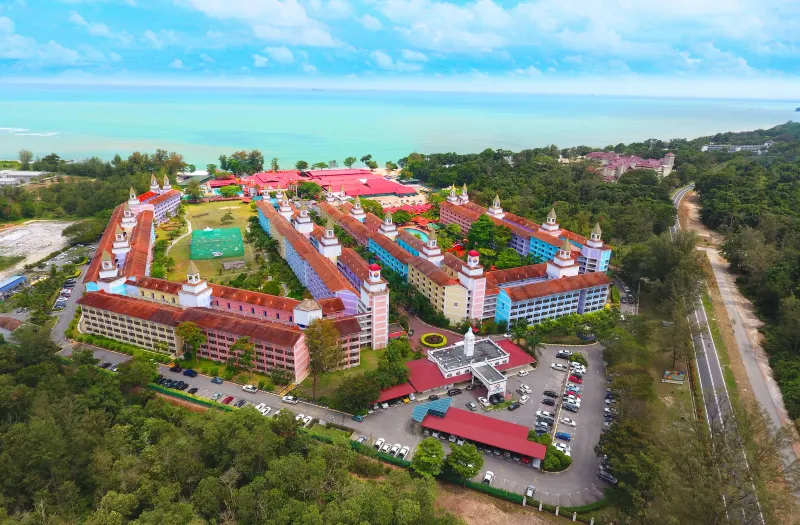 As you drive down into the lobby, you'll be greeted by rows and rows of colourful buildings – ranging from pinks and blues to yellows and greens. The resort as a whole exudes a kingdom-like feel, with turrets with flags on top of each of the buildings – it's as if you're staying in a castle. Registration was a breeze, and you'd be issued a keycard to your hotel room in minutes.
The room that I was staying in was a one-bedroom apartment with a living and dining space. There were bathrooms on both the lower and higher floors. Going up the stairs, there were two freshly made beds and a master bathroom with a shower bath. Overall, the room was well designed – albeit a little eerie – and convenient enough for a pleasant staycation.
For such a huge resort, Lotus Desaru Beach Resort & Spa does not disappoint in their dining offerings. Venues range from Korean BBQ to Lotus Spices, where a buffet of Indian dishes is served. For lunch, I thoroughly indulged myself at of their eateries, Teratai Coffee House, where they served an extensive menu of authentic local Malaysian cuisine.
Lotus Desaru Beach Resort & Spa has several amenities for its guests to thoroughly enjoy their hospitality, including a spa, a gym, and even a waterpark. However, personally, I find one of the most exciting aspects of this resort is undoubtedly the beach. The Lotus Desaru Beach Resort & Spa has a stunning view of the vast blue ocean. One could definitely enjoy the taste of the sea breeze as you sink your toes into the sand.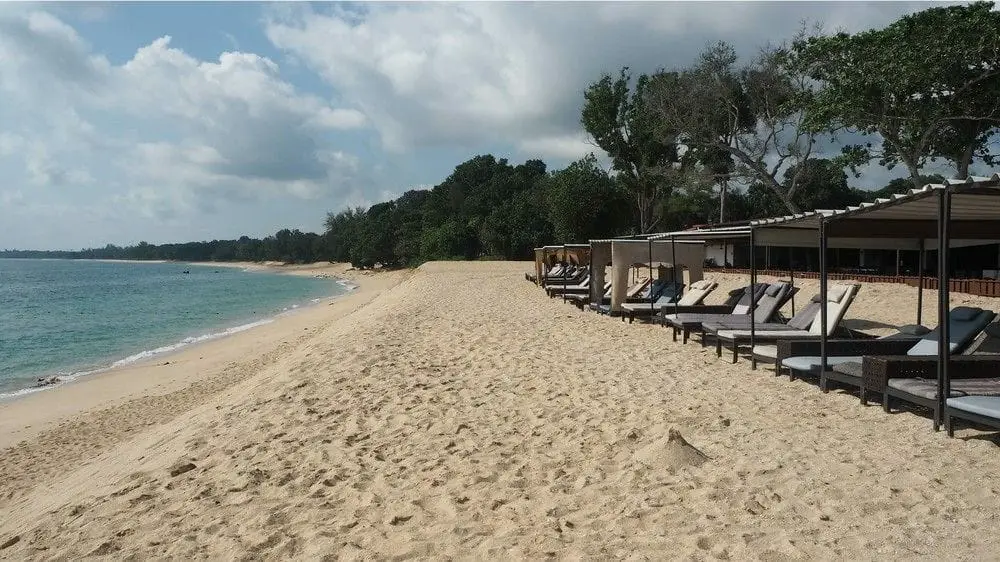 There's also a Beach Hut Bar where you can listen to their 2000s playlist while sipping on their inventive concoctions and witness the sun set on the beach.
Dinner time arrived, and I was whisked away to dine on the most exquisite cuisine at one of the Desaru Coast's most magnificent hotels, the Westin Hotel. I was led inside Seasonal Tastes, one of their gastronomic pleasures, where they provided a buffet of different cuisines and sweets that will undoubtedly leave their customers in a food coma.
The cuisine was delicious, from their Indian meals to their charcuterie options, and the restaurant itself was gorgeous, facing the lovely sea. It was without a doubt one of the tastiest meals I had on the trip.
That concludes Day 1 of Lipstiq's trip to the Desaru Coast. Stay tuned for Day 2, where I'll share my experiences of the great launch of L'Étape Malaysia, as well as other activities and foods I enjoyed throughout the trip!
More on LipTrip? Read this:
https://lipstiq.com/holiday/197997/liptrip-lipstiq-luxuriates-in-an-intercontinental-hotel-kl-staycation-sliving/