Whether it's a cute chick-flick that leaves us feeling good, or a horror feature that keeps us up at night, some movies can leave a deep impression on our minds. Just like how Inception (2010) left us being afraid to dream at night; and how the twins from The Shining (1980) made us scared of walking in long and empty hallways. Here are some movie recommendations that will give you an absolute mind-fuck and leave you questioning your entire existence 😀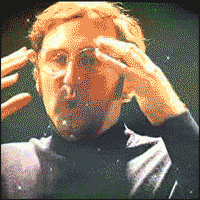 Cloud Atlas (2012)
Starring Tom Hanks and Halle Berry, this film will certainly leave you speechless. It takes place in 6 different eras that span hundreds of years. As if that wasn't confusing enough, each story embodies the tropes of very different genres and each of the actors plays multiple roles across the film, switching from ages, genders and races in each story! Its plot suggests reincarnation or other forms of connection between souls through time.
Vivarium (2019)
This one's a doozy. This film starts off with a couple, played by Jesse Eisenberg and Imogen Poots, who are looking for a new home. After they meet with their off-putting real-estate agent, they follow him to a suburban development called Yonder, with endless rows of identical houses. This is when they discover that there might not be a way out of this place. The truly scary part about this movie lies within its set design. The identical houses just make everything so much more claustrophobic!
Under The Skin (2013)
Scarlett Johansson as a sexy alien? Yes, please. This film is about an extraterrestrial being disguising itself as a woman, driving around in a van preying on men in Scotland. Yes, this is the simplest description I can give of this movie. The visual effects and brilliant acting from Scarlett Johansson are definitely among the many aspects that make this movie so mesmerizing. Fun fact: Many scenes were filmed with hidden cameras and most of the cast had no previous acting experience!
Trance (2013)
Trance is a psychological thriller starring James McAvoy, Vincent Cassel, and Rosario Dawson. The movie starts off with Simon (James McAvoy), who is a fine-art auctioneer, joining a gang of thieves led by Frank (Vincent Cassel) to steal a painting. But during the heist, he suffers a head injury, which results in him having no memory of where he hid the artwork. Frank then hires a hypnotherapist (Rosario Dawson) to help probe his memory. This is when the movie becomes super meta, blurring the line between deceit and reality.
Mother! (2017)
Trigger warning: this movie is fucked up. Starring Jennifer Lawrence as the main character 'Mother', and Javier Bardem as 'Him', this film takes place in a Victorian mansion. 'Mother' is seen renovating different areas of the house when an unexpected guest arrives at their doorstep one night, followed by the arrival of his wife and his two children. The plot then takes a terrifying turn, which made many audience members leave the theater halfway through the movie. So, be warned, this movie isn't for the faint of heart.
Perfect Blue (1997)
Directed by Satoshi Kon, this film is known for its mind-bending plot and stunning visuals! It follows a member of a Japanese idol group, Mima Kirigoe, who retires from music to pursue acting as a career. She then becomes the target of a stalker, and gruesome murders begin to happen, which results in Mima losing her grip on fantasy and reality.
Happy watching!
More on movies? Read this:
https://lipstiq.com/entertainment/189483/chinese-romantic-movies-to-watch-for-valentines-day/