Ardent online shoppers always look forward to the double-digit sales that every major e-commerce site has in store for them. With the month of December upon us, it's only natural that we end the year with a bang… for our buck, that is – and Lazada is here to help you do just that!
With the final edition of their double digit sale, Lazada is presenting an awesome way to conclude the year by holding Lazada's 12.12 All-Out Year-End Sale, packed with tantalising offers, prizes, and discounts! Avid bargain hunters may expect to spread their Ringgit with hundreds of All-Out discounts from 12AM to 2AM and 12PM to 2PM during the three-day event, as well as heaps of LazFlash goods with up to 90% off.
Chup Dulu: Pay 10% Deposit To Reserve The Best 12.12 Deals
Chup Dulu, Lazada's pre-sale feature, presents many more special bargains from prominent indigenous and international companies for the 12.12 mega sale. Customers can secure their favourite offers via the Lazada app until today by placing a non-refundable 10% deposit and checking out the remaining money on 12th of December from 2AM onwards. Items will be dispatched once full payment is received.
Lazada Bonus: RM8 Off For Every RM80 Purchase
From the 12th to the 14th of December, purchases of products with the Lazada Bonus badge will earn an RM8 discount for every RM80 spent. Between now and December 14, Lazada Bonus vouchers can be gathered and combined with other vouchers to optimise savings.
Lazada 12.12 All-Out Year-End Party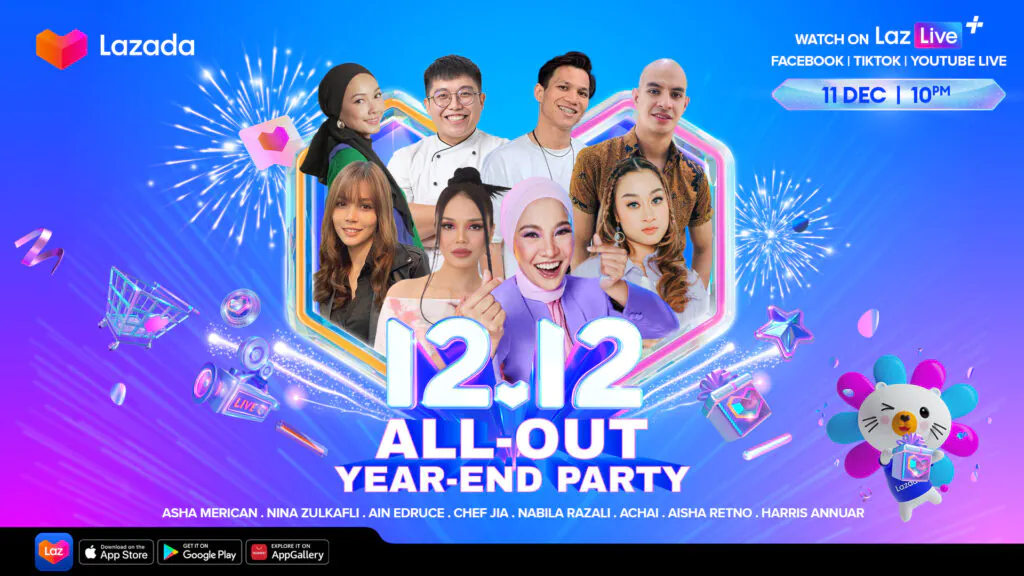 Tonight, from 10PM to 2AM, the 12.12 livestream party will highlight the biggest fashion and beauty deals. Consumers can watch the Lazada 12.12 All-Out Year-End Party on LazLive and Lazada's official social media channels to learn how to glam up for year-end parties and win prizes such as RM50,000 in coupons or even an Apple iPhone 14 Pro Max.
LazCoins: Up To 60% Coins Cashback Rewards
Make every Ringgit count: the more you spend, the more LazCoins Cashback you can get. Get up to 60% LazCoins cashback rewards with no minimum spend from the 12th to the 14th of December. The first 100 successful payments made between 12AM and 2AM daily from December 12th to 14th will earn 1000 LazCoins cashback rewards with a minimum purchase of RM300.
Exciting Discounts In LazMall Brands
LazMall, Lazada's authenticity-guaranteed brand gateway, keeps on bringing in the most appealing Crazy Brand Mega Offers with up to 80% off between 12AM and 2AM during the 12.12 sale!
If you missed the midnight sale, you can still take advantage of Brand Mega Offers that will run until 14th of December, where you can save up to 70% on your favourite LazMall brands. Surprise Boxes, Christmas Gifts for Him/Her, Year-End Stock Clearance Sales, and more will be available to help you splurge your Ringgit wisely.
Spend to your heart's content during Lazada's 12.12 All-Out Year-End Sale!
More on Lazada? Read these:
Lazada's 11.11 Sale Is Back & Better Than Ever! Here's What We're Adding To Our Cart!