Lazada's 11.11 sale is back – and boy, do they have SO MUCH in stock for you. With only the lowest prices, sales that go KRAZYYYY throughout the day, and attractive prizes to be won, they really mean it when they call it their Biggest One Day Sale. Instead of spending your 11.11 making wishes, GRANT all your shopping wishes instead with Lazada! 
Brace yourselves ladies, gentlemen and everything in between, because boy, are you in for a treat this time! You've got stackable vouchers that can give you up to 90% off, alongside Lazada bonuses which give you RM10 off every RM100. And because Lazada is the gift that keeps on giving, you get to enjoy free shipping with no minimum spend – it's no wonder Malaysians are going cray-cray for the upcoming Lazada 11.11 sale!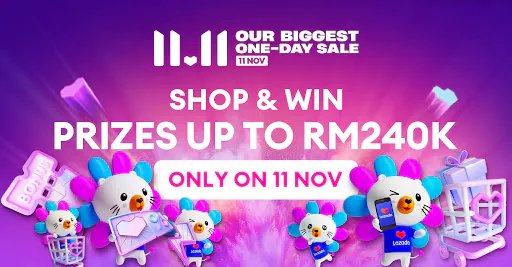 But you don't only have to take it from us – listen to the KOLs you all know and adore! We're talking about the gorgeous Ssab and Hanisah!
@lazada_my

Float like a butterfly, sting your crush's heart with these BOOMspired makeup look by @hanisahhnfh 🦋🦋 Get excited to copy this look during our 11.11 Biggest One Day Sale and enjoy stackable discounts of up to 90% and Free Shipping to top it off! #LazadaMY #Lazada1111MY #Lazada1111MYBiggestOneDaySale
Just look at how gorgeous their makeup looks! Whether it be a look that's more casual and everyday like Ssabs', or a bold and creative look to bring out the inner artist in you as shown by Hanisah – Lazada has all the products you need!
Yes, we're talking makeup, skincare AND fashion – the big three for every trendy and glamorous woman! Lazada has got the gurls' and guys' backs when it comes to fashion and beauty! If you didn't already know, Lazada is THE go-to shopping destination for all your fashion and beauty needs. Offering all up-to-date and trendy products you could ever need, Lazada is committed to bringing you the most modern and stylish items with the highest quality!
This is your chance to not only step up your fashion game with brands like Nike and Pandora, but also become the best version of yourself with glowy skin and snatched makeup looks with limited brand deals from Eucerin, Watsons and Lancome!
You get to shop with confidence this time around, thanks to 'Mesti Beli Deals' backed by 'Lazada's Lowest Price Guarantee' – your cards will be used but not abused, because Lazada is your savvy shopping bestie! But that's not all – no no, we're just getting started. They also have their 'Crazy Brand Mega Offers' affording you up to 90% off on exclusive brand deals, PLUS surprise boxes from RM11 which can actually be worth up to RM600!
And don't you even try to sus out the authenticity of the brands, because LazMall guarantees you genuine goods; Lazada's flagship stores offer the real deal for established brands! You get to enjoy over TEN THOUSAND Global Brands like Nike, Adidas, Maybelline, L'Oréal and so much more!
Well, what are you waiting for? Lazada's 11.11 Biggest One Day Sale starts NOW, so be sure to visit the Lazada app on the 11th of November from 3pm to 5pm. Ooh, and just something extra for you – there's a lil secret we haven't told you yet… The 1st order of every minute for ANY fashion item will win a random prize from renowned brands like HABIB, Lazo Diamond, BONIA, Wanderlust+co, and many more!
So head on over to Lazada and shop to your heart's content this 11.11!
Be sure to follow them on their Instagram and Facebook accounts, so that you don't miss out on any announcements they might have. Happy shopping!