'Tis the season to gather with loved ones over magnificent feasts. With Christmas only days away, be sure to book your spots now for the best festive meals at Concorde KL and Putrajaya Marriot hotels!
Concorde KL
Christmas Buffet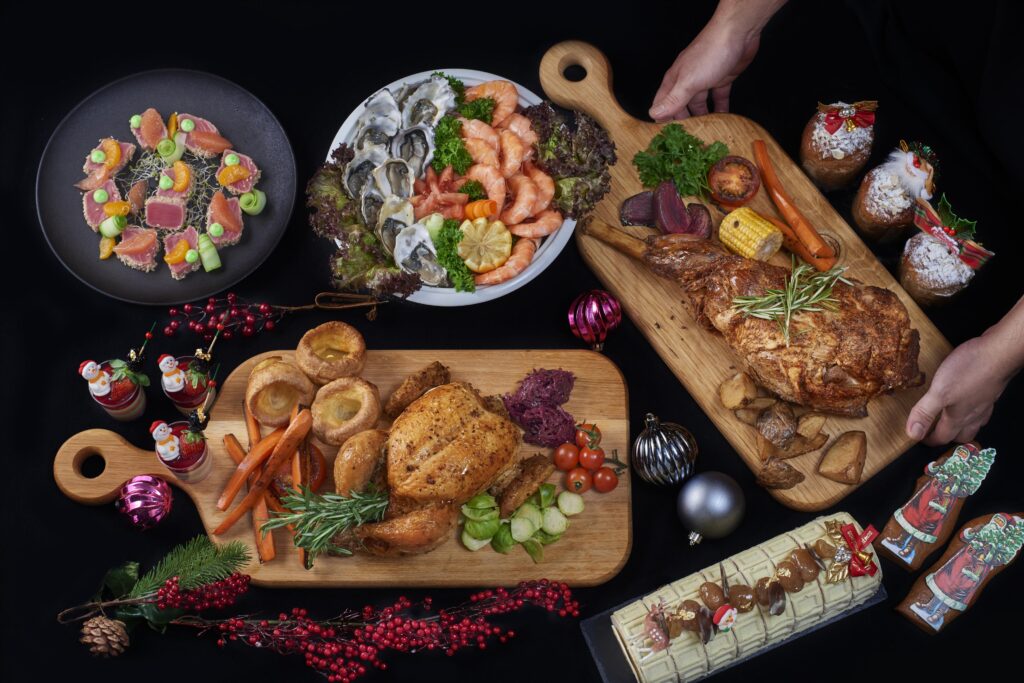 Christmas Buffet High Tea (December 24 – 26, 2022)
Get ready for heartwarming gastronomic selections for the festive season. Start with a buffet high tea spread, which begins at 12.30pm, and offers a dazzling combination of local and international fare.
For starters, there are orange and carrot gazpacho, assorted cold cuts with pickles, beef chili con carne, som tam (Thai papaya salad) and Vietnamese beef noodles. For mains, savour whole roasted chicken, oven roasted rosemary potatoes and Brussel sprouts, southern style buttermilk fried chicken, shepherd's pie and a la minute pasta. The all time popular teppan theatre is not-be-missed! Pick your vegetables, sliced meats and have Concorde KL's chefs pan-fry them to perfection.
No meal is complete without sweet desserts. Tuck into a selection of Christmas cakes, a chocolate fountain with marshmallows, freshly made popcorn, assorted cupcakes, mascarpone strawberry chocolate cup, pandan layer custard cake, raisin and cranberries scones served with jam and cream, mango mint panna cotta, lychee watermelon jelly and chocolate berries mousse cup, amongst others.
Buffet High Tea is priced at RM98.00 nett per person.
Christmas Buffet Dinner (December 23 – 25, 2022)
Make a beeline for the crowd favourite – a seafood display with oysters, tiger prawn, black mussels, manila clam and flower crab. Savour miso baked salmon fillet, provencal marinated lamb shoulder with harissa mint jus, baked chicken breast stuffed with mushroom, thyme and ginger sauce, whole roasted duck with orange sauce served with glazed red cabbage, oven roasted rosemary potatoes, brussel sprouts, and roasted lamb leg with roasemary demi-glace. Other delights include satay, teppanyaki, nyonya chicken curry, daging bakar air asam, udang masak lemak cili padi, wok-fried flower crab kam heong sauce, Chinese style steamed silver pomfret with black fungus and XO sauce. Christmas fruit cake, cherry almond crumble tart, pistachio cherry cheese cake, Christmas chocolate yule log, pecan nuts pie with cinnamon whipped cream, crepe suzette, mango vanilla panna cotta, black forest cherry cup, Christmas pudding, pralines and assorted Christmas cookies are some of the desserts served.
Buffet Dinner is priced at RM168.00 nett per person.
New Year Buffet
Bid adieu to 2022 at Melting Pot, which offers a breathtaking array of wholesome buffets.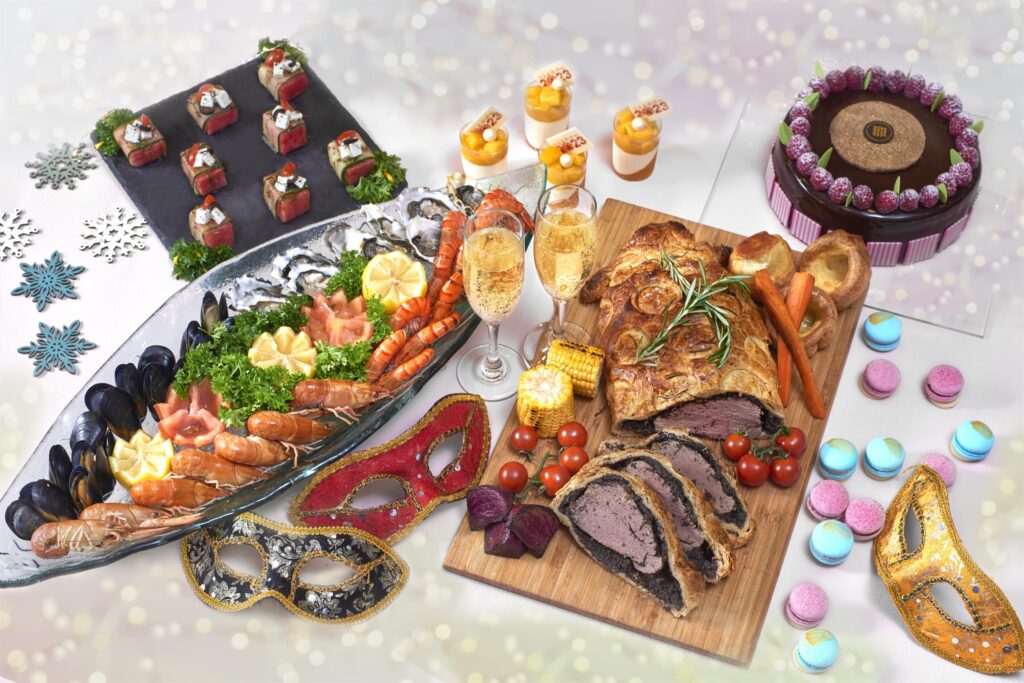 New Year's Eve Buffet Dinner (December 31, 2022)
Ease yourself into your meal with antipasti that includes sundried tomato, pan-fried button mushroom, grilled green zucchini to go with Melting Pot's selection of freshly made salads. Next, choose your fave oysters, tiger prawn or mussels. Since it's a buffet, you could keep at it and check out the decadent baked salmon with mustard grain sauce, grilled lamb with rosemary jus, duck leg confit and citrus sauce or beef fillet Wellington with Yorkshire pudding.
Other recommended dishes include pasta of sorts, a la minute teppanyaki dishes, Thai style steamed grouper with lime, chilli and garlic, udang harimau goreng kunyit, ayam kapitan, wok-fried beef with ginger and spring onion and Penang asam laksa amongst others.
New Year's Eve Buffet Dinner is priced at RM168.00 nett per person.
2023 Buffet High Tea (January 1, 2023)
Make new resolutions, make a fresh start. Have your friends along and enjoy catching up with them over good food. Aside from the bounty of tempting desserts, check out Concorde KL's popular main dishes like beef chili con carne with nachos chips, som tam (Thai papaya salad) Vietnamese beef pho noodle, teppan noodle with assorted vegetables and chicken baked salmon in puff pastry served with oven roasted parsley potatoes, lemon and dill cream sauce. Check out the special desserts like pecan brownies, raspberry swiss roll, mango mint panna cotta and more.
The 2023 Buffet High Tea is priced at RM98.00 nett per person.
Festive Offerings For Takeaway
For those who wish to organize an intimate celebration at the comfort of their homes, you can check out Concorde's Xmas Goodies List for some amazing festive takeaways.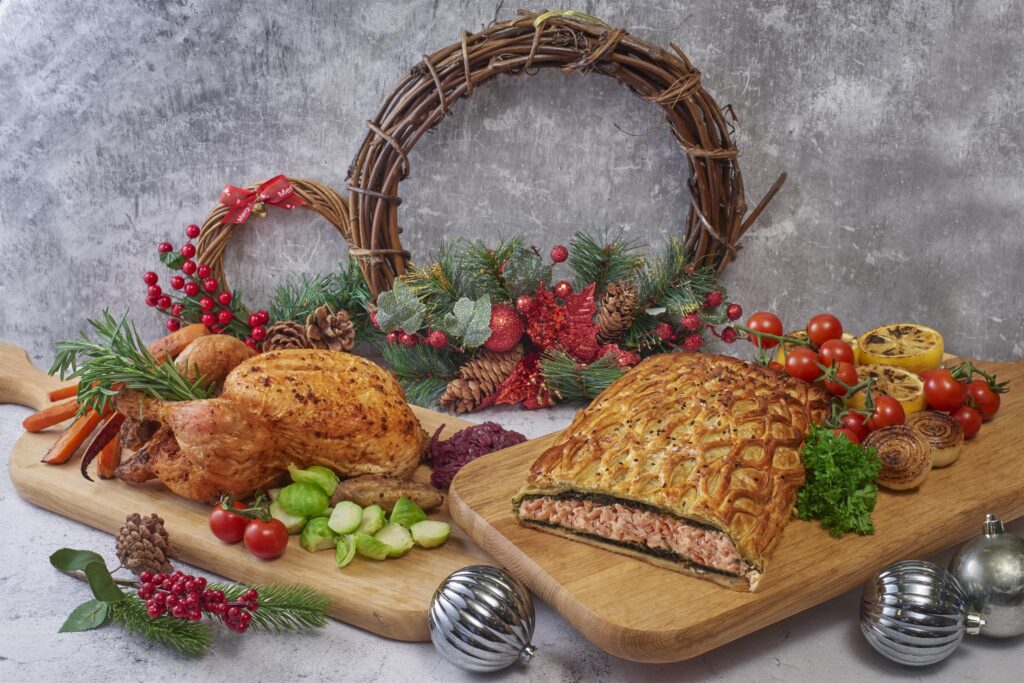 The Yuletide goodies are on sale from now to December 25 at Xroads Xpress Deli and Melting Pot Café. Classic favourites include rosemary roasted whole farm chicken with creamy mushroom sauce (RM198.00 nett), salmon fillet Wellington style baked with spinach in puff pastry and creamy chervil sauce (RM398.00 nett), slow roasted boneless lamb leg with mint jelly and confit (RM468.00 nett).
Each item is suitable for 3 – 4 persons per serving. For each dish, guests can choose two (2) side dishes. There are five (5) choices to choose from: potato-mushroom gratin, mashed potatoes with fried onions, buttered brussel sprouts with turkey crisp, caramelised red cabbage with apples, honey roasted pumpkin, carrots and asparagus.
Spruce up your festive dinner table with must-have Xmas treats. Order mixed fruit panettone, fruit stollen, gingerbread house, pecan nut pie with cinnamon whipped cream, Xmas manjari chocolate cherry coulis cake. For takeaway goodies, prices range from RM15.00 nett to RM468.00 nett per item. Guests can proceed to Xroads Xpress Deli or Melting Pot at anytime between 10.00 am and 6.00pm.
For enquiries or reservations, check out their website.
Putrajaya Marriott's HUAT AH! HUAT AH! Joyful To Celebrate
Celebrate an auspicious lunar new year with Putrajaya Marriott's "Joyful to Celebrate" and "Lau Hei… Lau Hei" Yee Sang offerings, available from 15 December 2022 until 12 February 2023. Summer Palace Chinese Restaurant is back with its traditional signature menu, priced from RM1888 to RM2988 for a table of 10 persons.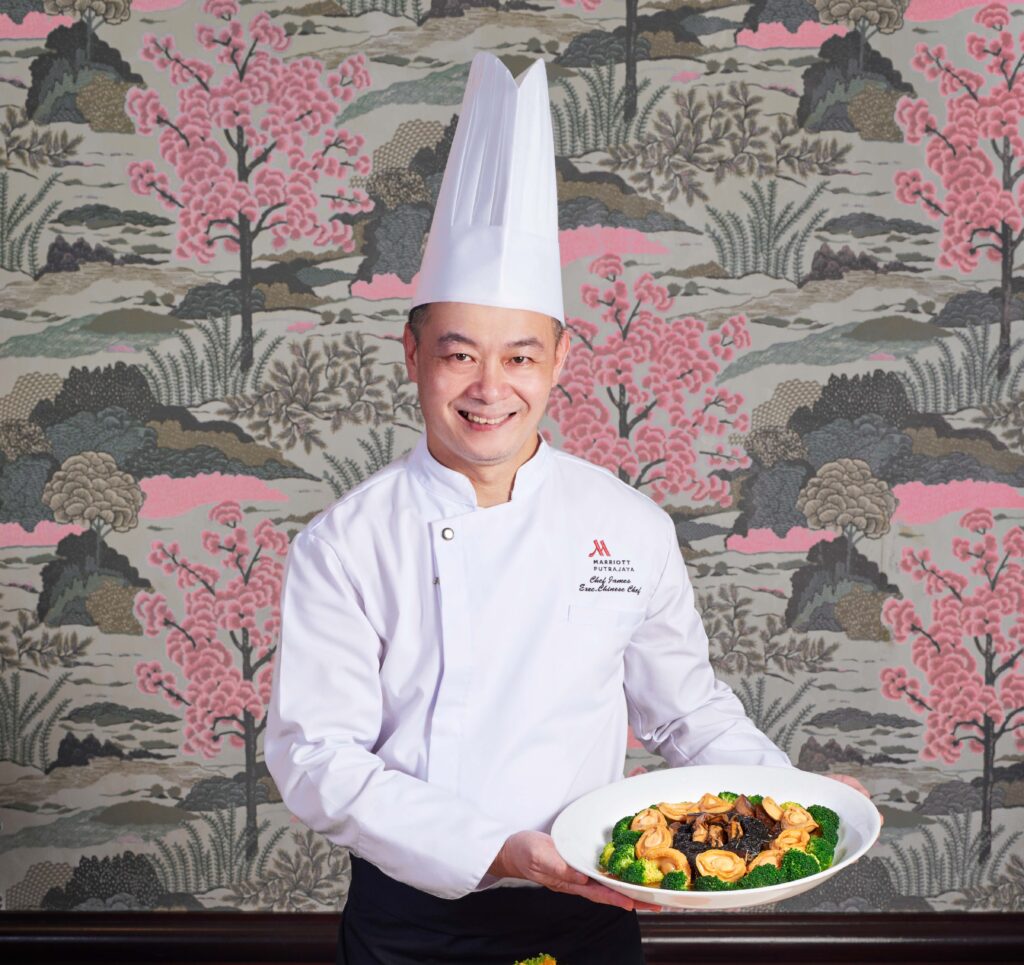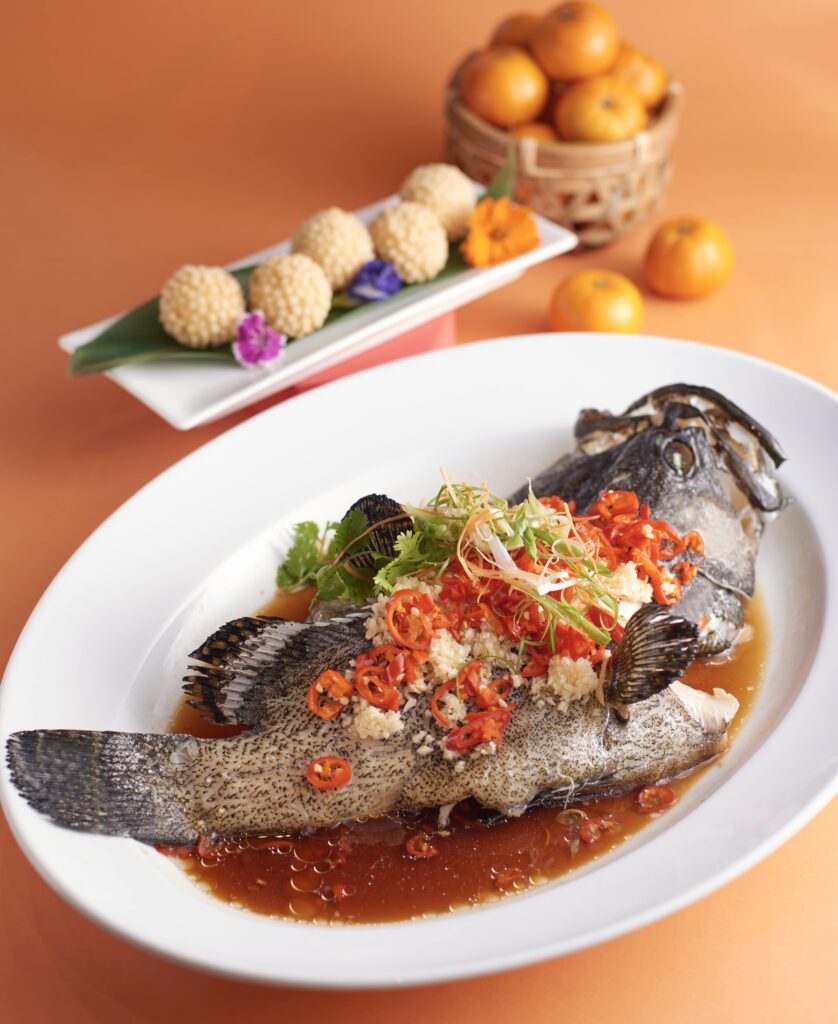 HARMONY SET MENU
(RM1988 PER TABLE OF 10 PERSONS)
Salmon "Yee Sang With Crispy Fish Skin and Mixed Pickles
Braised Sea Cucumber, Cordyceps, Fish Lips and Crab Meat Soup
Roasted Sesame Chicken Marinated With Sea salt, Ginger and Herbs
Steamed Tiger Grouper in Hong Kong Style
Fragrant Fried Tiger Prawn with Sweet and Sour King Sauce
Stewed Sea Cucumber, Abalone, Sea moss with Dried Scallop Sauce
Steamed Mini Glutinous Rice with Smoked Duck Wrapped In Lotus Leaf
Chilled Sea Coconut with Snow Fungus "Teow Chew "Style"
Deep Fried Rice Cracker Gold Cake With Purple Potato
HAPPINESS SET MENU
(RM2688 PER TABLE OF 10 PERSONS)
Abalone" Ear Fungus Yee Sang With Crispy Salmon Skin and Mixed Pickles
Braised Assorted Mixes Dried Seafood, Fish Maw, Bamboo Pith in Superior Chicken Broth
Steamed Baked Hong Kong Farm Chicken with Minced Ginger Sauce
Steamed Dragon Tiger Grouper with Chili Pickle Sauce
Wok Fried Fresh Water Prawn with Salted Egg York
Braised Dried Oyster, Sea Cucumber, Sea moss with Brown Sauce
Wok Fried Jasmine Rice With Diced Chicken Salted Egg
Chilled Lemon Sea coconut with Lotus Seed
Deep Fried Rice Cracker Gold Cake with Purple Potato
LONGEVITY SET MENU
(RM2988 PER TABLE OF 10 PERSONS)
"Hokkaido Scallop Tuna & Salmon" Yee Sang With Mixed Pickle and Vegetables
Braised Fish Maw Soup With Crab Meat, Dried Scallop, Fish Lips
Roasted Duck Marinated With Oriental Herbs, Five Spices, and Truffle Sauce
Steamed Dragon Tiger Grouper with Spring Onion, Ginger and Superior Soya Sauce
Fragrant Fried Lobster Tail with Yunnan Black Bean Sauce
Slow Temperature Cook Black Pearl Sea cucumber, Dried Oyster and Abalone with Broccoli
Poached Egg Noodles with Honey Boneless Chicken and Assorted Mixed Vegetables
Chilled Avocado Cream with Assorted Mixed Fruits
Deep Fried Rice Cracker Cake with Purple Potato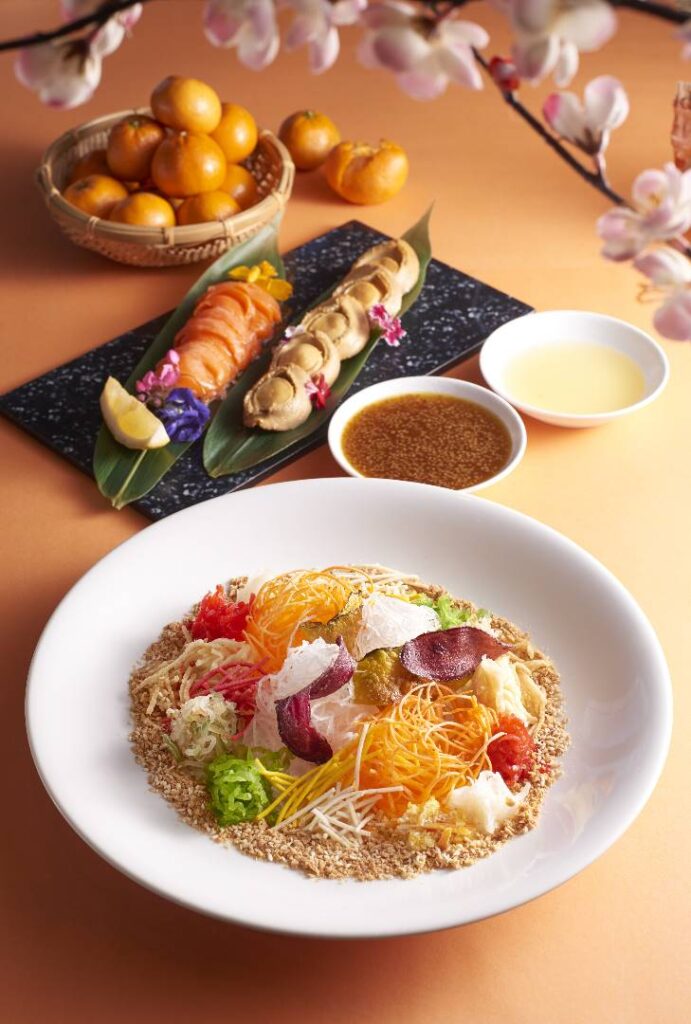 "Nian Nian You Yu", "Da Ji Da Li", "Zhao Cai Jin Bao", "Yi Ben Wan Li", "Cai Yuan Guang Jin", "Hong Yun Dang Tou", "Bu Bu Gao Sheng", "Feng Sheng Shui Qi", "Qing Chun Chang Zhu" are among the auspicious phrases to shout for good luck at Summer Palace Lau Hei from 15 December – 12 February 2022. Offering Yee Sang from RM78 nett and available in 2 sizes a-  half portion or full portion – each set comes in beautiful packaging, which can be bought as takeaway or be delivered to family, friends or even business partners. Free delivery within 5km of the hotel (subsequent charges of RM8 per km).
Yee Sang With Jelly Fish Skin, Crispy Fish Skin & Mixed Pickles (RM 78 Half Portion/RM 98 Full Portion)
Yee Sang With Salmon Fish, Crispy Fish Skin And Mixed Pickles (RM 98 Half Portion/RM 118 Full Portions)
Yee Sang With Ice Fish, Ear Fungus, Crispy Fish Skin And Mixed Pickles (RM 98 Half Portion/RM118 Full Portions)
Yee Sang With Hokkaido Scallop, Abalone Sliced, Crispy Fish Skin And Mixed Vegetables (RM 128 Half Portion/RM 148 Full Portions)
Yee Sang With Abalone, Crispy Salmon Skin, Fresh Vegetables And Mixed Pickles (RM 148 Half Portion/RM 228 Full Portions)
Yee Sang With Whole Abalone, Tuna, Salmon Sliced, Crispy Salmon Skin, Truffle Oil (RM 158 Half Portion/RM 238 Full Portion)
For more information or reservations, call +6038949 8888 ext. 1333 or WhatsApp +601156855608/+60115685 6380.
More on festivities? Read:
Get A Kick Outta Hendrick's Festive Wonderland @ Plaza Arkadia!