Nothing brings more joy to Malaysians than food (admit it!). As the saying goes: "Food brings people together", and a jolly good feast is the perfect way to celebrate Christmas with our loved ones this holiday season. If you're looking to splurge on the ultimate Christmas feast with your friends and family, we recommend Gordon Ramsay Bar & Grill at Sunway Resort Hotel.
For this holiday season, special menus and activities are in the works at Gordon Ramsay Bar & Grill for a classic 'Ramsay Christmas' and the ultimate countdown party at Sunway City Kuala Lumpur. Sounds like a feast-ivity worth chowing down on! Wanna know the menu items available at Gordon Ramsay Bar & Grill during these holidays? Read on!
A Ramsay Christmas 
Christmas is all about celebrating and honouring traditions, and there will be no lack of Christmas spirit at Asia's most celebrated restaurant – from the warm and cozy decor, to being serenaded by carollers.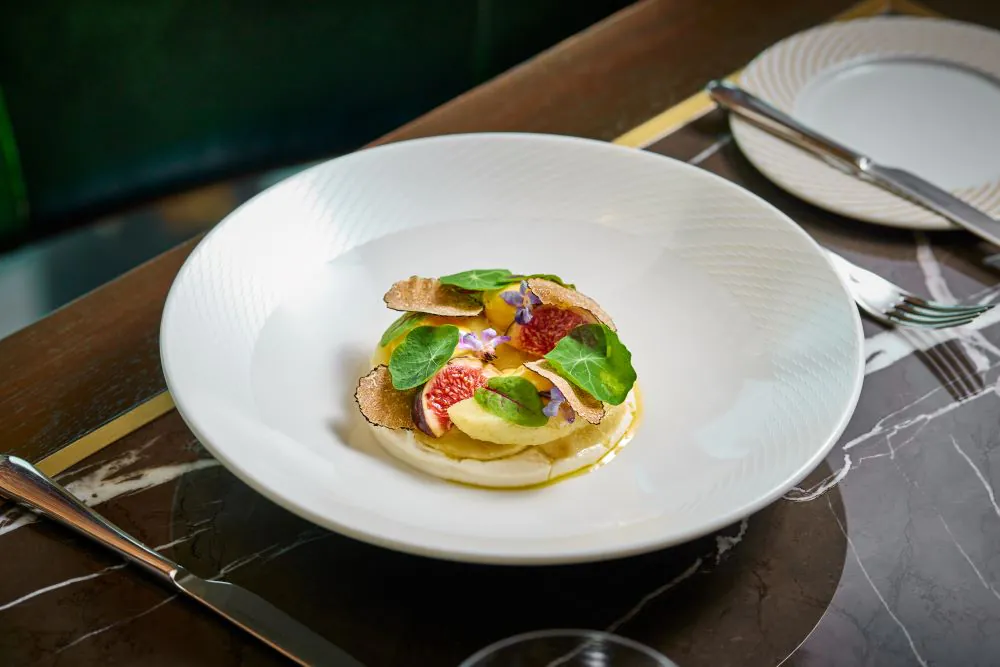 Artichoke Salad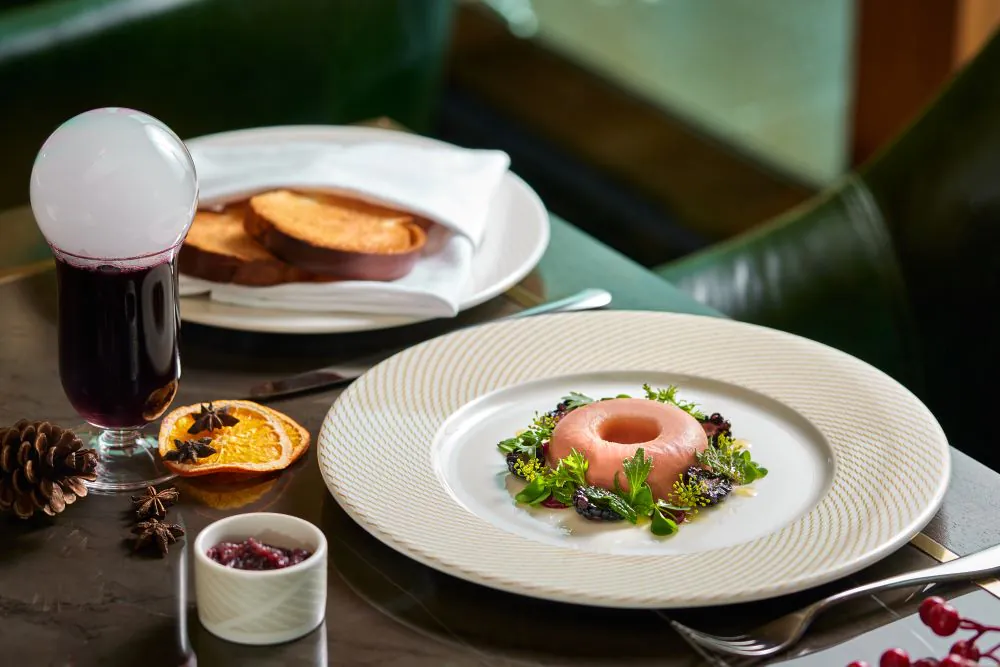 Chicken Liver Parfait
Patrons will be served a marvellous 5-course festive set menu made up of only the season's finest ingredients. Canapés of Uni on Crab Toast, Niçoise Salad on Tomato, and Citrus Salmon will be served upon arrival. The Artichoke Salad, Beetroot-cured Salmon, and Chicken Liver Parfait are among the starters.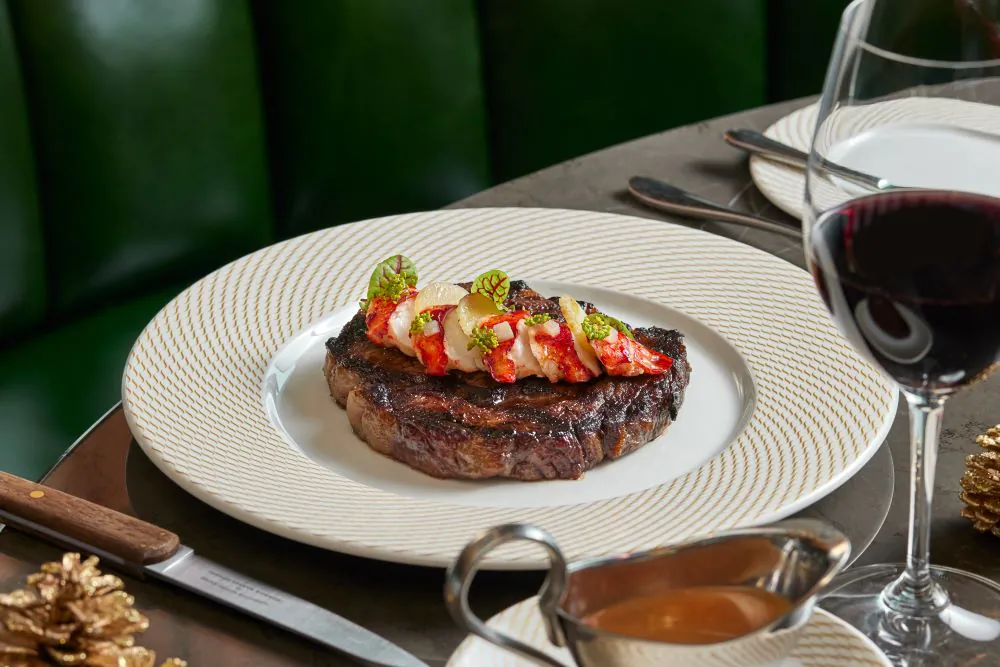 Angus Rib Eye with Butter-poached Lobster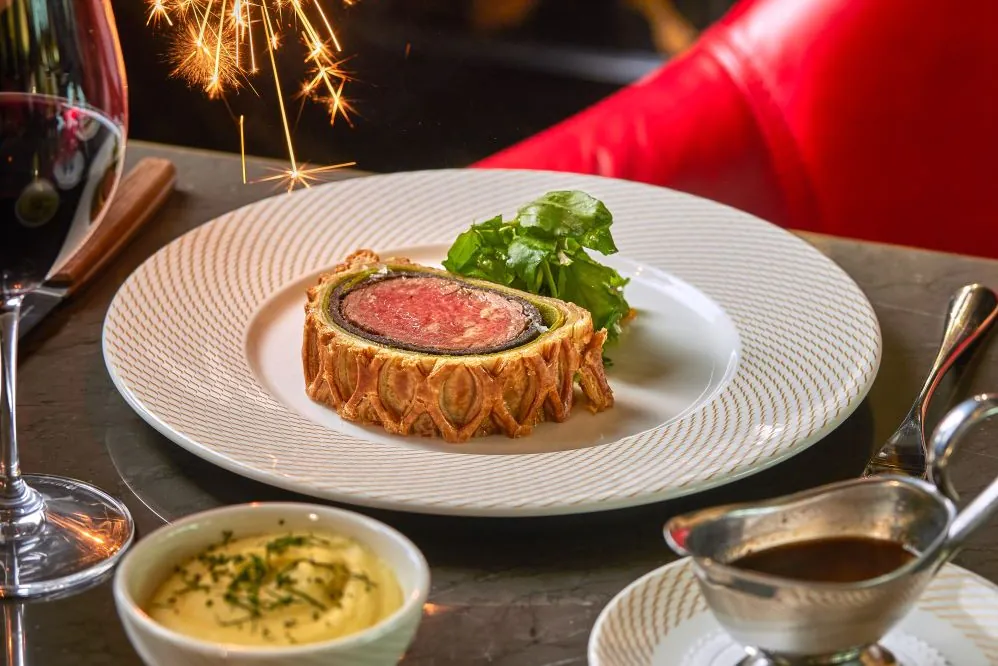 Classic Beef Wellington
The Butter-poached Murray River Cod, a tender Angus Rib Eye with Butter-poached Lobster, or the Classic Beef Wellington, served with Butternut Squash, Pomme Purée, and Brussels Sprouts on the side, are the amazing mains.
Finally, nothing says 'Christmas is here' like a traditional Christmas pudding!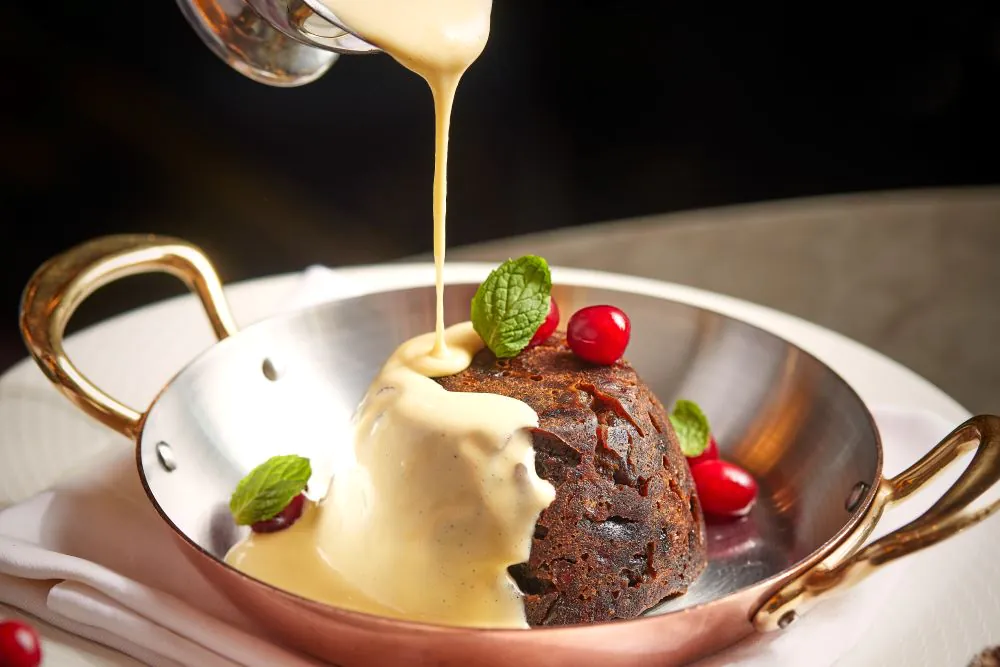 A wine pairing menu is available, combining each dish with selections including Château Le Merle Blanc, Jean-Claude Boisset 1er Cru Pinot Noir and Alión Vega Sicilia.
The festive set menu is available for lunch and dinner on:
24th December 2022 & 26th December 2022
RM688.00 per person and RM1,188.00 per person with wine pairing
25th December 2022
RM888.00 per person and RM1,488.00 per person with wine pairing
The Ultimate Countdown
Celebrate the start of the new year with a dazzling countdown party at Kuala Lumpur's opulent new restaurant. Rozz, Poovaa, and Dasha will captivate diners with their live performance; and at midnight, dinner will have an incredible view of the spectacular fireworks display over the lagoon, followed by a live DJ spinning into a thrilling start to 2023.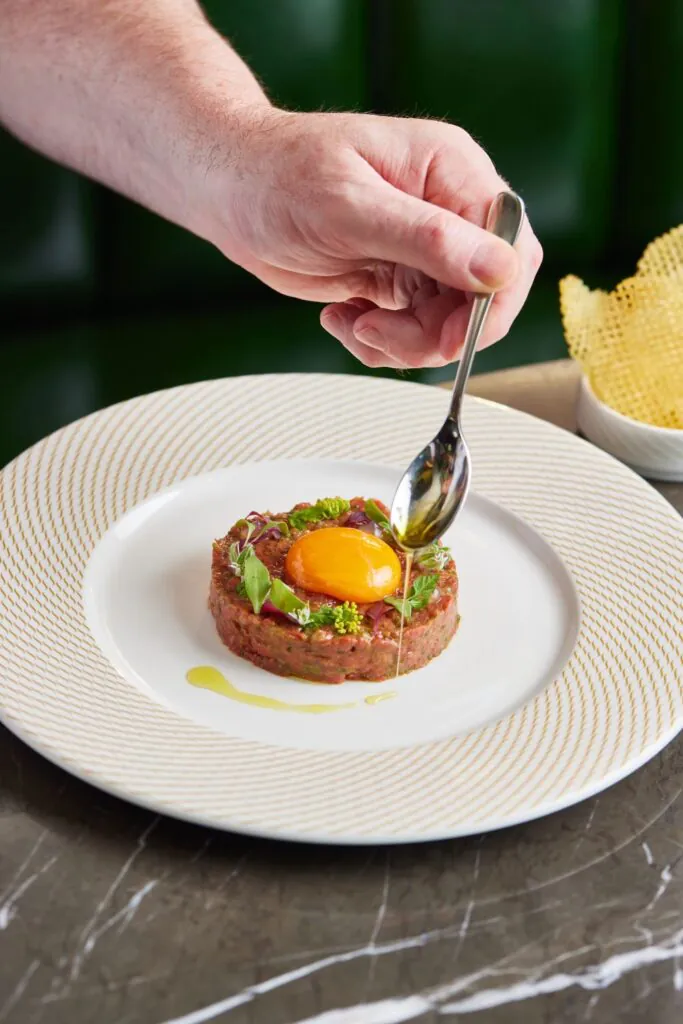 Beef Tartare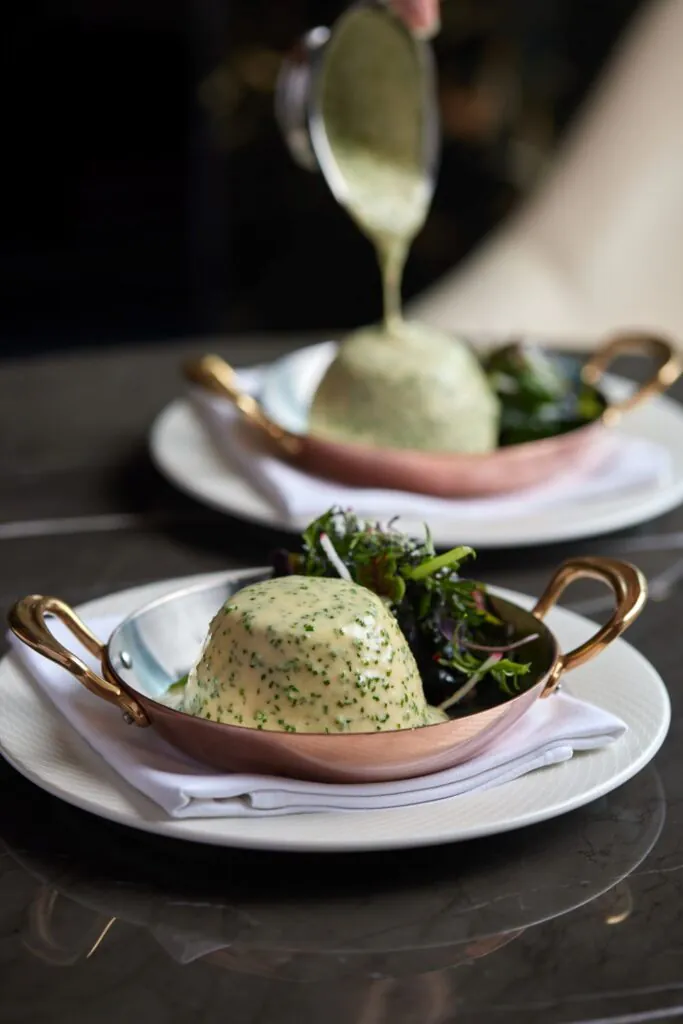 Arnold Bennett Twice-baked Soufflé
An exclusive 7-course set menu will be served. To begin celebrations for the evening, diners will enjoy some of Chef Ramsay's special canapés, including the Uni on Crab Toast, Beef Tartare and Citrus Salmon. For starters, the Oyster with Seaweed Beurre Blanc and Caviar, Lobster Croustillant and signature Arnold Bennett Twice-baked Soufflé will dazzle.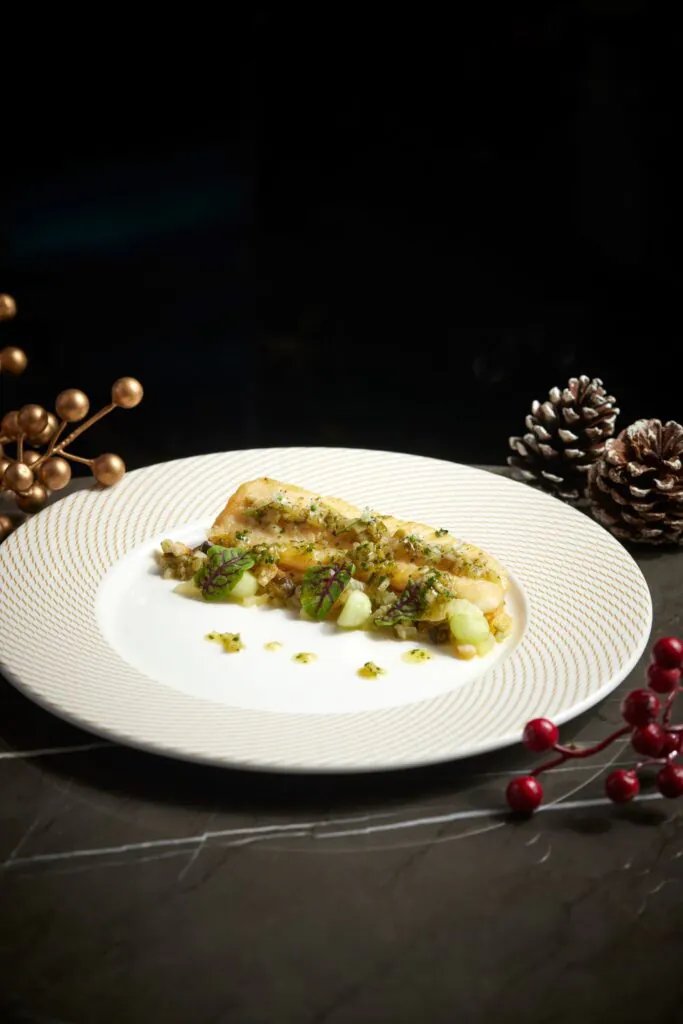 Dover Sole Grenobloise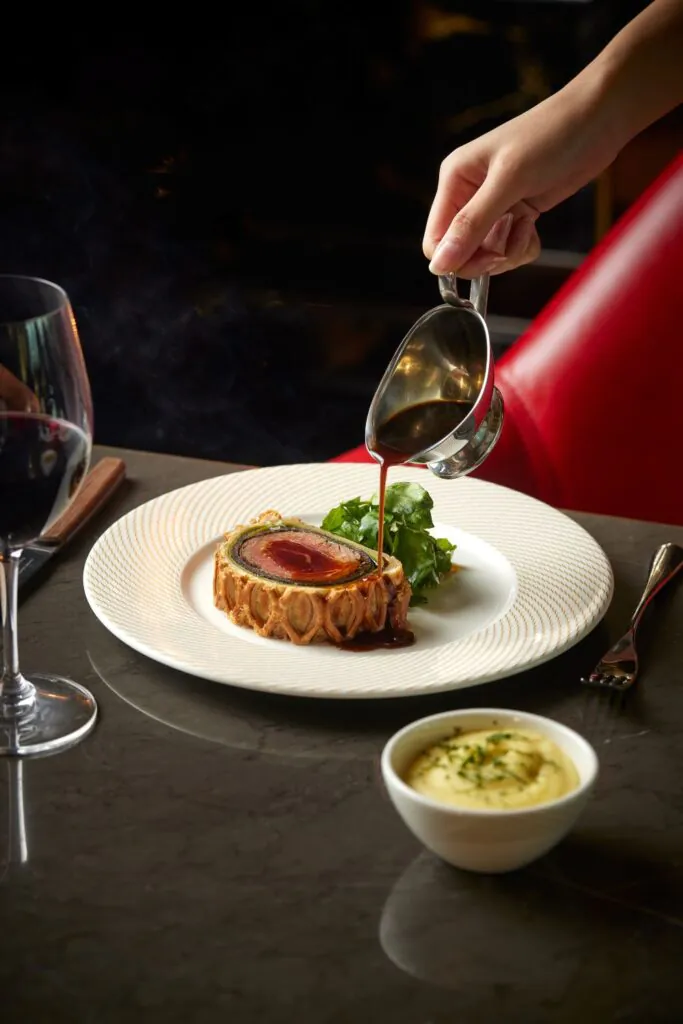 Classic Beef Wellington
The main courses are: Dover Sole Grenobloise or Classic Beef Wellington. The meal concludes with a 64% Manjari Chocolate Tart and a cheese selection.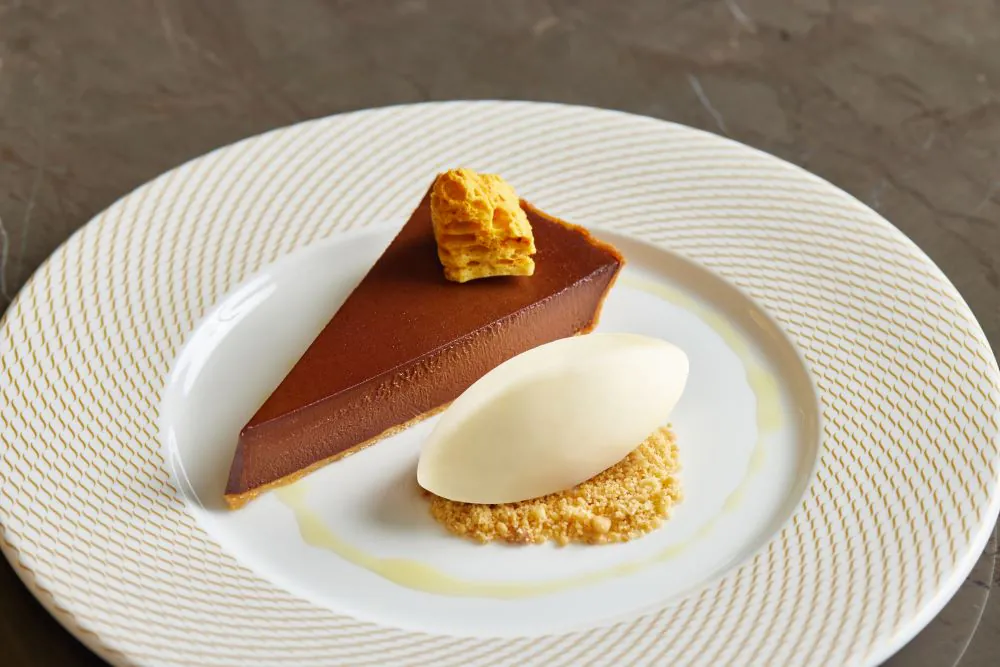 Gordon's Greatest Cocktails
Three Christmas cocktails have been specially curated for the season to kickstart festivities.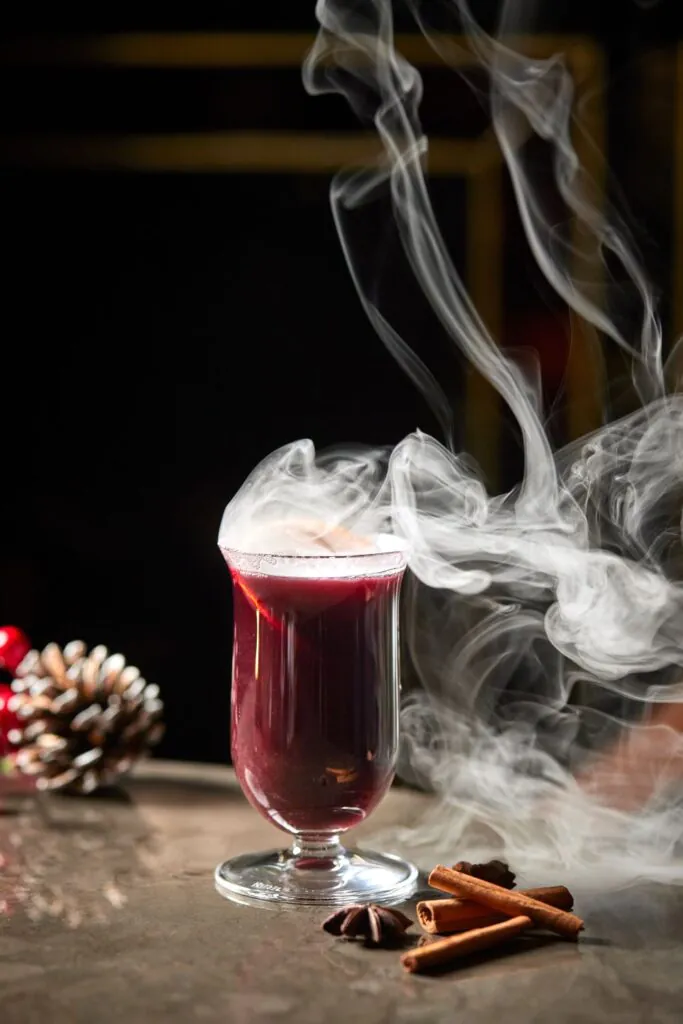 Mulled Wine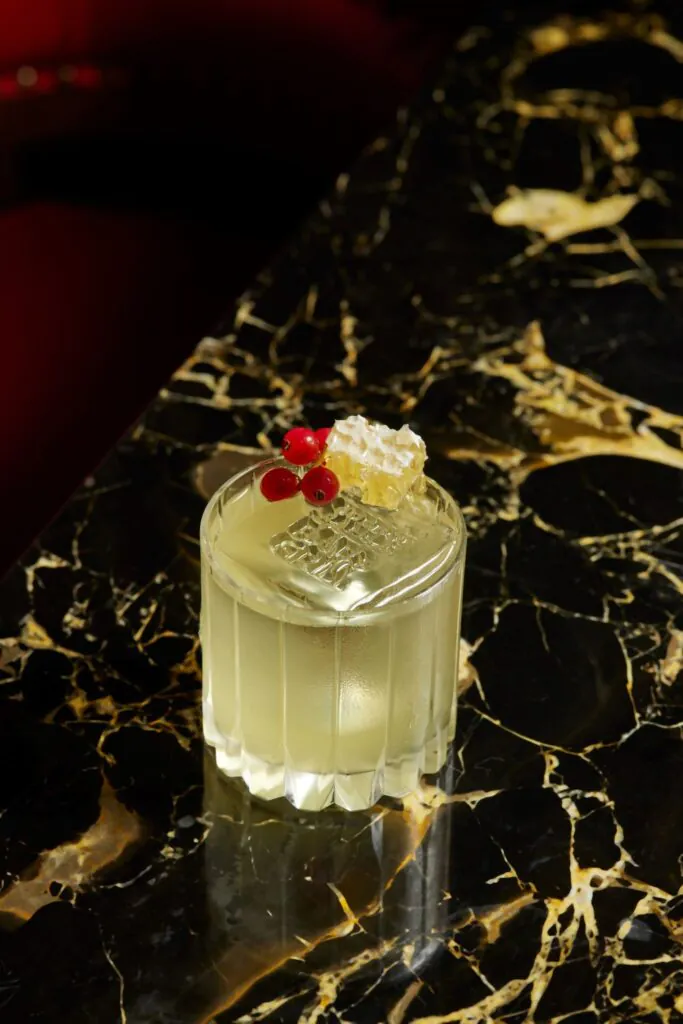 Rudolph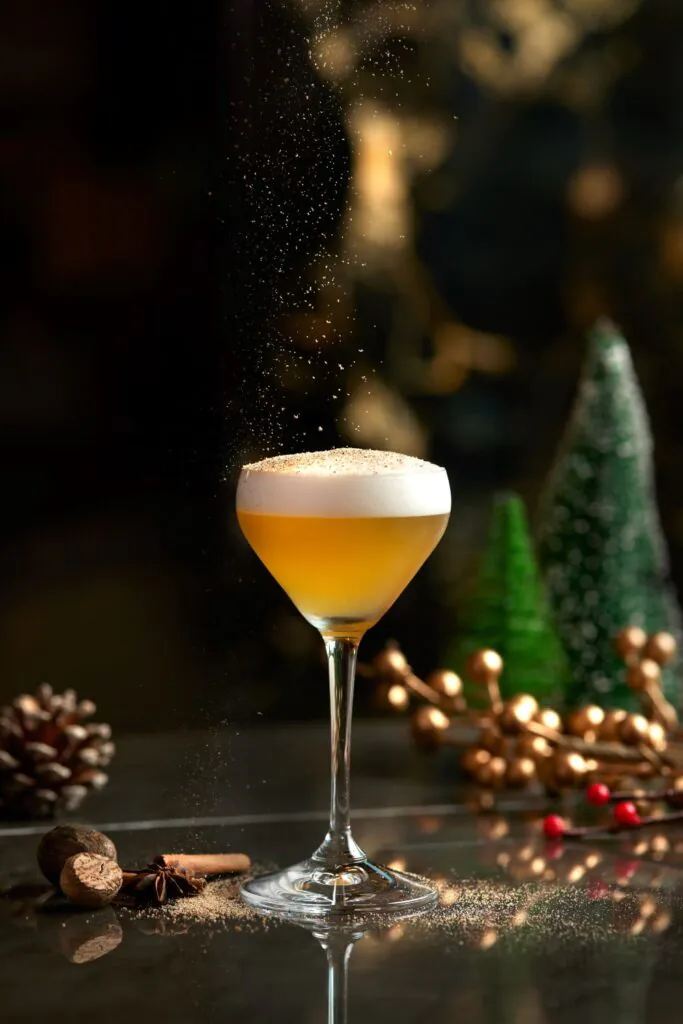 Nut Cracker
Nothing says Christmas quite like traditional Mulled Wine – fruity and tangy with a hint of sweetness, served toasty and bubbly with flavours from traditional Christmas spices and a hint of brandy. Rudolph has floral notes with a touch of bourbon on the nose, while the Nut Cracker is sweet and sour, with notes of rich toasted hazelnut flavours and aromas of nutmeg and star anise.
Private Dining Rooms
Guests can discover a trio of private spaces – 8 Mayfair, 10 Soho, and 12 Chelsea – that will set the tone for an intimate yet magnificent, festive celebration.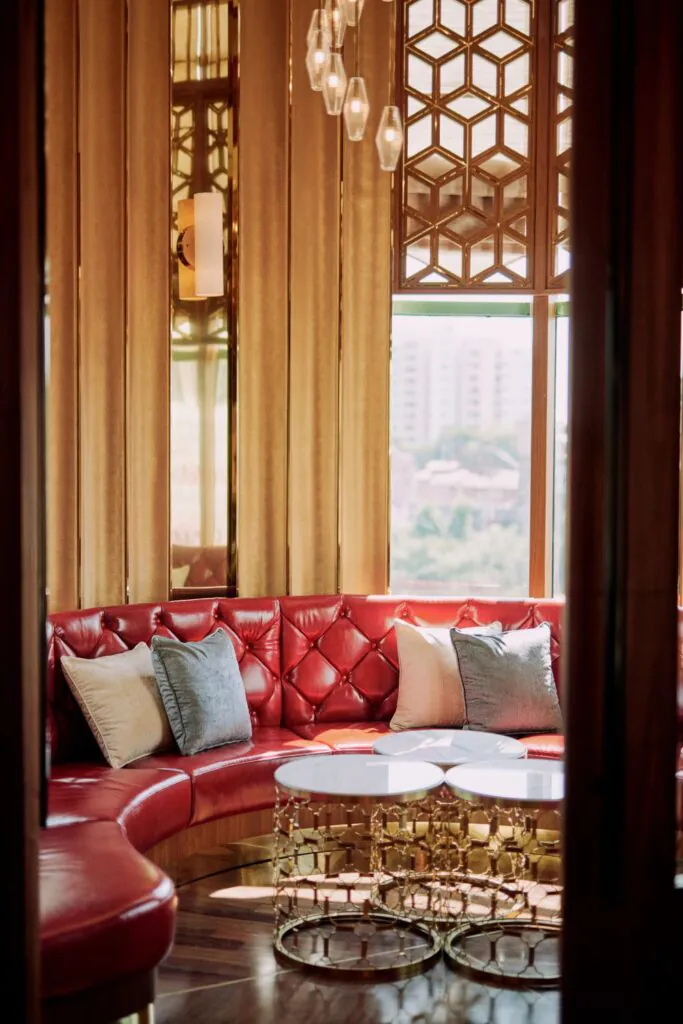 8 Mayfair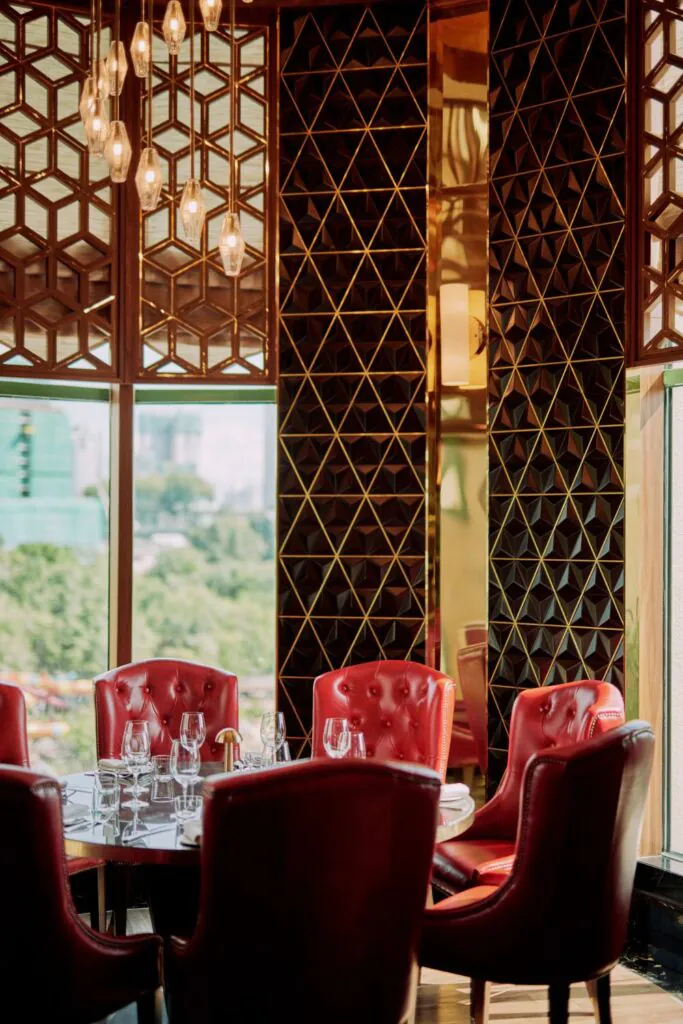 10 Soho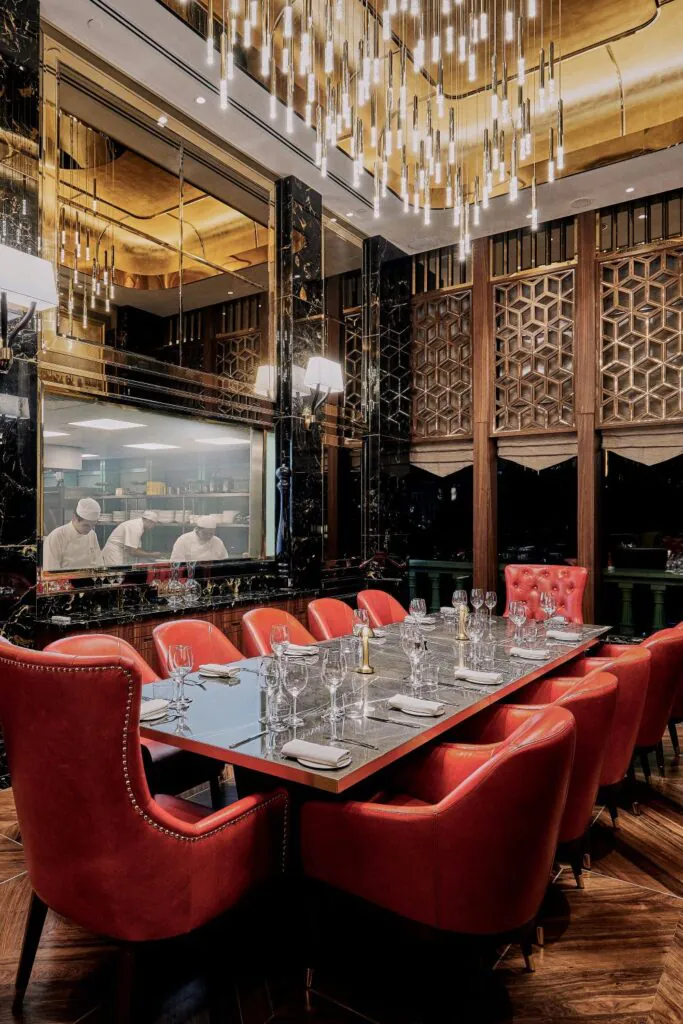 12 Chelsea
8 Mayfair is a stylish private room for eight guests to relax in style, with sophisticated leather armchairs, floor-to-ceiling windows, and even direct access to the wine cellar. 10 Soho, with its social red leather sofas, is a show-stopping private room that can accommodate ten diners, while 12 Chelsea provides twelve guests with front-row seats to the talented chefs' kitchen theatrics.
Stay And Dine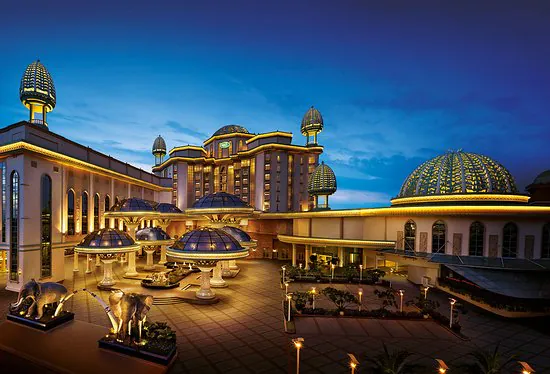 Stay at Sunway Resort Hotel and dine at Gordon Ramsay Bar & Grill to truly immerse yourself in the Christmas and New Year celebrations. The 2D1N Stay & Dine packages for two people include a night in the reimagined Club Room or Suite with stunning lagoon views, as well as breakfast and a set dinner at Gordon Ramsay Bar & Grill. The Christmas Eve package costs RM2,399.00, while the New Year's Eve package costs RM4,999.00.
To book a table at Gordon Ramsay Bar & Grill, email gordonramsay.rsvp@sunwayhotels.com or call +603 7492 8000
More on holiday feast-ivities? Read these: