In recent glittering pageantry news, Cheam Wei Yeng – better known as Lesley Cheam – was crowned Miss Universe Malaysia 2022, and will soon compete against international beauty queens on the world stage at the 71st Miss Universe competition, which will be held in New Orleans, the United States. After being handed down the crown by the previous Miss Universe Malaysia, Francisca Luhong, the 26-year-old pharmaceutical and health science graduate will compete for our country – and hopefully bring home the crown!
Before heading off to the US, Lipstiq had the pleasure of chatting with the new Miss Universe Malaysia, who shared her thoughts on everything from winning the coveted title, to her advocacy for mental health awareness. She also shared some of the backlash she faced when she was crowned Miss Universe Malaysia, as well as the anxiety she's been dealing with her whole life.
Winning Miss Universe Malaysia 2022
From a pharmaceutical degree holder to becoming our current Miss Universe Malaysia – what was the journey like, from one to the other?
I've been into Science since I was young, so Science is basically part of my life. That's how I got into the study of pharmaceuticals, and I hope that one day, I can do something for the world and humankind. Meanwhile, I got involved in Miss Universe after I graduated, because I realized that this platform could give me a voice, and I could utilize it to (emphasise what I want) to the world. While some people think that both might be (mutually exclusive), I wanted to combine both of these aspects of my life .
What was your biggest challenge when competing in pageants?
The biggest challenge was juggling work, preparing (for major events), and all the workshops – all while training before we had the gala night.
What's one piece of advice you'd give to aspiring beauty pageant contestants?
My advice would have to be to prepare yourself, because (pageantry) is not just about beauty and glam. It's also about hard work, (sacrificing) your time, your dedication, (making) sacrifices and eventually, your money as well.
Facing The Backlash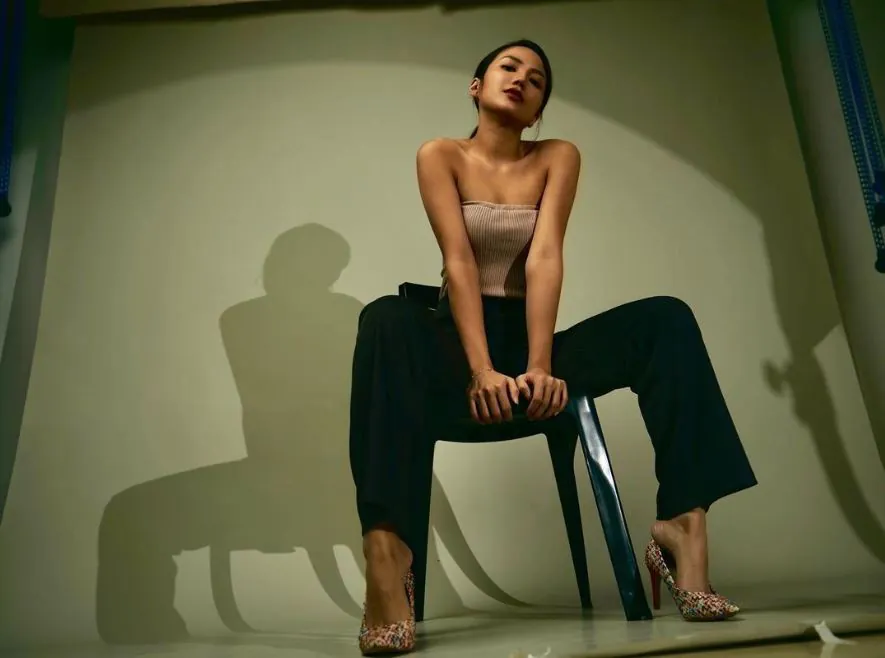 How's your journey been so far since winning Miss Universe Malaysia 2022?
Since winning, it's definitely not been easy, not a straight line at all. It has its ups and downs. I won the crown, which is the biggest achievement in my life. Then, I faced bashing and comments from people, especially in Malaysia. Afterwards, I had to undergo training, workshops, media interviews and everything right after the gala night. So, it has been kind of a hassling experience since the day I won.
You mentioned the backlash you faced, fresh off your win, and a lot of people were upset. So, when you first saw the negative feedback online, how did that make you feel? 
At first, I didn't feel that much on the first night, because I was still trying to (process) that I had won the crown. The next day onwards, I started to access my social media platforms and read all the comments – and it actually brought my energy down a little bit for a few days.
What was the reaction of your family members, your boyfriend and your close friends? 
They are definitely very supportive. I would say that I have a very strong family, because they are the type of people who don't really talk about other people, and just focus on themselves. So, from that day onwards, when they knew I received some backlash, they told me, "You don't have to care about them" and "Just focus on what you have to do now, since you have a bigger responsibility". That, I think, actually gave me a lot of support…
On camera, we see you as this strong and independent woman who can take on anything. But, behind the scenes, were there moments when you had to take a step back and compose yourself? 
I mainly just break down and cry from time to time – and everyone knows that I always do that. People who are close to me know that sometimes, I just need to cry. Even before I start to cry, they already would ask me, "Do I want to cry now?" Another thing that helped me was music. I would listen to music every night, even before I sleep. It kind of helped me to calm myself down and think about positivity in my life.
We also saw previous winner, Francisca Luhong, and many other beauty queens come forward and defend you. How did that make you feel? 
I actually felt extremely warm, because it was from the queen herself. I know Francisca has always been kind, and she had done a lot of good things during her reign. When she defended me, I felt such tremendous support from someone like her.
Throughout this whole saga, what do you do to detach yourself from online bullying and get yourself into that girlboss mode? 
Because of (the series) of workshops, I don't have much time to even think about negativity. I need to prepare for training, and how I can answer Q and A's better. So, I just constantly tell myself that I need to focus, do what I should do now, and do the best for Malaysia.
Advocacy For Mental Health Awareness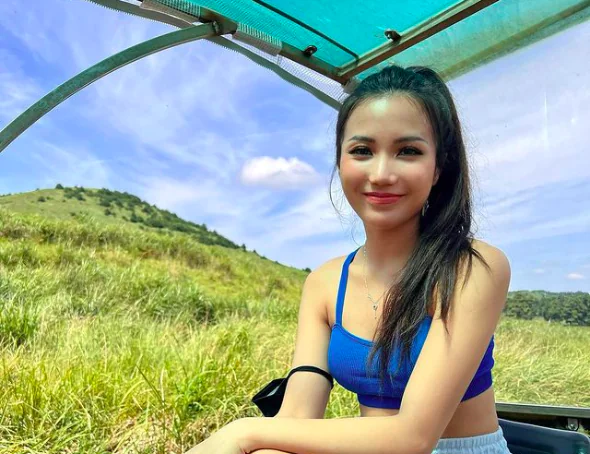 You've been pretty vocal about about mental health awareness, and you having anxiety yourself. Some argue that mental health issues are still a taboo topic. How would you broach the topic and broaden the minds of those who are still uncomfortable discussing mental health issues?
The first thing is definitely education. I do think that I have the voice and the platform to do so. I will educate people and tell them that it's okay for you to break down from time to time, and to release yourself and take a break from life. Everything from working, to your family, can cause stress, so it's good that you should take a break from time to time to let yourself see through what you have been through in life and take more time for yourself instead.
So what's it like to become our current Miss Universe Malaysia, but also suffer from anxiety?
I have been having anxiety since I was very young, and I only realized that it's called "anxiety" when I was 20 years old. So, by the time I knew it, I tried to find a solution, as well as the root of what was causing me to have anxiety. Basically, what matters to me (most), cause me to have anxiety. With Miss Universe, (anxiety) does have an impact on me, and sometimes, I try to just relax myself, talk to people more before I sleep, and maybe even listen to some soft music.
What's your message to those who are currently suffering with mental health issues? 
My message is to never be afraid to face your problem. It's better to think of a solution rather than just dragging it out and then think that it doesn't really matter. Some people, especially in Asia, do think that mental health is not as important as physical health, because we don't have the basic knowledge when it comes to mental health issues. If you think that you have a mental health problem, don't be afraid to face it, and don't think that you are "crazy". That's definitely not the case.
Miss Universe 2022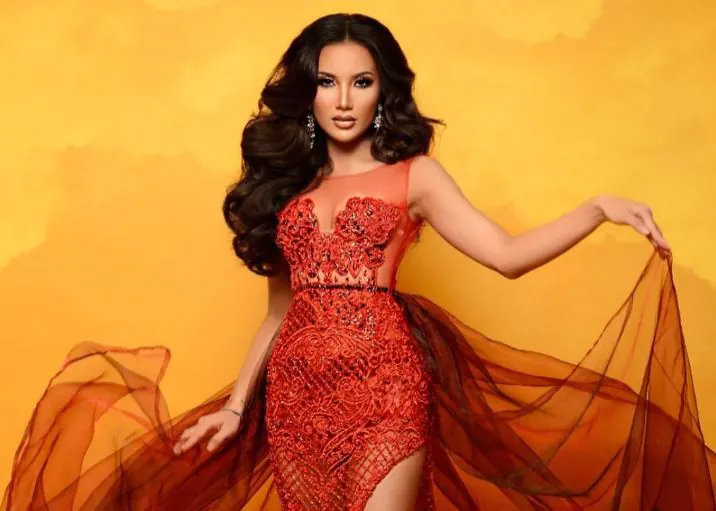 You're only months away from competing at Miss Universe. What have the preparations been like? 
The preparation has been a lot. We only have like two and half months to prepare for everything. From workshops like hair and makeup, to training that includes catwalking, public speaking, and how you can communicate better, which is also one of the skills that I need to improve on. Lastly, I need to brush up on my looks – like how I present myself as a beauty queen.
What has been the most challenging thing for you so far?
To me, the most challenging is definitely the catwalk, because I had no basic training before I joined the Miss Universe Malaysia competition, and I took up classes. So, I have been trying to improve and do my best in catwalking.
Malaysians are anticipating the national costume category of the pageant. Would you mind giving us a hint of what you might be wearing?
The (hint) would be… tourism.
What do you think your competing for Miss Universe means to Malaysians?
As the Miss Universe platform is huge and internationally known, as a Malaysian, I would definitely (hope my countrymen would offer their) support to (me) and whatever (I do) and be really proud of (me).
Many people think that beauty pageants are no longer relevant, and some would even say that they enforce harmful ideals of beauty stereotypes. How would you convince them otherwise?
I think beauty pageants… offer a big platform for you to make your voice (heard) and send your message. Being beautiful is just the plus point to reach a larger audience. However, being a beauty queen, you have a lot of responsibilities and (you must try to) make a bigger impact on the world.
Who's your favorite Miss Universe and why?
My favorite is Andrea, Miss Universe 2020. She's very kind and down to earth and also very relevant to us as a person.
Since your win, has any Miss Universe winner from overseas reached out to you?
They have! And I've followed them as well, and I feel that the sisterhood is going to start when we are there (in New Orleans). So, I'm very excited to see them.
As the ever-beautiful Pia Alonzo Wurtzbach said: "Being a Miss Universe is both an honor and a responsibility". How ready are you to hold the title, if you become our next Miss Universe?
I think I'm ready both physically and mentally to take up this responsibility, because it is about how you can change people, society and the community, as much as you can. So, I think I am ready to take up this responsibility as a person who is independent. I know what I am doing – and I know how to do in my own way.
If you could talk to your younger self, what would you tell her?
I guess I would tell her not to do so many things at once. Just focus on one, or maximum two, things at a time!
Congratulations, Lesley, on being crowned Miss Universe Malaysia! Lipstiq wishes you all the best at the Miss Universe 2022 pageant on January 14, 2023!
More on Lipstiq exclusives? Read this:
Siti Nurhaliza Spills The Tea On Her Dazzling Dalliance With Swarovski