I know it's super, super early to be talking about Christmas. But hey, who says we can't? After all, by the beginning of November, everyone's gonna be all about the Christmas season.
The joy of Christmas comes from the smiles of familiar faces being together in a room, catching up with each other while being accompanied by Christmas carols and festive decor. And if there's one thing that makes Christmas extra special in Malaysia is the food. But here's the thing – as Christmas day draws nearer, it'll get harder and harder to find a nice place to eat, because of availability and prices. So, if you want to have a peaceful celebration without having to worry about what to eat, we have a deal in store for you.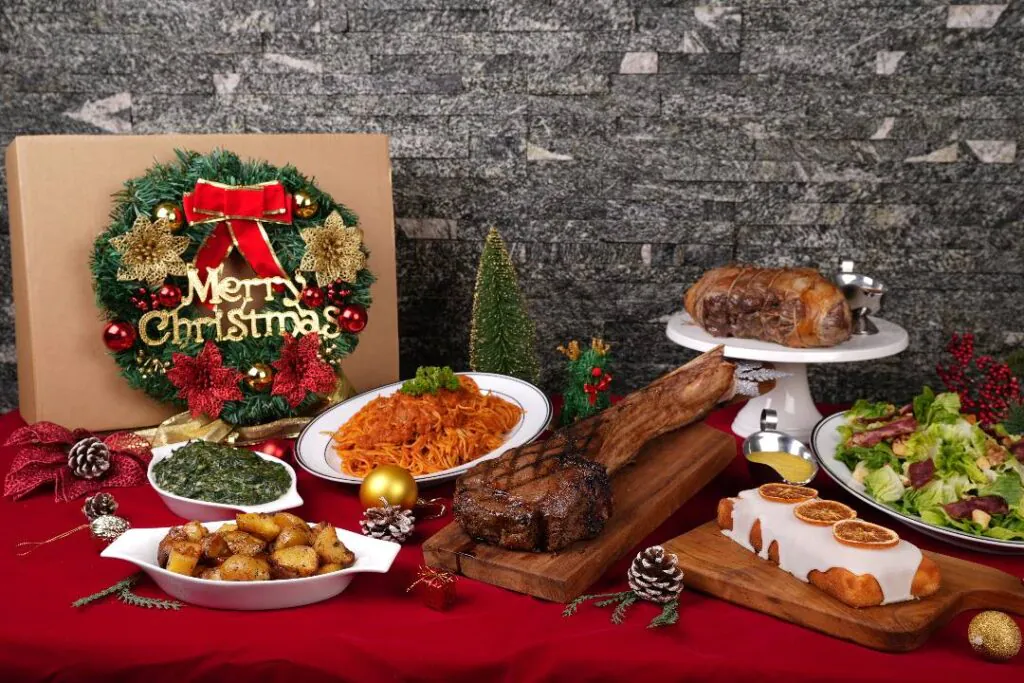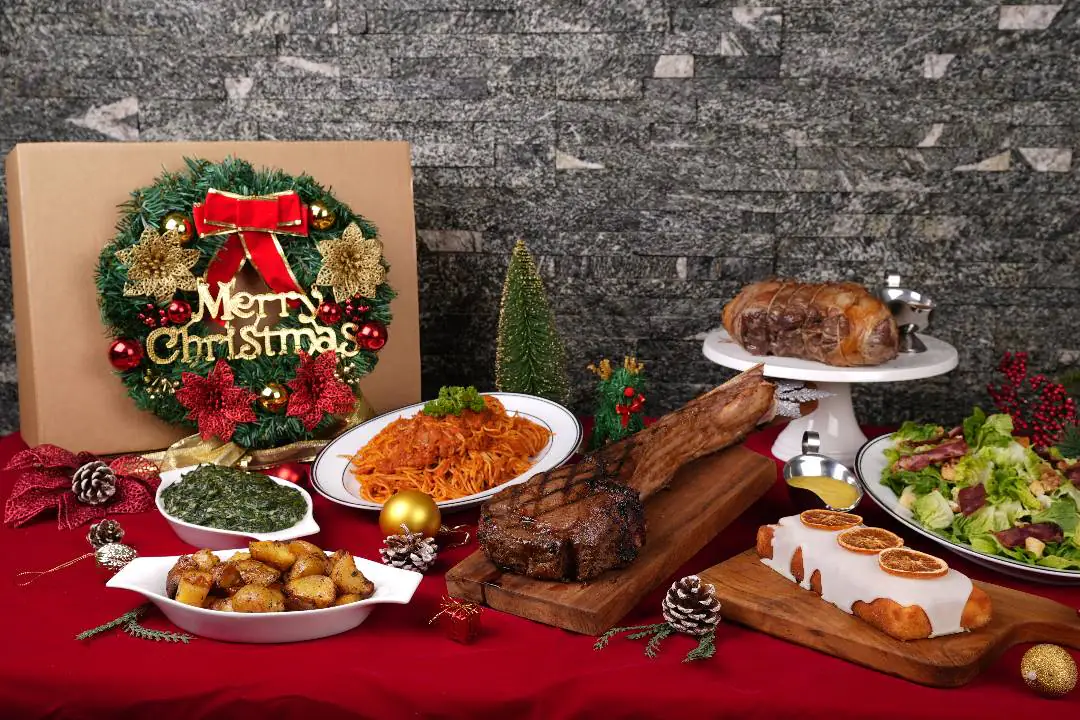 This year, Maria's SteakCafe is bringing us all closer together once again, to celebrate a Merrier Christmas, with its delicious Christmas set menu. Whether you're having it at their outlets, or delivered right to your doorstep, each meal will surely get your family and friends in the Christmas spirit.
Maria's SteakCafe offers a hearty feast, a wholesome ambiance and timeless interiors. So choosing to dine at Maria's for Christmas will make your celebration with loved ones even more memorable.
Famous for their range of mouth-watering steaks, this year's Dine-in Christmas Set features a wide range of meat, from Australian Wagyu MB7 to Japanese Wagyu A5, and even their famous Beef Wellington, with or without Foie Gras, which will make you savour every bite.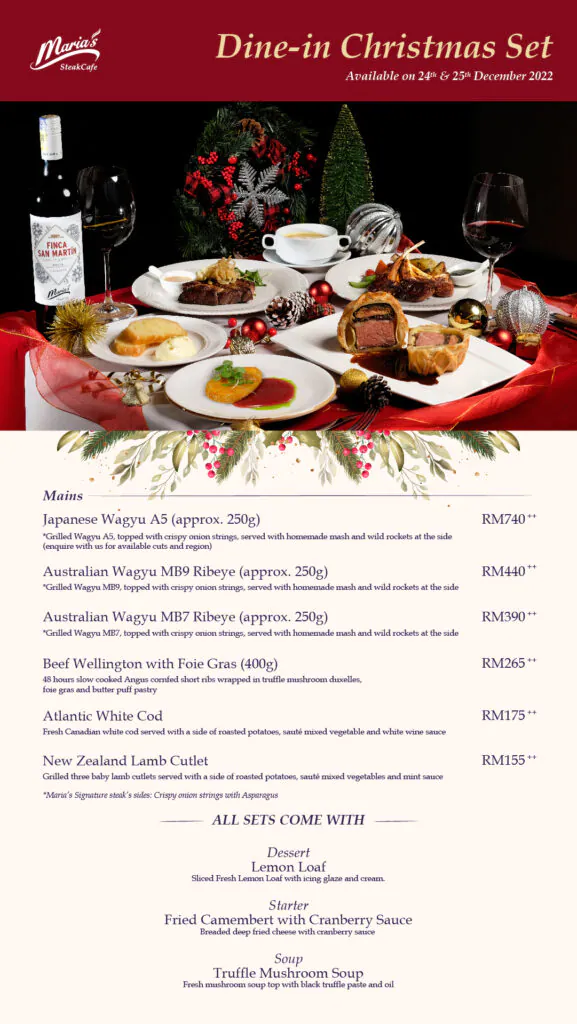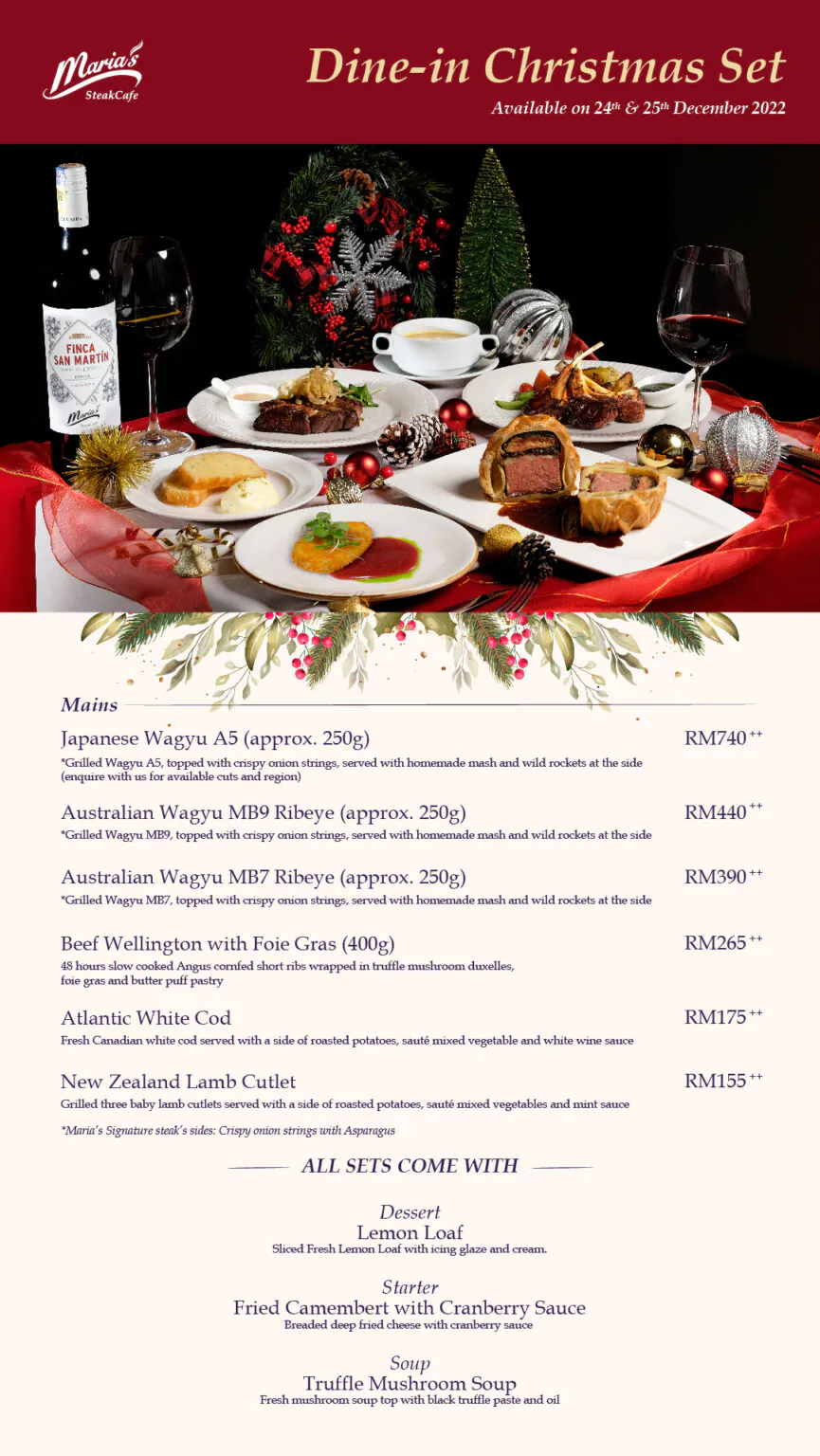 As Christmas is a celebration to be shared with all, those who do not favour steak can select from either Maria's fresh Atlantic White Cod or New Zealand Lamb Cutlet, which are on the menu as well. All of the sets come with Fried Camembert, a soft and creamy French cheese paired perfectly with Cranberry Sauce as a starter, rich Truffle Mushroom Soup as well as sliced Lemon Loaf that will seal the meal with joy. Alternatively, diners can always opt for the a-la-carte menu all December – except for the 24th and 25th – whereby only the Christmas Set Menu will be available for dine-in.
Maria's SteakCafe always prioritizes customer satisfaction and is always one step ahead. So if you find it comfortable to stay home and celebrate, the Home Delivery set fit for 5 will save you from the Christmas crowd. With 4 sets to choose from, such as the Roast Lamb, Tomahawk or Beef Wellington with/without Foie Gras. Each set comes with fresh Caesar Salad, Roasted Potatoes, rich Creamed Spinach, flavoursome Spaghetti Chicken Bolognese and a zesty Lemon Loaf to tinge up the night with your loved ones.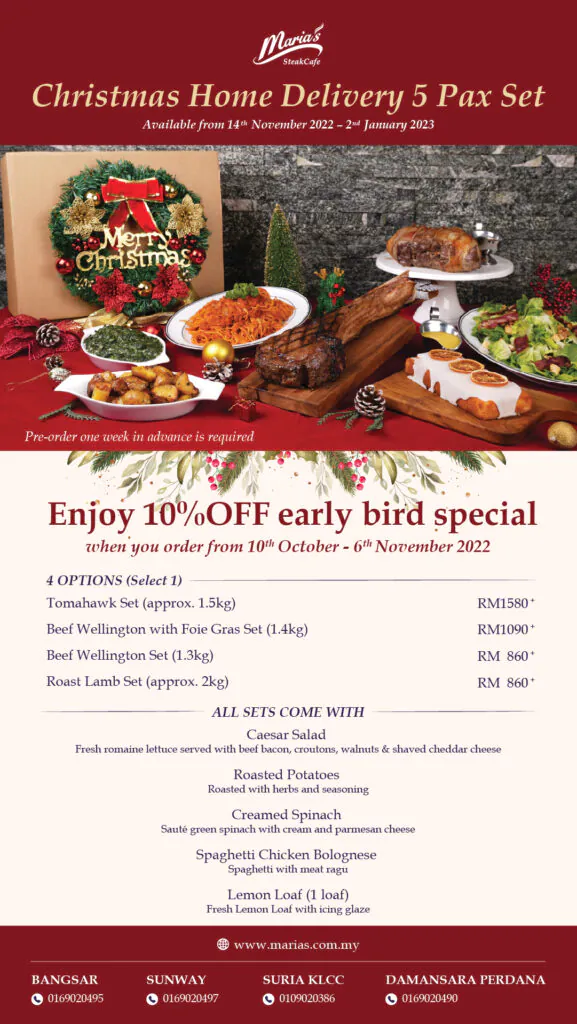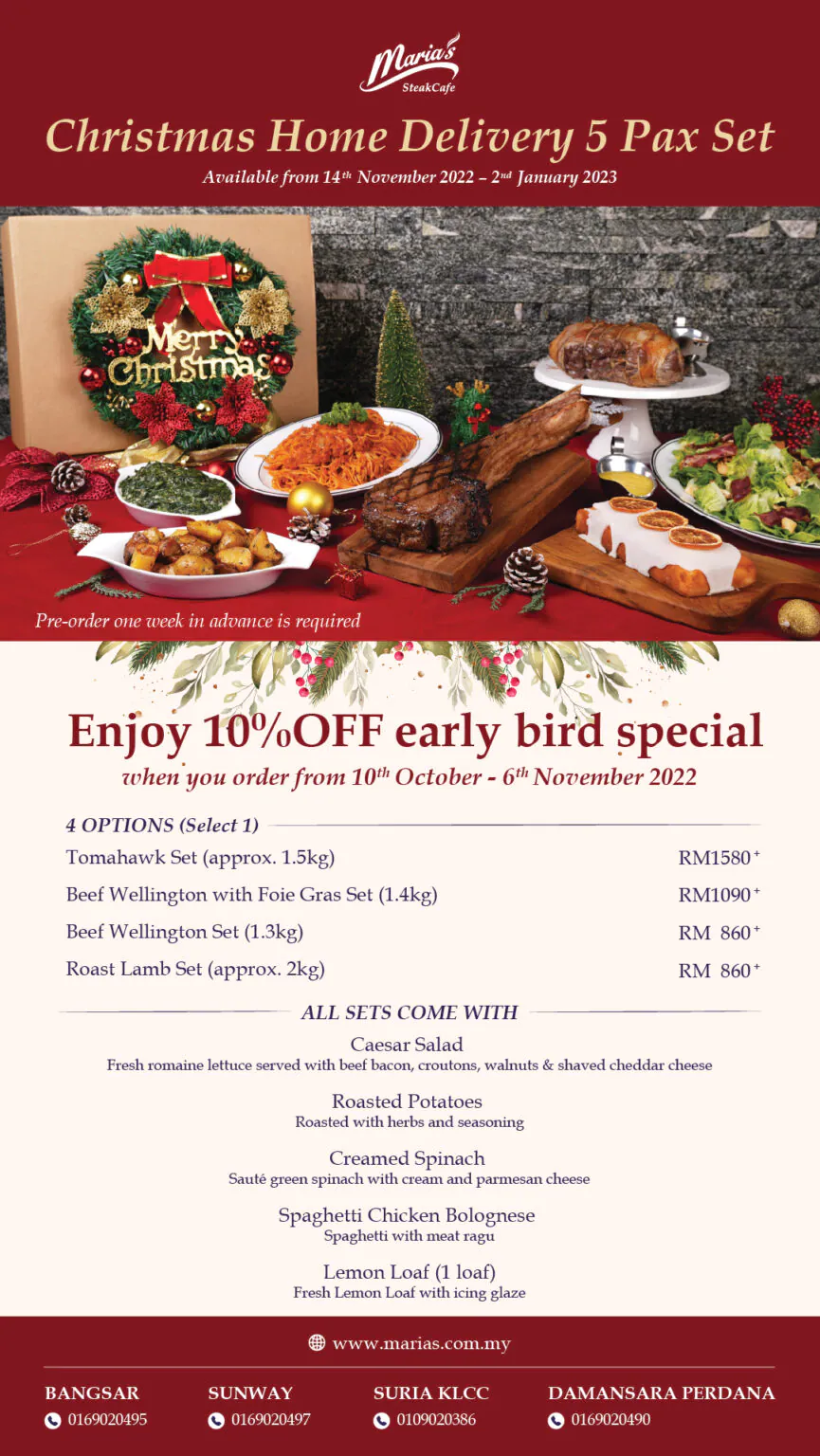 Maria's will also be offering a "Christmas Gift" set that you can deliver to your family and friends, or even savour at home with your dearest! The options are the ala-carte Beef Wellington with/without Foie Gras, or the Tomahawk as well as the Roast Lamb, which comes with Creamed Spinach and Roasted Potatoes.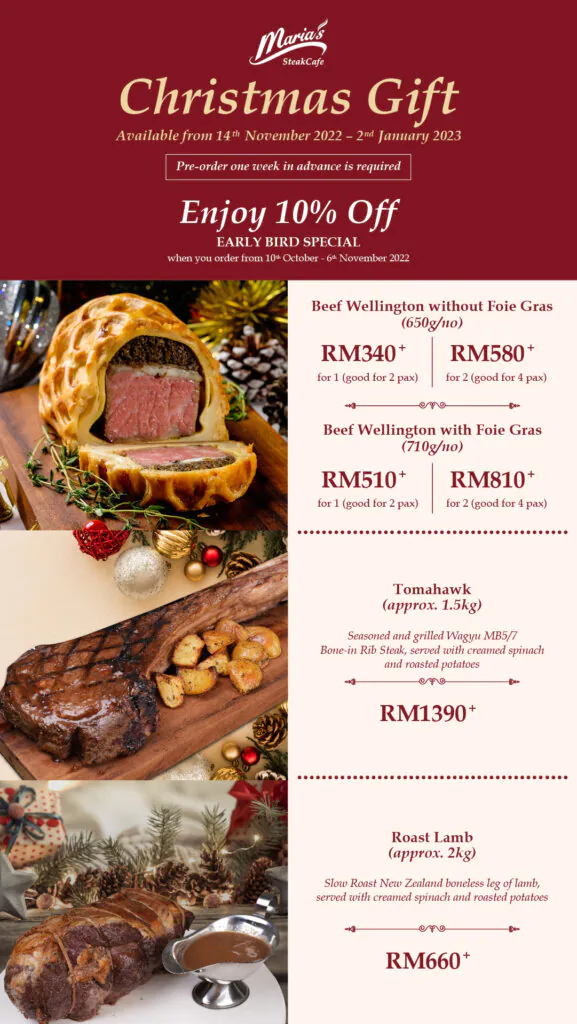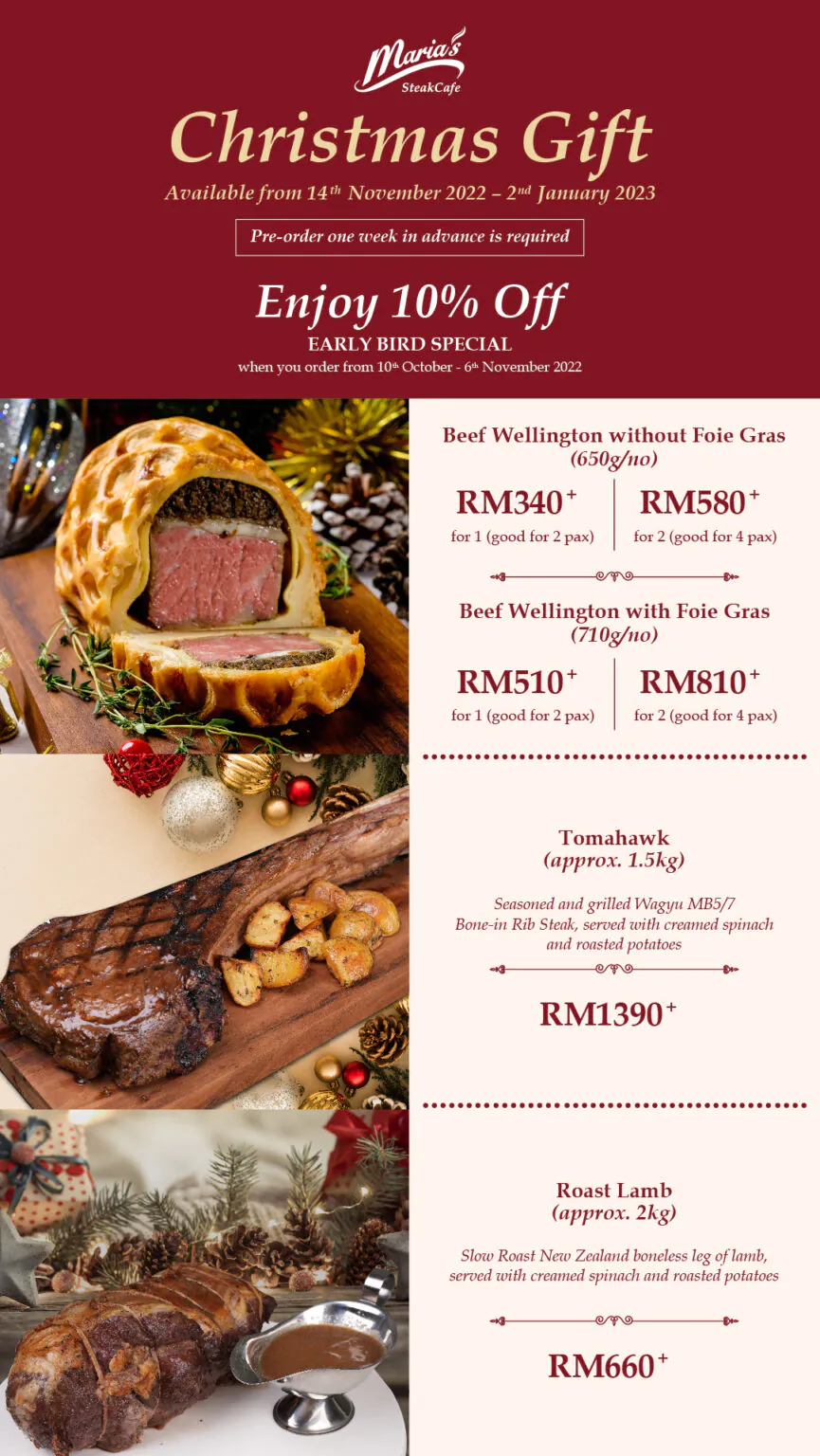 To kickstart the festive mood, you can enjoy a 10% Early Bird Special discount when you pre-order the Christmas delivery sets or ala-carte Christmas Gifts from now till 6th November 2022. Pre-orders can be made by contacting outlets nearest you.
For more information, visit Maria's SteakCafe's website and follow it on Instagram and Facebook.
More on food? Read: