Since we Asians are predisposed to producing more melanin, most of our main skin concerns are hyperpigmentation-related. And among Malaysians, this major skincare issue is totes no exception. According to a skincare survey that was recently carried out, 63.6% go out of their way to seek solutions for hyperpigmentation. And boy, can I relate to this one.
Sometimes, the hardest part is finding a skincare product that actually helps with reducing pigmentations. Which is why encorium®, being a local skincare startup, fully understands the needs of our Malaysian skin types, and recently launched their maiden star product to combat hyperpigmentation.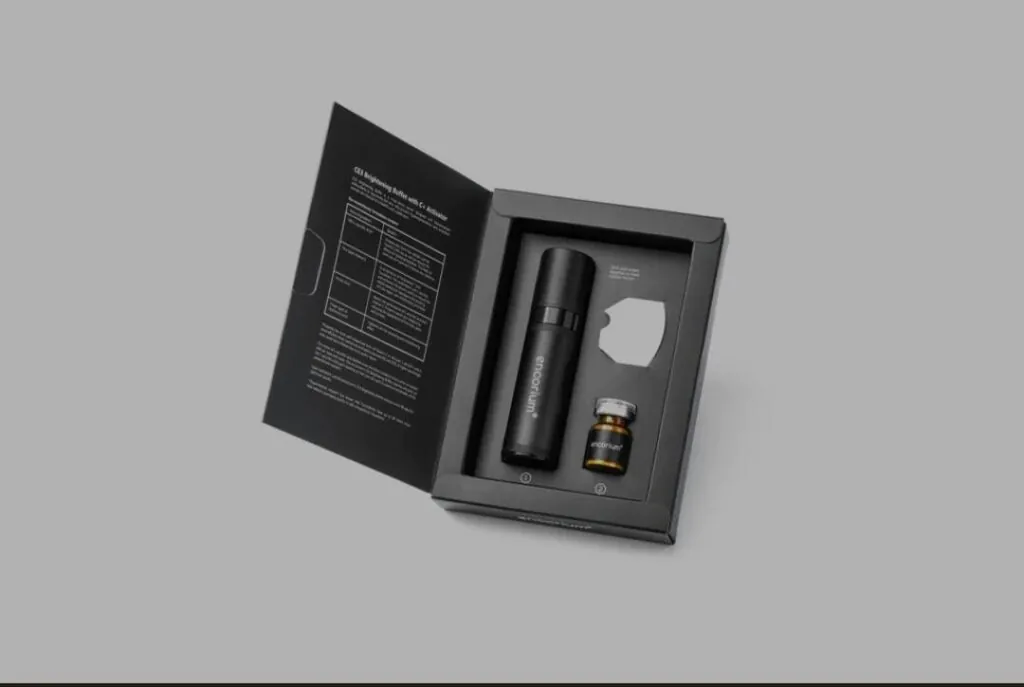 encorium® launched its first ever product – the CE3 Brightening Buffet – last Saturday. The carefully-formulated serum, made with multi-active ingredients, contains 18 percent L-ascorbic acid (vitamin C), tocotrienols, tocopherols and ferulic acid. encorium®'s founder, Cynthia Lee, said that in the period of testing out the product, the product testers developed brighter complexions, as well as significant reduction in their hyperpigmentation after constant usage. The CE3 Brightening Buffet works faster than any ordinary vitamin C serum!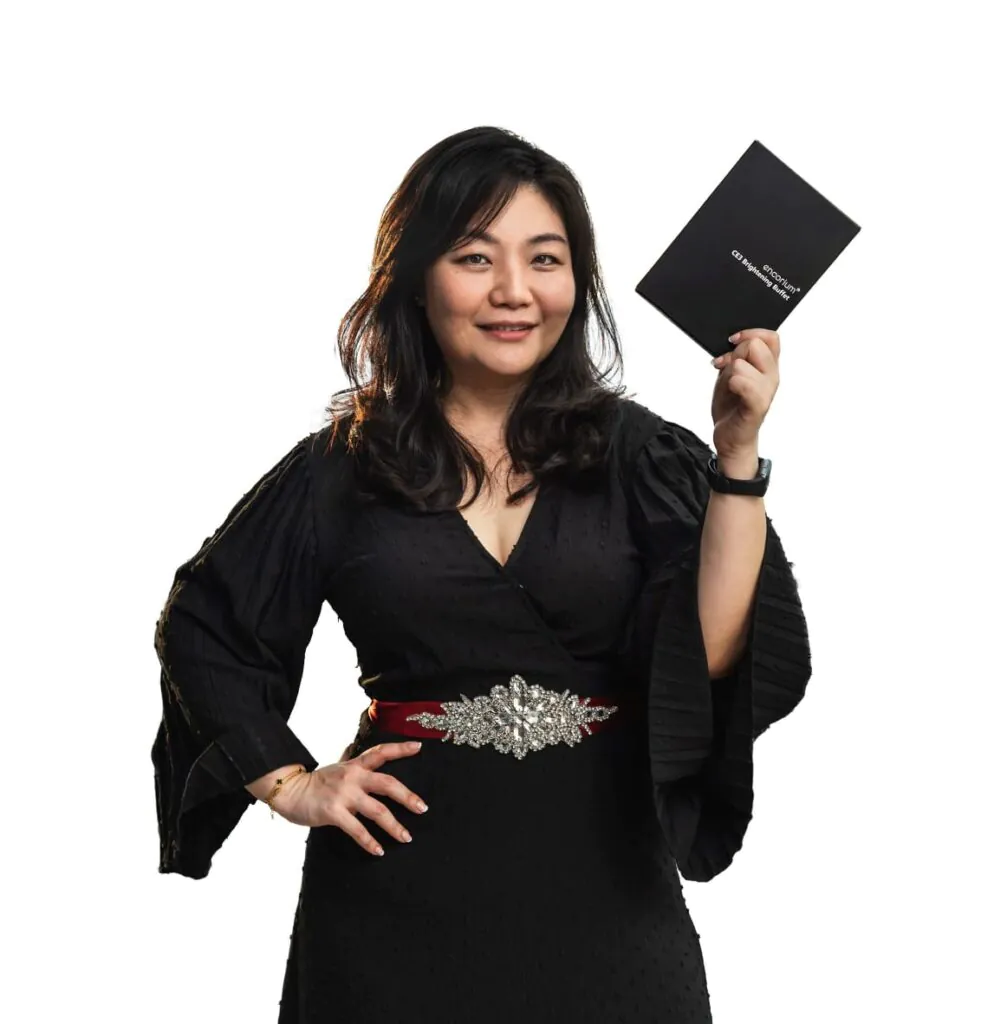 "We tested this combination with over 500 skincare users in Malaysia last year, and over 80 percent noticed results as early as 14 days," said Cynthia Lee, Founder of encorium®.
During the launch, Lee said that a survey carried out among the group of testers indicated that 63.6 percent of skincare users are looking for solutions regarding hyperpigmentation. Other pre-existing skin concerns highlighted by the respondents, aged between 21 and over 55, are fine lines and wrinkles (53.6 percent) and dehydrated skin (50.8 percent).
According to Cynthia Lee, encorium® seeks to help Malaysian skincare users tackle their top three skin concerns with their exceptional products, starting with the CE3 Brightening Buffet.
 "L-ascorbic acid is a popular ingredient in treating hyperpigmentation, given that it is the most well-researched ingredient. However, it is also one of the hardest ingredients to formulate products with, due to its sensitivity to air, water, heat and light, which causes it to oxidise and lose its potency over a short time.

"In solving the issue and to boost the efficiency of L-ascorbic acid, we used Tocotrienols," – Cynthia Lee.
Moreover, the results from the experimental research showed that Tocotrienols are 60 times more efficient as antioxidants compared to conventional vitamin E, Tocopherols. With this awesome formulation and dedicated research, the brand has managed to slow down the oxidation process by at least two folds.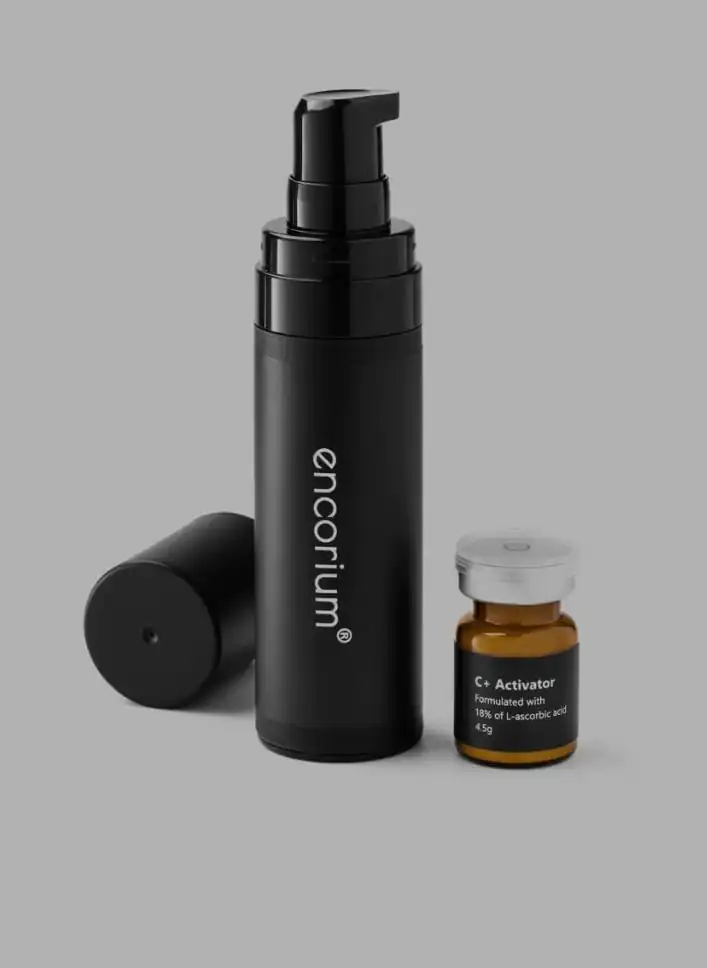 That is not the only exciting fact uncovered. encorium® went a step further by separating the L-ascorbic acid powder from the main liquid formulation to prolong the product's shelf life. That way, product users will only need to mix the serum upon opening to enjoy the fresh and lasting formulation, each time they apply it.
"We didn't just solve the product stability issue – this is really the freshest it can be for consumers. It's like enjoying a freshly made serum that just came out of the manufacturing line, but at home! In order to overcome other concerns such as dehydration and fine lines, glycerin, hyaluronic acid, and red algae are also added to the encorium® CE3 Brightening Buffet in sufficient amounts for amazing results".
Here is a list of key ingredients of the CE3 Brightening Buffet, as well as their amazing functions.
L-Ascorbic Acid – Helps in protecting your skin from free radicals such as harmful UVA/B rays, as well as reduces the effects of hyperpigmentation. This helps to even out skin tone and improve skin radiance.
Two types of Vitamin E – A combination of Tocotrienols and Tocopherol. The combination with L-ascorbic acid enhances the serum's ability to reduce free radical skin damage, while assisting with skin repair, inflammation and more.
Ferulic Acid – Boosts the performance of L-ascorbic acid and Vitamin E. Protects overall skin integrity by reducing the appearance of fine lines, spots and wrinkles.
Three types of Hyaluronic Acid – Hydrates skin for a plumping and smoothening effect.
According to medical officer of family medicine, Dr Amanda binti Elli, L-ascorbic Acid is the most effective
form of vitamin C in topical skincare. She said our bodies are exposed to free-radicals every day in various ways, such as environmental pollutants and exposure to the sun. These free radicals, that our delicate skin is so often exposed to, will create various unhealthy skin concerns like fine lines, wrinkles, dark spots and hyperpigmentation.
So, if our skin is often in direct contact with these free radicals, is there no way to provide a safety blanket for our skin? If this is also one of your concerns, then don't sweat it, because skincare brands like encorium® are more than willing to find the best solutions for you to smile and beam with your youthful and glowing skin.
Vitamin C is an essential antioxidant that the body needs in order to fight free radicals. However, our bodies do not produce vitamin C naturally. So, it's either you eat an orange daily – which, let's face it, in our busy schedules, some of us would argue that we have no time to ingest an orange, cut it up and eat it – OR apply awesome Vitamin C products to your skin so it still gets all that love.
"We get them from food. When ingested, our bodies process the nutrients and deploy them everywhere –
from blood cells to the brain to skin. The amount of vitamin C our skin receives is also dependent on the
quality of vitamin C we ingest and the state of our health. So, our bodies may not send sufficient vitamin C
to the skin to tackle aesthetic conditions such as dull complexion and dark spots. In such instances,
applying them topically makes sense," – Dr Amanda.
According to her, L-ascorbic acid content in a product needs to be between eight and 20 percent to show positive results. Referring to encorium®'s move to mix Tocotrienols with L-ascorbic Acid, Dr Amanda said, "This is a clever innovation". Mostly because Tocotrienols have smaller molecular tails compared to conventional vitamin E. Its smaller size makes it more efficient in carrying out its role as an antioxidant.
"When it comes to fighting free radicals, L-ascorbic Acid is like a big tough soldier with little stamina. It is strong but its energy wears off easily. Other antioxidants such as Vitamin E and Ferulic acid can help L-ascorbic acid regenerate its strength," – Dr Amanda.
Additionally, Dr Amanda said that not only is Tocotrienol an effective booster for Vitamin C in skincare, on its own, it also is a very potent antioxidant in promoting skin healing, moisturising and regenerating cells.
So, don't waste any more time – treat your hyperpigmentation with encorium®'s CE3 Brightening Buffet. Your one-stop solution for a brighter and glowing complexion in no time.
For more information, visit encorium®'s website, Instagram and Facebook.
More on skincare? Read these:
Under Water Lets You Dive Into A World Of Korean Makeup & Skincare