Remember when online food delivery service was first introduced in Malaysia to simplify our lives? You might find this unbelievable, but we've now been using this service for 10 years! So it makes sense that foodpanda, one of Malaysia's first food delivery businesses, is commemorating its 10th birthday!
In conjunction with their upcoming 10th anniversary, foodpanda Malaysia has successfully facilitated a partnership between Jackson's Fried Chicken, Tambahlah and Devi's Corner, to offer customers a treat for their taste buds. And we were so lucky, because we got to taste this special menu first-hand! Read on to know our take on the new menu!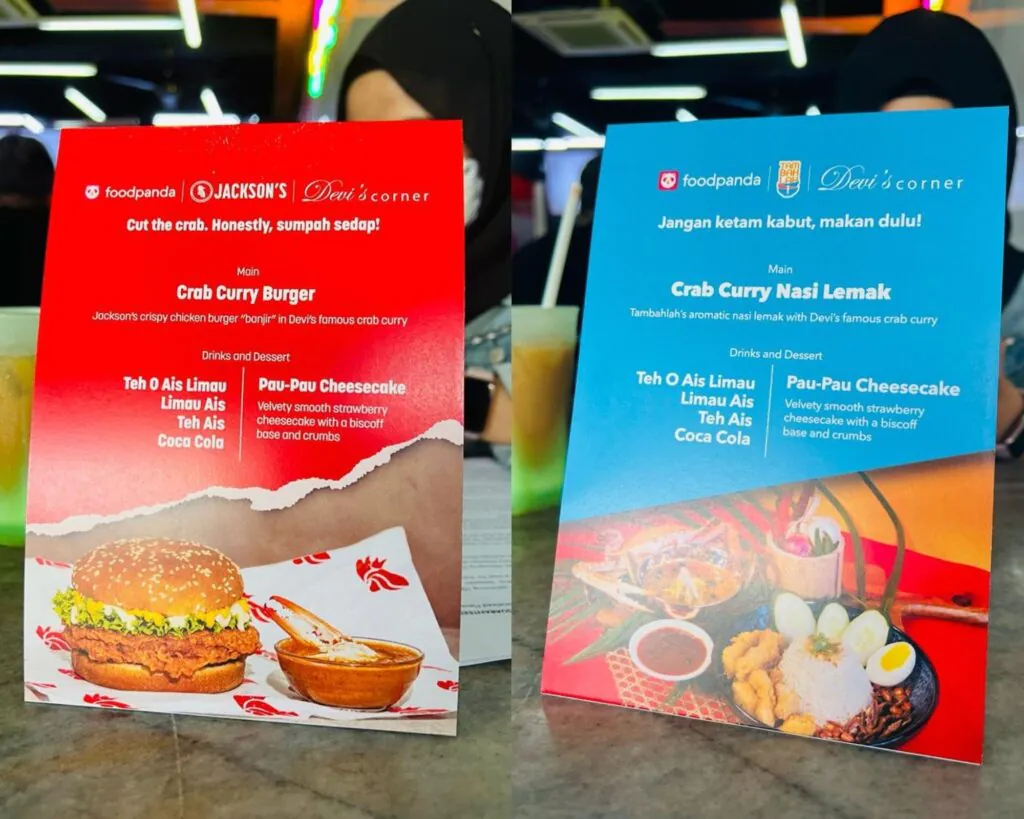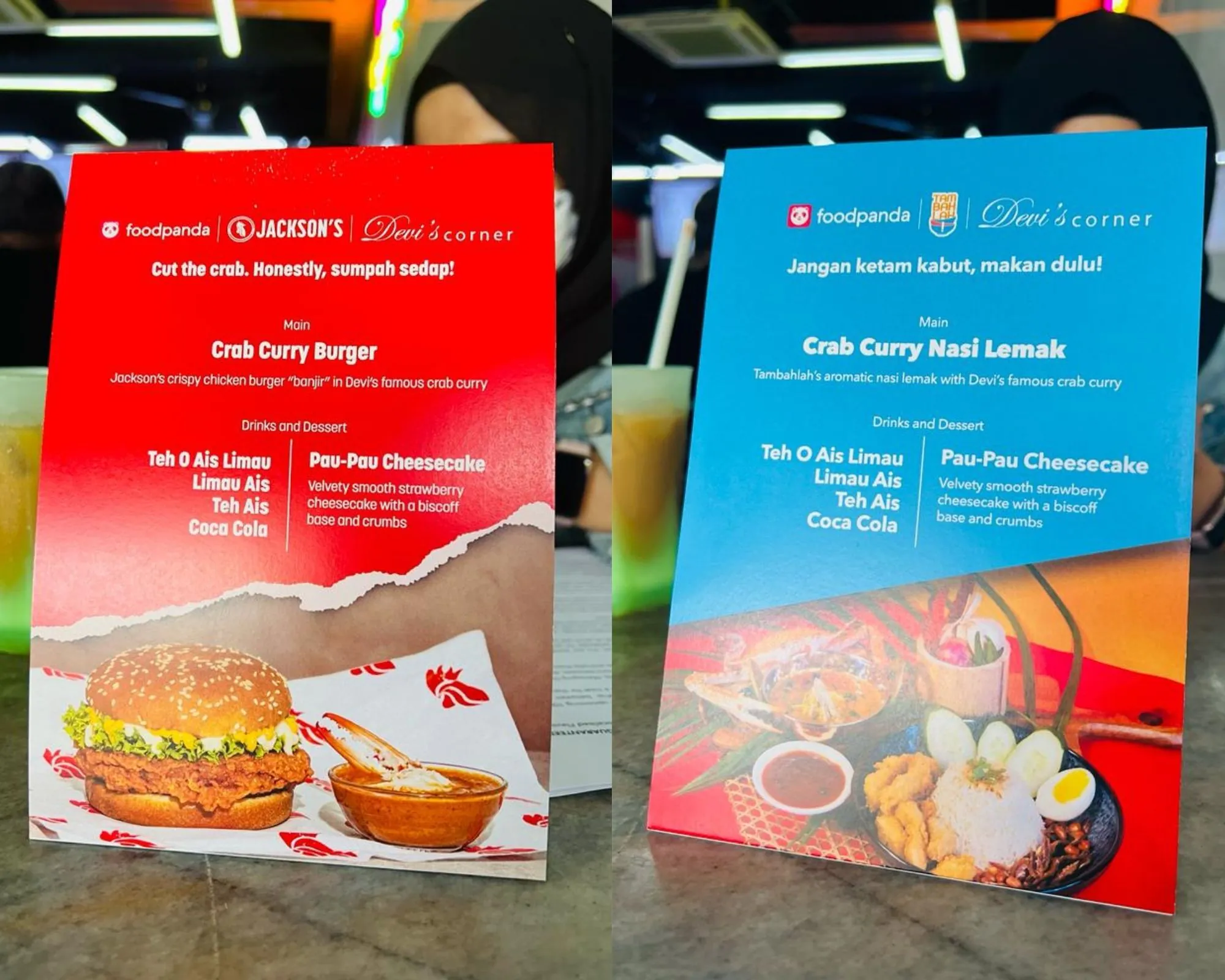 Among the savoury options available are Jackson's x Devi's Corner Crab Curry Burger and Tambahlah's x Devi's Corner Nasi Lemak Crab Curry.
We'll start off with the burger. Crisp on the outside and tender on the inside, Jackson's perfectly-fried chicken tops this incredibly filling burger, which also includes fresh lettuce, mayonnaise, and a side of Devi's Corner's Original Crab Curry. If you know Jackson's, they're always about serving hot, juicy and good fried chicken. With this new combo, Malaysians can now enjoy a satisfyingly flavourful crustacean alongside the popular Jackson's burger. Think of a chicken burger with oozing crab curry on top. Simply satisfying!
Never thought about how a chicken burger would pair with crab curry! And I must say, it has that Indian touch to it. I mean, the main item is indeed from an Indian cafe, but it didn't feel like we were eating a burger. The crab curry was really overwhelming and super flavourful. The spice level and the spiciness from the crab curry was balanced, and I bet any spicy or seafood lover would love this new combo. Surprising as it may seem, I'll probably have this Crab Curry Burger during rainy days just to get some heat going on.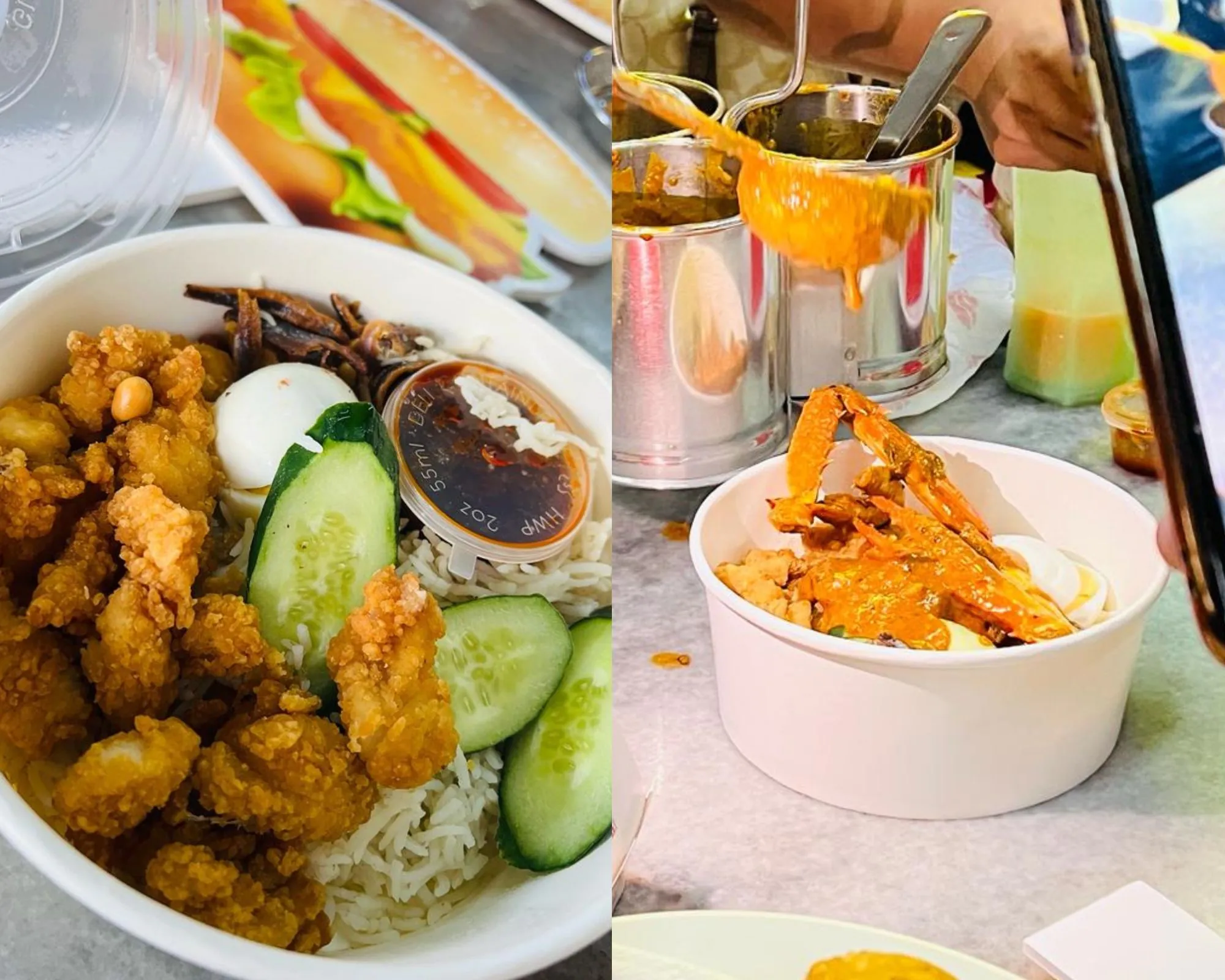 If you're up for a more decadent local delight, don't miss out on Tambahlah's Nasi Lemak with Popcorn Chicken paired with Devi's Corner Crab Curry. This Basmati rice, flavoured with pandan coconut milk and garnished with golden fried popcorn, flavourful sambal, eggs, peanuts, and fried anchovies, is the ideal Malaysian dish to satisfy those nasi lemak cravings. Now, eating just rice with crab curry is one thing – but eating 'pandan coconut milk' rice with crab curry; it's out of this world!
I really love how the crab curry and nasi lemak complimented each other so well. Not to mention, the extra taste from the sambal. It didn't wow me that much, because rice with crab curry is a pretty common thing. But hats off to this combo, because it was one hearty meal to enjoy. This fragrant dish, full of spices, is sure to add that extra kick to your all time favourite nasi lemak – and will make you say 'Boss, nak tambah lagi!".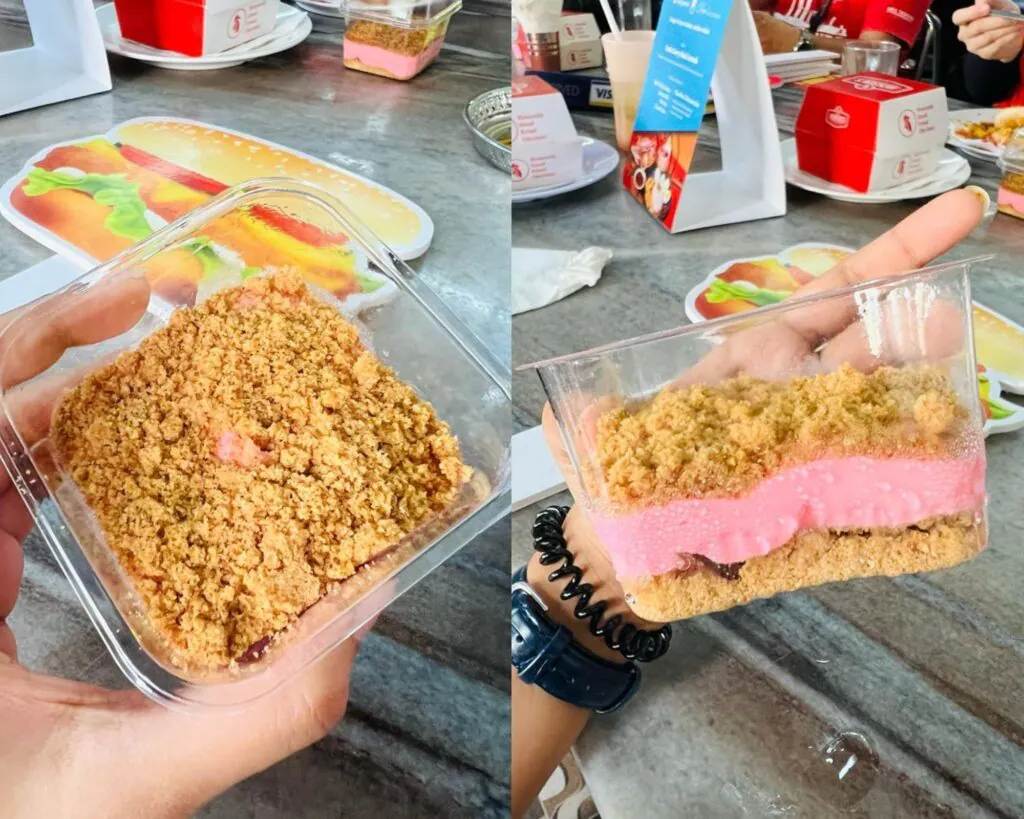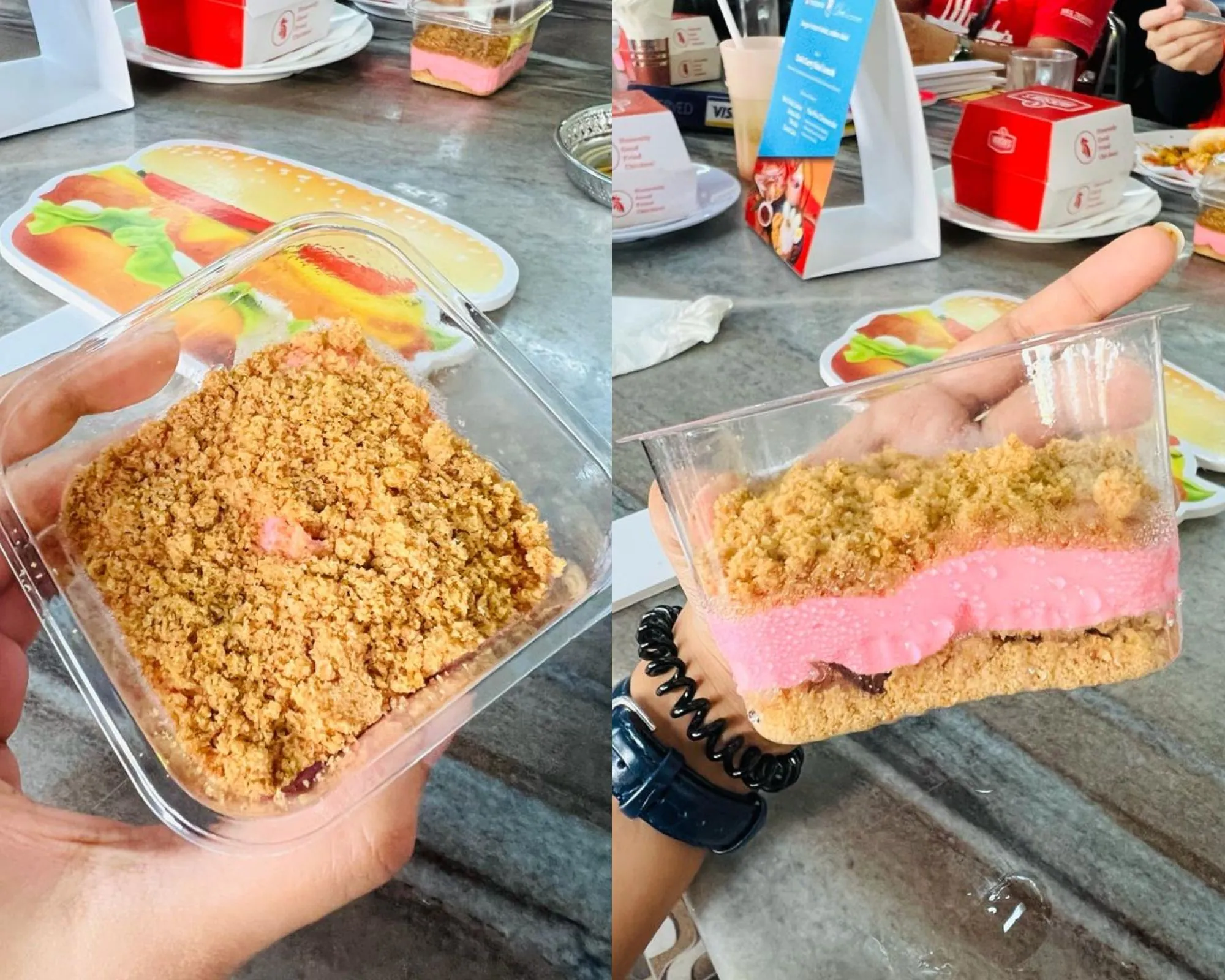 Along with this thrilling offering, the foodpanda crew has also created a special delicacy made of Pau-Pau Cheesecake to tickle your senses and satisfy you like nothing else. This strawberry cheesecake, which has a biscoff base and crumbs, has a velvety texture that instantly melts on your tongue. I like how the sweetness and fruitiness in this cheesecake is balanced. Pretty sure no one wants a super sweet dessert after gulping down burgers, rice and curry!
What are you waiting for? Let's shell-ebrate this special offering from three of these well-loved local brands, courtesy of foodpanda! These dishes will be available for a limited time only at foodpanda's upcoming Panda Paradise, that will take place from 12 to 14 August 2022.
Be sure to check out Jackson's Fried Chicken, Tambahlah, Devi's Corner, as well as other food outlets for the upcoming special event. For more updates, follow foodpanda on Instagram and Facebook.
More on food? Read these:
https://lipstiq.com/lifestyle/food-drink/207176/myburgerlab-teams-up-with-top-restaurants-to-slay-foodies/
https://lipstiq.com/lip-smaqing-food-review/207134/the-lemon-tree-cafe-park-royal-collection/