It's that time of the year when everything smells pungent, prickly husks appear everywhere, yellow and creamy textures melt on the tongue, and hawkers compete to lure you into their stalls. Yes, it's durian season! Regardless of how you feel about the King of Fruit, it undoubtedly makes a big impression on everyone.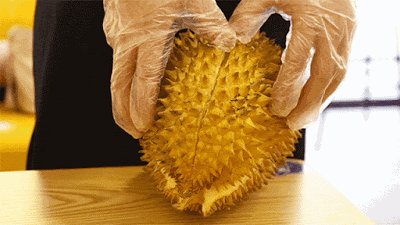 Although the common way of eating a durian is raw and with your fingers, there are numerous alternative methods to enjoying the delicacy that might improve the flavour, and make you fall in love with the fruit (even more). Whether you're a seasoned durian eater or a novice, we've compiled 9 weird – and undoubtedly wonderful – ways that'll improve your durian eating experience.
1. Cheese Baked Durian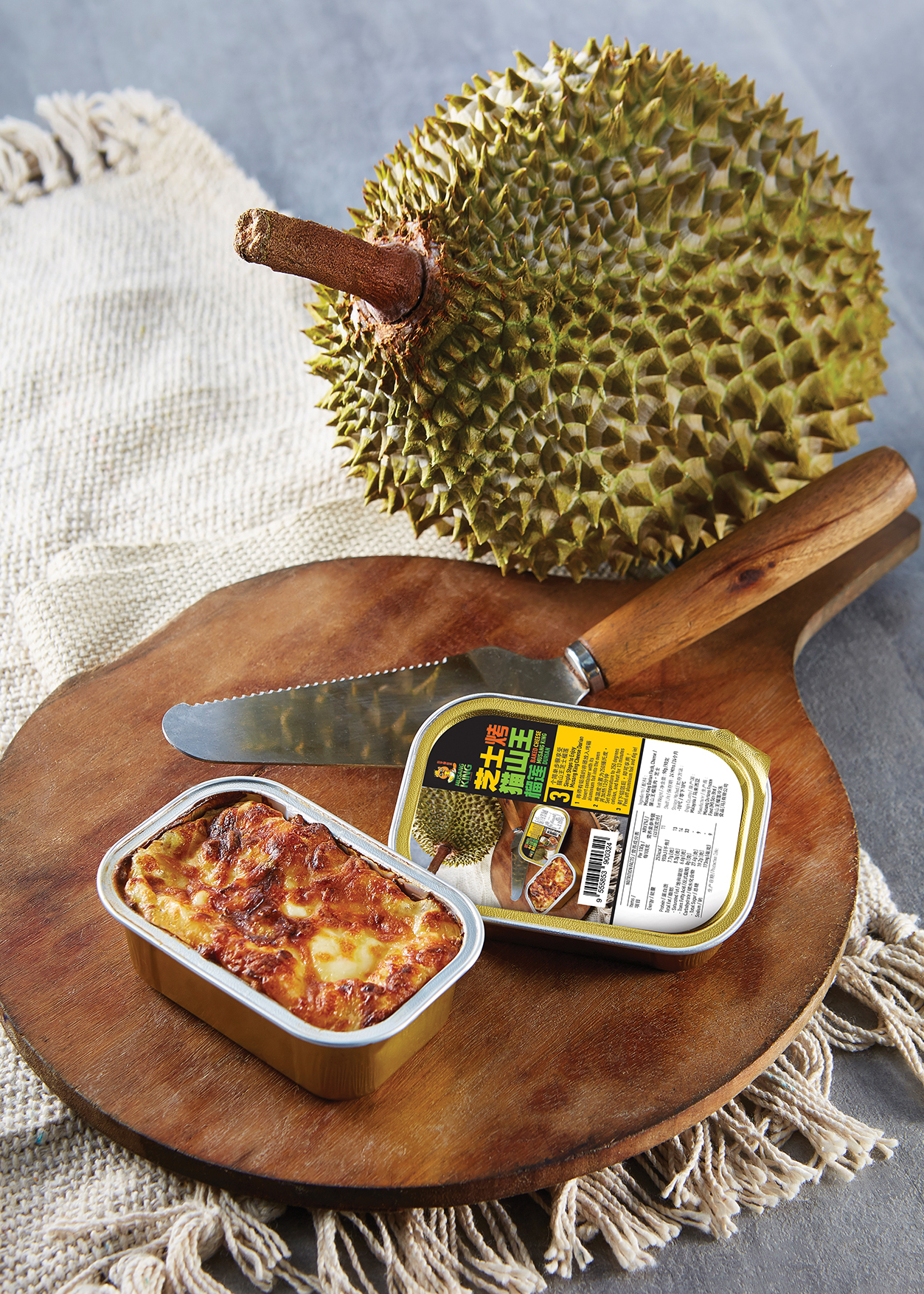 Durian and cheese make an unexpectedly delicious pairing – so much so that they're often combined in Asian desserts. The Basque burnt durian cheesecake is the most well-liked. Might sound weird, but if cakes can make it, then cheesecakes aren't any different. If you like a charred, smokey flavour, you can roast the entire durian shell over an open flame before opening it up and covering the fruits with cheese. Cheese-baked durian is a simple recipe to make at home. For the best durian cheesecake, head to D.MasKing.
2. Durian Fried Rice
Due to its quick cooking time, meals like fried rice are popular in today's fast-paced society. Why not improve the fried rice experience by frying it with durian, since the ingredient list is short and simple to adapt? The rice will have a richer texture because of the creamy flesh, and the sweet and sour flavour will give it an extra kick! Vegetarians will particularly enjoy this dish because the durian's fatty flesh can be a superb meat alternative. I've never tried this weird combo (more like DON'T want to try), but if you're up for it, you can head to Poppo Kanteen to try their Durian Fried Rice.
3. Durian Chicken Soup
Usually, red prawn durian and musang king are used to prepare this meal. It is well-liked in Thailand and China and is thought to be nutritious and healthy with many advantages, including improving blood circulation, healing, and strengthening. Hours of boiling usually softens the flavour of the well-known fruit, while enhancing the flavour of the chicken and broth. If you're up for this soup, watch the video above for a quick tutorial.
4. Durian Chips
https://www.instagram.com/p/CeNWZbthJPU/?utm_source=ig_web_copy_link
Did you know you could eat a durian fruit's seed? The cleaned seeds only need to be boiled until they are tender, sliced, then deep-fried in oil over low heat. You can pair your freshly baked durian chips with salt, gula melaka, paprika, or even sambal.
5. Durian Pizza
Okay… now durian has crossed the boundary into Western cuisine! This incredible dish will undoubtedly lead to a bigger debate over whether pineapples should be on pizza. A lot of pizzerias, including well-known franchises like Pizza Hut and Domino's, have advanced the cheese-baked durian dish by making intriguing, savoury and sweet pizzas using the delicious fruit. They frequently incorporate more regional fruits, such as mango, cempedak, and bananas, in their concoctions in an effort to fully portray the Southeast Asian experience. Want to try this combo? Head to D.Masking and try their Musang King Cheese Extreme Pizza which is super cheesy, creamy, aromatic and definitely not for the faint-hearted. You can also grab their frozen pizza and make them in the comfort of your home.
6. Durian Sticky Rice
This dish is similar to the well known Mango Sticky Rice, except there's not mango but DURIAN! I remember going for a hi-tea at some hotel and they had this pot of durian sauce. I knew it was durian (from the very strong smell), but was curious as to what to pair it with. Turns out, they had this sticky rice and you had to pour the durian sauce into the rice bowl. It felt weird, but the taste was not too bad.
7. Durian Hot Pot
Don't get me started on this one. As if durian chicken soup wasn't weird enough, now we have HOT POT?! For this dish, the durian's flesh and seeds are placed in a heated pot, similar to the method of the durian chicken soup. Then they're set aside to cook alongside the meat and noodles. All you have to do is wait till the steam goes off and you're ready to eat!
8. Durian Coffee
Who doesn't love coffee, right? But coffee with durian? Coffee is already a strong flavour. So, combining it with durian? Hmm, I'm not so sure what to expect here. Sounds like a unique flavour and a brilliant idea – I might want to try it myself. From what I've read, most people say it tastes like coffee with non-dairy creamer and sugar. Curious to try durian coffee? Head to D.Masking and order their Durian White Coffee. You can also purchase their coffee and make it at home.
9. Durian Ice Blended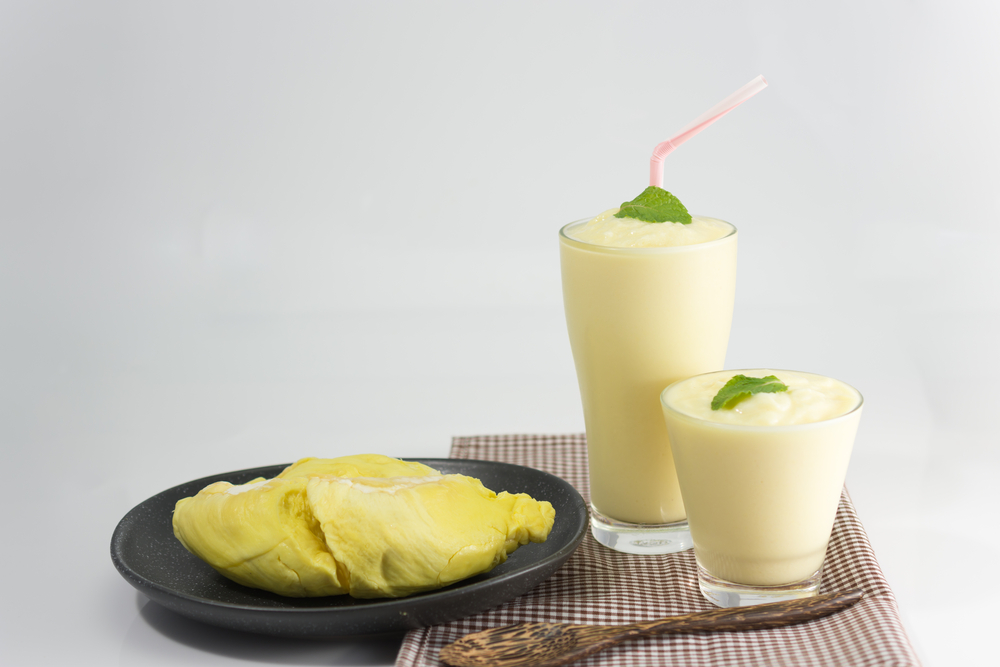 I've had durian ice cream. So I'm guessing the ice blended version is pretty much the same. To put my taste buds to the test, I went to Poppo Kanten's to try their Durian Ice Blended. Turns out, I kinda like it! It wasn't too sweet or strong. Pretty balanced. But you can't really have it with heavy meals- unless you wish to puke afterwards.
More on food? Read these:
https://lipstiq.com/lifestyle/food-drink/207346/llaollao-opens-worlds-largest-outlet-at-pavilion-kl-were-gagging/
https://lipstiq.com/lifestyle/food-drink/207160/coolblogs-love-coconut-range-gives-you-a-summer-to-remember/