This week's review focuses on modern Indian cuisine, but with a twist.
Indian cuisine has earned a reputation as one of the world's most flavourful. The cuisine elevates dining to a whole new level by using only the freshest ingredients and generous amounts of spices and herbs. The diverse flavours of sweet, sour, salty, bitter, astringent, and spicy in South Asian dishes never fail to entice the palate. With just a bite, Indian food will transport your palate around the world, and that's exactly what we're going to do today!
When it comes to food pairing, you need the right skills, especially when it comes to dealing with bold flavours. The combination of Indian cuisine, malty overtones, and a distinct hop scent is something yet to be explored. And only in the hands of a skilled person can you get that precision in a combination which brings out foods' earthy flavours while striking a balance in heat.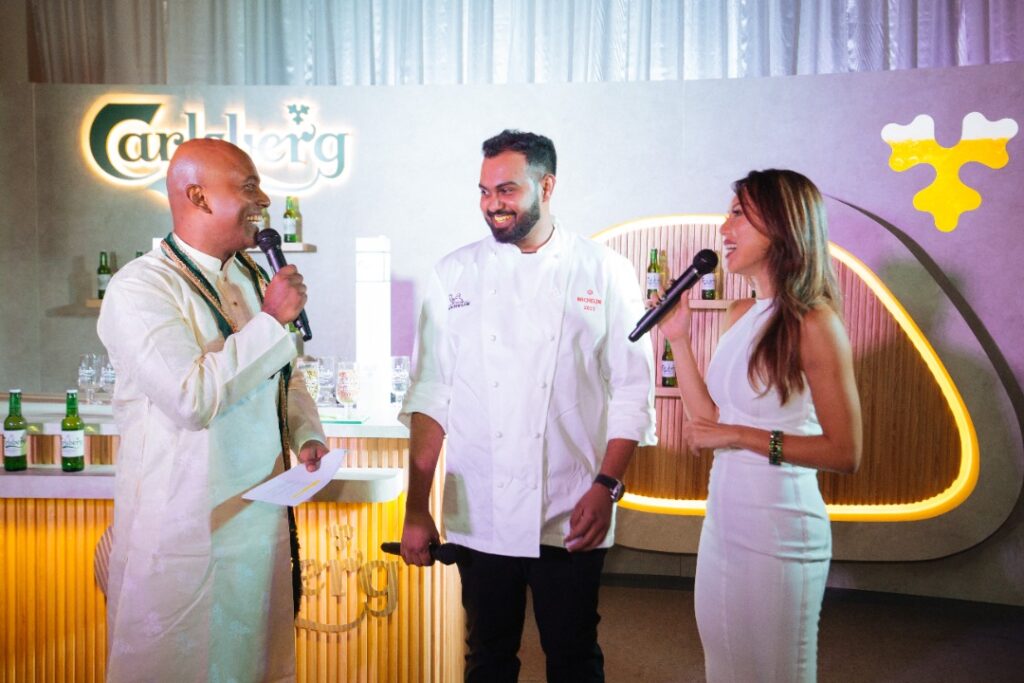 Lipstiq was recently invited to Carlsberg Smooth Draught's 'Real Spicy, Real Smooth' – an exBEERience dining that brought together the edgiest contemporary Indian cuisines and the brand's signature refreshing brew at Saujana Hotel. The special food matching event, spearheaded by Michelin-starred Chef Mano Thevar, who was born and raised in Penang, promised to present a multiplicity of distinct flavours that would give the palate a full workout.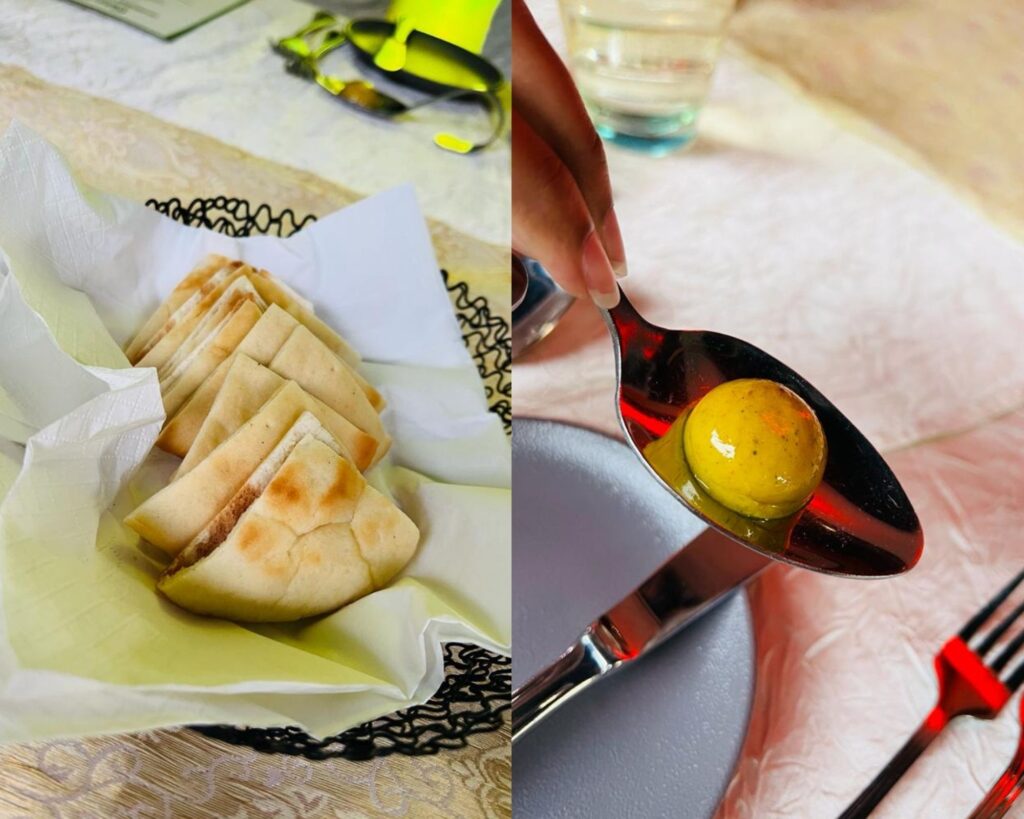 Chef Mano Thevar began the evening with a sultry twist, greeting diners with fluffy Naan bread courtesy of Saujana Hotel Kuala Lumpur, garnished with Carlsberg Smooth Draught infused butter. This ain't just regular butter, but ghee. In any Indian dish, adding ghee elevates your cooking to another level. I never thought of ghee infused with anything, especially beer, but I gotta admit, it's a really clever idea. Just by dipping plain naan into a spoonful of ghee, you can instantly taste the richness and a tiny hint of bitterness. I could really enjoy this butter any time of the day.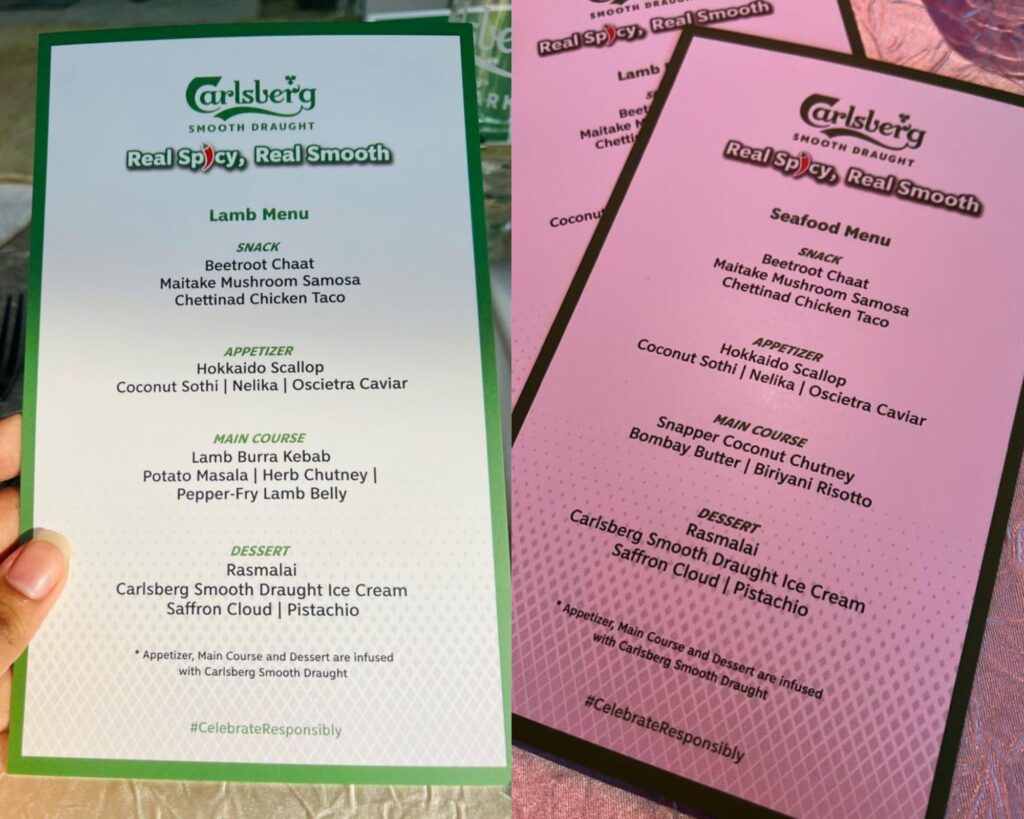 Before I forget, there were basically three menus: lamb, vegetarian and seafood. Of course, I chose the lamb, since this girl loves meat! After guests were seated, the meal began with a wide range of snacks of Beetroot Chaat, Maitake Mushroom Samosa, and Chettinad Chicken Taco. They looked tiny, but their flavours were powerful enough to blow my mind.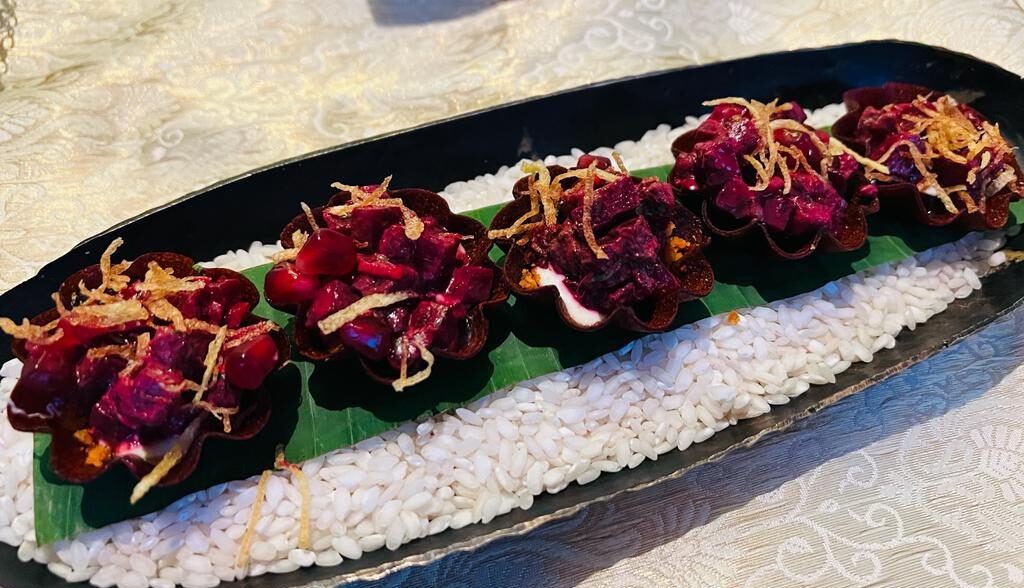 So the Beetroot Chaat looks more like a tart. The shells are made from beetroot and the preparation takes 48 hours! The tart is filled with beetroot and pomegranate braised with Carlsberg Smooth Draught, served with a fermented buttermilk chutney. Put the whole thing in your mouth and you can feel the bomb.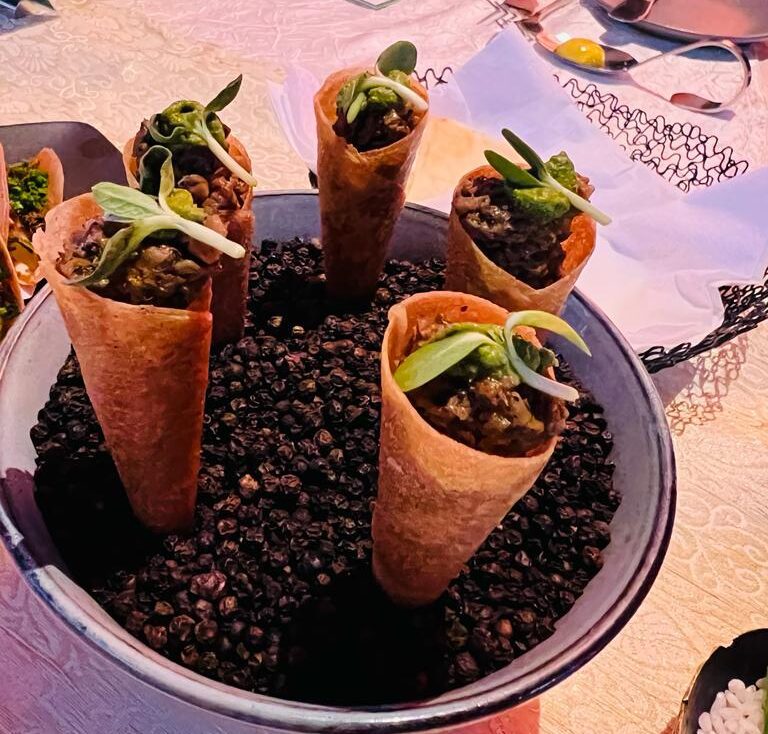 Forget typical samosas, try this and it'll have you coming back for more. The Maitake Mushroom Samosa was served in a cone, with truffle, rice flour, and garlic. These prized mushrooms are also infused with health and healing properties.
Next up was the Chettinad Chicken Taco. I loved how this classic Indian dish was given a fun twist. Stuffed in tiny taco shells and topped with fresh garnish, one bite is all it take to take you right to India.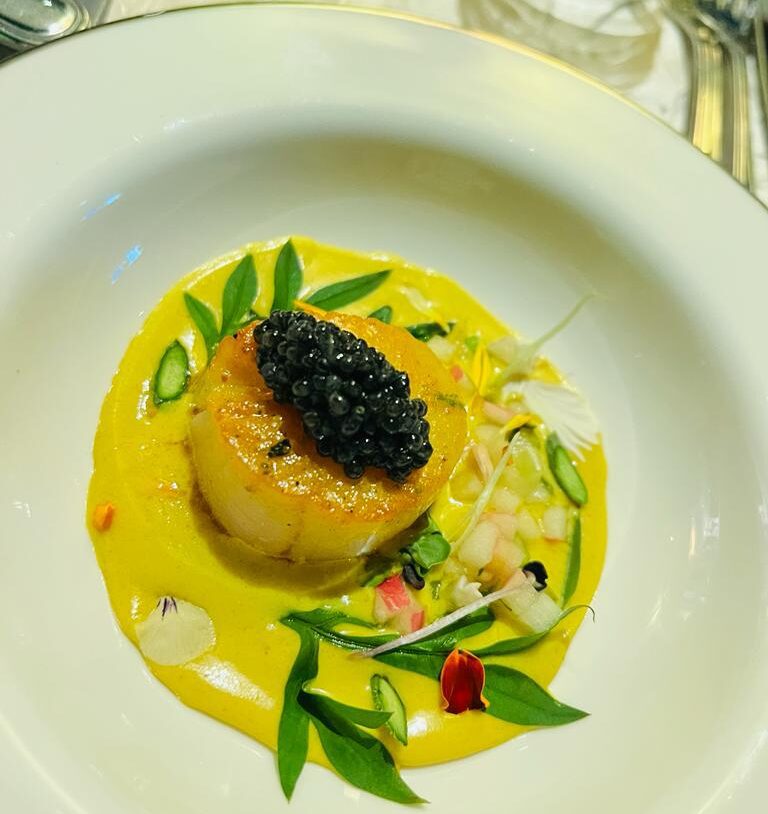 The snacks were really great, but I can't wait to share what's more on the menu. The appetizer was Hokkaido Scallop. It is definitely a dream come true for seafood lovers. This wonderful appetizer features Hokkaido scallops and a big rocher of Oscietra caviar, paired with a silky coconut sothi (Indian mild yellow coconut curry) and tangy nelika, commonly known as amla or Indian gooseberry. I've never had caviar. By itself, the caviar tasted kinda salty, but together with the scallop and sothi, the flavour was so balanced. Also, I've seen soupy sothi but this time, it's creamy and thick.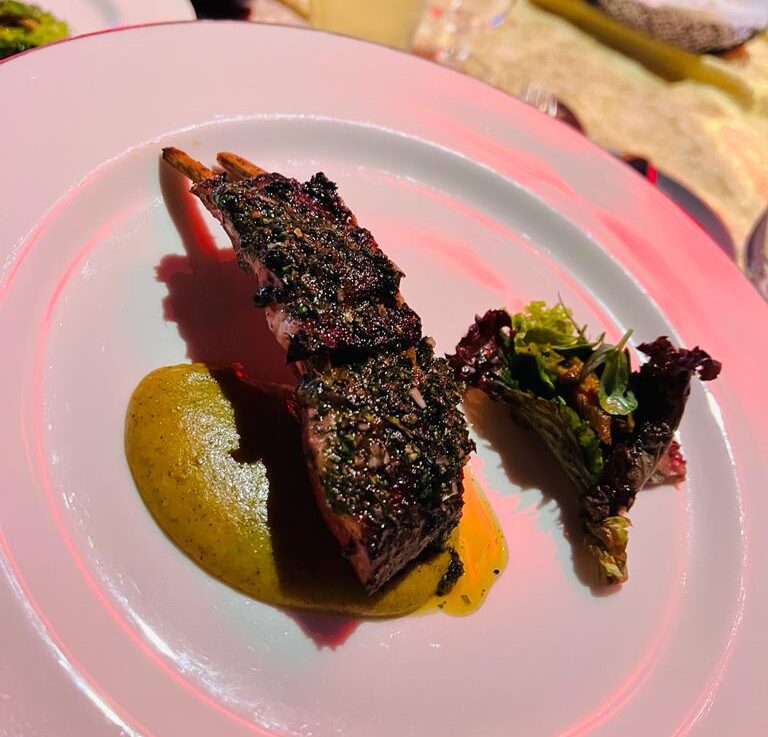 Now for the mains. The main courses included Snapper Coconut Chutney with Bombay butter and biryani risotto, Lamb Burra Kebab with potato masala, herb chutney, and pepper-fried lamb belly served bo ssam style, and Cauliflower Malabar with Bombay butter and biryani risotto. Since I went with the lamb menu, I had the Lamb Burra Kebab with potato masala, herb chutney, and pepper-fried lamb belly. This is a red meat. The flavours were great, but the meat was kinda chewy for me since I prefer well-done meat. Overall, the dish tasted scrumptious and I have to say, each mouthful was a magical fusion of hot and piquant cuisine, elevated by the refreshing smoothness of Carlsberg Smooth Draught. You'll never find this anywhere in Malaysia.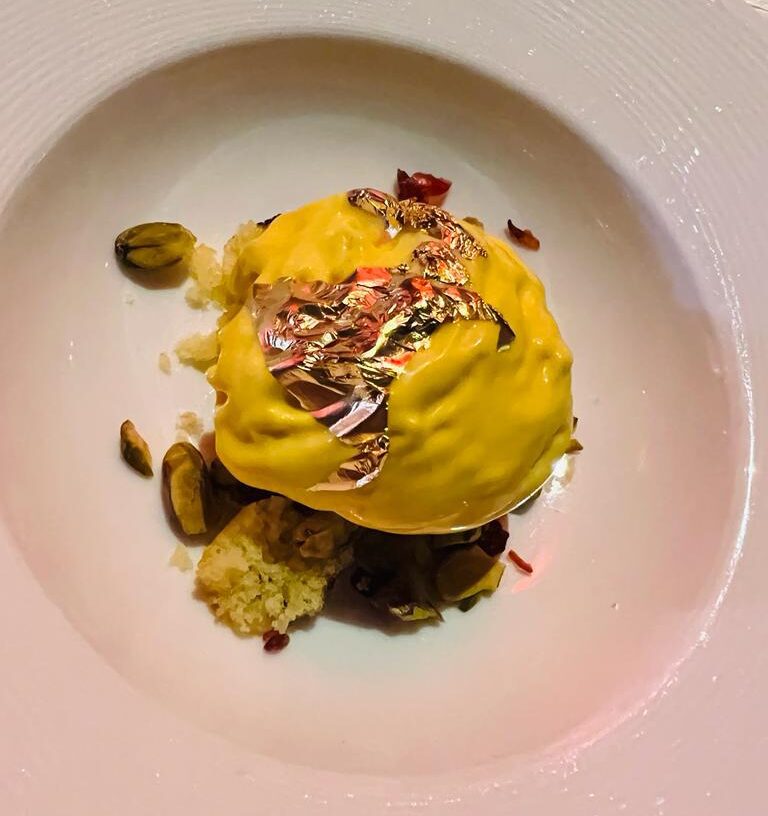 And last but not least, DESSERT! After all that heat, you need something else to cool off besides beer. Rasmalai, Carlsberg Smooth Draught ice cream, and saffron cloud with pistachio – a stunning conclusion that left visitors on dessert cloud nine. I don't know if it was just me, but I could actually taste sweetness and bitterness in the ice cream. It kinda tasted like stout – but who cares, it tasted great!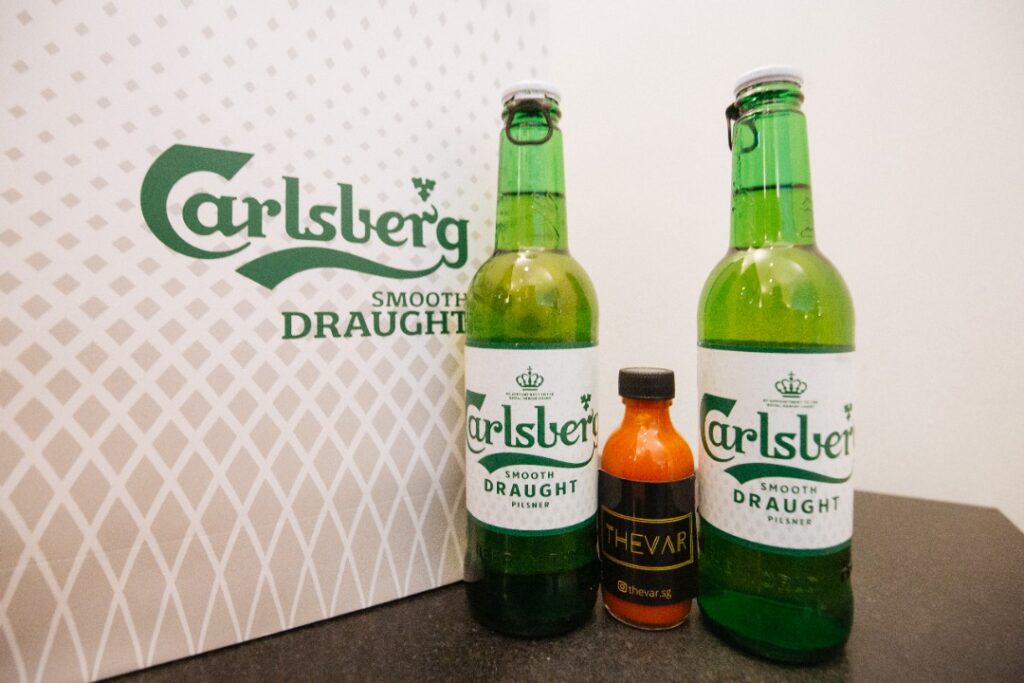 To conclude the event, guest were given not just beers, but something special from the chef himself. We were presented with a fiery memento of the evening, a Carlsberg Smooth Draught infused chilli sauce dip created by the chef himself. Trust me on this, when I say it's spicy, IT IS SPICY AS HELL!
So if you want to try this one-of-a-kind exBEERience, you don't need to fly to Singapore and join a three-month waiting list. All you have to do is participate in the contest that's running until the end of May.
100 lucky contest winners and their partners, will be rewarded with the ultimate dining exBEERience Grand Prize. The full VIP excursion includes accommodation, a chauffeur driven ride for the evening and a date with Michelin starred Chef Mano Thevar, serving up distinct delicacies specially created for the "Real Spicy, Real Smooth" spread worth RM2,000!
A first-class treat for Carlsberg Smooth Draught beer fans! For more contest information, visit Carlsberg's website, Instagram or Facebook page.
More on food? Read this:
Cream Of The Cup: Make This CREAMY Plant-Based Coffee, Which Has Beauty Benefits!