Since America's sweetheart, Taylor Swift, released her re-recorded version of All Too Well, including a short film, fans have widely speculated that the 10-minute song is about Swift's past relationship with Jake Gyllenhaal, when she was 20 and he was in his 30s.
It has sparked a huge online debate over the whole notion of young women having romantic relationships with older men. While others find older men extremely appealing, some find them a tad bit creepy.
With this topic still buzzing, I decided to collect some thoughts from young women on the subject: and, boy oh boy, do they have some interesting opinions on it.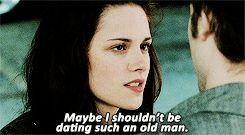 If you're still wondering whether or not dating an older man is a good or bad idea, try reading some of these ladies' opinions.
Michelle:
I used to date men who were 10 years older than me. I was an insecure 19-year-old at the time. So, I opted to date older men because in a way, they made me feel validated. My experience with dating them was fine, but it was also crucial in how I developed my own personality and character. I also developed my own interests and preferences in finding men. Now, I would not date older men, because I came to feel like the older men (I was dating) were using me to make themselves feel young.
Lara:
I don't like the idea of dating younger men because I easily take charge of situations, due to how I was brought up. So, it would feel like I'm the authority in the relationship. My preferences are older men – but if they are older than my brother, which is like 7+ plus years? No thanks. It is a bit odd to me when there are relationships out there with an age gap of 15-20 years. There are a lot of single women around their age, why would they pursue women who are much younger than them?
Christine:
Just so that we are clear: Age does not define maturity. Understandably, each individual is different and it really depends on how that one person behaves. But, don't limit yourself to only dating older men.
Siti:
Personally, too big of an age gap is a bit daunting. I can't find myself dating men who are much older than me. I feel like there's this huge possibility that they might want to settle down early because of their age and when I'm in my twenties, I might want to explore more in my own dating life.
These opinions should not change your own stand on the issue of dating older men. They are just the thoughts of several young ladies who think it's a bad idea. Personally, I think dating older men is strange and harmful because, realistically, how can you be sure the relationship's dynamic isn't toxic? Or that there isn't some form of power imbalance in it?
No one is stopping you from pursuing a relationship with older men – but I advise you to be careful when you are in one with them.
In need of more relationship advice? Read these articles right here:
https://lipstiq.com/lifestyle/love-and-relationship/178366/living-in-a-monotonous-relationship-here-are-3-ways-to-keep-your-love-life-healthy-and-alive/
https://lipstiq.com/lifestyle/love-and-relationship/180474/sign-language-10-signs-a-guy-is-definitely-into-you/