Most of us perceive "psychopaths" as hard criminals such as serial killers – many of whom are portrayed in Hollywood movies. But in reality, only 15% to 25% of people behind bars are psychopaths. In fact, many people with psychopathic tendencies are not criminals. Therefore, it is safe to say that psychopaths are everywhere – and they might even be one of your friends, colleagues, bosses, or family members.
According to a survey conducted by the famous British psychologist, Kevin Dutton, titled "Great British Psychopath Survey", certain professions have the highest and lowest numbers of psychopaths.
Here are the top ten professions with the most psychopaths:
CEO
Lawyer
Media personality (TV/Radio)
Salesperson
Surgeon
Journalist
Police officer
Clergyperson
Chef
Civil Servant
And here are the professions with the least psychopaths:
Care aide

Nurse

Therapist

Craftsperson

Beautician/Stylist

Charity worker

Teacher

Creative Artist

Doctor

Accountant
"Psychopaths" are characterised by a variety of personal traits such as ruthlessness, fearlessness, charm, persuasiveness, egocentricity, impulsivity, and the absence of conscience as well as empathy. But bear in mind that these traits need not all be present to the same degree for a diagnosis to be made. According to Kevin Dutton, there are eleven ways to identify if your boss is a psychopath. These ways are;
1. Emotional Powerplay – Psychopaths are confident, outgoing, and resilient but in reality, they feel sorry for themselves. If your boss uses the sympathy card to draw attention to him or her and uses it to manipulate others, you might be dealing with a psychopath at work.
2. Control Freak – According to Dutton, psychopaths are emotional chess players, they love to pick people up, move them around and make people jump for the sake of it. If your boss likes to make unnecessary rearrangements, demands tasks during unsocial working hours, and leaves you wondering about the rationale for their behavior, Dutton might have just answered your question.
3. Charming – Psychopaths are brilliant psychologists and they use charm to gain a relationship. If you've ever wondered why your boss was so charming at the beginning, before you suddenly got kicked out of the clique (which left you feeling confused and vulnerable), then you might have a psychopath on your hands.
4. Parasitical – They often 'steal' someone else's idea and make it their own. If your boss has the habit of taking credit for your work, we might suggest you find work elsewhere.
5. Deceitful – Psychopaths do not live by the same moral code as normal folks who experience guilt or anxiety in telling lies. If you often have misunderstandings and false assumptions towards your boss, it might not be your fault in all circumstances.
6. Narcissistic – They are pretty selfish and their friendships are often terminated without warning. If your boss often fires people with no absolute reason and also possesses a habit of stealing the limelight, we would suggest you pursue your career elsewhere.
7. Non-Stick – They make the perfect defense attorneys for themselves to get out of trouble. If you often find your boss using you or other employees as 'reputation shields', you should start asking questions and consider finding other jobs.
8. Oscar-Nominated – In order to be as manipulative as they have to be, psychopaths have to have stellar acting skills. If your boss snaps out of emotions within seconds, you should start filling in the blanks.
9. Not Risk-Averse – Due to their ice-cool emotions, they are fearless and do things that would probably scare the hell out of normal folks. If your boss is involved in risky investments, unwise alliances and also behaves inappropriately, you may be working with a psychopath.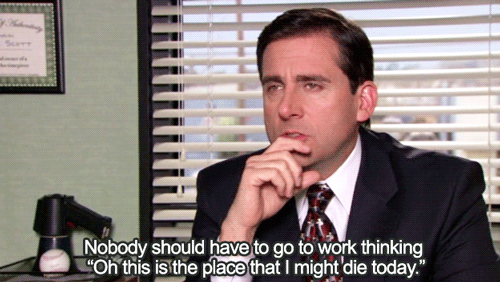 10. Power-Hungry – Psychopaths are drawn to positions that are influential, which they can reach through controlling and manipulating others. Your boss might be a psychopath if he or she has the tendency to step on the ones beneath them, but goes all out to impress the ones above.
11. X-Factor – Psychopaths often freak people out. If your boss gives you a certain 'aura' that makes you feel uncomfortable, trust your instincts and get out while you still can.
If you want to take part in this survey to find out whether you're one of the psychopaths,  CLICK HERE!
Check out these articles before you exit! They're a definite must-read!!
Are You Sleepy All The Time? Here Are 3 Ways To Boost Your Energy Levels