BiO-LiFE is a wellness-focused healthcare company. Ever since its establishment in Malaysia more than 30 years ago, the company has been striving to serve people to live healthier lives with its motto, "We Care for Human Wellness."
BiO-LiFE produces high quality healthy medicinal products with the aid of a professional team consisting of nutritionists, biochemists, food scientists, and microbiologists who formulate and create consumer-friendly health products.

Mega Lifesciences amassed with BiO- LiFE in November 2016, and BiO-LiFE® Marketing became a part of Mega Lifesciences. Mega Lifesciences, based in Bangkok, is a revered pharmaceutical and nutraceutical firm. 
Mega Lifesciences & BiO- LiFE have developed their own line of herbal medical products based on Western, Ayurvedic, and Traditional Chinese herbal medicine.
The new Herbalmeds range, which includes Femosa, Curcure Phyto, and Echinax, is made with active components sourced from strong raw materials and is substantiated by research and clinical evidence for its advantages.

Their new vitamin range for menopause is infused with amazing herbal properties such as Black Cohosh the rhizome of Cimicifuga racemose, a historic North American medicinal herb, in a soft gel texture capsule.
Women who are experiencing menopausal symptoms are encouraged to consume Herbalmeds Femosa to help them feel better and diminishing their heavy menopausal symptoms. It's made with a soft gel mixture.
Early menopause usually occurs between the ages of 45 and 55, with the average age being around 50. Irregular periods, night sweats, sleeping difficulties, hot flashes, libido loss, and vaginal dryness are all common symptoms.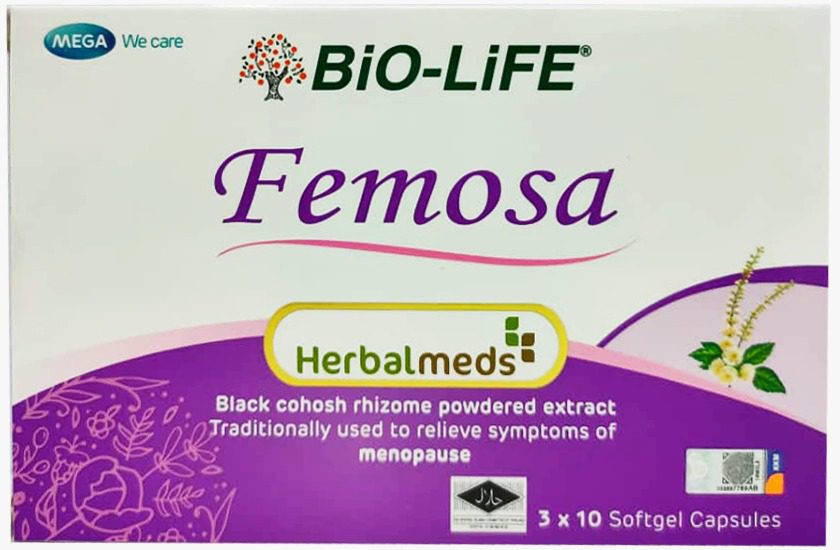 Other products in life with these herbal infusion meds are Herbalmeds Curcure Phyto and Herbalmeds Echinax. Curcumin, an important medicinal ingredient found in Turmeric, is present in Herbalmeds Curcure Phyto.
The substance has traditionally been used to treat pain caused by inflammation, such as osteoarthritis discomfort. Echinacea purpurea is found in Herbalmeds Echinax. It's a non-drowsy, natural plant that's been used for centuries to relieve cold and flu symptoms.
Mega Lifesciences & BiO-LiFE produce a range of clinically tested herbal medicinal products to help Malaysians stay on top of their health. You can purchase them at your nearby drug stores or pharmacies!