Smoothies are becoming so prevalent in one' diet due to their amazing benefits it beholds in just a single serving! They're so customisable, with limitless flavour combos, and they're wonderful as a snack or a meal.
Joining the bandwagon with all other hotties out there who have been keenly posting their #smoothieoftheday on social media. Let's get along and check out these super fun, yummy easy quick smoothies that are just a blend away to keep you full and blend the calories simultaneously!
Can you actually lose weight by just consuming a smoothie?! Well, research has evidently proven that it is possible to do so if you replace your standard breakfast with a weight loss smoothie, you can lose weight.
Raspberry Chocolate Smoothie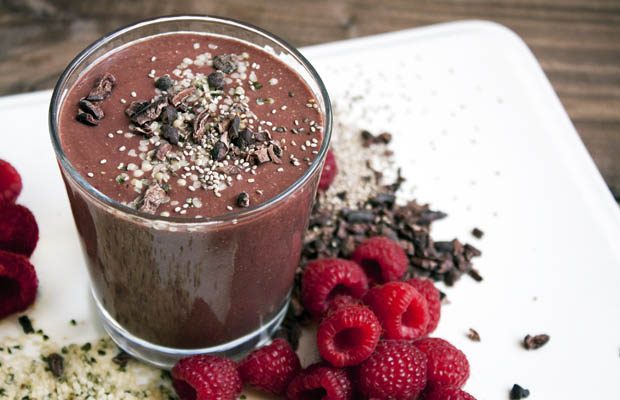 ½ banana
1 handful spinach
½ cup raspberries
1 tablespoon almond or cashew nut butter
2 tablespoons raw cocoa powder
10 oz unsweetened almond, hemp, or coconut milk
1 scoop or serving plant-based protein powder (optional)
Nutritional Facts: (With a scoop of protein) 391 calories / 15 g fat / 38 g carbs / 12 g fiber / 12 g sugar / 34 g protein
Nutritional Facts: (Without scoop of protein) 257 calories / 15 g fat / 32 g carbs / 11 g fiber / 10 g sugar / 8.6 g protein
The cocoa powder is rich in flavonoids, which are beneficial to both the brain and the heart, and it also makes the smoothie taste like you've added a lot of chocolate. In addition to the organic chocolate, this smoothie contains other healthy ingredients such as raspberries, which are high in immune-boosting vitamin C, and spinach, which is rich in stimulating B vitamins.
Kale Recharge Smoothie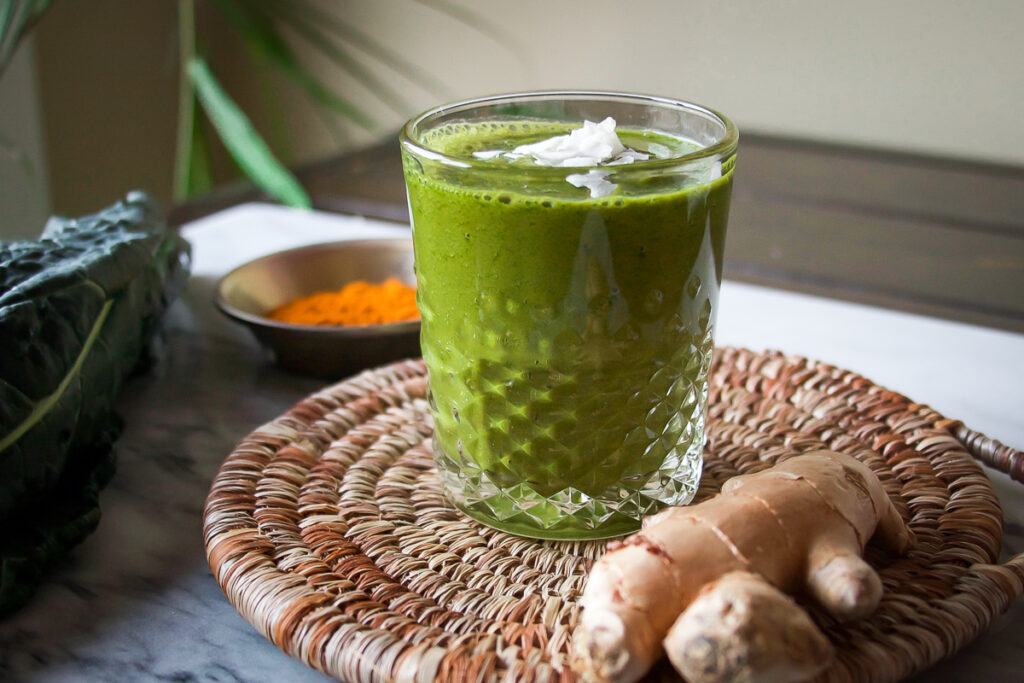 1 frozen, very ripe banana
1 Tbsp fresh parsley (or cilantro)
¾ cup spinach, loosely packed
1 tsp ginger, grated
¾ cups curly kale stems removed, loosely packed
½ cup carrots, chopped
1 tsp lime juice
8 ounces water
4 ice cubes
This smoothie is an absolute recharge tonic that can replenish us with a burst of healthy nutrients much needed by our system. It also works as a cleansing agent. Kale is high in beta-carotene, a carotenoid that the body transforms into vitamin A as needed. All body tissues, including the skin and hair, require beta-carotene and vitamin A for growth and maintenance.
The ginger present in the smoothie is a great aid to help with digestion. Ginger has powerful anti-inflammatory and antioxidant effects, according to research. For instance, it may help reduce oxidative stress, resulting from having an excess amount of free radicals in the body.
Nutritional Facts: 58 calories / 0 g fat / 14 g carbs / 3 g fiber / 5 g sugar / 2 g protein
Banana Cherry Split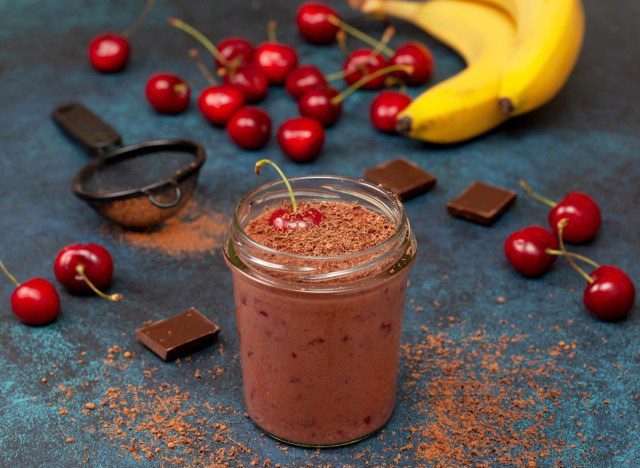 1 frozen banana
4 fresh cherries, pitted
2 dark chocolate squares
1 teaspoon vanilla extract
½ cup unsweetened almond milk
1 scoop vanilla plant-based protein powder
2 ice cubes
Topping: 1 more cherry
If you're scouring for the perfect food to help you lose weight don't forget to include cherries in your daily diet. It is low in calories and high in vitamins, which have been shown to increase the body's metabolism. This red-coloured fruit, which contains a moderate amount of water, can also help to remove toxins from the body. 
Nutritional Facts: 280 calories / 3 g fat / 35 g carbs / 6 g fiber / 17 g sugar / 28 g protein
All Almond-NY Smoothie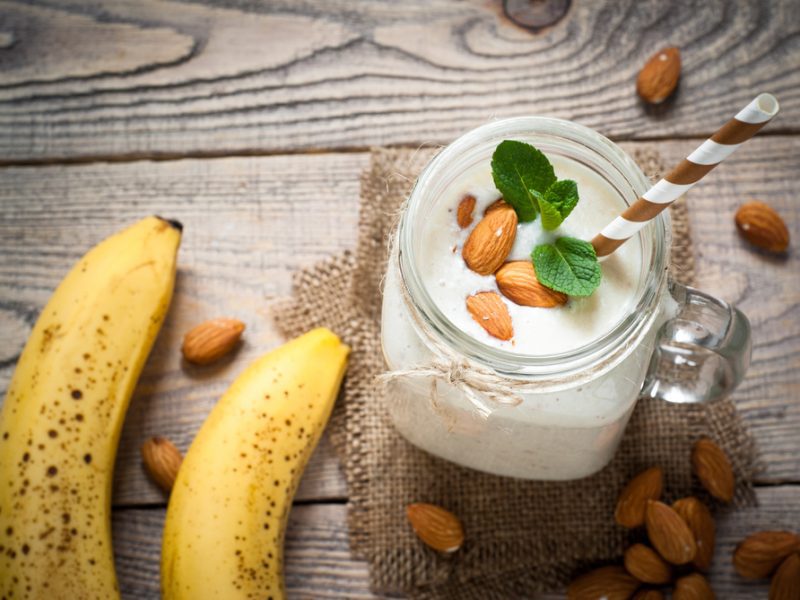 ¾ frozen banana
2 teaspoons almond butter
¾ cup unsweetened almond milk
1 scoop chocolate or vanilla plant-based protein powder
Nutritional Facts: 340 calories/ 15 g fat / 36 g carbs / 10 g fiber / 13 g sugar / 20 g protein
Almonds are abundant in good fats, fibre, protein, magnesium, and vitamin E.  Almonds' health benefits entail lower blood sugar levels, lower blood pressure, and lower cholesterol levels. They are great in helping you lose weight by suppressing your appetite. Almonds can aid in the loss of unwanted pounds. Researchers discovered that people who consumed a high-almond diet lost more weight than those who ate a high-carb diet with the same amount of calories.
Research published in prominent scientific journals, including the Journal of Nutrition, further states that eating almonds could eliminate lower tummy fat resulting in a more narrow waistline! 
Carrot Turmeric Apple Smoothie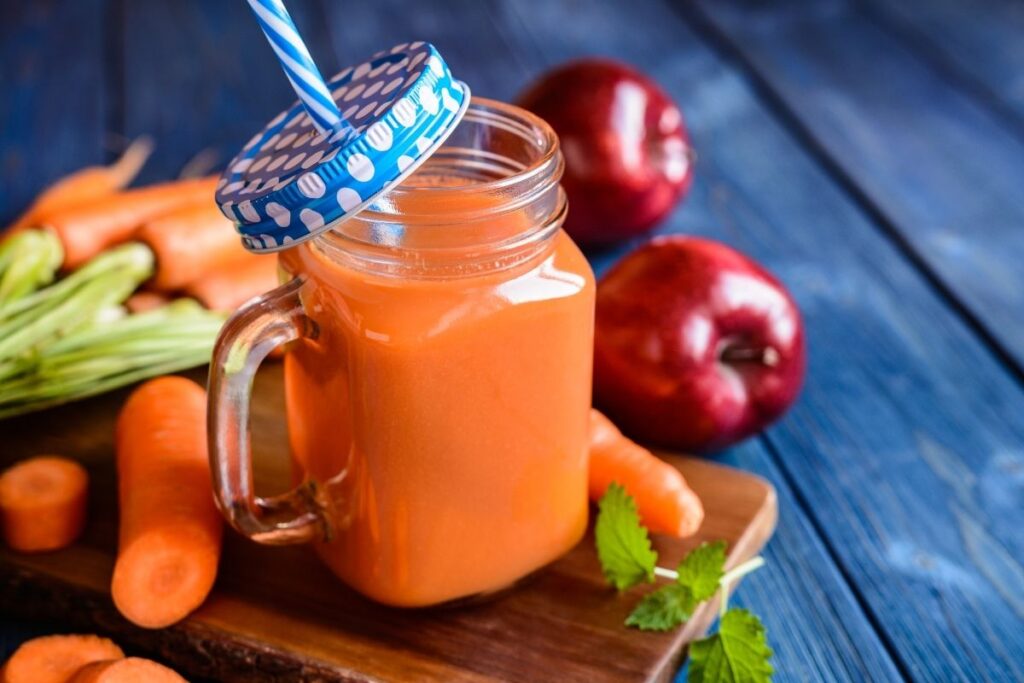 1 cup coconut water
1 bunch carrots 4 or 5, cut into 2-inch pieces
1 apple cut into 4 pieces
1 tsp turmeric / or a turmeric shot
1 tsp honey optional (for sweetener)
3 cubes ice
Nutritional Facts: 144 calories / 2.4 g protein / 32 g carbs / 2.3 fat / 17.5 g sugar 
If one of your fitness interests is to integrate more organic, active ingredients into your daily routine, a carrot, apple turmeric smoothie can be a fast and easy way to optimise the health benefits of all ingredients. This main ingredient, carrot, apple, and turmeric smoothie, combine the nutrients of the fruit, vegetables, and active ingredients to make an efficient way to add more nutritious vitamins and minerals to your diet.
Carrots are a weight loss superfood. For its high fibre content, one glass of carrot juice will hold you full until lunch, preventing you from bingeing. Carrot juice induces bile secretion, which helps in fat burning and thereby weight loss.
Ps: Do pay attention to the protein counts. If they're less than 25 grams, do not consume them as a meal substitute, but try to incorporate the smoothie together with a healthy meal of your choice.
Try it out and do let us know if you liked em' in the comment section below ladies!

Bon Appetite & Happy Experimenting 🙂