Nope, things are not always black and white!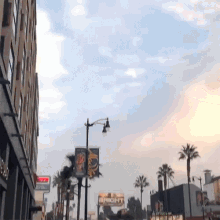 Fashion is always fun, adventurous and quirky. And one of the best ways to spark your creativity is to style an outfit. However, it can be overwhelming at times. Trends and fashions change in the blink of an eye. If you're just dipping your toes into the fashion world, it can be too much for you to handle.
And when it comes to summer, there's always the struggle to look extra chic in our outfits. I mean, it's not that hard, but sometimes, things get out of hand and you end up becoming a walking ray of sunshine. But for this summer fashion season, you can try something new and rather easy to pull off – with a few tips and tricks.
Let's Talk MONOCHROME! 
'Mono' means one. So, 'monochrome' means one colour. A monochromatic colour scheme is built on a single basic colour with added shades, tones, and tints to it. Confused? To put it simply, let's say, your base colour is green. So, to pull of a monochrome look, you play around with different shades of green, like light, dark, pastel and so on. Using these different shades, you balance out the outfit with different hues and tints of a single colour. So, it's not always "black and white", like what most people think of when they think of 'monochrome'.
The best part of a monochromatic outfit is that it's simple and if worn with style, can be fashion-forward. Also, monochromatic outfits are not just plain – you can make your outfit interesting with textured patterns to add depth to your look. As for make up, accessories and hairstyle, it's not a headache. If your outfit is eye-catching candy, then those three aspects can be kept simple and more natural.
Now that you know about monochrome outfits, it's time to get stylish! We've laid out some monochromatic styles that'll make you reconsider your wardrobe and assist you in coming up with new outfit combinations that you otherwise wouldn't have considered.
1. Jeans and Neutrals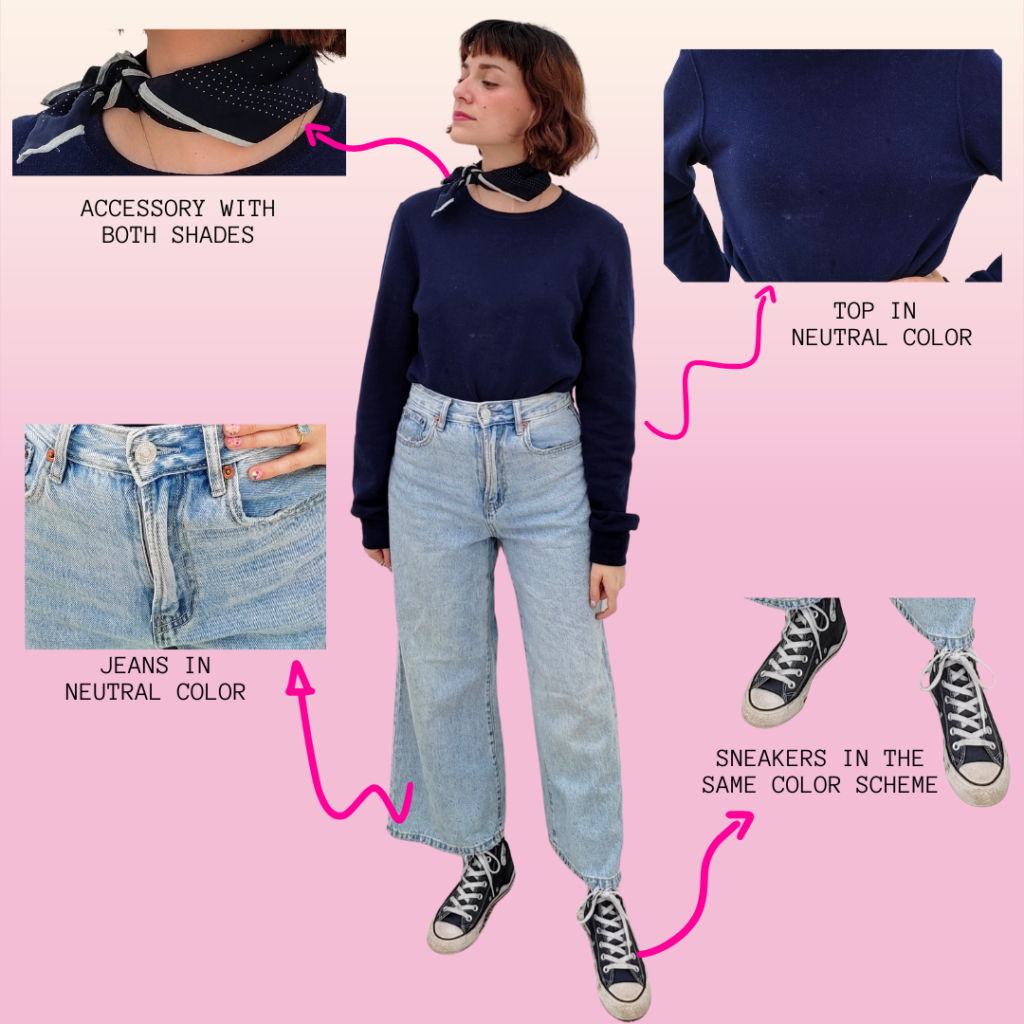 Let's get things going with something simple. Most of us are unaware that we all have a perfectly acceptable monochrome look waiting in our wardrobe. That look? Your neutral, simple tee and pants. Everybody has a pair of blue jeans in their closet. Grab a pair of wide-leg blue jeans and a navy blue top for a simple monochromatic look. For footwear, go for the traditional pair of blue sneakers. Instead of jewelry, you might consider wearing a blue neck scarf as an accessory. You can use your favourite pair of jeans as the foundation for a monochromatic ensemble. They can be combined with a shirt in the same colour family, or in blue, white, off-white, beige, or black hues.
Instead of sticking with just one colour when styling blue or off-white, try to balance lighter and darker tones. It will be simpler to create a unified appearance this way. Shoes and other accessories shouldn't be an issue because these colours are neutrals.
2. Orange Monochrome Outfit with Patterns & Textured Fabrics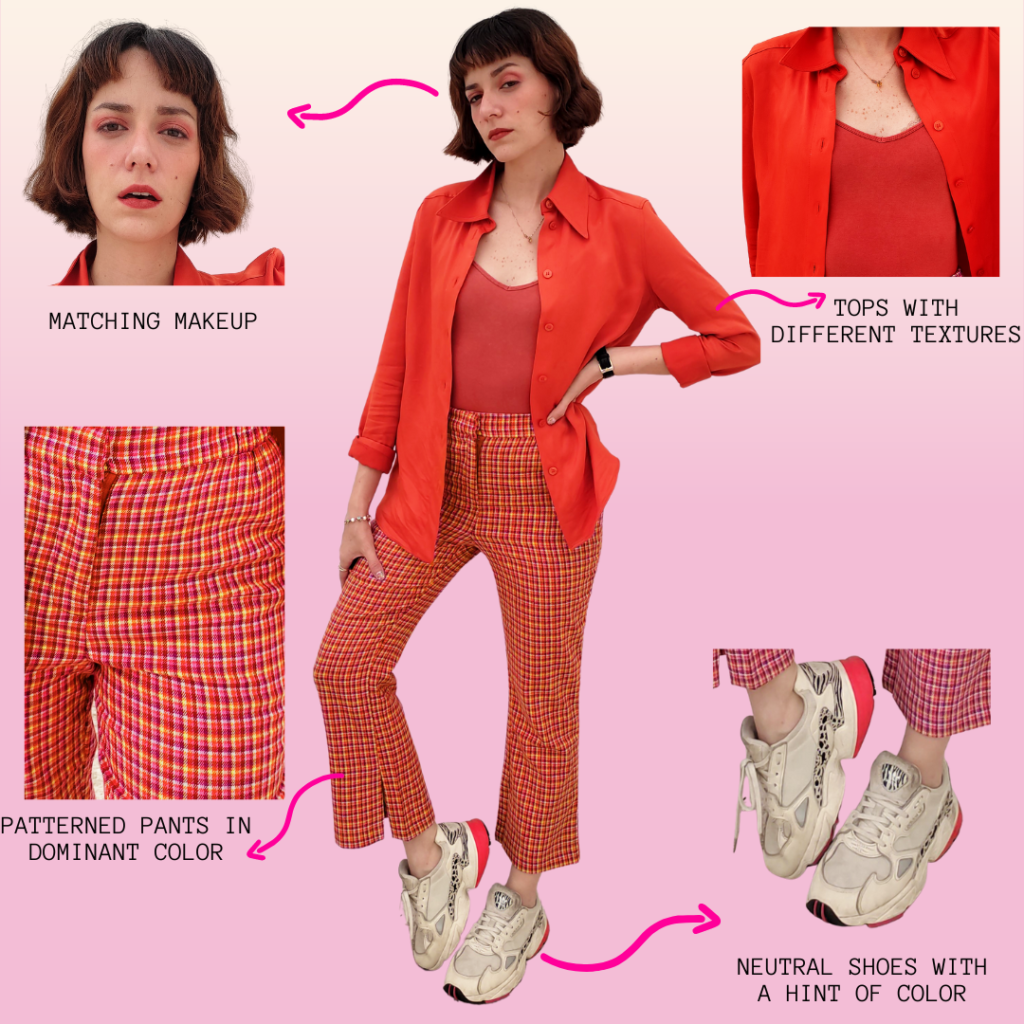 Let's turn up the fun. The focus of the following look is texture and pattern. Although patterns might be challenging to wear, the simplest way to do so is to incorporate them into a monochrome ensemble. But keep in mind that you have to concentrate on the pattern's dominating hue. You can try it with any colour, but for a more summery-feel, you can go with oranges, reds or maybe yellows.
Combine a simple orange tank top with patterned pants to create the foundation of the look. It doesn't matter whether your pants' pattern contains multiple colours as long as the primary colour is there. Put on an orange silk shirt to give depth and layers. Take a pair of white chunky shoes with the slightest orange design on the sole, or just white sneakers, to finish.
Try a patterned item with a simple texture, like silk or linen, if you are wary of mixing too much pattern. This can be challenging, but with some trial and error, you'll find what works best with what you already have.
3. Hard Pink Monochrome Outfit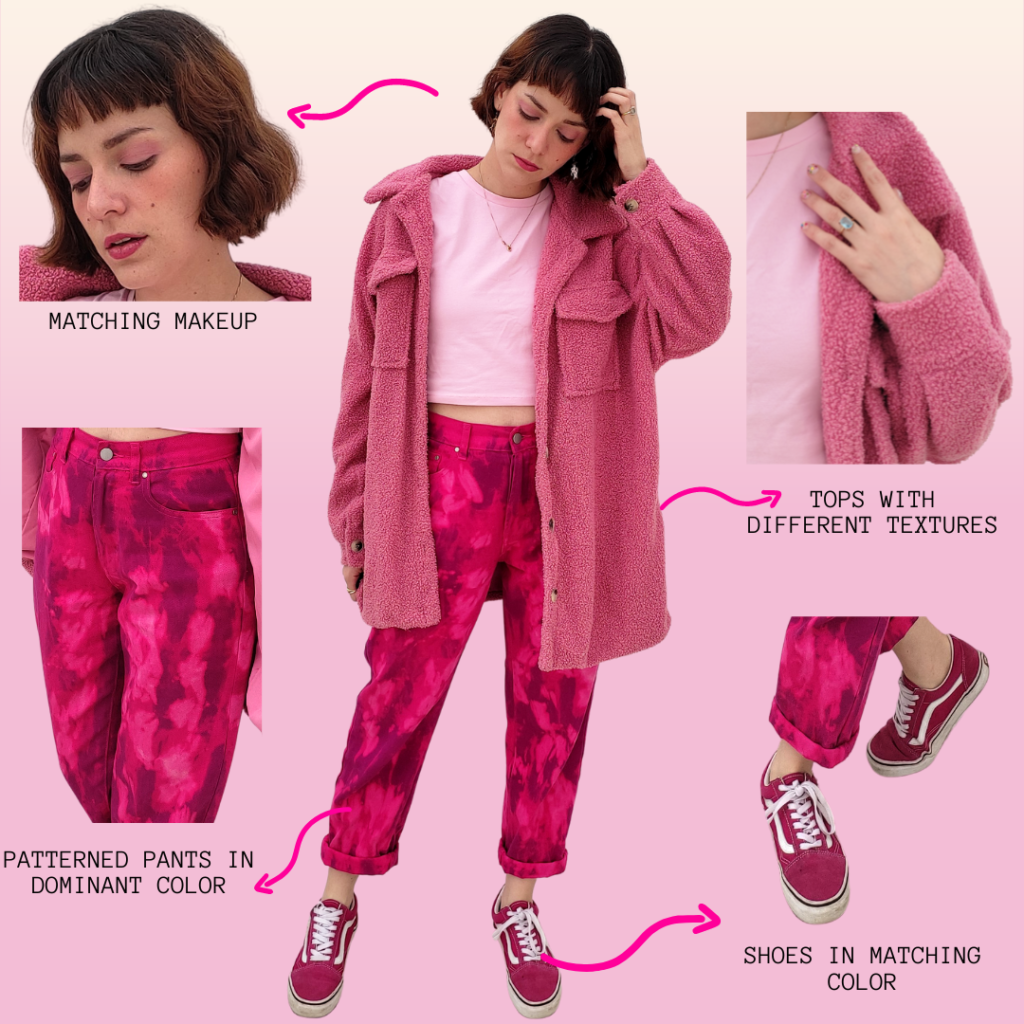 Take a close look in your closet and ask yourself, "What is the dominant colour I see?" as you advance. The best colour to fully achieve a monochromatic effect is definitely this one. You need a variety of pieces to put all of these components together in a way that looks cohesive. A hard pink might work well for this style.
Put on a basic, cropped, pale-pink crop top or t-shirt. Choose a pair of mom jeans in pink tie-dye or plain pink denim as your bottoms. You can layer the ensemble by donning a stylish item like a fluffy pink coat. And to complete the look, a handbag in light pink and a pair of pink shoes. As for your make up, you can keep it neutral with just a hint of pink blush and eyeshadow. You can pull off the same look with soft pink shade.
4. Yellow Bellow Monochrome Outfit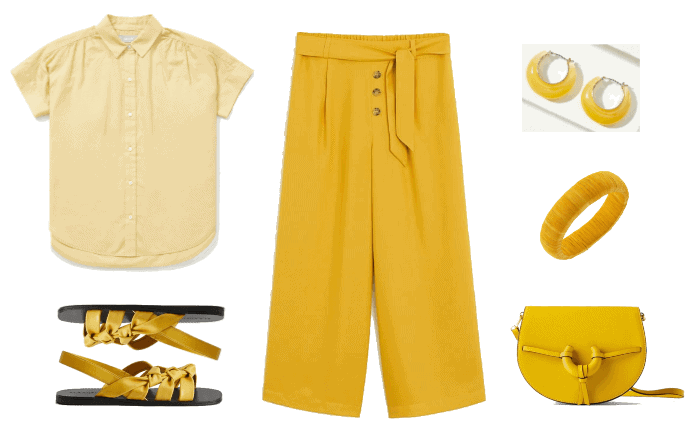 Yellow outfits instantly get you into summer mode, but getting a monochromatic look with this colour can be slightly tricky. Start by tucking a light yellow shirt with a loose fit into a pair of bright yellow culottes to achieve this style. Next, put on a thread bangle and some cheerful yellow hoops earrings. Although a knotted sandal looks a lot better with the eccentric attire, you may also wear yellow or white shoes. Grab a trendy bright yellow crossbody bag to round off this colourful and playful combination.
If you're a dress kinda girl, don a yellow dress and pair it with yellow pumps. For accessories, go with a yellow handbag and a simple bangle.
5. Blue Baby Monochrome Outfit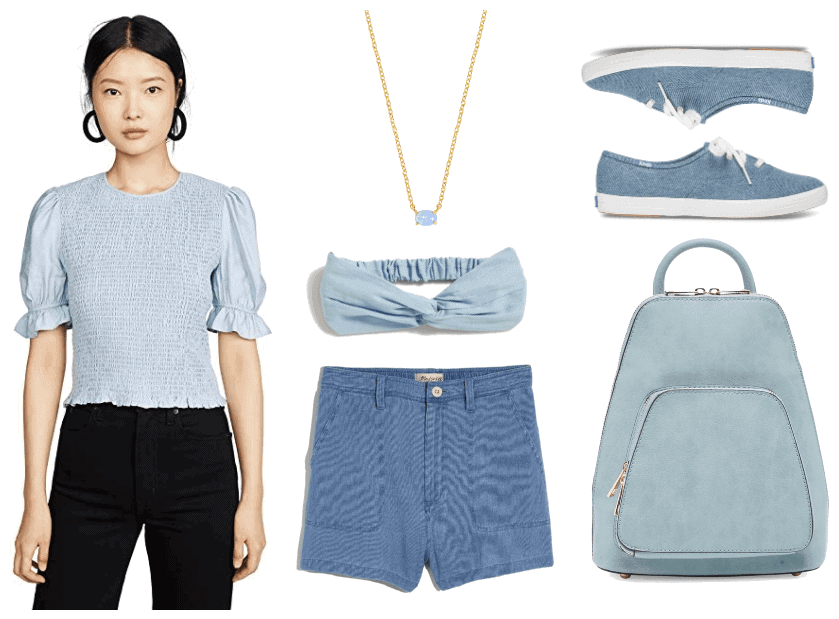 Not everyone likes bright, eye-catching colours for their outfits. Sometimes, they prefer something more mellow. But that doesn't mean you have to dress all pale and gloomy. There's a style for a mellow look too. To create this look, start by pairing a stylish pale blue blouse with a pair of adorable shorts with a blue denim throwback vibe. Then put on a straightforward yet eye-catching blue opal necklace. You just can't go wrong with a traditional hair ornament in this regard. Therefore, a chambray headband is appropriate. A blue sneaker is a fun and relaxed footwear option that keeps it "traditional." Additionally, these sneakers are ideal for days when it's not quite sandal season, but you still want to avoid wearing bulkier shoes.
6. Neutral Monochrome Outfit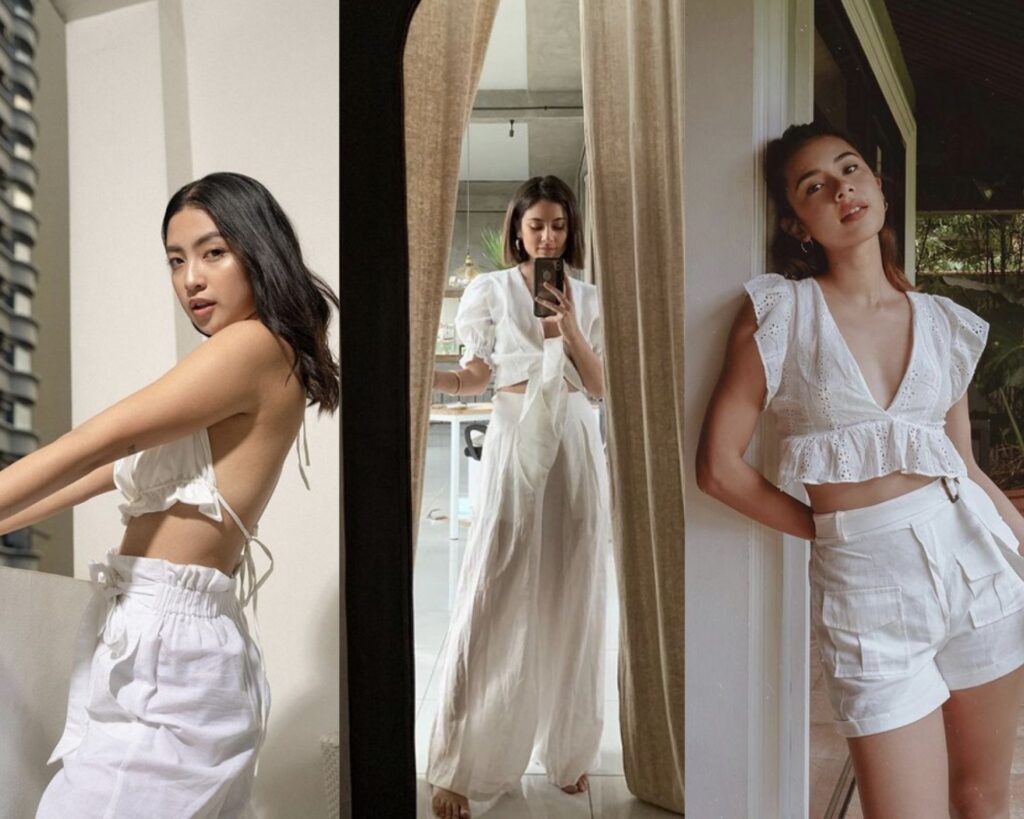 While not always a summer choice, it can be! Neutral can be either black or white, but who wears black in summer, right? So, white it is! White outfits are easier to put together than you think. That's because selecting the best white outfit is similar to selecting the ideal white paint: both tasks are made more challenging by the abundance of possibilities. Still, an all-white outfit never fails to look chic.
For a perfect, breezy summer look, just wear a white bikini top as a bralette and toss on this oversized button down. Or, go for an ultimate cool-down ensemble with boxy cropped top and flowy, loose pants in breathable fabrics. You can also put on white high-waisted shorts and pair them with a white backless top or cropped top. Extremely basic one? An oversized white t-shirt with white sneakers. For footwear, you can go for white sneakers or sandals and for accessories, keep it simple with rose gold or silver bling.
Try going monochrome! Especially if your closet is filled with a lot of neutral colours. Instead of using clashing colours, monochromatic closets can offer countless design options.
More on fashion? Read these:
Style Your Thunder! Simple Style Tips That Will Instantly Elevate Your Look!
Hair In A Hurry: 6 Easy Hairstyles You Can Do When You're Running Late!