Eucerin, a globally established holistic dermo-cosmetic skincare line, officially launched their Spotless Brightening Crystal Booster Serum which is, according to the brand, the newest breakthrough in brightening skincare. The launch was held at Sunway Pyramid last week, and Lipstiq had the opportunity to experience the breakthrough innovation.
In a recent study that was conducted by Eucerin, it was found that 68% of Asian consumers struggle with pigmentation, as it is one of their major skin concerns. We can all relate to this. Pigmentation is a huge skincare issue that most of us face as a result of various factors like too much exposure to the sun and not applying sunscreen religiously. Pigmentation might be just one of the problems. Some of us may experience other skin concerns like uneven skin tone, melasma, dark spots, redness and more (based on 86% of respondents), while 69% have ongoing concerns surrounding oily skin.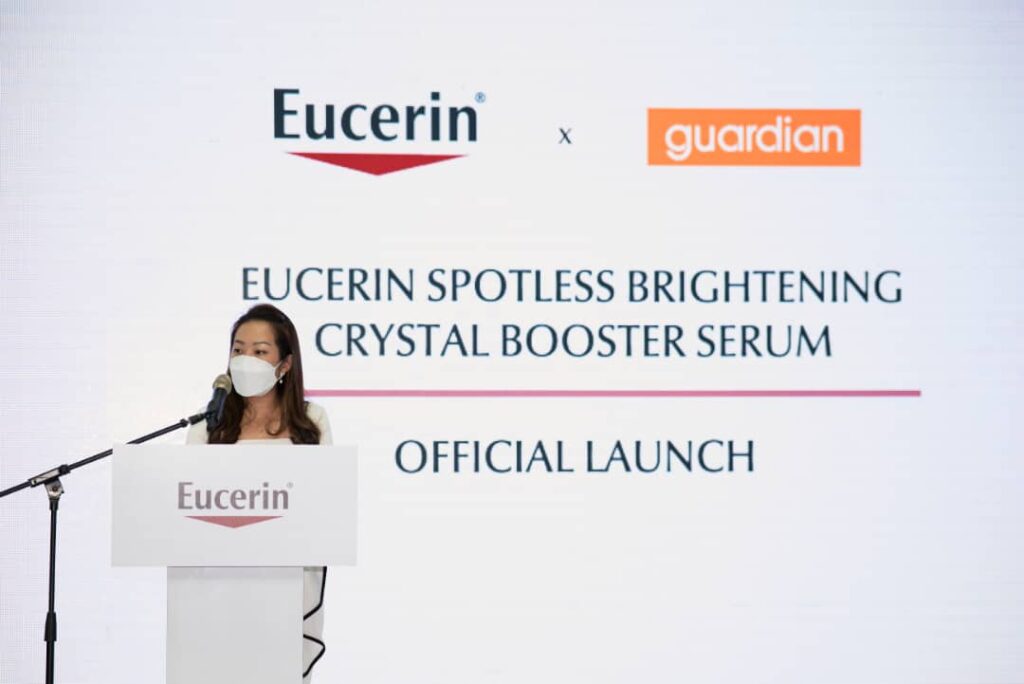 As a dedicated brand that wants to cater for our Asian skin needs, Eucerin took the initiative to develop a new and improved, as well as dermatologist-approved, pigmentation solution that is specially-formulated for Asian skin. The newest Eucerin serum is not only effective for all skin types, including sensitive skin, but this holy grail skincare product is extremely comfortable and long-wearing – suitable for the tropical climate that we live in.
Introducing the scientifically-advanced Spotless Brightening Crystal Booster Serum, an all-new extension to the Spotless Brightening Range, which features a potent infusion of Thiamidol. A patented active ingredient which is  combined with the exclusive Crystal Technology, Thiamidol is a powerful ingredient developed exclusively by Eucerin after 10 years of research to treat skin issues at the core by visibly reducing the signs of skin pigmentation, dark spots as well as hyperpigmentation for a much brighter, clearer appearance.
Not to mention, the product is clinically tested and proven to effectively diminish dark spots by up to 75%, all while improving your skin's hydration level by up to 98% within just two weeks of continued usage. True story! Says who? Says Scha Alyahya herself. The inspiring, youthful and beautiful model, actress, TV host – and not forgetting mother of two – testified to being hooked on the Eucerin Spotless Brightening Crystal Booster Serum as it really does fulfill all its promises.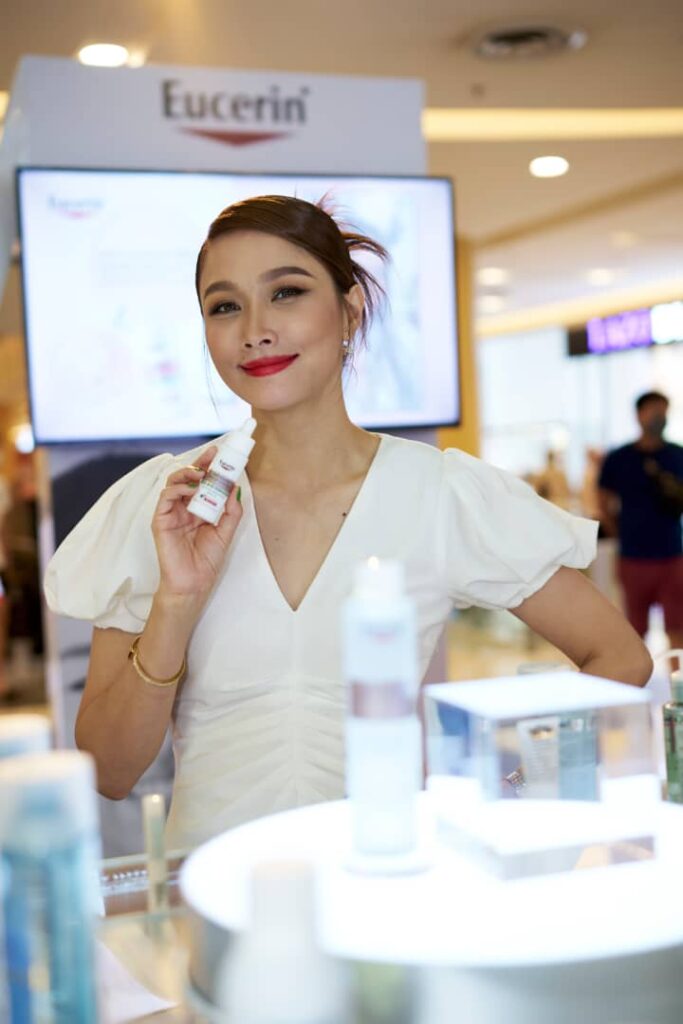 Meanwhile, the Crystal Technology combines Hyaluronic Acid Hydrogel and Glycerin to deliver deep nourishment to the skin for a healthier and more radiant skin from the inside-out. Besides that, taking the tropical climate into careful consideration, the Crystal Booster Serum comes with an ultra-lightweight texture that is non-sticky, non-greasy and is quick absorbed upon application for pleasant all-day wear.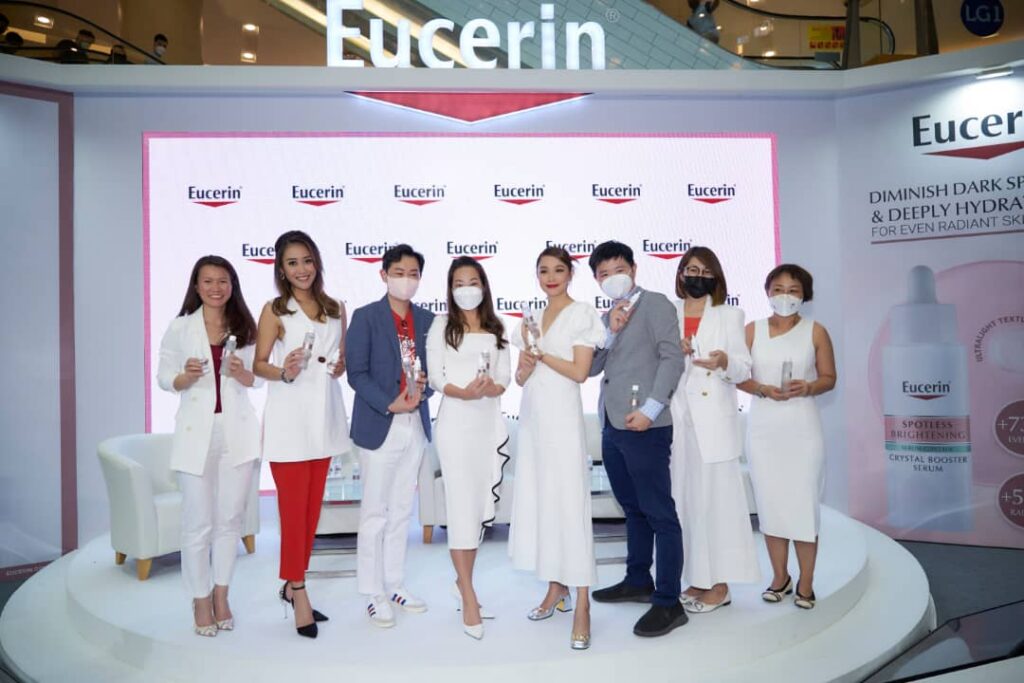 In addition to that, Eucerin also revealed another skincare breakthrough invention alongside their serum – the Spotless Brightening Booster Essence, which is the first water-based essence formula from Eucerin. Containing Pathenol, Hyaluronic Acid and Glycerin, the Booster Essence is designed to deeply penetrate, repair, as well as hydrate the skin from a cellular level. Along with the infusion of Provitamin B5 and Vitamin C – which are a great source of vitamins for the skin – it works to effectively soothe, calm and regenerate damaged areas of the skin whilst blessing it with a high dose of antioxidants. Significantly boosting collagen production for healthier, plumper-looking skin over time, the Booster Essence is suitable for daily use and is best applied to prep the skin before using the Crystal Booster Serum for the best results.
To celebrate the successful launch of these two new brilliant innovations, a 7-day concourse event is being held at Sunway Pyramid this week. Consumers are invited to join in on this experiential journey for the #FullStopOnDarkSpots movement by participating and sharing their experiences after a walkthrough of activities, including a skin test, followed by a personal consultation with the Eucerin skin experts themselves. Check out their interactive kiosks, and enjoy photo opportunities and go home with complimentary Spotless Brightening Skincare samples to complete your journey throughout this event.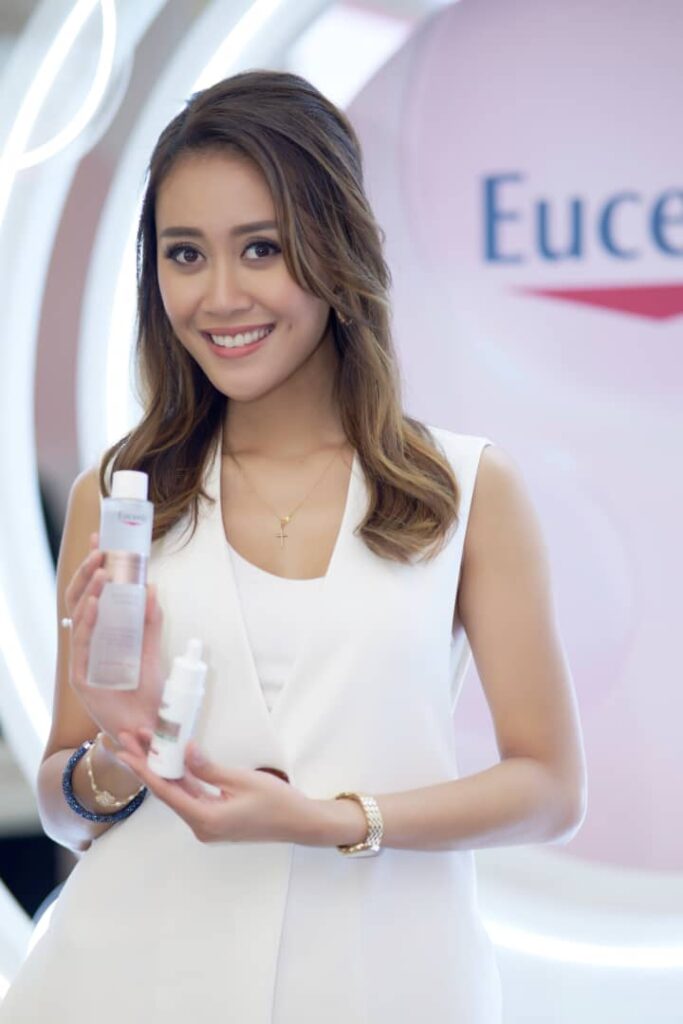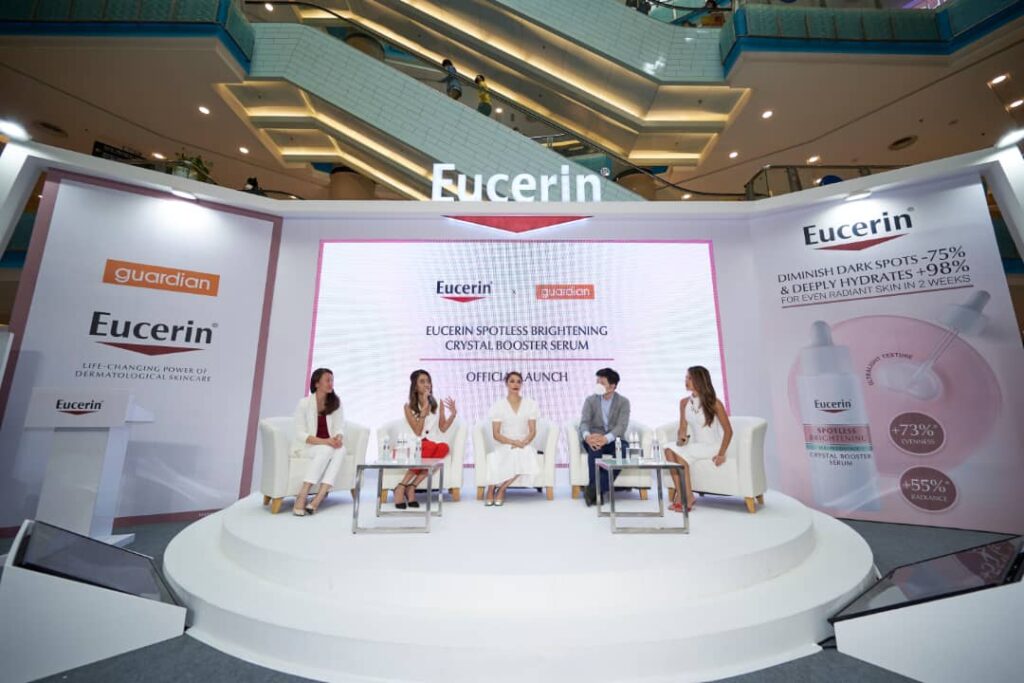 Eucerin Campaign Ambassador, the gorgeous Francisca Luhong, also graced the event to share her personal skin pigmentation journey during a beauty panel that was held during the launch, to kick-start the Put a Full Stop on Dark Spots Challenge. It is an awesome initiative that is open to the public, to encourage more Malaysians to put a #FullStopOnDarkSpots with Eucerin on their personal skincare journey.
So, what are ya guys waiting for? Head on over to the event, win yourself a Eucerin sample and embark on your journey to looking Eucerinly-surreal.
More on skincare? Read these: