With Christmas fast approaching and the new year on it's way, you might be searching for the ideal, new-season item to reward yourself or a loved one. And there's nothing more perfect to get or give this Christmas than a luxury handbag! They're timeless, recognizable, and iconic. If you're considering splurging on a new luxury bag for yourself or as a gift, the research team at online coupon platform WeThrift has gotchu covered!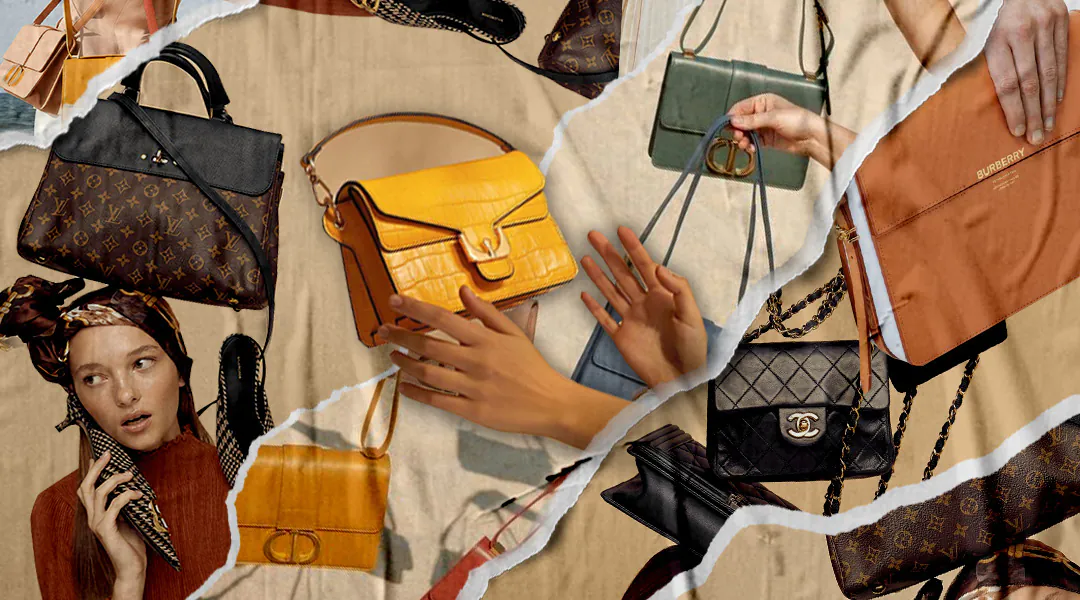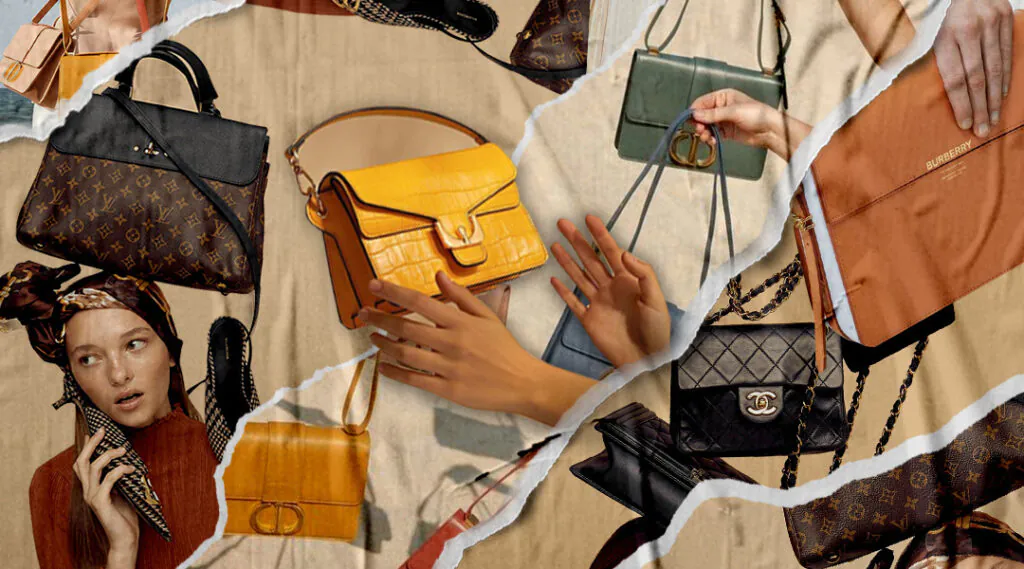 By taking into consideration product demand in terms of Google searches, Wethrift was able to determine the designer fashion items that would be flying off the shelves for the rest of this year and in early 2023.
As part of the campaign, the WeThrift team investigated which design resale platforms were the best for reselling luxury fashion items this festive season.
Luxury Fashion Trend Forecast 2022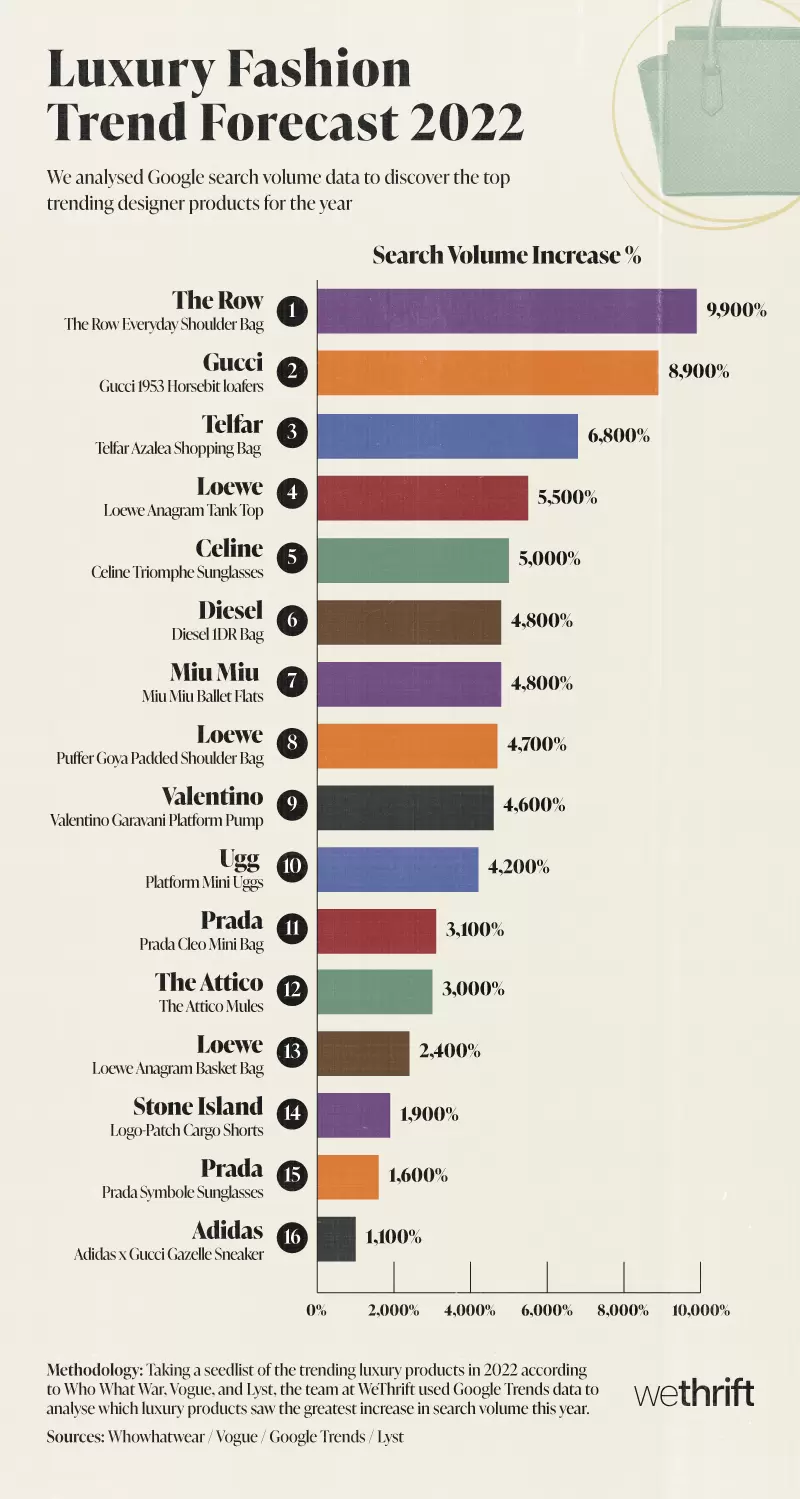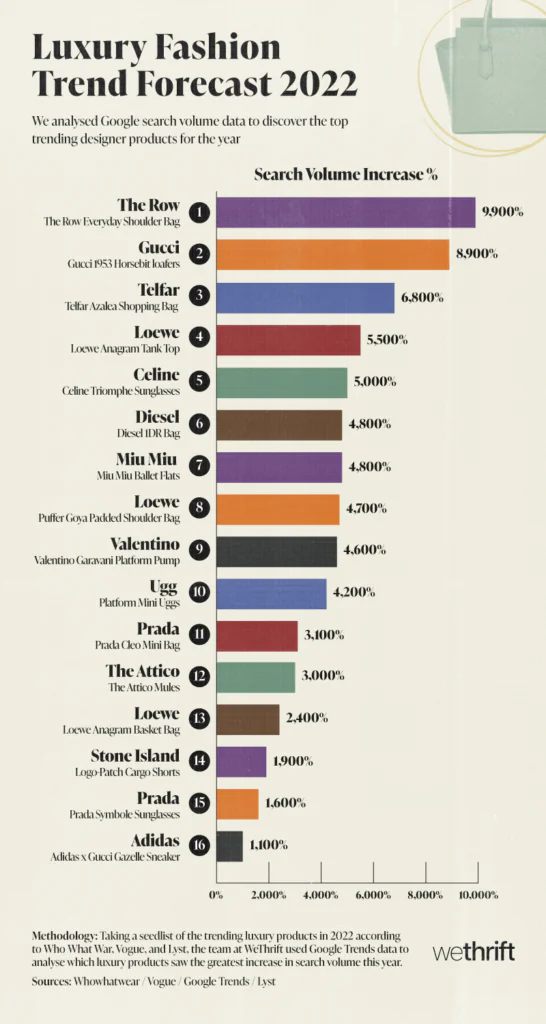 At the top of the list was The Everyday Shoulder Bag by the luxury fashion label established by Mary-Kate and Ashley Olsen, The Row, which came in with a very strong search volume increase of 9900% year on year. Minimalistic and versatile, it's easy to see why so many people have their eyes on this item.
In second place were the Gucci 1953 Horsebit loafers, with an increase of 8900% searchers throughout the year. With the 2021 House of Gucci movie release causing such a stir, it's no wonder that the fashion house is in higher demand than ever.
Third place saw the Telfar Azalea Shopping bag by Telfar receive a 6800% increase in interest throughout the year. With its supple vegan leather outer and modern unisex design, it is no wonder the bag is causing a stir. As well as this, the fashion house is owned by Liberian-American, Telfar Clemens, highlighting a want to support black-owned businesses.
The Loewe Anagram Tank Top by Loewe racked up an impressive boost in search volume, which could have been boosted by entrepreneur Kylie Jenner wearing one in a recent Instagram picture.
Top Trending Luxury Bags of 2022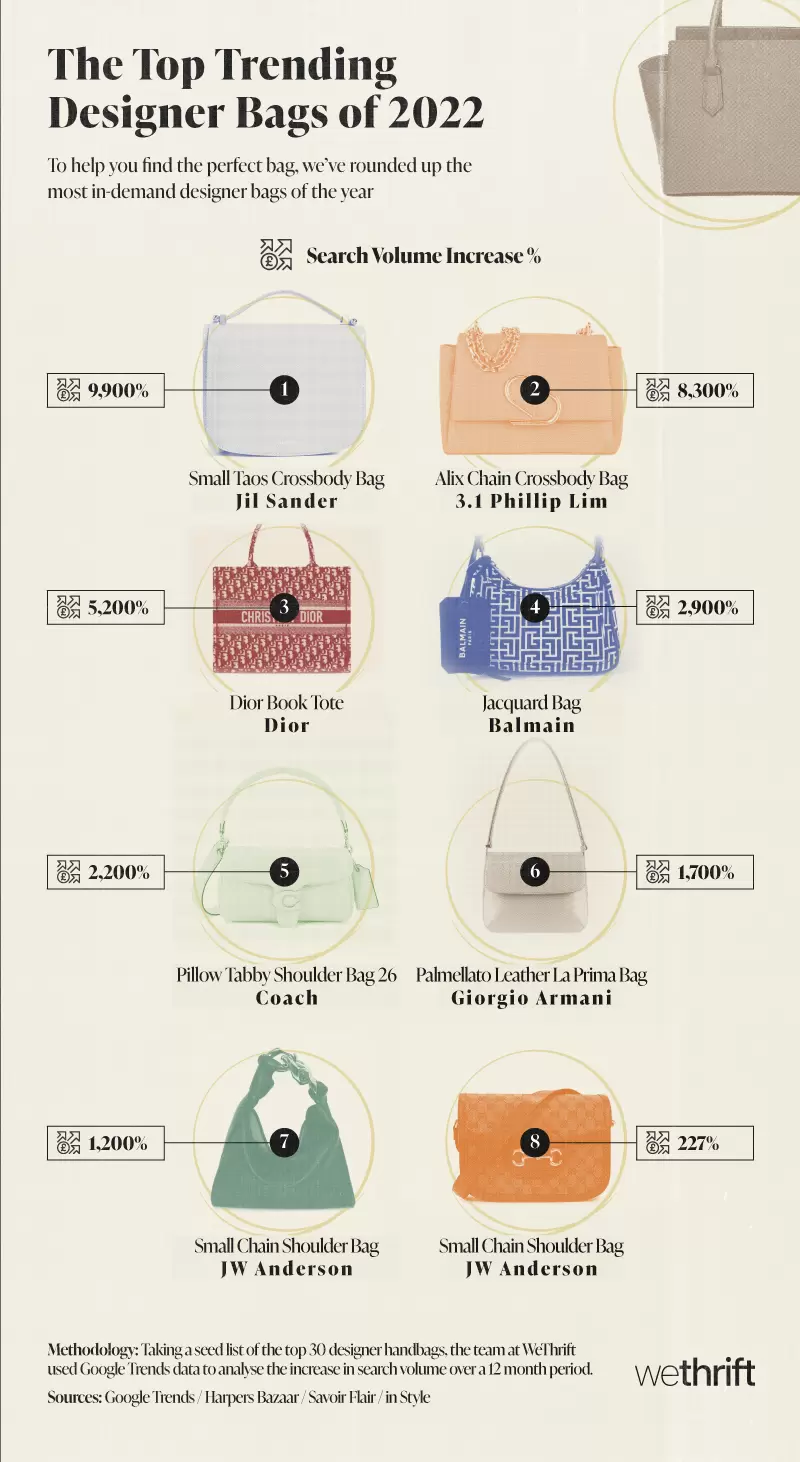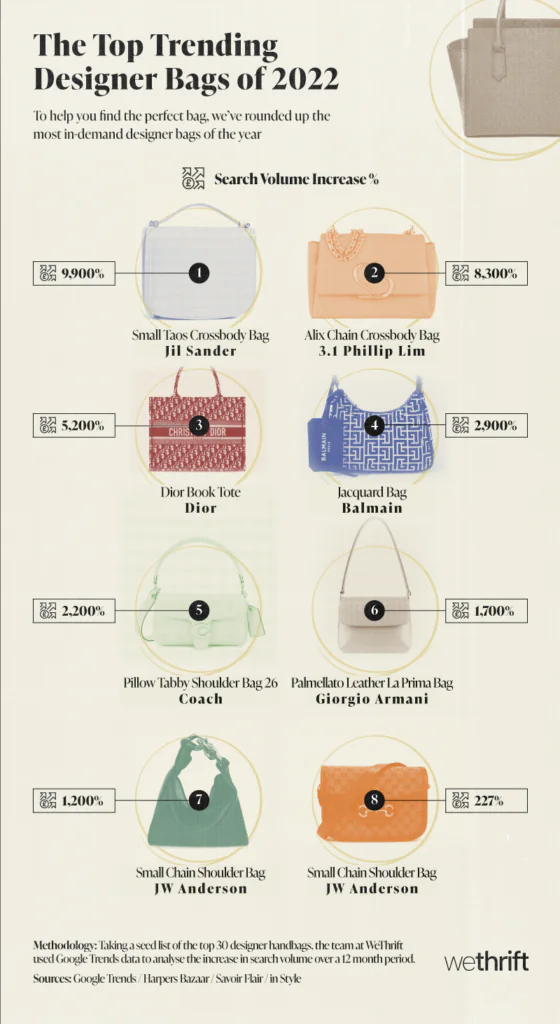 When it came to the most in-demand designer bags of 2022, it was the Small Taos Crossbody Bag by Jil Sander that topped the charts. We were able to determine this by analysing the search volume over a 12-month period, using Google Trends. This particular bag received a massive 9900% surge in popularity, firmly securing its first-place spot.
In second place was the previously mentioned Alix chain crossbody bag by 3.1 Phillip Lim, with a very impressive 8300% rise in searches in the last year. Third place was secured by the Dior Book Tote by Dior, proudly boasting a 5200% boost in searches in the last 12 months.
With a 2900% spike in search volume this year, the Jacquard bag by Balmain leapt into fourth place, while fifth place was filled by the Pillow Tabby Shoulder Bag 26 by Coach. This handbag was on a lot of people's wish lists this year, with a rise in popularity of 2200%.
Most popular designer discount codes in 2022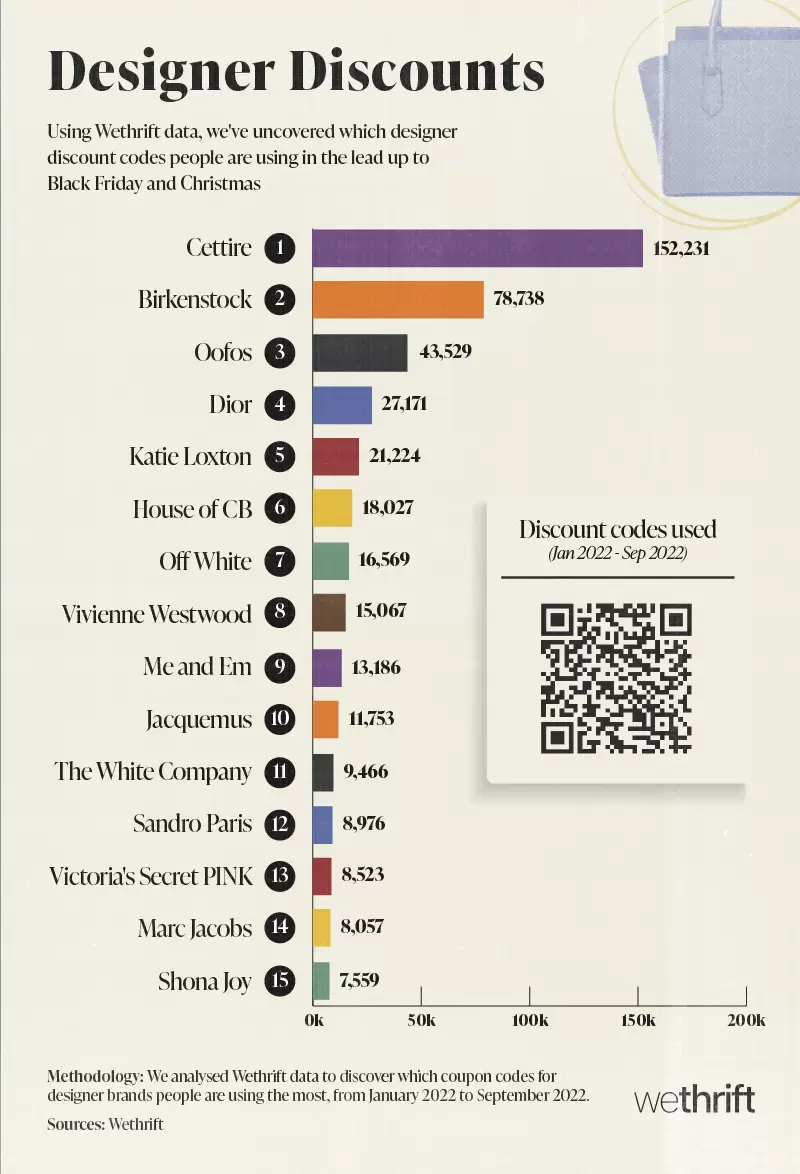 Lastly, we have deciphered the most used designer discount codes that people will be using in the lead-up to Christmas and Black Friday this year. From January to September 2022, people have used the Cettire discount code 152,231 times, making it the most in demand.  Next up was Birkenstock, racking up a very impressive 78,738 hits, while OOFOS came in third with 43,529 uses.
For more details, click here.
More on fashion? Read: