I don't know about you, but Italian cuisine always hits the spot for me. The different variations of cheese, pasta and even truffle make for tantalizing dishes that are irresistible. Not forgetting dessert too – creamy gelato that melts in your mouth, for instance, rounds out the magnificent Italian gastronomic experience. But what most of us know about Italian cuisine is limited to pasta, pizza and gelato. Newsflash: there's a whole world of gastronomic delights from Italy that you may not have discovered or even heard of yet.
This is why the Italian Embassy, as well as the Italian Trade Agency in Malaysia, have joined forces to organise the 7th Edition of 'Week of the Italian Cuisine in the World', with the aim of promoting Italian culture through food and authentic Italian ingredients for locals to savor and devour. Running from 5th to 11th December, Malaysians can savor a week of extraordinary and genuine Italian taste, courtesy of the festival, with this year's concept being: "Conviviality, Sustainability and Innovation: The Ingredients of Italian Cuisine for People's Health and the Protection of the Planet".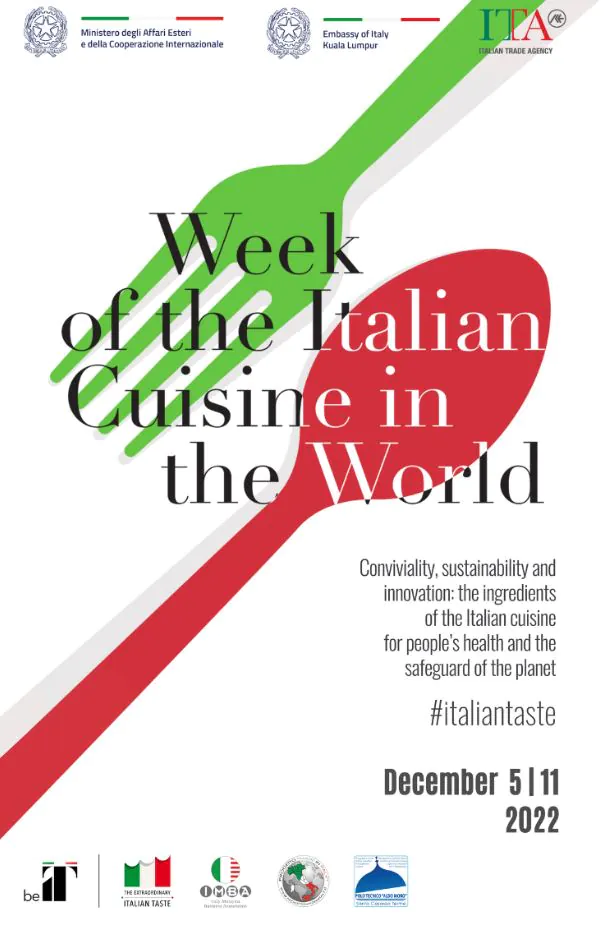 This year's campaign represents an opportunity to promote quality Italian agri-food products (Conviviality), enhance the values of the sustainable and healthy Italian lifestyle (rooted in the Mediterranean Diet) (Sustainability), and foster innovation in the agri-tech field in order to rethink our dysfunctional agri-food systems (Innovation). So, not only will locals get to devour Italy's most exquisite cuisine, they will also appreciate the art and traditions that go into making the best of Italian dishes.
Attending the grand launch of the campaign was the Ambassador of Italy to Malaysia, Massimo Rustico, who noted that Italian cuisine is well-loved in Malaysia, as it resonates very well with the heart warming and comfort-for-the-soul type of cooking that Malaysians grew up with. The 'Week of the Italian Cuisine of the World' campaign is the perfect opportunity to present to Malaysians the true and authentic essence of what it means to be 100% "Made in Italy" through food traditions and cultures – including the people who make them.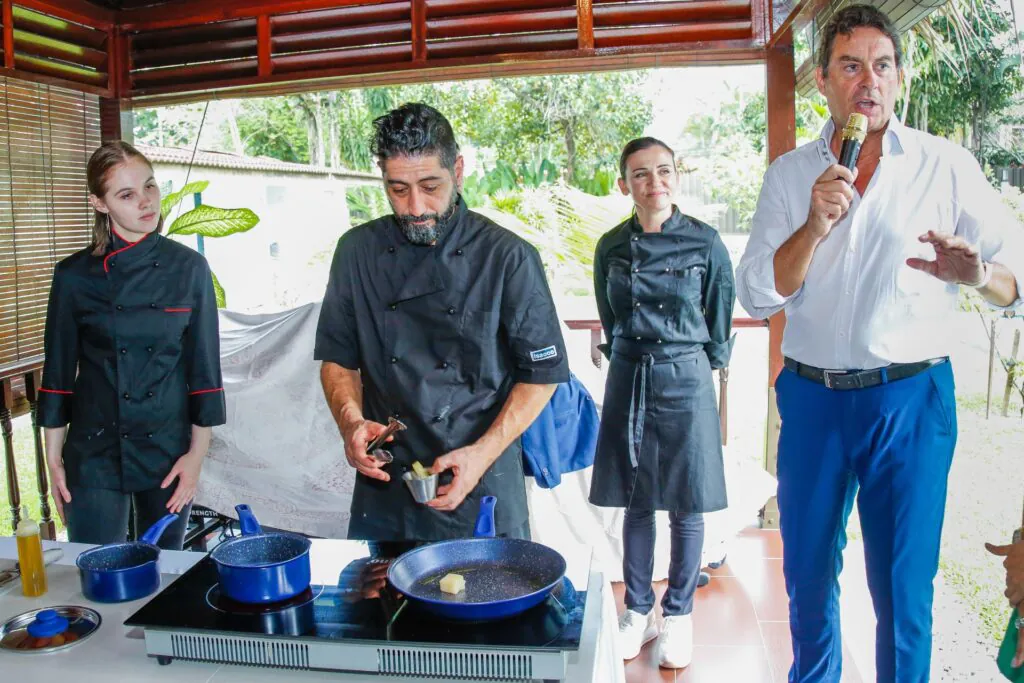 A team of four chefs from Italy also graced the official launch – and they didn't come empty-handed. The chefs conducted a live cooking session, demonstrating the preparation of authentic Italian cuisine to perfection. They presented Grilled octopus with sweet paprika, tomato puree, potato confit, roasted onion, and black olive powder; and Squid Ink Gnocchi and Truffle Tuna fillet cooked two ways. The dishes were just a taste of what you can expect during the entire week of the 'Week of the Italian Cuisine in the World'.
Locals can also participate in masterclasses that showcase authentic Italian traditions, high-quality products and regional specialties, while treating their palates at the best Italian restaurants in the country.
Over 20 Italian restaurants are participating in the annual 'Week of the Italian Cuisine in the World' – just look out for the sticker "Settimana della cucina Italiana nel Mondo 2022" at Italian restaurants in the Klang Valley, Penang, Langkawi and Kota Kinabalu.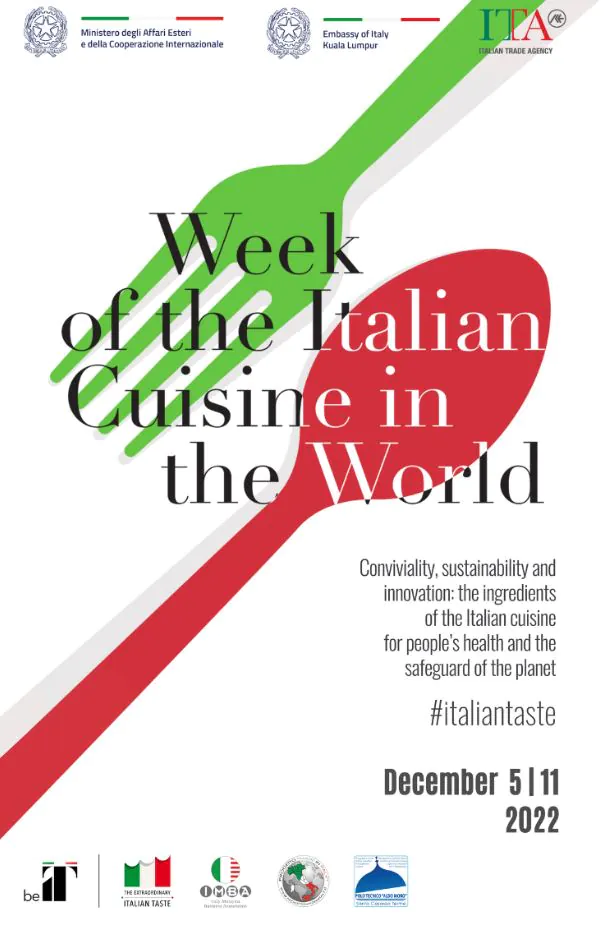 Listed below are participating Italian restaurants:
Fellini Ristorante & Café
Fratelli's Pastificio
Gallo Nero Italian Restaurant (Langkawi)
GUSTO Italian Restaurant (Kota Kinabalu)
Heritage Pizza
Little Italy (Kota Kinabalu)
Luce Osteria Contemporanea
Luretta D.O.P
Mandarin Grill
Marini's on 57
Monnalisa Ristorante Italiano
Osteria Gamberoni
Portofino Italian Restaurant
Roberto's 1020 Osteria
Sapore Restaurant
Sassolino Italian Restaurant 
Sassorosso Italian Restaurant & Wine Retailer
Via Pre Italian Restaurant, KL
Via Pre Italian Restaurant, Penang
ZENZERO Restaurant & Wine Bar
That's not all! Malaysian gastronomes can take part in an online course of 20 video lessons, held in collaboration with the University of Gastronomic Sciences (UNISC) of Pollenzo – a world-class university in northern Italy – which will reveal the intricacies of Italian gastronomy. Malaysians can learn about the identity and history of Italian cuisine through typical products and recipes from the twenty Italian regions.
For more, visit the Italian Festival website!
More on gastronomy? Read these:
Mandarin Oriental KL's Seafood Buffet Is A TIDAL WAVE Of Yumminess!