The season of glitz, glam and gifting is quickly approaching us, so scrambling for the most glamorous gift to give to our loved ones is pretty much top of our lists. Well, don't look any further than M·A·C Cosmetics, as the cult-beauty brand is releasing a holiday collection complete with razzle dazzle makeup products to stun your family, friends and even yourself!
Introducing M·A·C Cosmetics' Holiday Bubbles And Bows Collection, which is packed with the most glamorous goodies – making it the ideal gift for this holiday season. Its festive colour collection of brand-new, sparkling shades and never-before-seen glitzy items comes wrapped and ready to gift in bubble-encased and bow-topped packages.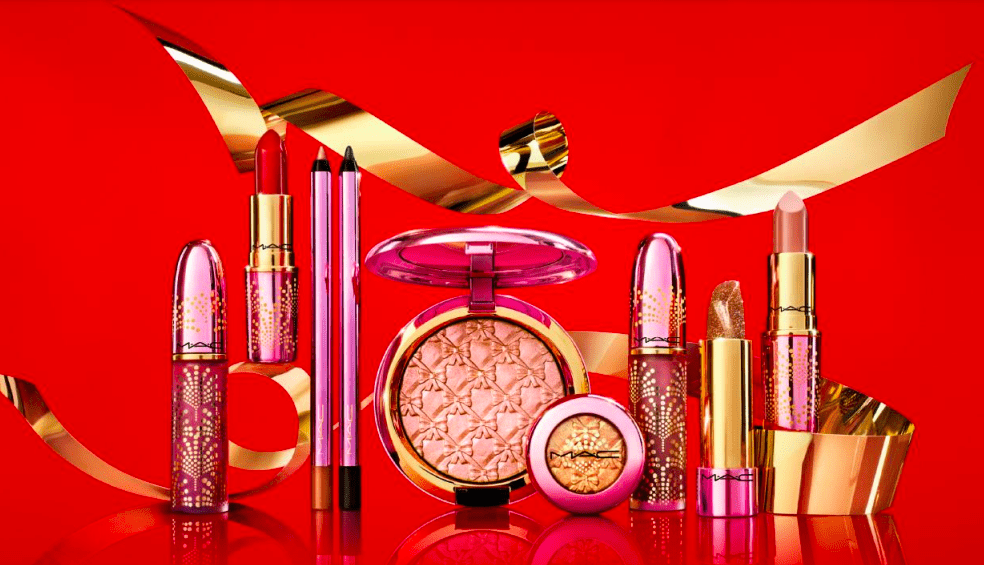 M·A·C Cosmetics wants you to be the life of the holiday party with their all-new, limited-edition indulgent colours! Celebrating this new holiday collection, M·A·C Cosmetics has an all-star Hollywood line-up for its campaign – from major model-singer-producer, Secily Jimenez to the beloved Euphoria actress, Chloe Cherry. Just like Chloe Cherry, M·A·C Cosmetics wants you to be the main character in every holiday party by amping up your creativity via wearing a full face of the brand's gilded collection.
Let's take a deep dive into some of the product highlights of M·A·C Cosmetics' new Holiday Bubbles And Bows Collection! You'll have everything you'll ever need to complete your holiday makeup look – for your peepers to your pouters, M·A·C Cosmetics has got you covered.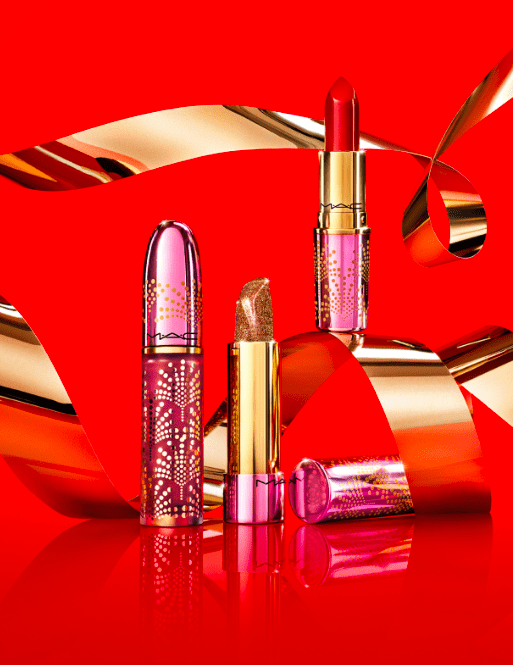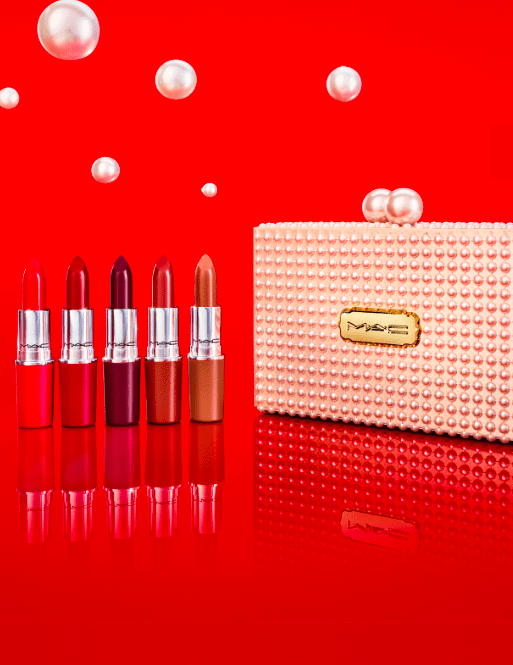 Hydrate your lips with its intensely-nourishing wine-scented Fizzy Feels Lip Balm. The finish of this lippie is absolutely divine, making your lips sparkle and shine, and lending a touch of soft pink, thanks to its pH adjusting formulation. Next up, Lustreglass Lipstick's shades will make your lips look and feel ultra luxurious. It's light-weight, long-wearing and leaves your lips with a lustrous finish – simply to die for.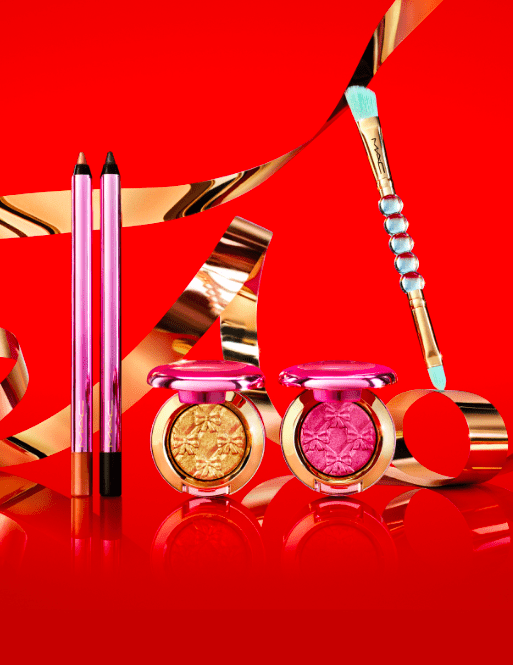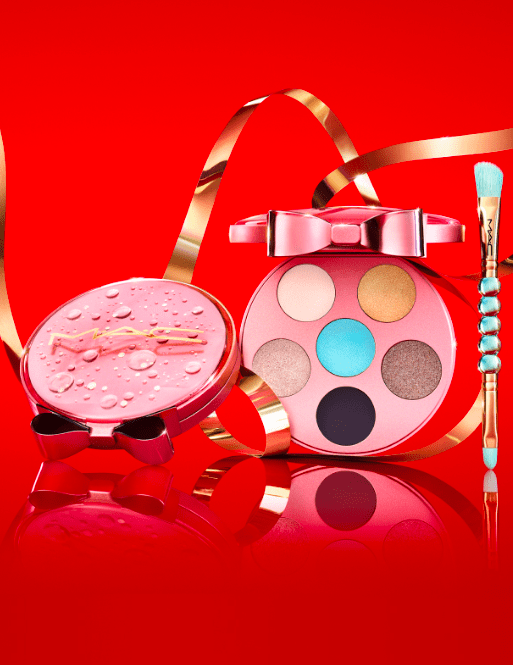 To add a twinkle to the eyes, finish your eye look with a shimmer shadow from Sparkler Eye Shadow. It blends like a dream and glides on your eyes like butter. The glittery eyeshadow duo will elevate your look to glitzy glamour in just one swipe. To top it all off, create the most menacing cat-eye eyeliner with Powerpoint Eye Pencil that will last you literally all night. Regardless of how much you dance the night away this holiday, your eye look will not leave you behind.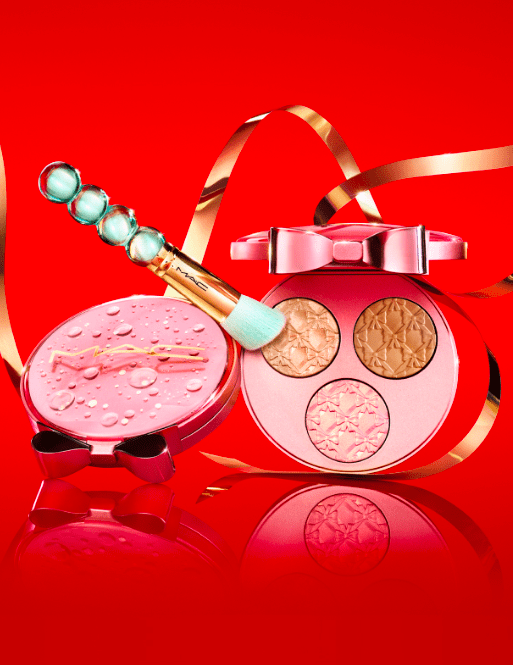 For a touch of opulence to your complexion, dust your face with Extra Dimension Skinfinish/ Bubbles & Bows in Wrapped In Gold. The reflective shade is designed to sculpt and highlight your face, leaving a luminosity that is enviable. Like the star on top of the Christmas tree, you to can be as shiny and radiant wearing M·A·C Cosmetics' Holiday Bubbles And Bows Collection!
M·A·C Cosmetics' Holiday Bubbles And Bows Collection is available on M·A·C Cosmetics' website and in-stores nationwide!
More on holiday collections? Read these:
Samsung's Epic Holiday Gift Guide's Got It ALL Covered. ALL!