Located just over two hours north of Kuala Lumpur is a hidden gem that deserves to be discovered. The Haven Resort is the kind of getaway where you can truly escape the hustle and bustle of the city, and RELAX. Here, you can simultaneously savour the best aspects of two worlds – civilisation and nature. Lipstiq had the chance to check out this holiday destination during a 2-day-1-night staycation – and we're spilling the deets on this amazing spot that should be on your travel bucket list.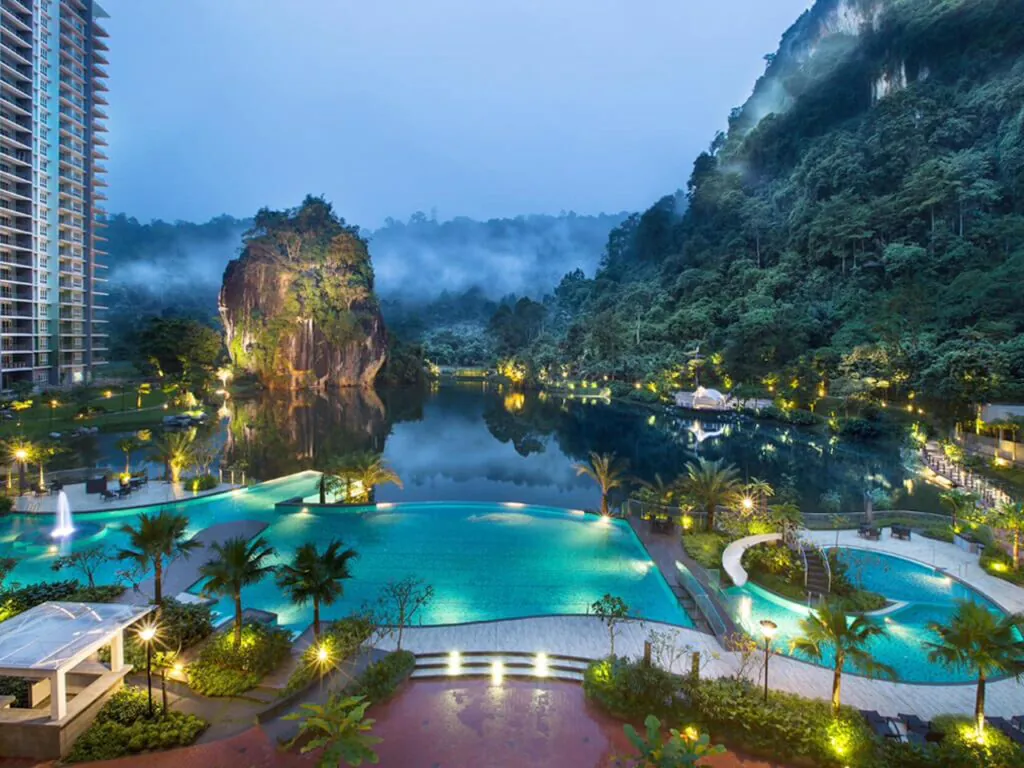 Day 1
There was a bunch of media representatives invited to this staycation, and we were lucky to be among them. The hotel, which has 150 rooms and is situated in Tambun, Ipoh, is only a two hours' drive from Kuala Lumpur. If you're taking the train or bus, it's around 2½ hours. Upon our arrival, we were given Haven's All Natural Welcome Drink. It's a concoction created using lemongrass, ginger, cinnamon, lime, wild chrysanthemum, turmeric, and honey. It might taste a slightly bitter, but it sure is healthy.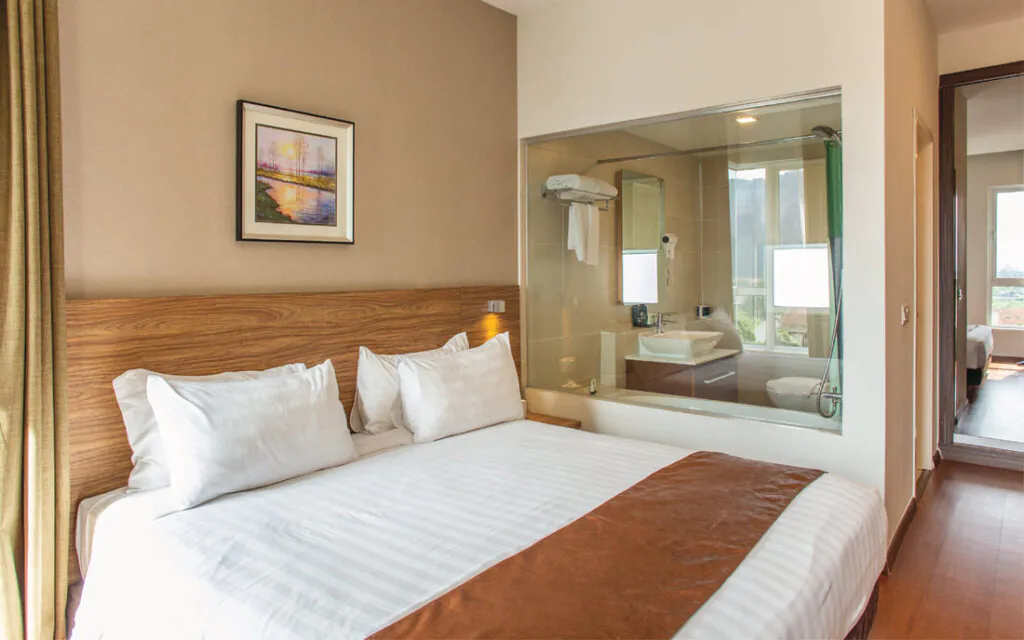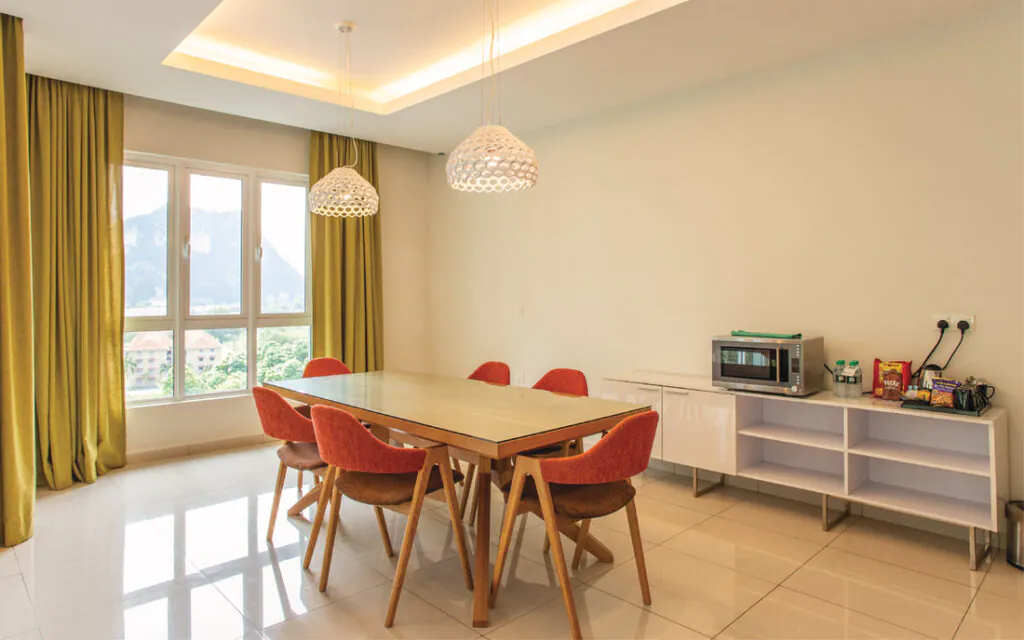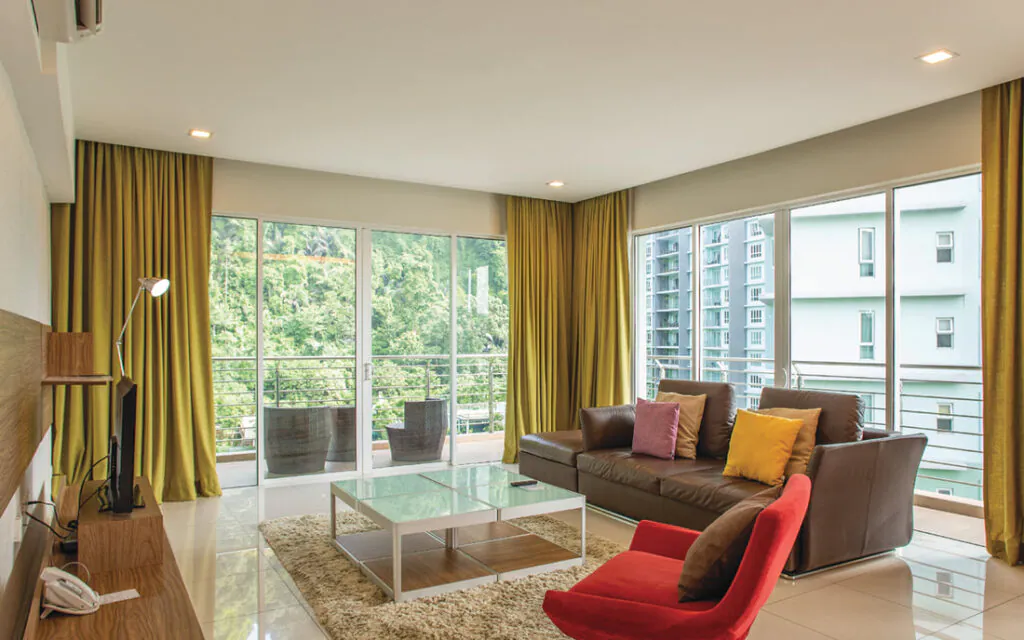 Next, we were showed to our rooms. The suites here range from one-bedroom options ideal for couples to three-bedroom options that can comfortably accommodate up to six people. During our visit, we stayed in the incredible 2+1 Bedroom Lakeview Corner suite, located on the 20th floor. Three bedrooms make up this suite: one has a king-sized bed, one a queen-sized bed, and a smaller room had a single bed. The suite is nicely furnished, could accommodate five people comfortably, plus a sixth person with the addition of an extra bed.
There's also a kitchen, refrigerator and hot and cold water dispenser. What I love about this suite is definitely the living room and balcony. There's so much space and airiness, you don't even have to worry about turning on the air-conditioner. From the balcony, you can view the lake, pool, forest and limestones. It was definitely a perfect and beautiful view.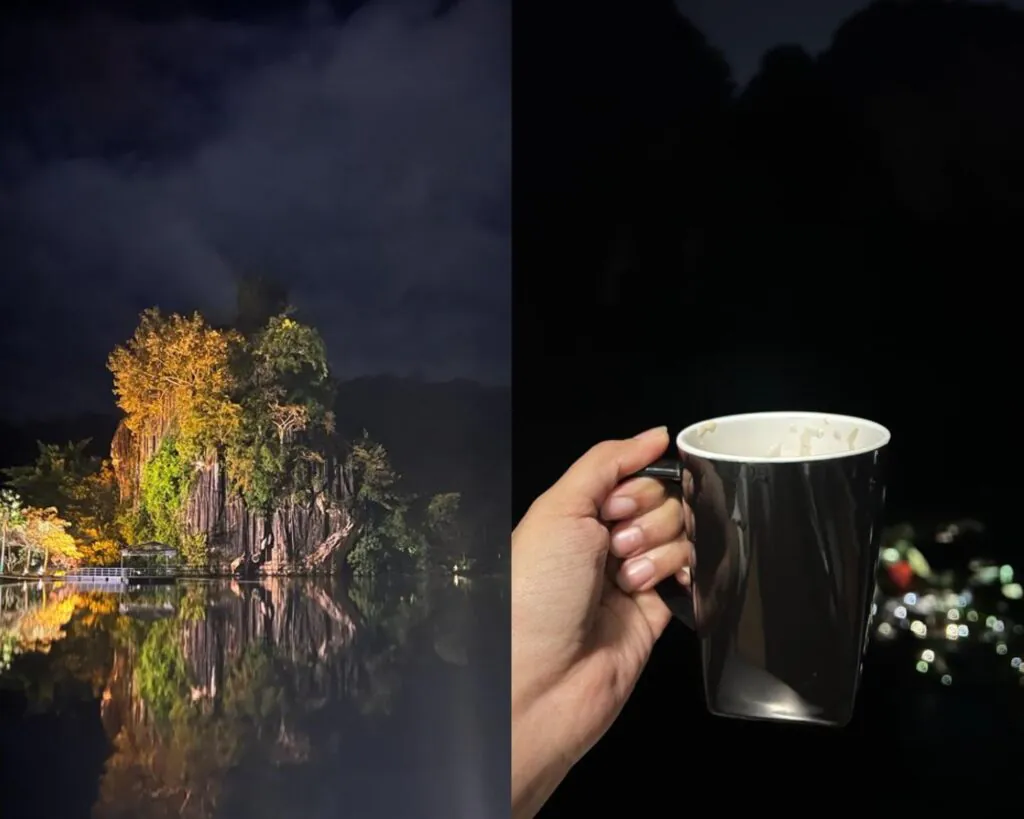 We were supposed to tour the resort upon arrival, but unfortunaty, it was raining heavily and we had to stay indoors. Even though it was pouring outside, it was enjoyable weather. The cold breeze and view were so lovely that I made a hot cup of coffee and sat on the balcony. By the time the rain stopped, it was dinner time and we headed to The Cuisines to check out what they had in store for us.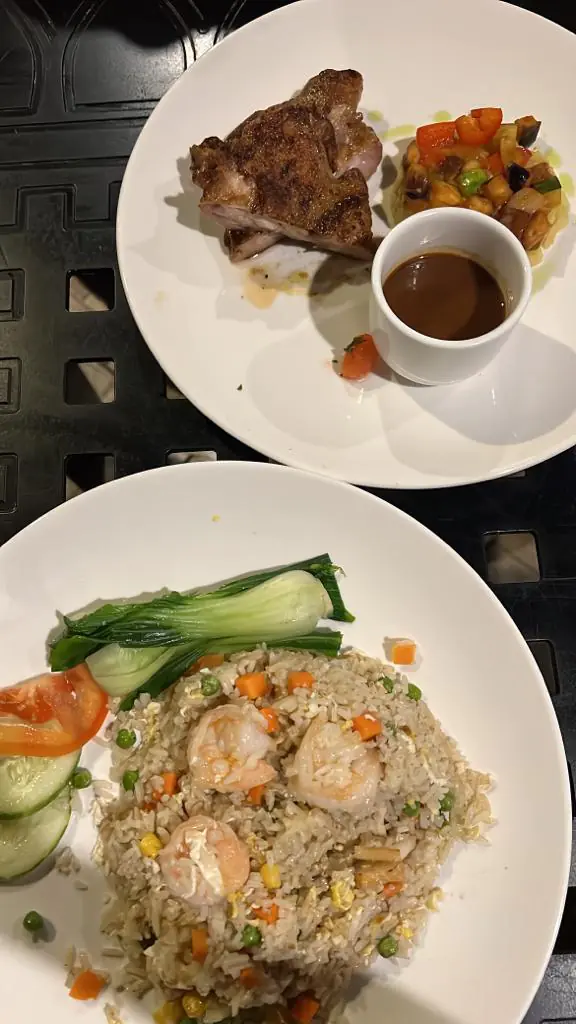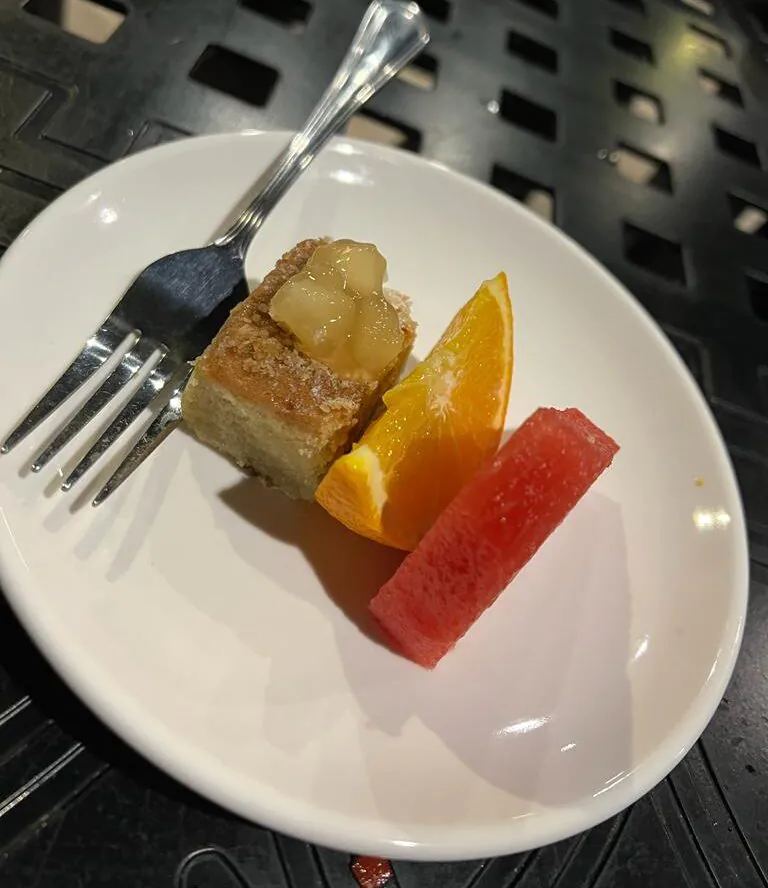 At The Cuisines, they offer a buffet spread, set meals and ala carte menus as well. Since we were part of the media tour, they gave us the set meal, that comes with one main dish, one drink and a dessert of the day. For dinner, we ordered The Haven's Seafood Fried Rice and Grilled Chicken Chop. It took some time to arrive, even though we placed our orders earlier. Both the Fried Rice and Grilled Chicken Chop tasted good. I like that they were generous with the amount of prawn used, and wished they had added a little bit of salt. The chicken chop was grilled to perfection and served with mashed potato. For dessert, we had one small piece of cake with one slice of watermelon and an orange each.
After dinner, it was still drizzling, and we were also tired from the long journey. So, we decided to call it a day and headed back to our suite. If you're someone who doesn't tolerate cold weather well, do bring some warm clothing, as it can get slightly chilly at night and early in the morning. Other than that, the temperature is just fine.
Day 2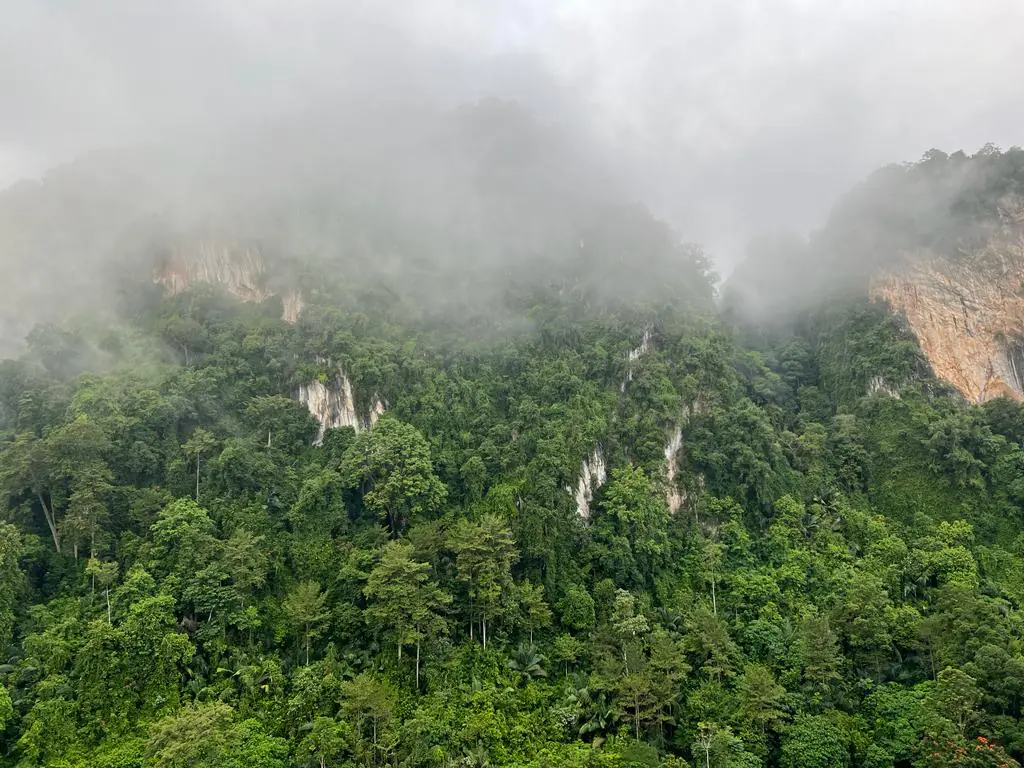 Our was a free and easy itinerary, but somehow, I woke up at 7am. The first thing I did was walk out to the balcony and oh my! The view way really beautiful and breathtaking. It felt like I was living close to heaven, seeing that there was mist everywhere. Of course, I could not let that go to waste, seeing that you don't get this kinda view much in KL. So, I sat outside with my cuppa coffee till the sun came up and the mist cleared. My body, mind, and soul greatly benefited by waking up to such an amazing view, breathing in the purest air, and listening to the soothing sound of nature singing. Once that was done, I got dressed and headed for breakfast. Actually, I was super excited to find out what they had, as I was very hungry.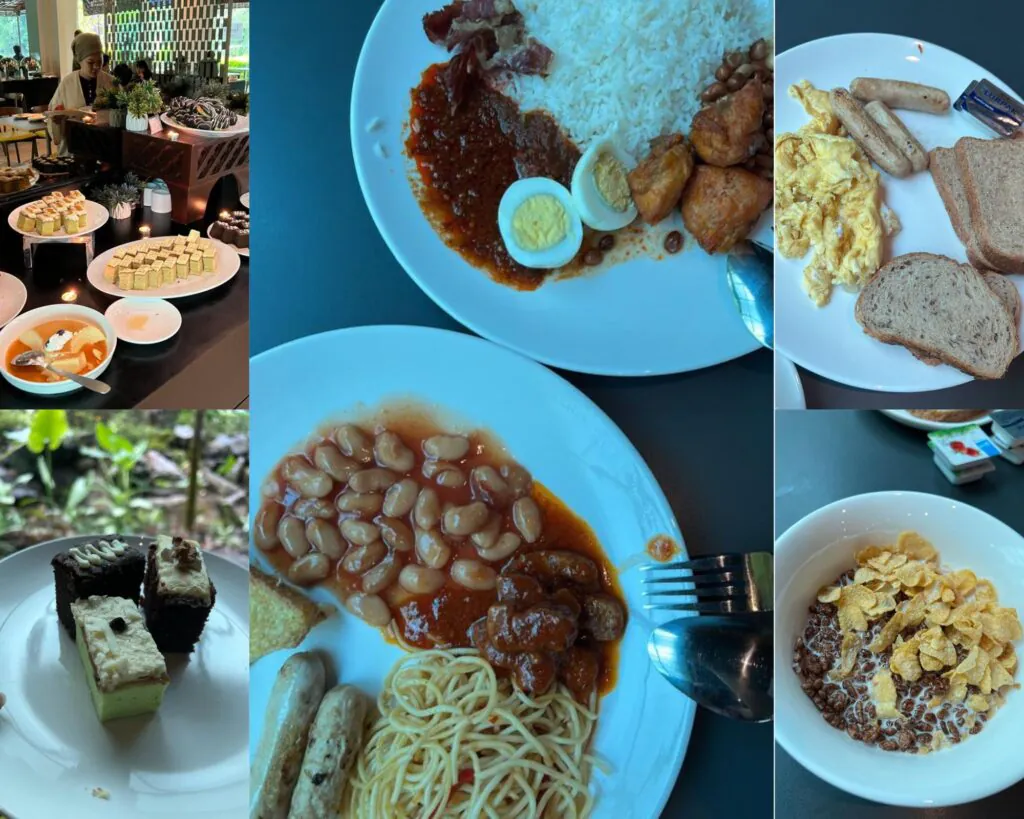 At The Cuisines, breakfast is served every day. Here, you can choose from a variety of regional specialties like nasi lemak and congee fried noodles, as well as cereal, fresh fruit, eggs cooked to order, and desserts. There is so much to choose from, so I decided to start small. I started with some spaghetti, red beans, grilled black pepper chicken, sausages and French toast (don't judge the combo!). The Cuisines even has an egg station where you can request them to make eggs of your choice. I decided to go for omelets. The pastry selection here is also not bad. They had whole meal bread, normal bread, baguettes, Danishes and croissants. You can eat them as is, or toast them. Last but not least, the most exciting part of the meal: desserts! From cakes to puddings, there is just so many to choose from. The cakes were okay (I felt they were a little dense). Overall, breakfast was definitely epic here.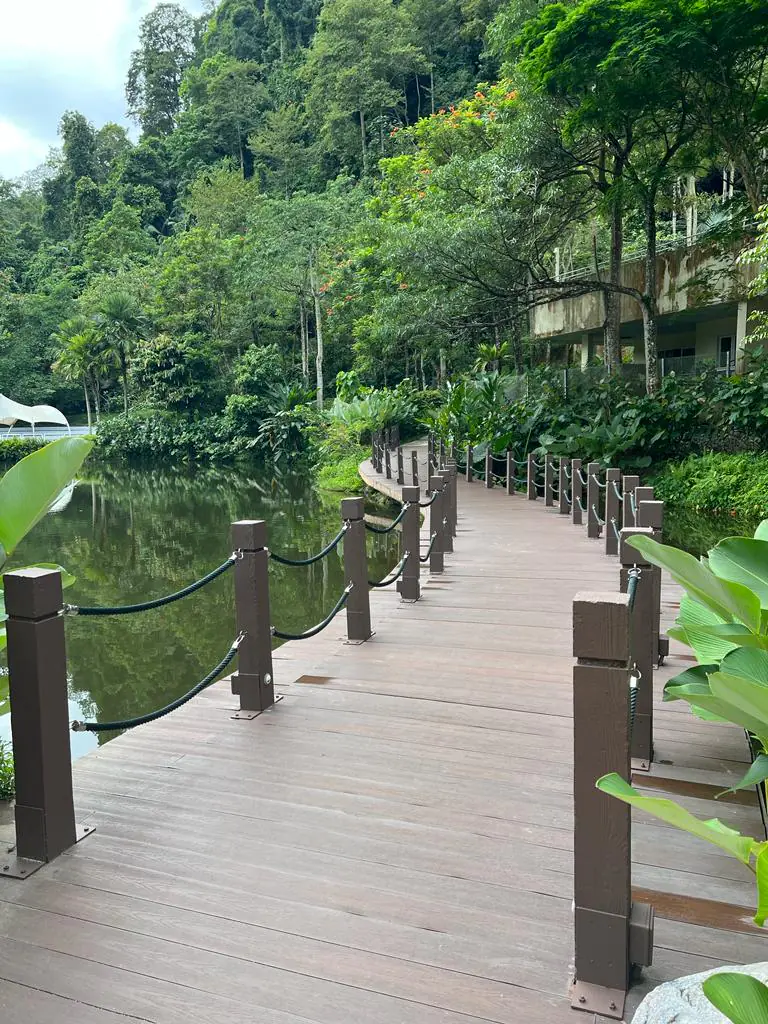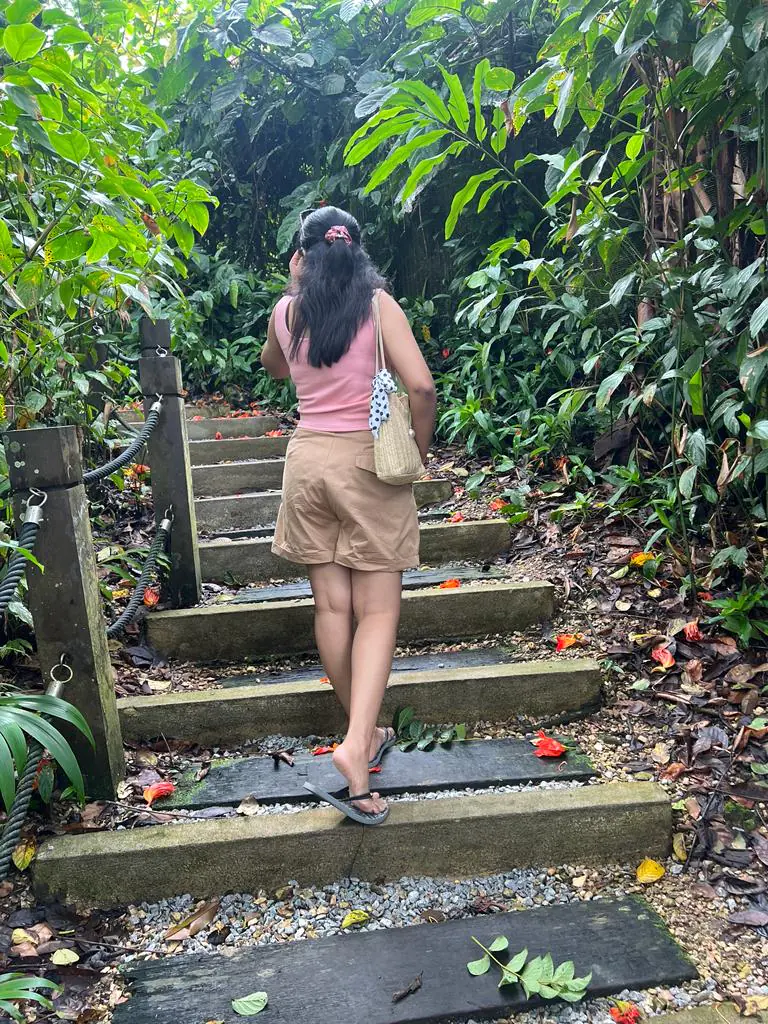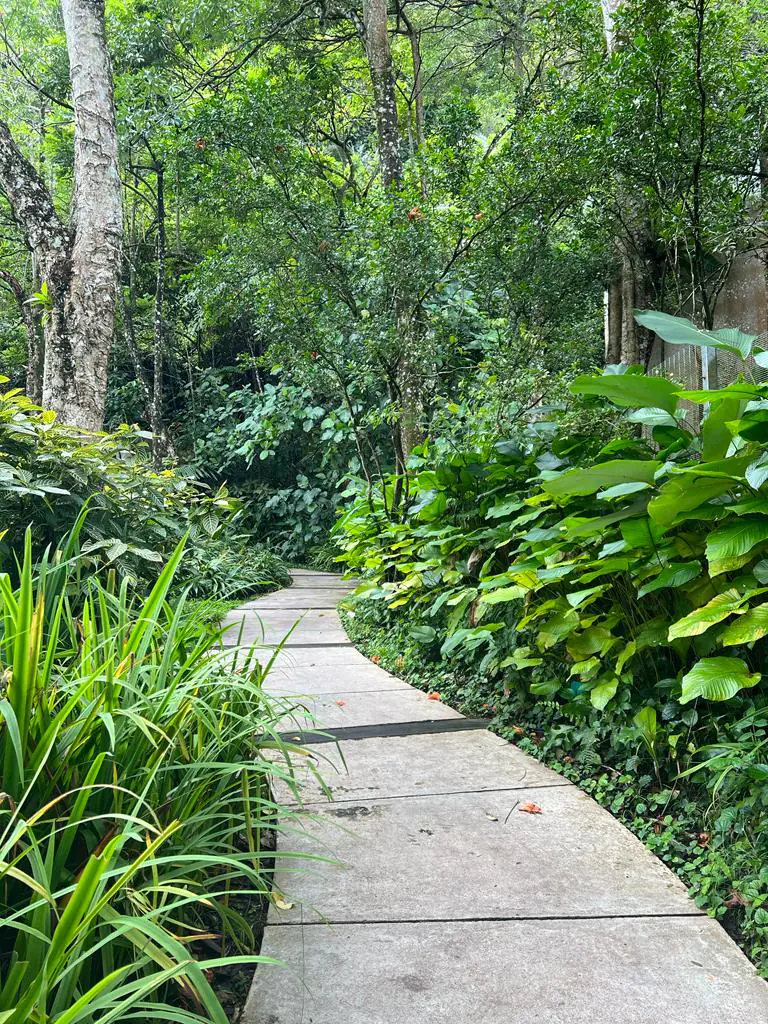 It was bright and sunny, so why not check out the resort, right? So we basically made one big trek around The Haven. You'll walk along the 600-meter jogging trek, some viewpoint, and the luscious green environment. You can also check out different insects, birds, flowers, and tortoises you might encounter in the lake while taking the walk. I love how they have so many pretty flowers that sit beautifully by the path. Rentable bicycles are also available at RM35 (why so expensive!).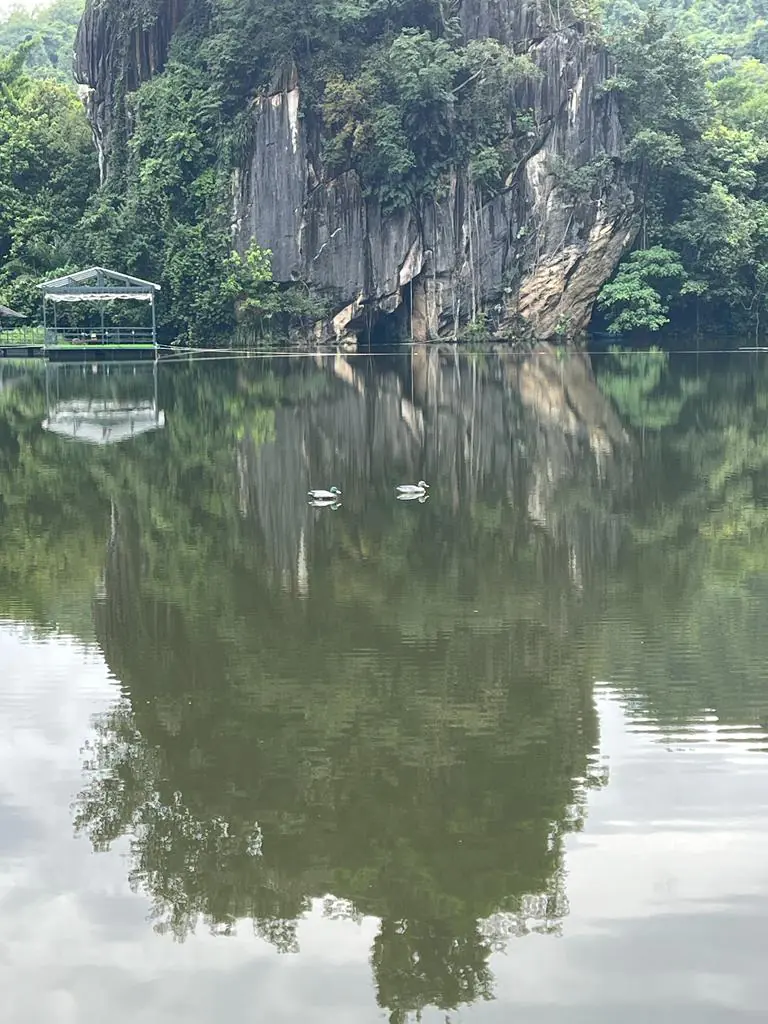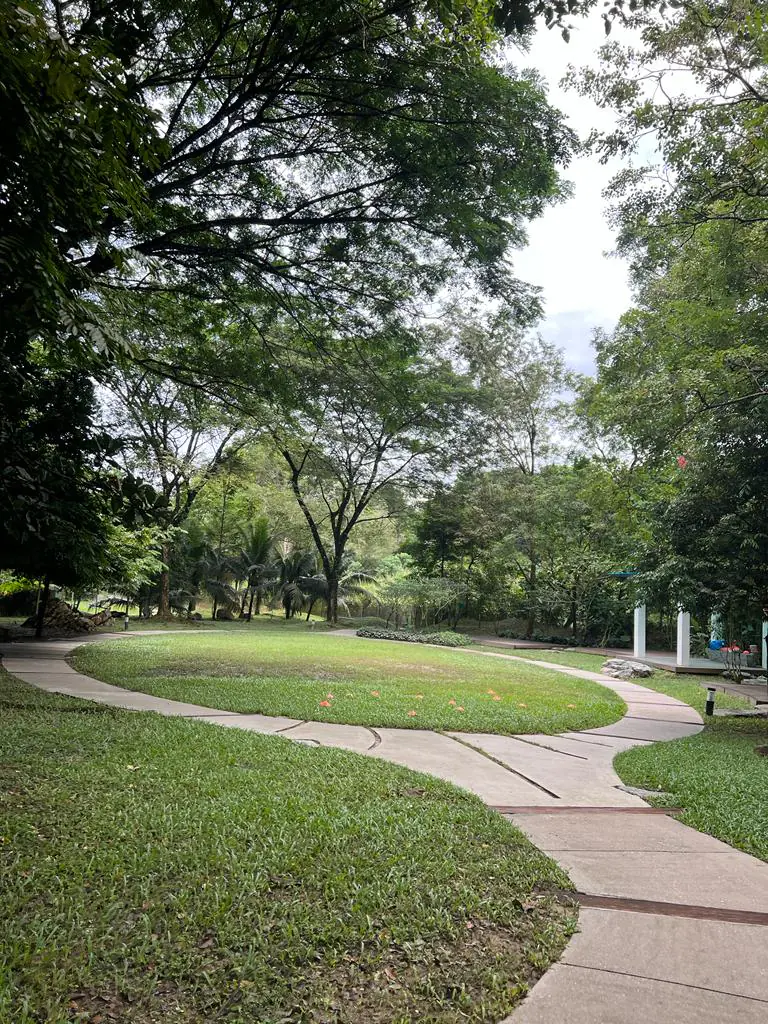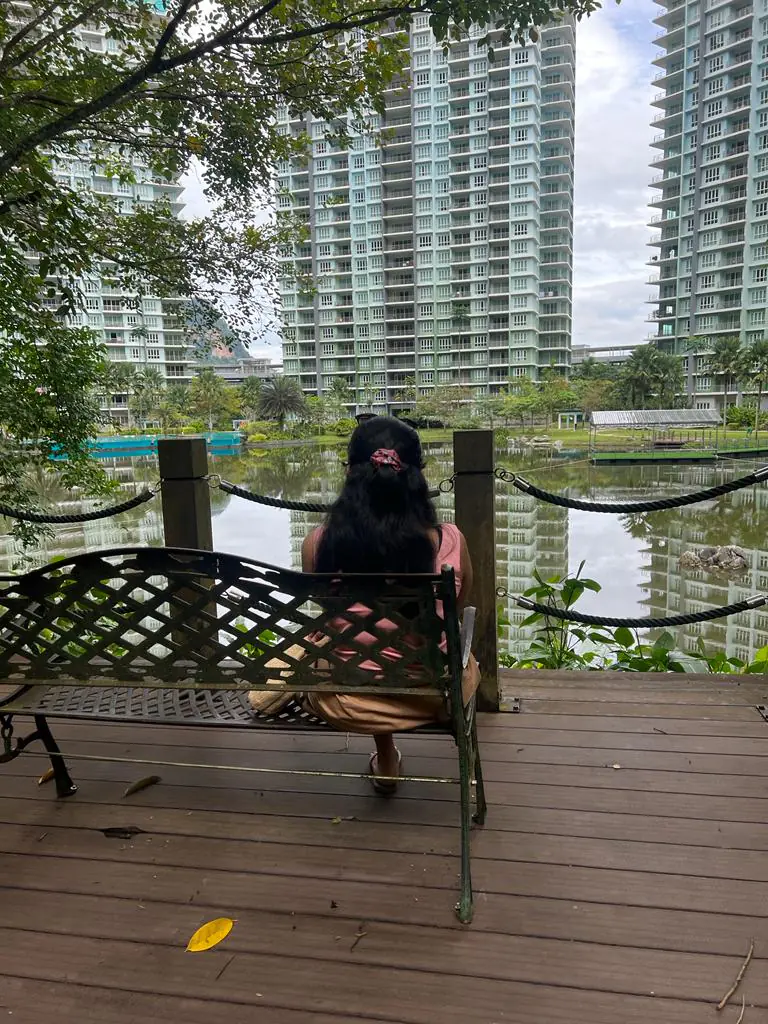 I really enjoyed my morning walk. It was calming and cooling. It was just what I needed after stressful days. What I love most is that you could only hear the sounds of the insects and birds. No cars, no yelling and no other nonsense sounds, just the sounds of nature. Walking all the way, I came across a viewpoint. There's a bench where you can sit and get a nice view of the lake. I thought I saw two ducks swimming, but it was fake. Walking further, you'll come across a spacious spot that's suitable for group activities or probably a picnic.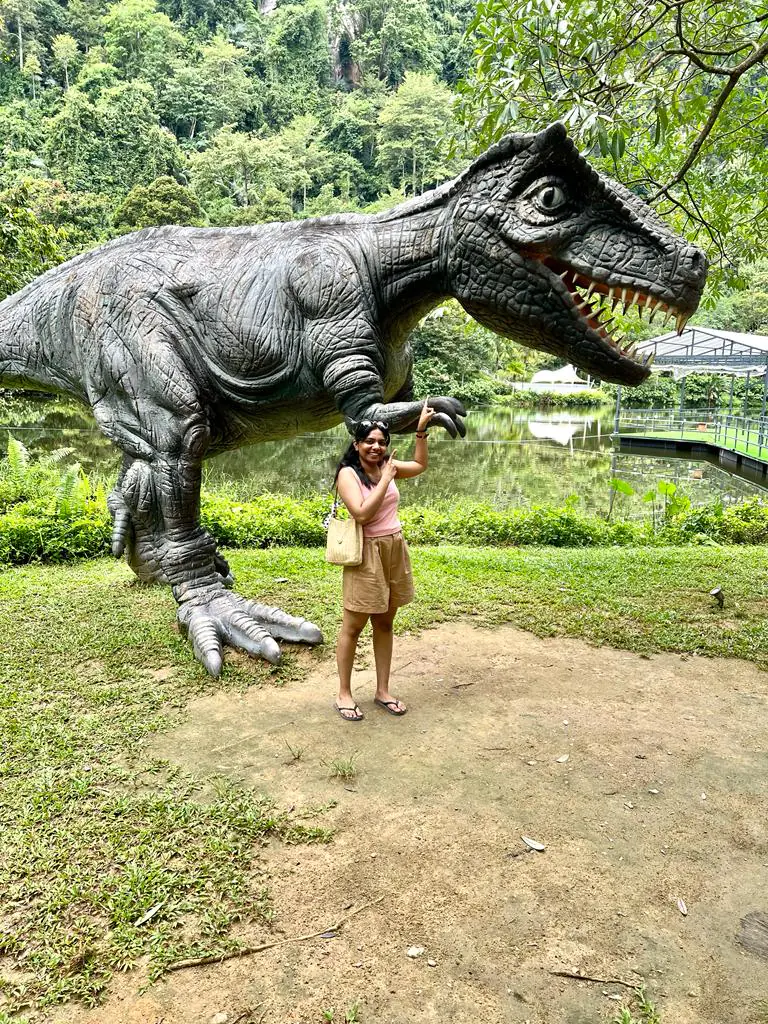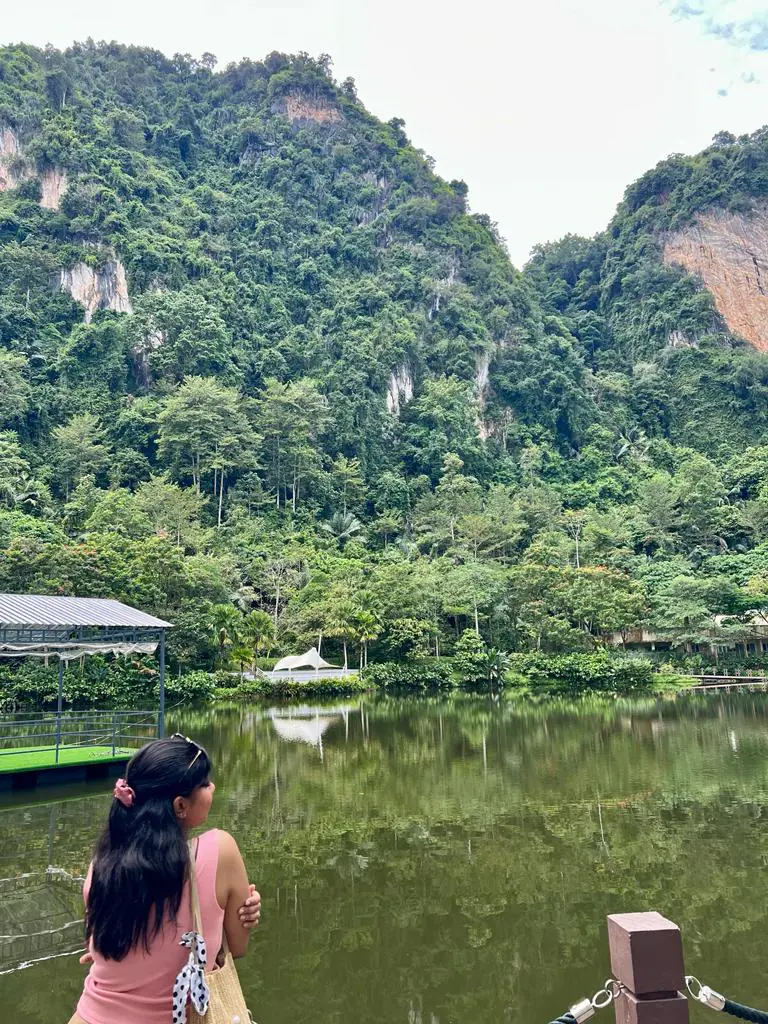 The next spot, however, felt a little awkward. I know it's nature, but dinosaurs? Cute, but just ONE was like, no big deal. Last but not least, another viewing deck. Everything about this place is so calming and you could just sit there for hours, admiring and appreciating nature. The best part was, there were no mosquitoes during the walk. How amazing is that?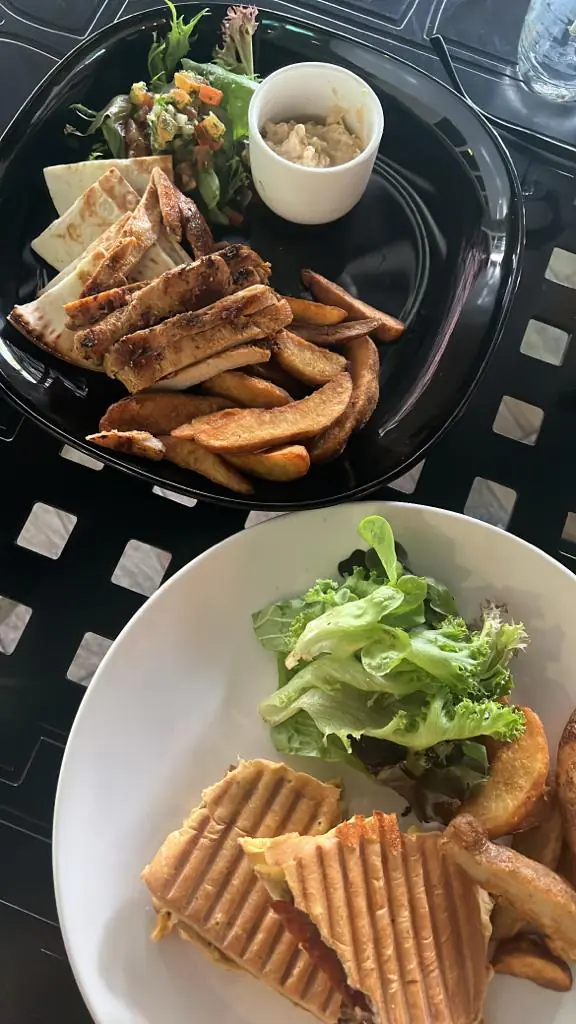 After the tour, we headed for lunch. The same menu, but this time, we tried The Godfather Sandwich and Chicken Shawarma. Not gonna lie, but I think I got 'God-fathered' by the chef, cause the sandwich was so hard! I mean, it's just bread with cheese, some spiced paste and a chicken slice – but why was it super hard? I had a hard time finishing my lunch. The chicken shawarma was okay. Slightly different, but okay lah! Back in KL, shawarma is basically a wrapped-up buritto. Here, the bread, chicken and sauce were all separated. Guess the chef wanted us to puzzle together our meal. I assume the sauce given was garlic sauce, but I'm not entirely sure, cause I barely tasted garlic. After lunch, we drove to Ipoh town.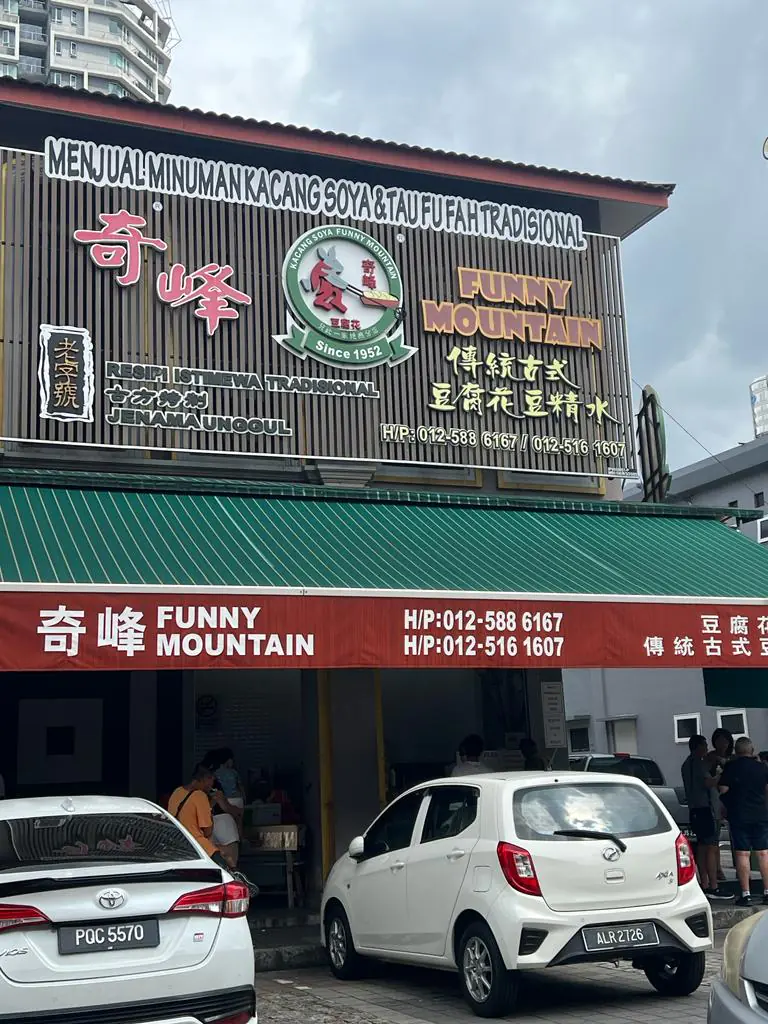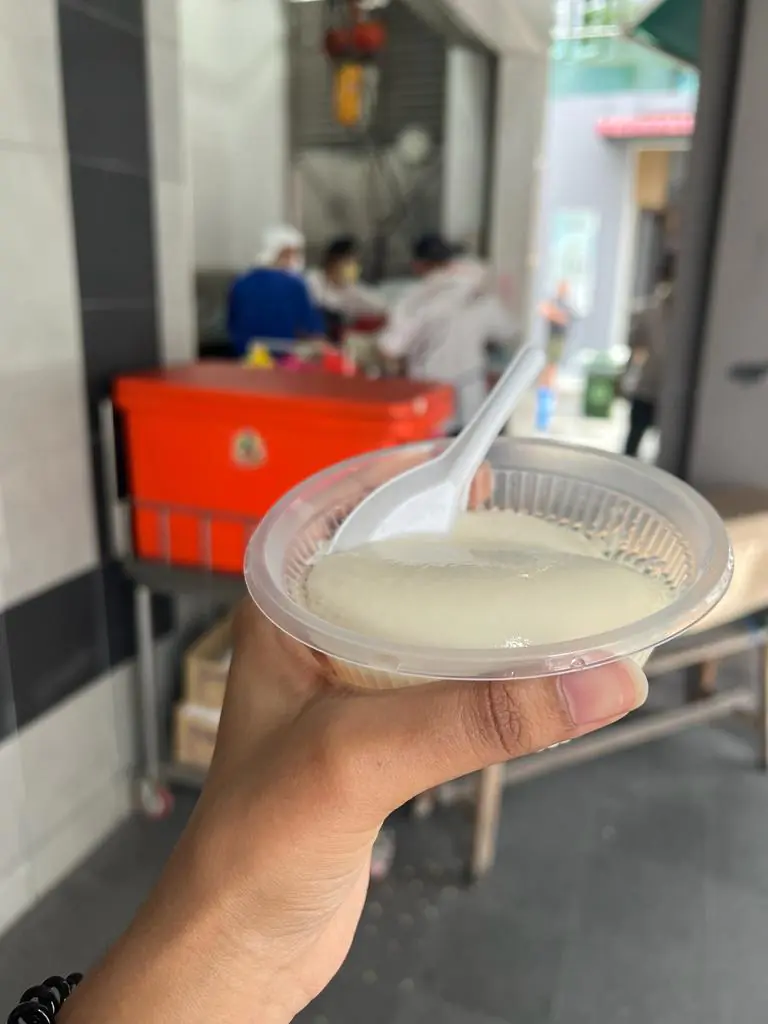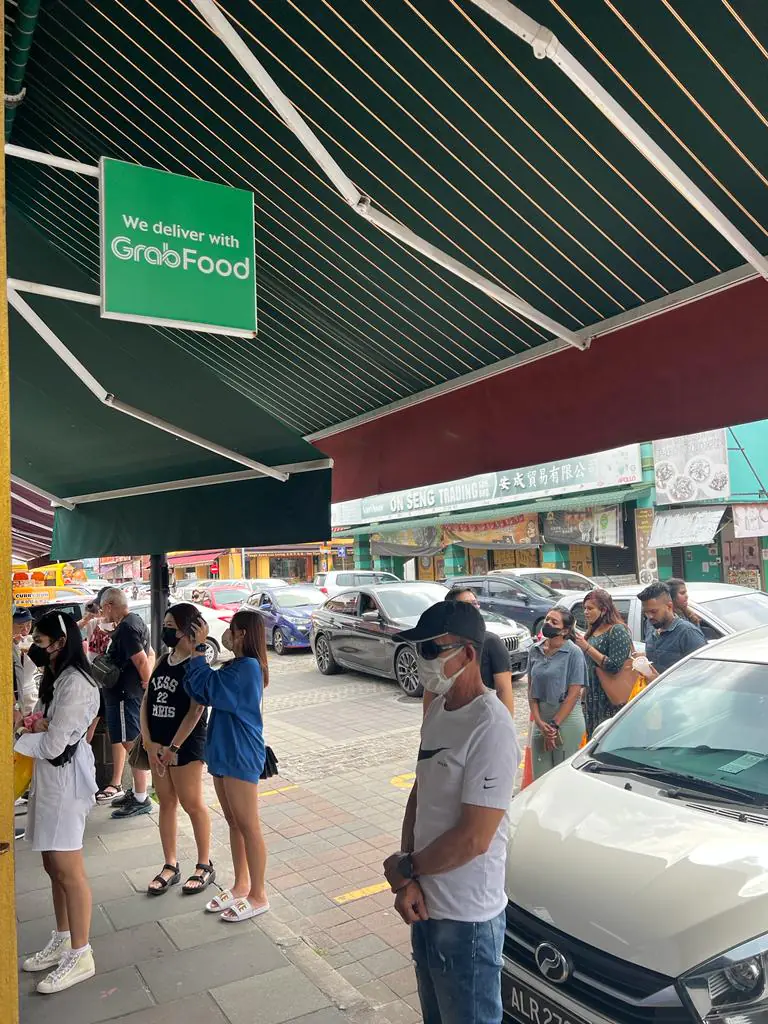 Now, there are three must-visit spots in Ipoh and yes, they obviously involve food. But trust me, you won't regret it. First, we stopped by Funny Mountain Soya Bean and Tau Fu Fah. The renowned soybean stall has been a family-run enterprise for more than 60 years. And the bizarre moniker has drawn attention to itself (you can tell from the queue). The distinction of this shop is that you can actually eat your bowl of tau fu fah in your car thanks to their "Drive-Thru" service. Another great thing about this place is that the soybean and tau fu fah are all prepared in traditional ways with no artificial flavouring. I love how the sweetness is just perfect, making sure you don't feel overly full.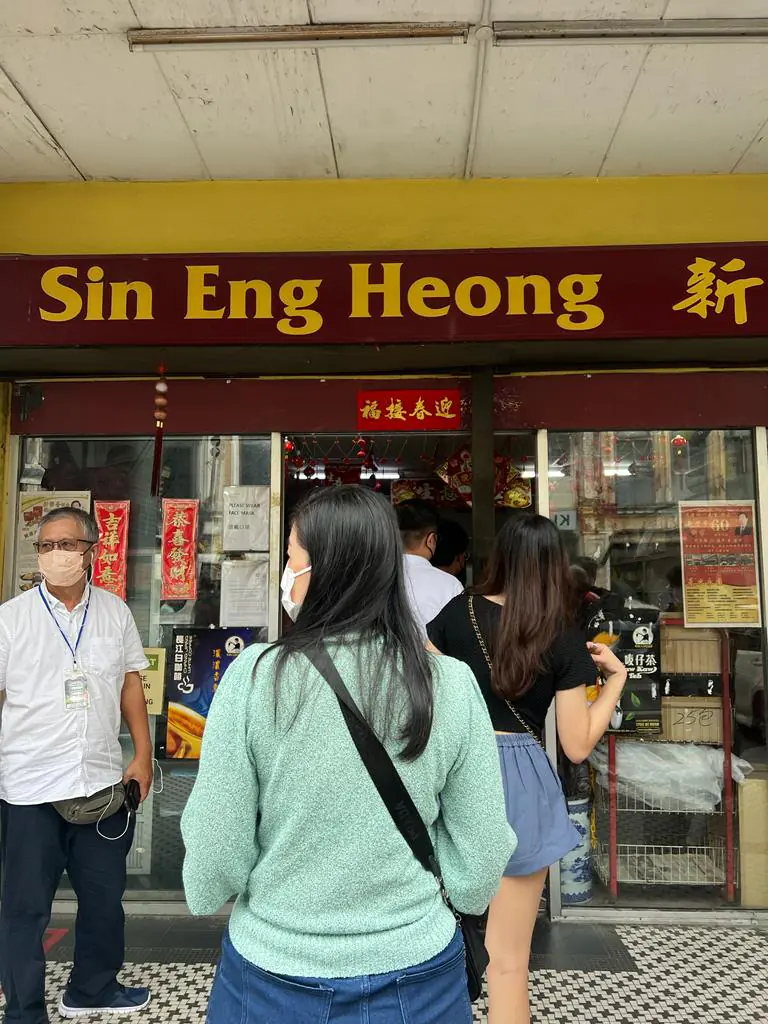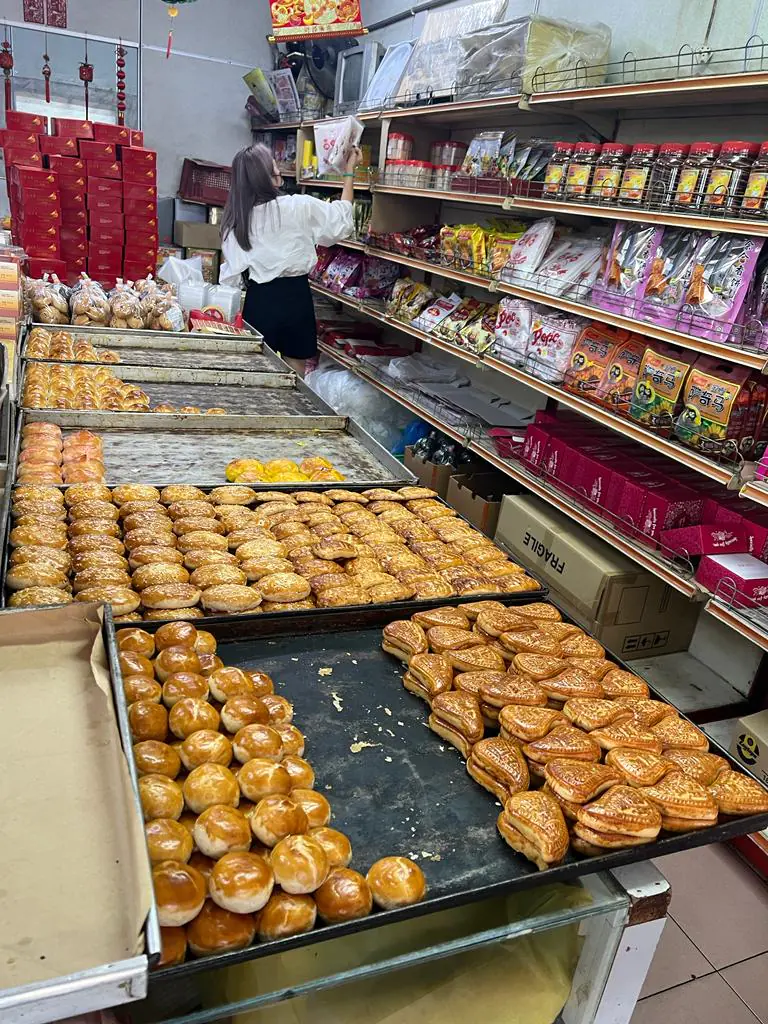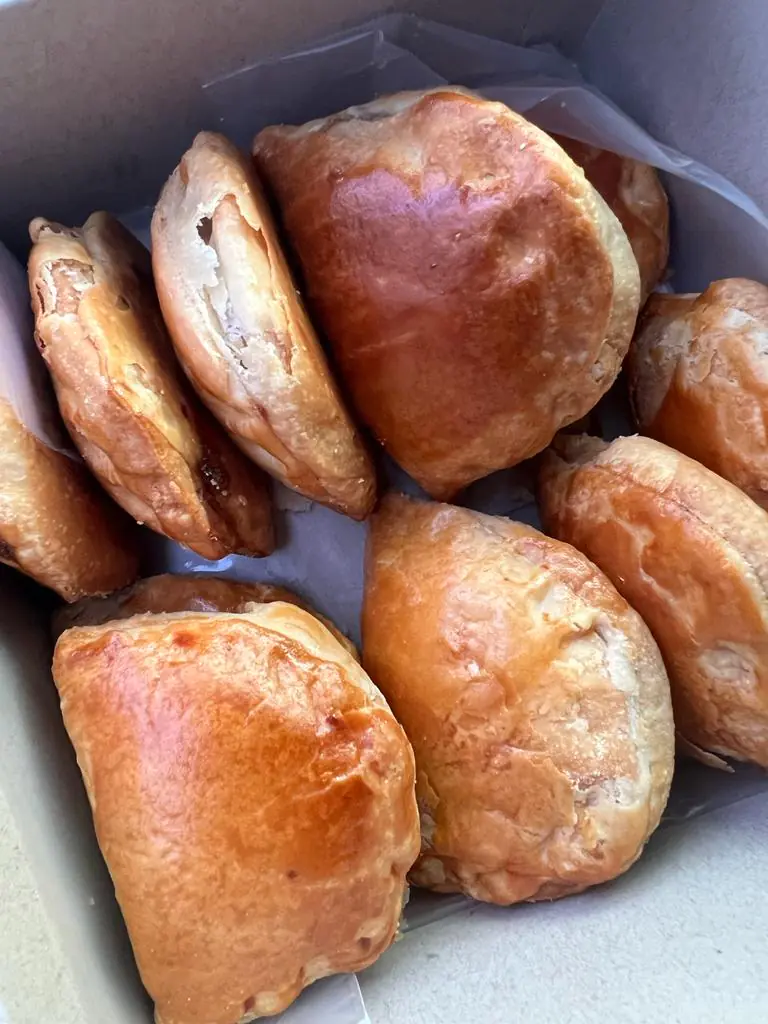 Next stop was Sin Eng Heong. Several shops away from Funny Mountain, you'll see this shop that sells all sorts of Cantonese pastries. Tambun Biscuits, Kaya Puffs, Heong Peng, and Egg Tarts are among Sin Eng Heong's best-known confections. Fresh pastries from the oven are continuously baked and there's typically a long line every day. You should go there early if you really want to enjoy these delicious pastries to avoid having to wait. Fortunately for us, the wait was only a few minutes. In other instances, people have to wait an hour just to buy kaya puffs. I've never had the Kaya Puffs and heard they are good. Turns out, they're scrumptious, and you cannot find this in KL. A box only costs about RM10! The pastry was warm and just as you're biting into it, you can taste the yummy kaya paste oozing from the puff and melting right in your mouth. I also bought Tambun biscuits (known as tau sa piah).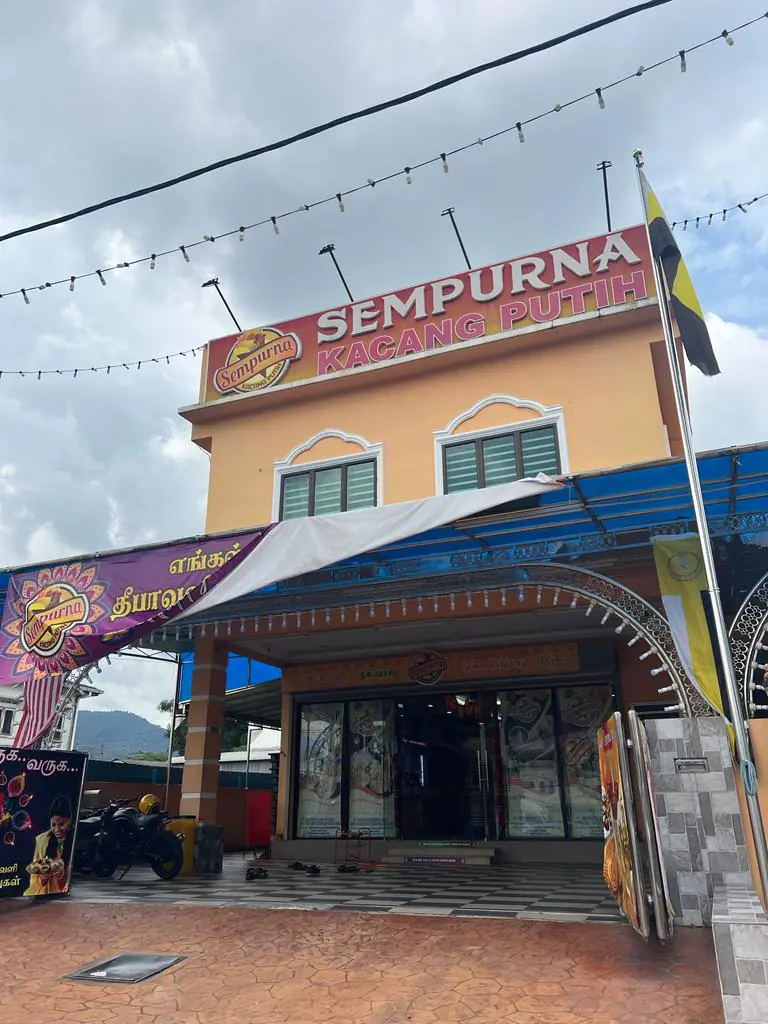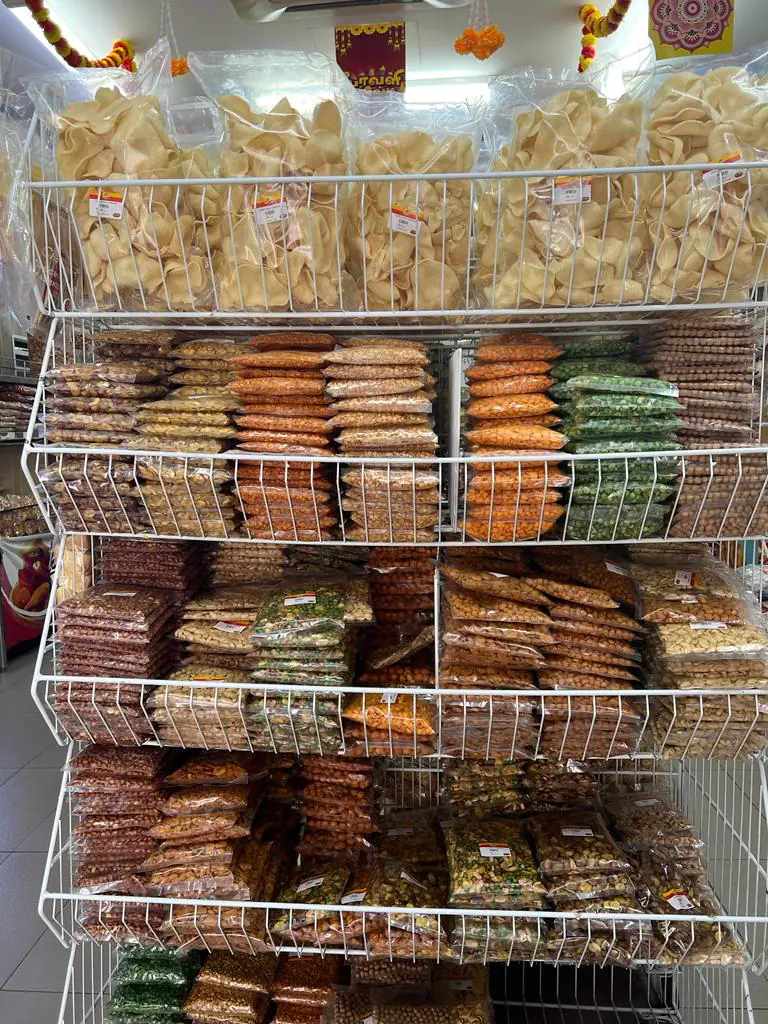 The last stop was Sempurna Kacang Putih. Kacang Putih is literally translated as 'white nuts'. However, the kacang putih you see being sold here might not appear to be white at all! In actuality, this term alludes to chickpea, a typical component of Indian food. It is a creamy, white, and bland-tasting foodstuff that serves as the ideal canvas for more interesting flavours to stand out. At Sempurna, you can get all sorts of nuts and snacks for a very reasonable price. A packet could cost you about RM3 to RM12 only! Living with an Indian family, I had to grab a bunch of stuff from this store, cause my family loves snacking. After hitting these three spots, we drove back to the resort just in time to go swimming.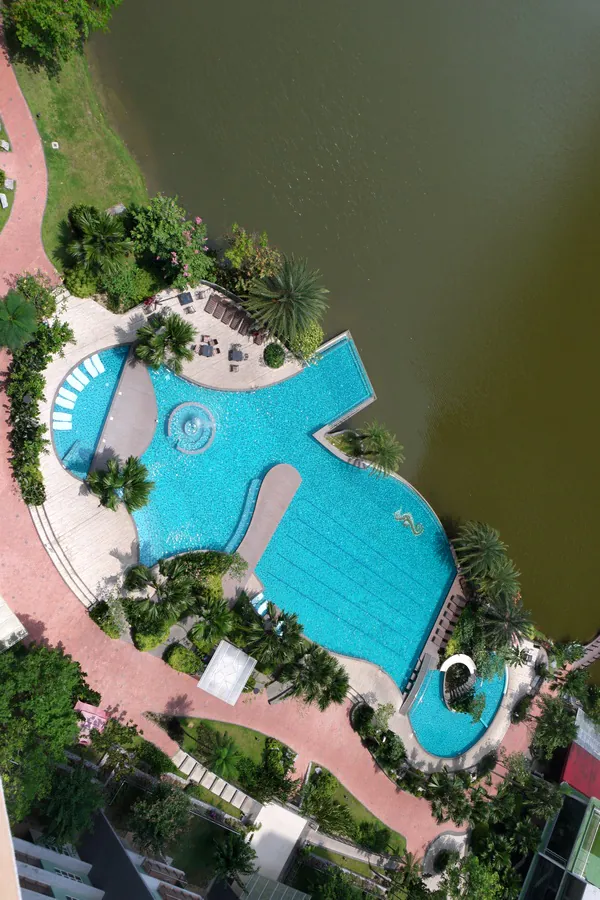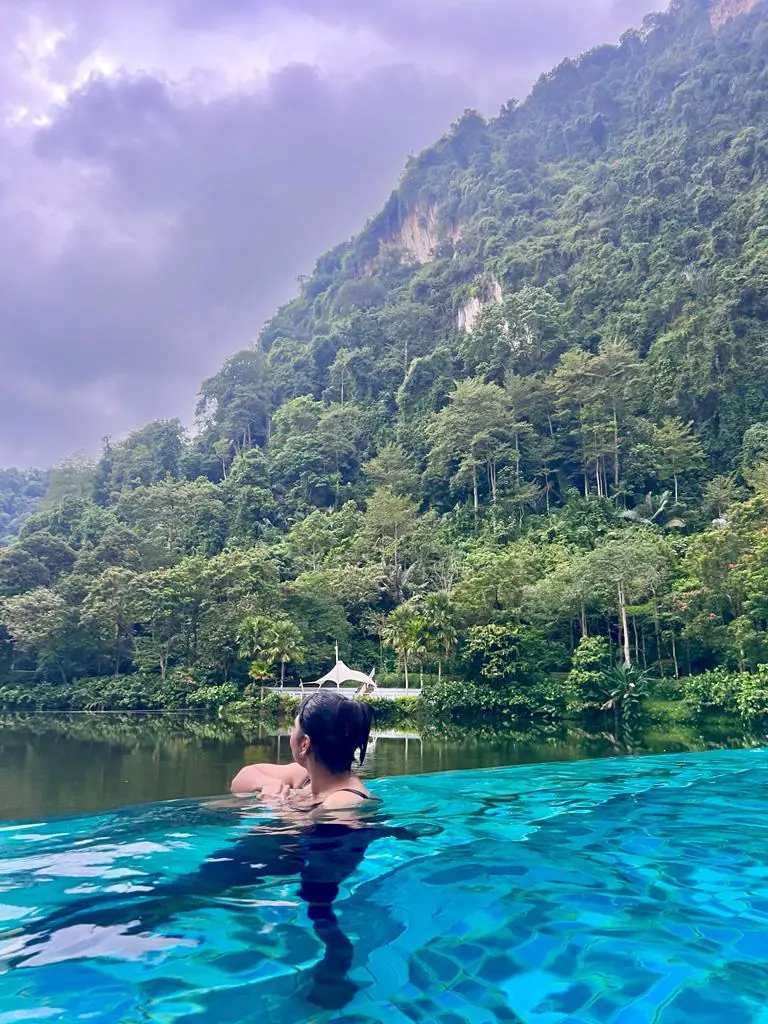 I'd been dying to go swimming ever since I got here, but couldn't, because of the rain. The pool here was amazing. The Haven Resort Hotel's 60-meter seahorse-shaped swimming pool is a custom creation that has been patented. The jacuzzi, leisure pool, lap pool, children's pool, and wading pool are all included in the 5-level infinity pool. Its location, next to the large lake, enhances its all-natural charm. My favourite spot is the whirlpool area, since it feels like a massage chair. After a good time in the pool, we headed back to my room to shower and get ready for dinner.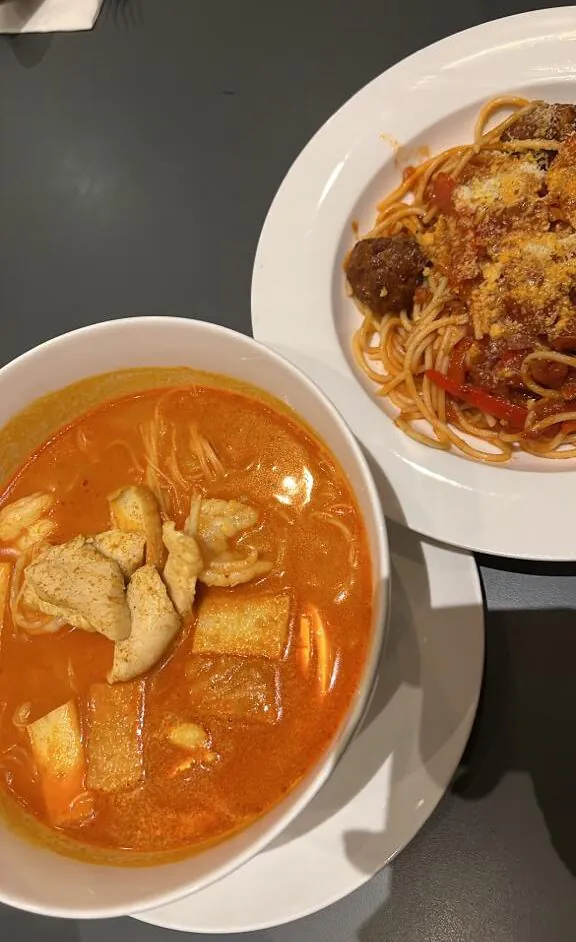 Again, the same menu, so I ordered the Ipoh Curry Mee and Spaghetti Beef Meatballs. Compared to the lunch and dinner we had previously, this meal was probably the best. The curry mee was creamy, flavourful and it had lots of fishcakes, chicken and bean sprouts. I even requested they change the mee from yellow mee to mee hoon. The spaghetti was also good. Perfectly cooked and a generous amount of sauce. The meatballs were not bad. They were cooked well, but were missing some flavour. Since we had an early dinner, we thought of checking out the town for a bit. It's about 15 minutes from the resort and the roads were empty. I actually thought there'd be nightlife and all, but nope – it was super quiet and the only thing operating was KFC, McDonalds and few mamaks. Other than that, there's nothing much. So we just drove around for a bit and headed back to the resort to watch Netflix.
Day 3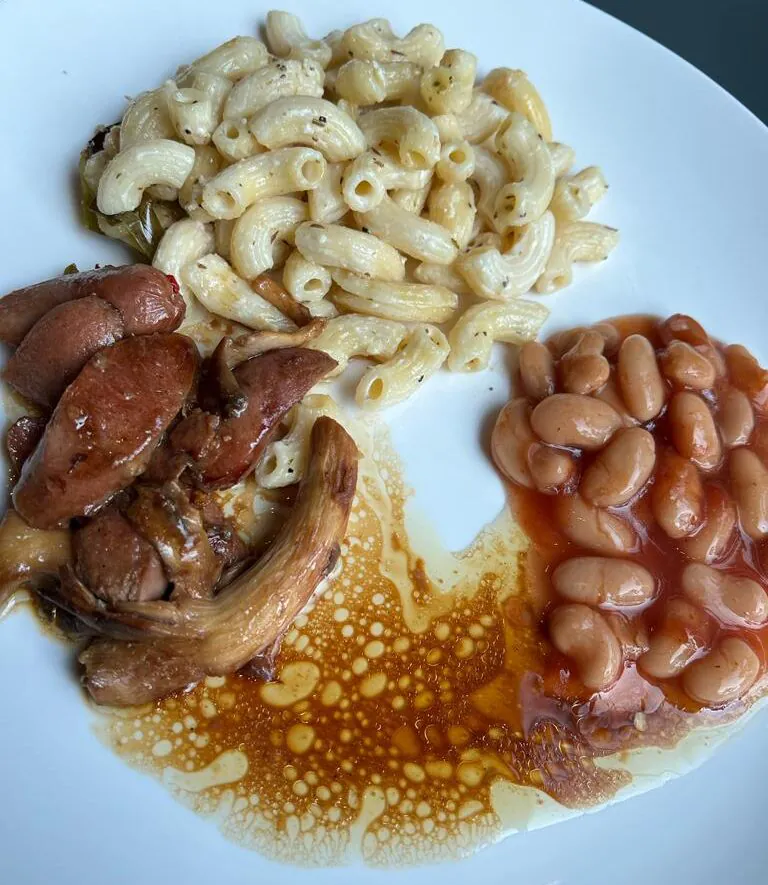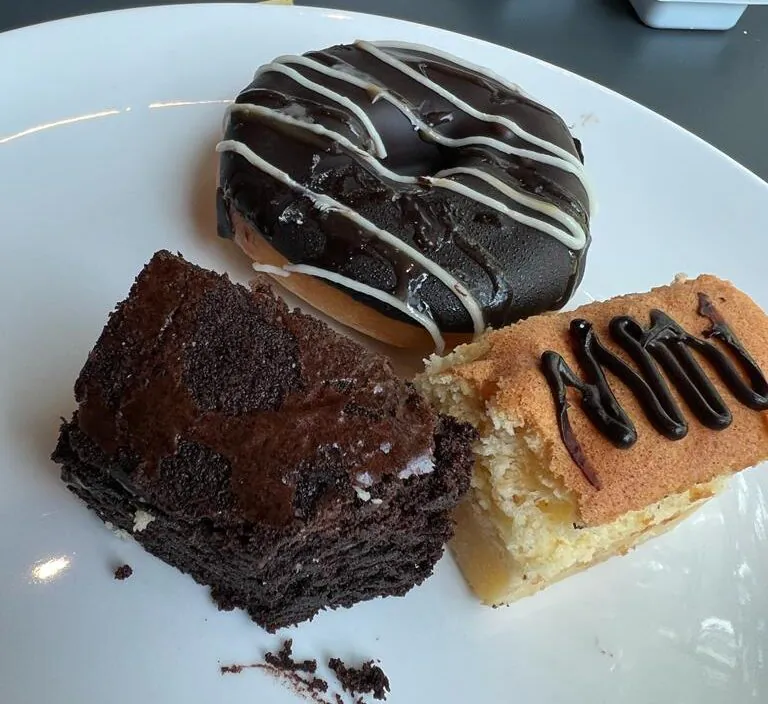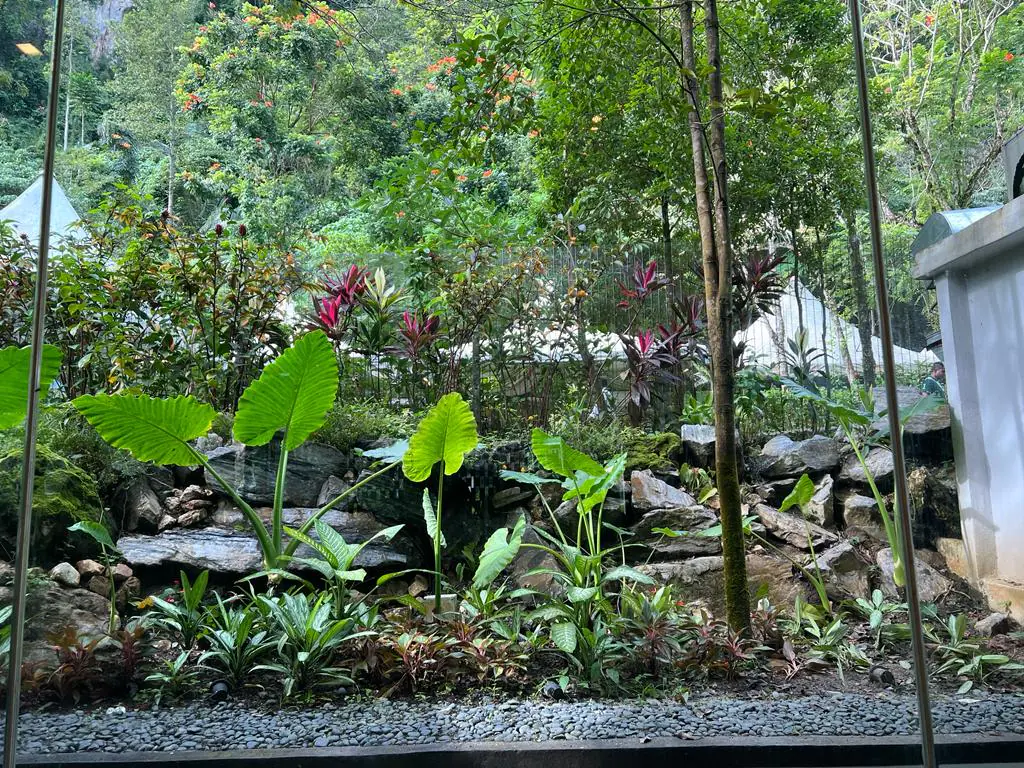 The next morning was slightly gloomy, but not a reason to not enjoy the view. It was still a good view. Got ready for breakfast, because that's the only meal with a bunch of amazing food! For breakfast this time, they had macaroni and cream, black pepper beef sausage with mushrooms, red beans and other stuff. For dessert, they had a new batch of cakes. My favourite was the brownies. It was good and chocolatey.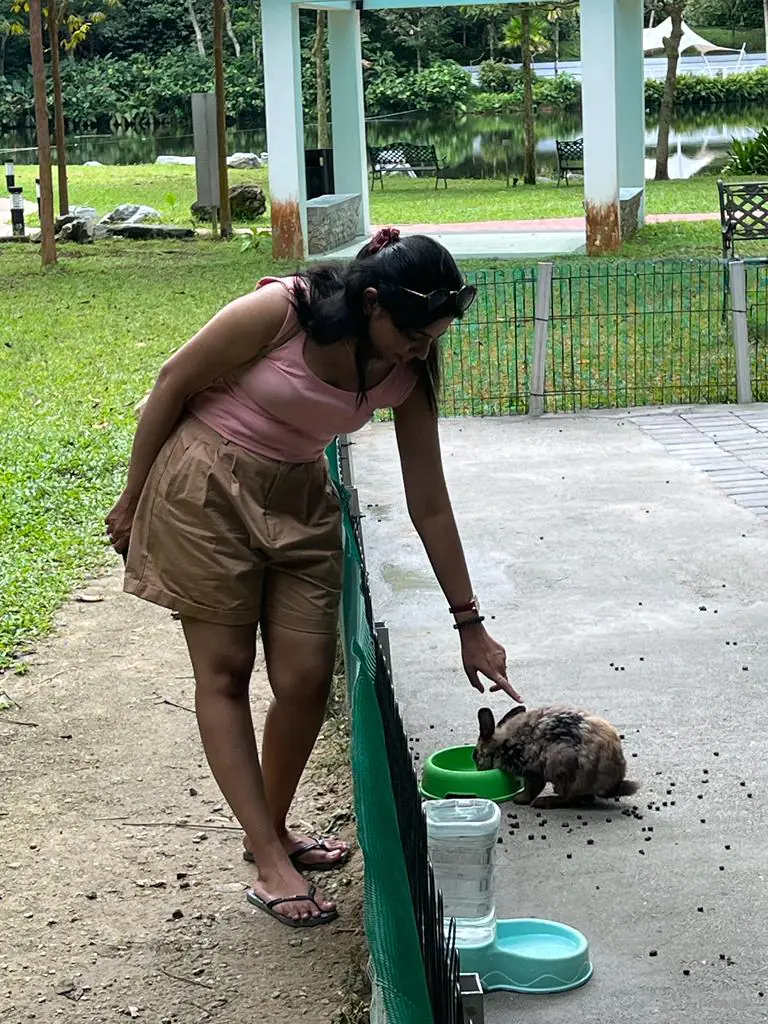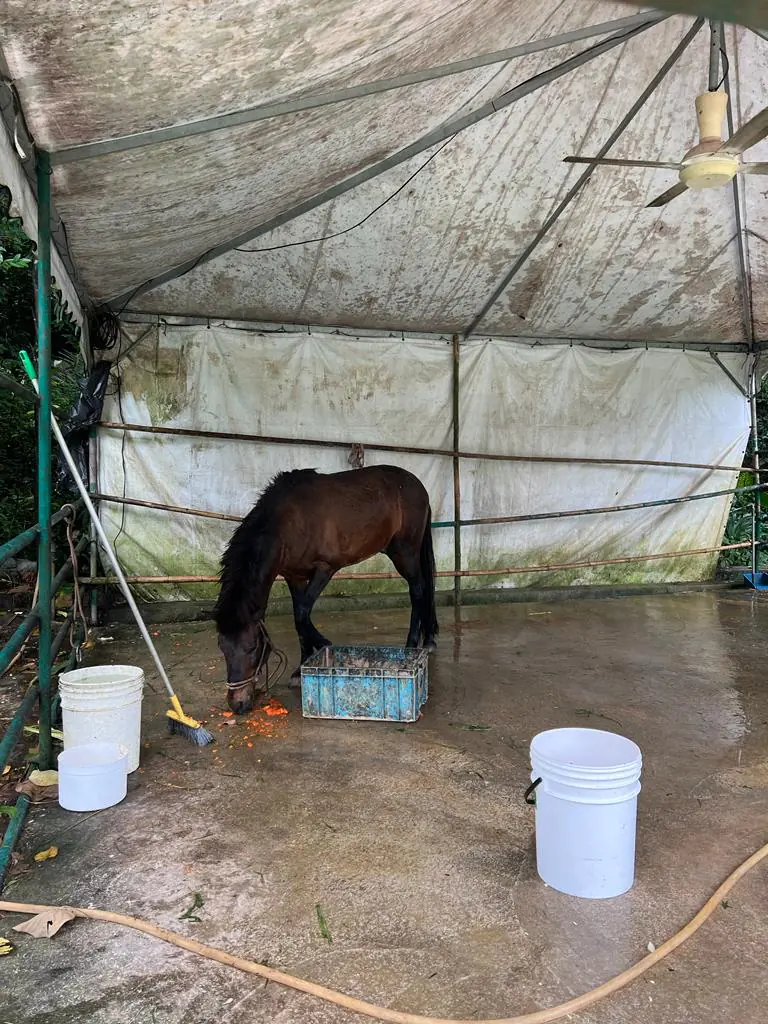 Just before we checked out, we decided to make another trek around the resort, and stopped by the petting corner and pony stable. It was fun.
Our stay at the resort was simply amazing. The hotel staff were friendly and helpful, assisting us with our every need. I felt reluctant to head back to KL, because I really love the clean and beautiful environment here. If I have a chance to head back to Ipoh, I'll definitely book my stay here.
We'd definitely recommended this spot for your next vacation. It's very family-oriented and a perfect place to unwind and relax. Safety-wise, there are guard houses, pool guards and security at every tower. If you'd like to head to town from the resort, do so during the day time, because there isn't much during the night. Other than that, you'd be sure to enjoy your stay here.
Click here to know more about The Haven Resort.
More on travel? Read:
Dash Resort Langkawi: Breathing New Life Into The Sleepy Charms Of The Island Paradise
Float Your Boat! 6 Exotic Floating Villa Resorts For Your Vacation Goals