We've all experienced it: that fleeting moment when we find ourselves gazing at someone and wondering how they maintain such immaculate, young-looking skin. But gaze in envy no more, because Olay is here to help you out. The well-known skincare company has launched its newest skincare line – with a twist of fun to it!
Olay, in collaboration with Warner Bros. Consumer Products, has launched its newest limited-edition product collection inspired by the beloved TV series FRIENDS. The Olay x FRIENDS collection – now available in Malaysia –features Olay's signature products sporting a new look, inspired by the iconic TV series, along with a special edition pouch designed to accompany you on your adventures in the real world.
At the beginning of FRIENDS, Monica welcomes Rachel to the realities of adulthood, and subsequently eases her into life in the real world together with Ross, Phoebe, Chandler, and Joey. In keeping with this spirit, Olay wants to be the friend that understands every woman's life and supports her skincare needs with scientifically-advanced formulas that will keep her skin on track as she ventures into adulthood and overcomes challenges along the way.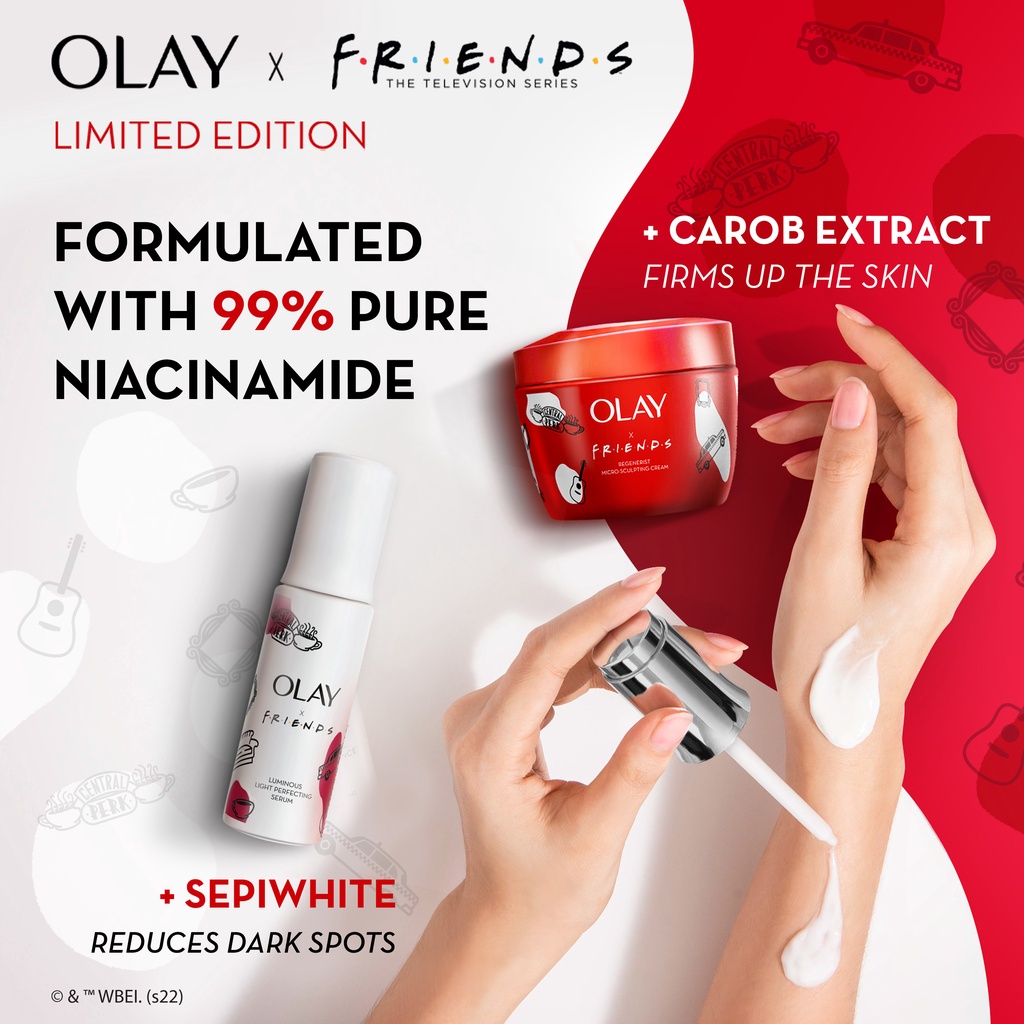 As part of a limited-time collaboration with Warner Bros. Consumer Products, Olay's signature Regenerist Micro-Sculpting Cream and Luminous Light Perfecting Serum have been emblazoned with illustrated motifs designed to evoke iconic memories from the show, from the iconic orange couch in Central Perk to the yellow frame that hangs on Monica & Rachel's apartment door.
Olay Regenerist Micro-Sculpting Cream is known to many as a go-to face moisturizer with over 50 million jars sold worldwide. Infused with vitamin B3, amino-peptides, hyaluronic acid, and antioxidants for ultimate penetration, it is a moisture-binding formula that instantly hydrates to improve skin elasticity, and visibly diminishes wrinkles and fine lines while delivering plumping hydration 10 layers deep into the skin's surface.
Lightly scented with the aroma of jasmine and rose petals, Olay Luminous Light Perfecting Serum is formulated with Pearl-Optics Technology to brighten skin tone and reduce the appearance of spots, while instantly hydrating skin. For fans who want to have their favourite FRIENDS moments with them on the go, or for those looking to gift the FRIENDS fan in their lives with a new skincare best friend, limited edition pouch bundles comprising Olay's best-selling products and a pouch featuring the same iconic visual motifs from the show are also available for purchase.
The complete Olay x FRIENDS limited edition collection is now available in Malaysia. For more details, follow Olay on Facebook and Instagram or visit their website.
Olay x FRIENDS Limited Edition Collection

Olay x FRIENDS Regenerist Micro-Sculpting Cream: RM99.90

Olay x FRIENDS Luminous Light Perfecting Serum: RM84.90
More on skincare? Read:
Dr Dennis Gross Skincare Drops VitaminC Lactic Range! C & Believe!