Putting on makeup is one thing – but putting on makeup on acne-prone skin is definitely something else. I don't know about you, but doing your makeup while you have those pesky red pimples on your face is really hard. Now, I've tried so hard to deal with this shit, but I just can't find the right way or method. So, the only place I go to for help is TikTok, where all the magic is revealed.
So I was scrolling through my feeds about makeup, and came across something called the 'sticky' method. And what's really interesting about this trend is that it only uses three products. Can you believe it? Out of all those expensive and stocked up cosmetics your have, you'll only need 3 to hide your acne! The procedure is similar to applying regular makeup. The only difference is the type of products used and the method of application.
The 'Sticky' Situation 
The "sticky" method, which is the newest in beauty trends, claims to make sure that your makeup completely conceals dark spots and/or acne. Mikayla Nogueira, a TikToker and MUA, came up with the sticky method after becoming famous for her how-to makeup tutorial videos. She has amassed more than 13.5 million followers and regularly publishes product reviews, how-to videos, and other content. The 'sticky' approach is the most recent to gain popularity, and supporters claim that it is a game-changer for people with acne and uneven skin to achieve the most flawless foundation. The technique was first introduced by Mikayla in a video whose description claimed it would completely treat acne.
If you're somewhat like me, struggling to hide my acne, then you should totally check out this trend. Here's how to do it, step by step: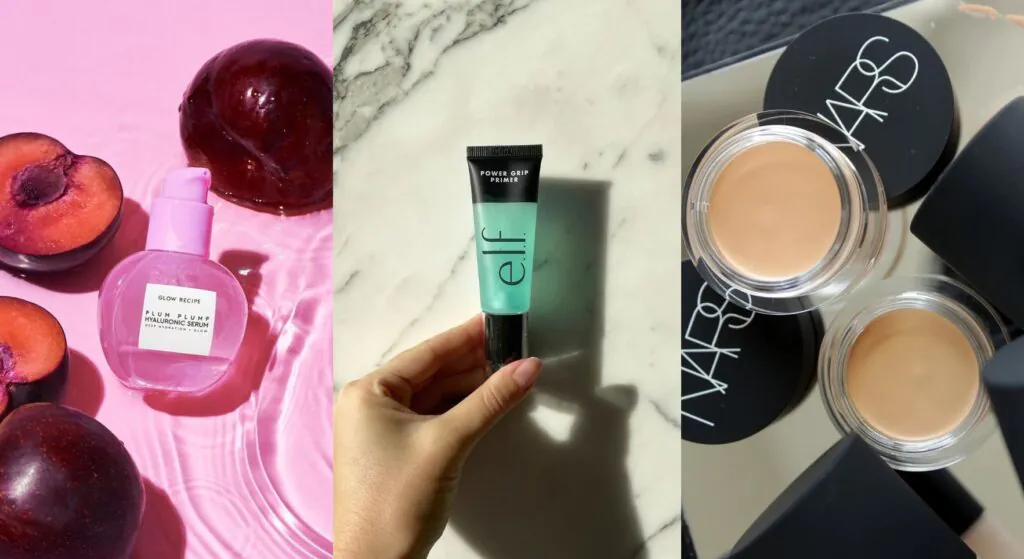 Step 1: The procedure starts with a moisturizing serum that will leave your skin with a thin film of tackiness. Mikayla uses the Glow Recipe Plum Plump Hyaluronic Acid Serum, but she points out that any serum — any serum that imparts a tacky, sticky finish — will work. She shows how the cream leaves a slightly sticky residue that you are supposed to let dry after putting it all over her clean face.
Step 2: For the next step, you'll need a gripping primer, which is essentially any product designed to prime the skin and aid in the adhesion of any makeup to the face. The E.l.f. Power Grip Primer is used by Mikayla. According to her, this primer is quite sticky and holds makeup to the skin. However, there are still various brands of gripping primer available.
Step 3: Now, the most important part, to conceal. Mikayla says the concealer should be matte and you'll see why. She chooses the NARS Soft Matte Complete Concealer and applies it with a concealer brush. The advice is to put a fair amount of concealer on your brush and apply it directly on top of the blemish. If your entire face needs to be covered, so be it! A matte concealer is the greatest choice, because it will dry faster. If you want this procedure to be successful, then giving it time to dry down is essential. Use a fan, give it two to five minutes, and you'll notice a difference.
A very, very important thing: NEVER blend the concealer!
Step 4: Last, but not least, foundation. Add a medium to thick coverage foundation over your concealer after allowing it to dry for a few minutes. Any kind of foundation that suits your skin is fine. Also, you should apply the foundation with a beauty blender since it will ensure that it doesn't disrupt the dried-down concealer underneath the foundation.
And voila, you finally have that perfect makeup look with no bumps or blemishes! But it doesn't stop there. You can now proceed with the remainder of your makeup process as usual, confident that those annoying zits are effectively hidden for the upcoming day or night. Following the viral video, many other TikTokers have put this trend to the test using the same and different products. Safe to say, they succeeded!
I know that some of the products Mikayla uses are not available locally, and they're way expensive. But, there's always alternatives. You can head to Watsons, Guardian or any other local drug store to find products of a similar quality. Personally, I feel that this method might work for those with oily skin too, since you're using a grip primer and matte concealer, which should hold your makeup in place. I'm definitely gonna try this trend out and if you are too, good luck trying!
More on makeup? Read these:
Vanishing Act: The Hourglass Vanish Airbrush Primer Is Makeup Magic
This Tiktok Hack Prevents Under Eye Concealer Creasing, And It Actually Works!