Malaysia is a place that has been incredibly favoured by the gods of food! Our country is renowned as a food haven, with amazing street food and local cuisines available seemingly everywhere, all the time. Besides its amazing gastronomic stars, Malaysia also abounds with unique snacks.
Nobody can NOT fall in love with Malaysia's snacks, many of which are old school favourites. From sweet delights that will tickle your palate, to savoury nibbles that keep you going back for more, there's always something for every Malaysian to enjoy. Here are some of our favourite and most iconic snacks in Malaysia.
Choki Choki
Choki-choki is undoubtedly one of the most well-known Malaysian snacks on this list. This luscious delight, which features rich chocolate wrapped in slim plastic tubes, is incredibly well-liked by Malaysians who enjoy sweets. To get a nice sugar rush, tear the top of the packet slowly and suck on the tube. Let's face it, even though it occasionally put you in a sticky situation, once you're done, it's so worth it!
Haw Flakes
Most of us thought they were copper coins at first! Haw flakes are made from the fruit of hawthorn trees. They are therefore dried fruit and can be classified as a healthy Malaysian snack, right?
Whether you agree with this or not, it's obvious that haw flakes are one of those Malaysian snacks for which we occasionally experience strange cravings. These fruity sweets are frequently packed in their recognisable pink wrappers, and come in the form of thin discs. Haw flakes have a small tinge of sourness, in addition to being extremely sweet, which gives them a well-balanced flavour.
Apollo Wafers
Nobody in Malaysia who grew up watching cartoons on TV would ever forget the Apollo brand. They were the most frequently-seen commercials back in the day! Apollo chocolate wafers are undoubtedly one of the most well-known Malaysian snacks on our list. There are two flavours available: white chocolate coat and chocolate coat. Of course, the Apollo brand also sells other popular foods in addition to creamy wafers, such as tiered cakes (the chocolate variety was my favourite) and biscuit sticks with chocolate filling.
Polo Mints
Believe me when I say that consuming a Polo Mint is like to visiting the North Pole. Yes, this frequently overlooked Malaysian treat is an O-shaped mint that is so refreshing it will make you feel like it is snowing in your mouth. In addition to giving you instantaneously minty-fresh breath, Polo Mints also have a sweet aftertaste that entices you to consume more.
Hacks Sweet
Another traditional candy that Malaysians are familiar with and adore is Hacks sweets. The various colours of the wrappers on these hard-boiled candies symbolize the various tastes that are available. I like the ones wrapped in white, though the orange ones are frequently used as cough drops to relieve a sore throat. These are quite fragrant and enjoyable, since they have a hint of a lemony zing to them. They also come in blackcurrant and apple and clove.
Kopiko
I used to be Kopiko obsessed at one time. Seriously, who wasn't? Kopiko is a helpful tool if you need to keep your eyes wide open in a hurry, much like a regular cup of coffee. The easiest way to explain them, if you've never tasted one, is as coffee-flavoured candies. Kopiko candies can rapidly replace Americanos as your preferred treat if you adore them! A fun fact about this Indonesian snack, which boasts rich, aromatic coffee aromas – it was featured in the Netflix K-drama Vincenzo.
Super Ring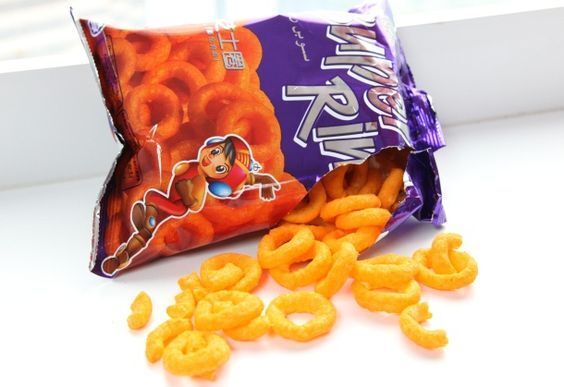 Is there any snack more representative of Malaysia than Super Ring? Super Ring swiftly rose to prominence within the past year as a result of a social media post made by one well-known Malaysian politician. Also, the brand's success isn't merely the result of marketing hype. The savoury and sweet cheese rings from Super Ring are famous for two things: their bright orange colour, which stains your fingers, and the fact that they are an incredibly good and cheesy snack. You'll probably find it difficult to stop once you hear the crunch of the first bite as you swiftly eat through the full bag!
Mamee Monster
The enduringly popular Mamee Monster noodle snack is another extremely well-known Malaysian food. It's a crunchy food that resembles a block of instant ramen, as the name would imply. There's also a way to eat this snack that goes by the slogan: Crunch It, Shake It, Munch It.  Simply crunch the Mamee packet into bite-sized pieces, add the flavour packet, and shake to blend to get the complete flavour. And munch! There's a variety of flavours available, including chicken, BBQ, and others.
Popo Fish Murukku
Popo Fish Muruku, another well-known Malaysian delicacy that we all like, has been around since 1975. It's a crunchy experience to bite into this tasty and wonderfully inexpensive snack, accented by a fragrance that is simply divine. They come in big as well as tiny packaging.
Nyam Nyam 
Whenever the roti man rode into my housing area as a child, I would tell him to stop so I could get only one thing: Nyam Nyam. One of my all-time favourite Malaysian childhood snacks, Nyam Nyam Rice Crispy came in an iconic orange cup that was no bigger than a small fist. Rice crisps and a sweet, creamy chocolate dip are contained in two separate compartments of the tiny cup. It's just divine how the crunch of the rice crisps blended with the sweet, fragrant dip! To eat, simply scoop some chocolate and dip it into the rice crisps.
White Rabbit Candy
White Rabbit Candy was once extremely popular in Malaysia. This Chinese sweet was basically a soft, chewy milk candy that was wrapped in edible rice paper. You can't just eat one, because they have such a strong scent. Of course, occasionally, they would also stick to your teeth! In Malaysia nowadays, finding White Rabbit Candy in its original form is difficult. Despite the large variety of flavours available today, I still favour the original!
Ding Dong/ Tora
Both these snacks come with a surprise. Ding Dang and Tora are chocolate-coated wafer balls. The only difference is the packaging. Ding Dang has this Doraemon-like mascot, while Tora's is a pencil with wheels. But let's be honest, most people buy these snacks because of the fun toys in them.
Potong Ice Cream
Forget about all those expensive ice cream brands! Nothing beats potong ice cream for Malaysians in our formative years! These are essentially just popsicles created with the familiar and adored local flavours like red bean, durian, yam, and others. They were so simple, but people still enjoy them for their sweet flavours and the freezing chilly sensation they provide when consumed!
So, what's your favourite snack?
More on food? Read these: