If you're a lover of all things K-pop like me, you've probably wondered what your fave idols smell like (not in a creepy way, obvi). When you have an idol that you admire, it's pretty normal to want to look – or even smell – like them. However, unless you've somehow met these K-pop idols or caught a whiff of them, it's near impossible to know what kind of fragrance they wear.
But thanks to idols participating in the "What's In My Bag?" online trend, we now know what fragrances are worn by our favorite K-pop idols. Here are eight K-pop idols who have shared what their favorite fragrances are (for you to make your next purchase).
HyunA – Aesop Tacit Eau de Parfum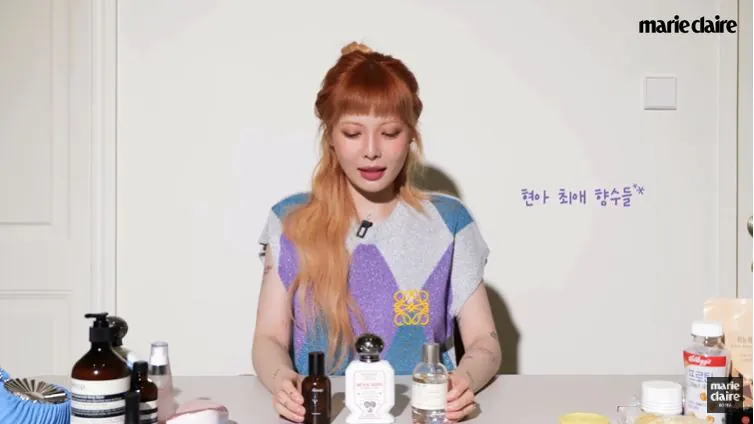 On HyunA's My 10 Favorites with Marie Claire Korea, she shared her top 10 favorite things to have with her, and amongst them were fragrances. Out of the three that the soloist showed, her absolute favorite is Aesop's Tacit Eau de Parfum. She stated that her previous favourite was the Le Labo Santal 33, which is the brand said to 'intoxicate a man as much as a woman'.
But with Aesop's Tacit Eau de Parfum, we totally get it. It has a "natural fragrance" as mentioned by the Bubble Pop singer, with notes of crisp, greenery citrus with delicate spicy clove-like undertones. The perfect scent that beautifully embodies the singer.
SEVENTEEN Joshua – Lola James Harper 9 The Comics Store of George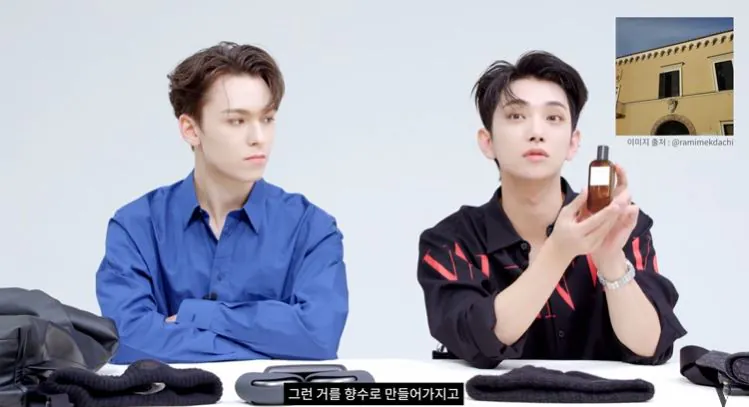 SEVENTEEN members Joshua and Vernon appeared on Vogue Korea's What's In My Bag and revealed a variety of items that they carry with them on a daily basis. The former made a point of displaying a fragrance that he has been frequently wearing, which he revealed was a room spray that he used as his perfume – Lola James Harper 9 The Comics Store of George.
While the idol enjoys floral and soapy scents, his absolute favourite perfume is the polar opposite, being more woody. If you're wondering what the perfume is, Joshua only said "it smells like freshly bought books".
BLACKPINK Jisoo – DIOR Miss Dior Blooming Bouquet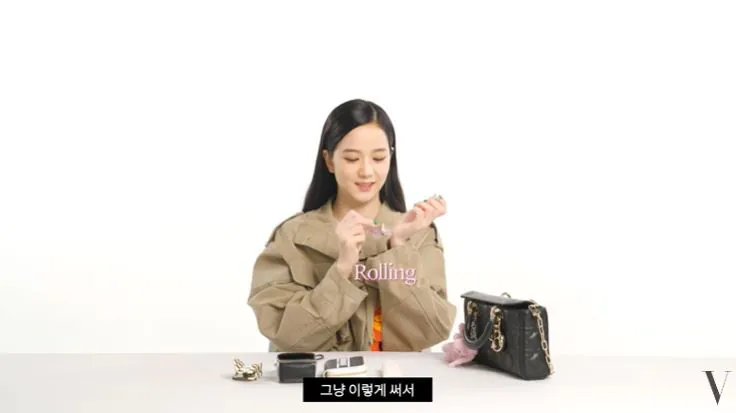 As a DIOR global ambassador, it's no surprise that Jisoo's favourite perfume is DIOR's Miss Dior Blooming Bouquet. She also uses DIOR's Rose Hand Cream in tandem with the fragrance. It's safe to say Jisoo smells like a walking rose field – a scent as elegant and enchanting as she is.
Jessi – Chanel Chance Eau Tendre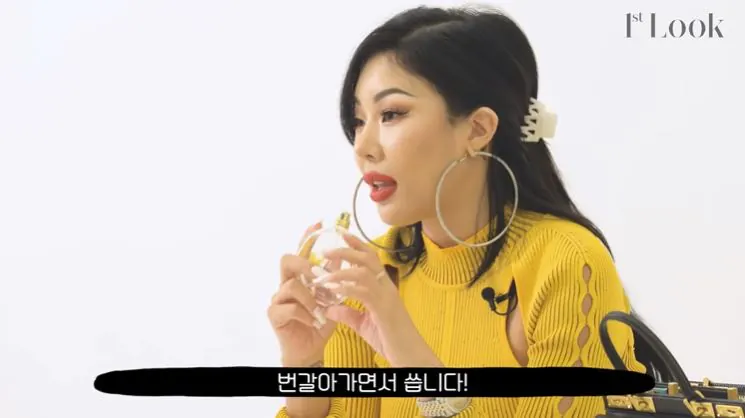 Jessi, a South Korean-American rapper, revealed a lot about what she keeps in her Valentino bag on 1st Look's What's In My Bag. Among these were her fragrance, Chanel Chance Eau Tendre. The perfume is described as "a dazzling fragrance that intertwines a grapefruit-quince accord with soft jasmine and rose essence."
While the rapper also wears Chanel Coco and DIOR, she says she prefers Chanel Chance Eau Tendre because it is "lighter to wear" and does not overwhelm those around her.
DKZ Jaechan – diptyque Doson Eau de Toilette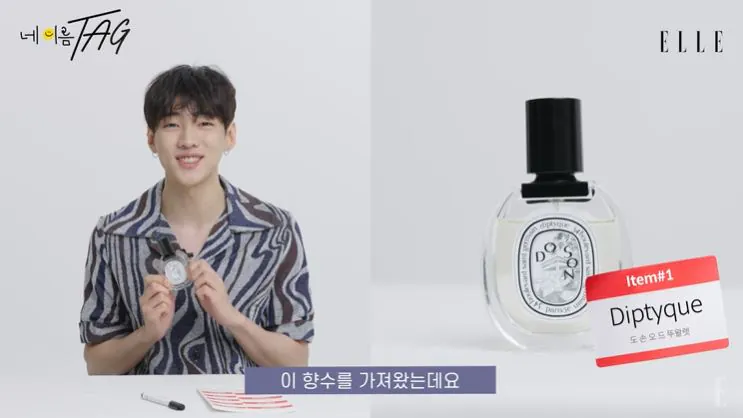 DKZ's Jaechan appeared on ELLE Korea's Your Name Tag, where he shared his favourite items with viewers. The first item was a perfume bottle given to him by his former co-star, Park Seoham. Despite not liking the smell of baby powder, the idol prefers the diptyque Doson scent and believes it suits him best.
He also mentioned that he only wears Musc Ravageur perfume by Maurice Roucel on special occasions, and that Diptyque Doson would be a good daily scent.
MAMAMOO Hwasa – Creed Royal Water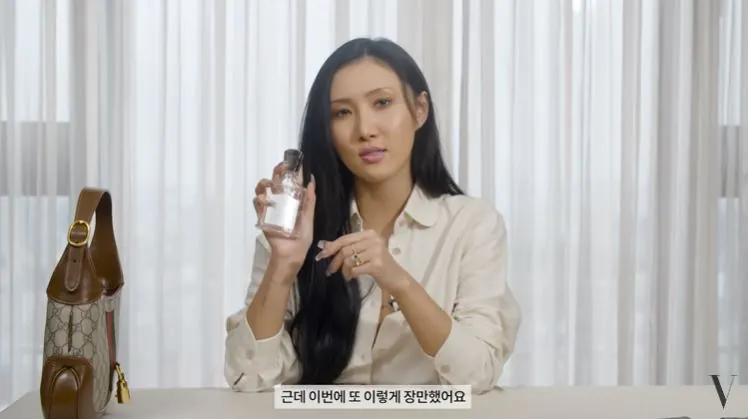 Jumping on Vogue Korea's What's In My Bag bandwagon was MAMAMOO's Hwasa, who shared a lot about the personal items in her bag. Amongst those were her perfume, which she revealed was Creed Royal Water. If you're a unisex perfume lover, then you'd surely love Hwasa's choice of fragrance.
Creed Royal Water is a gender-neutral perfume that's very understated and classy, perfect for both men and women – and perfect for Hwasa as well.
SNSD – Taeyeon Hermès H24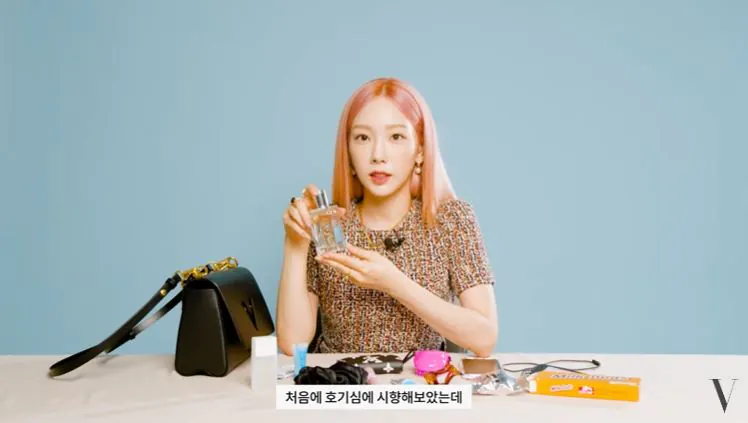 Finally, SNSD's Taeyeon made an appearance on Vogue Korea's What's In My Bag too. Her perfume selection is markedly different from those previously mentioned, as she prefers men's scents, as evidenced by her selection of Hermès H24. Initially trying it out as a curiosity, she quickly fell in love with the scent and made it her staple.
Hermès H24 has a fresh, greenery-like scent, and the idol frequently sprays it on her hands because she adores the scent wafting towards her.
More on fragrances? Read these: