One of THE most common causes of skin issues is a weak skin barrier. There are so many reasons why your skin barrier might be breaking, and this breakage can lead to acne problems, dry skin, dark spots, rough skin and yada, yada…. what's new, right? Finding a product that helps build and strengthen your skin barrier is a tough hunt. There's never really one that suits your skin type exactly, as well as provide maximum strength for your skin barrier. Ah! Hold that thought, woman – if this is your final verdict on the search for a good, skin strengthening product, you clearly haven't paid attention to Lancôme, sweetheart!
Lancôme is embarking on a serious mission to help you strengthen your skin barrier. Hey, hey girlfriend, I see your eyes popping. I got you there, huh! If you wanna know more, then scroll to read the full deets on Lancôme's new campaign.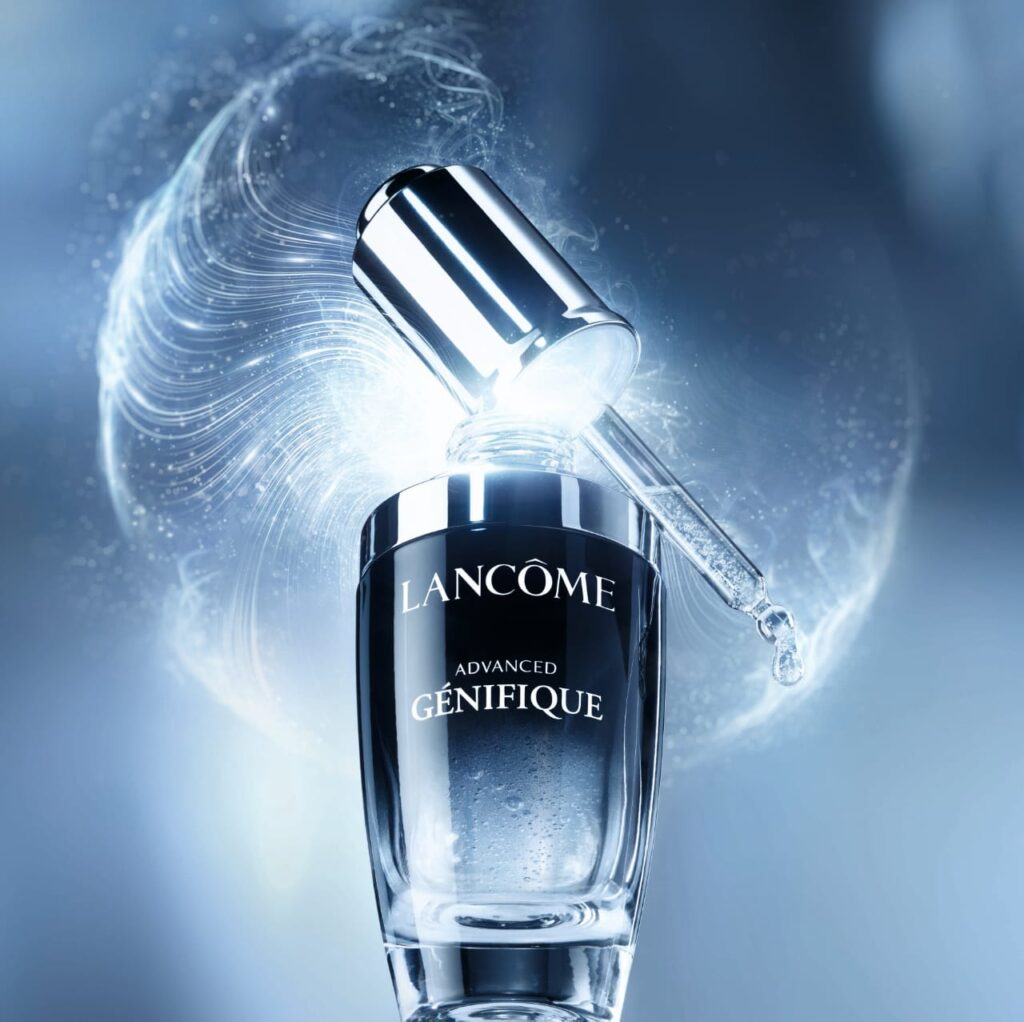 Lancôme is celebrating strength like never before with the #StrongerInsideOut campaign from now till the 30th of September 2022. Through this campaign, Lancôme is aiming to help me and you on our journey to strengthen our skin barrier, layer by layer. Cause bishhh, momma's skin barrier be breaking down like nobody's business, and if yours is too, then Lancôme is the way to go. This campaign is centered around their best-selling products, which include the Advanced Génifique Youth Serum, the ultimate eye and lash serum – Advanced Génifique Yeux Light Pearl and the eye care essential – Advanced Génifique Eye Cream.
#StrongerInsideOut is also featured on social media, as 50 female industry leaders – ranging from singers and actresses such as Daiyan Trisha, Francisca Luhong, Miss Universe Malaysia 2020 and handpicked content creators – creatively share their stories of strength. To commemorate the Advanced Génifique campaign, on the 24th of August 2022, Lancôme launched its first ever immersive Beauty Tech Flagship in Southeast Asia on Orchard Road, Singapore, graced by Tiffany Young of Girls' Generation.
Bish, Tiffany Young was there!! If it means I can get Tiffany Young's skin, then hell yeah, Imma slather Lancôme on my face every night!
Explore Lancôme's Microbiome Science & Beauty Tech World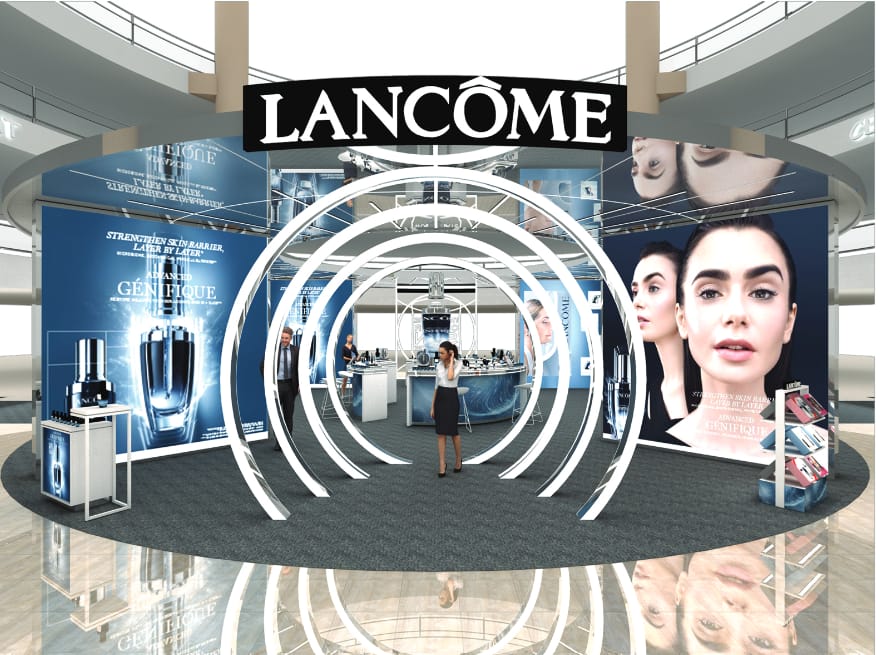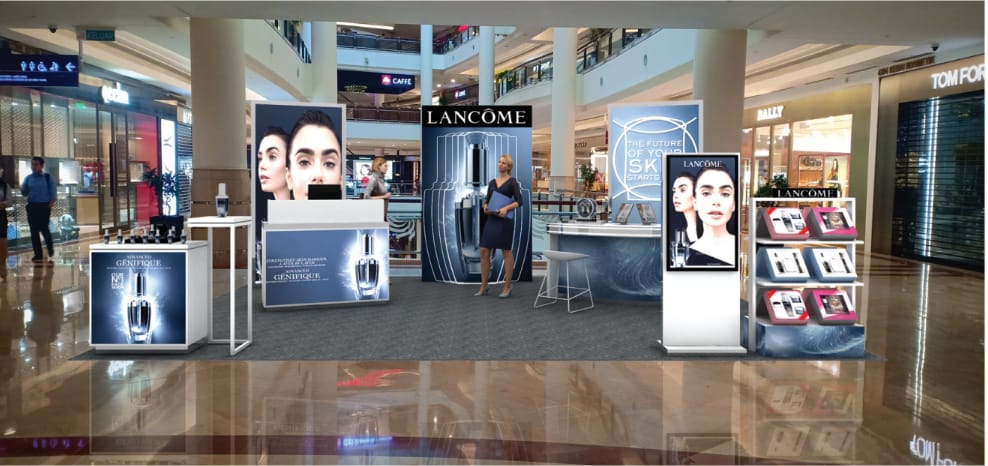 You guys can now experience #StrongerInsideOut firsthand at two on-ground outpost locations:
Suria KLCC (AS-G Ground Floor): 26th August – 4th September
Mid Valley Megamall (Centre Court, Ground Floor): 5th September – 11th September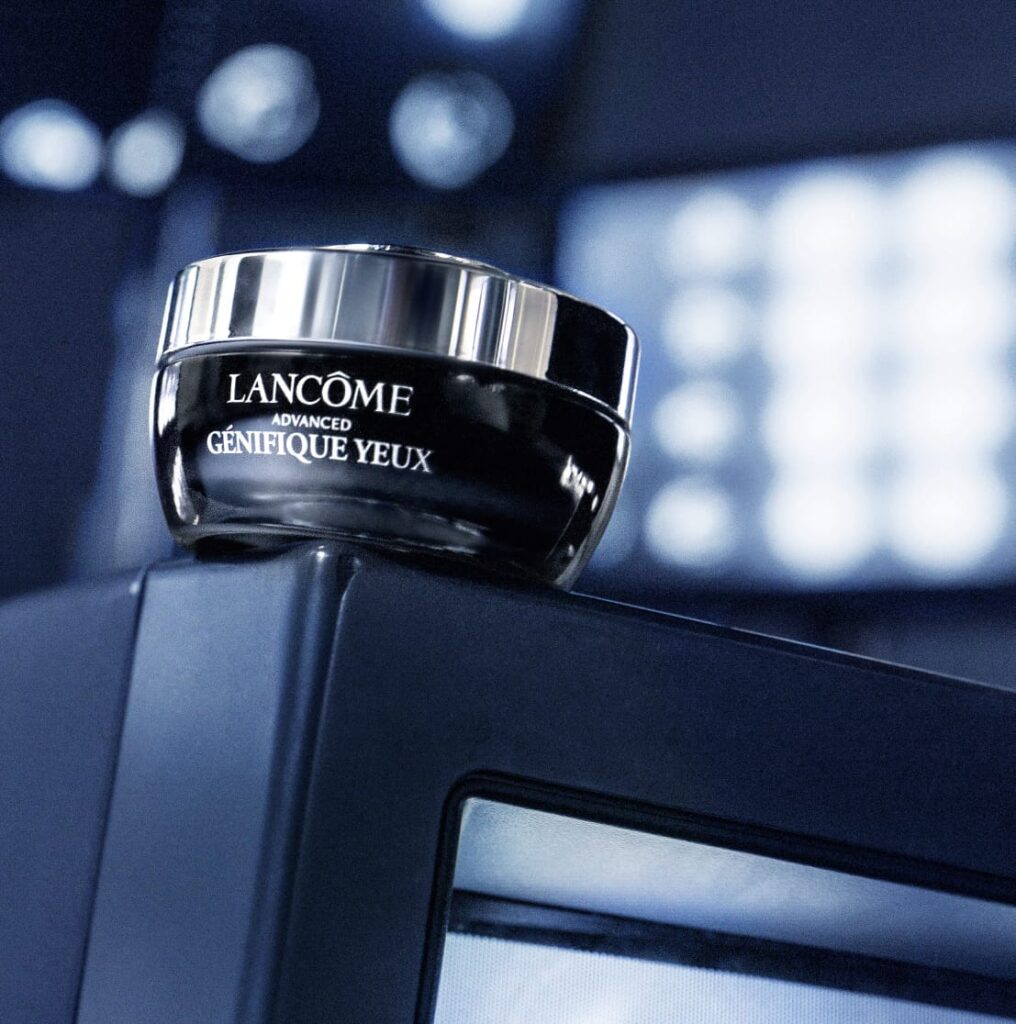 This is your ultimate chance to get a closer look at the iconic Advanced Génifique AND be blessed with the opportunity to speak to Lancôme's Beauty Advisors to get to know the products more in-depth, as well as finding out which products work best for your skin.
By paying a visit to these spots, customers will also be able to try Lancôme's NEW Pro Radiance Booster service that helps improve skin's youthful radiance, giving you that Tiffany Young glow! Listen, one thing everyone loves for sure is when they get to buy skincare with a PROMOTION and GIFTS!
Which is why this is your chance to gain access to curated PROMOTIONAL SETS and stand a chance to win EXCLUSIVE GIFTS from the Spin & Win AVAILABLE WITH EVERY PURCHASE. Okayyy, Lancôme, we see you!
New members also receive instant membership and an additional 2-piece gift worth RM83. Shoppers will also be able to walk away with a 3-Day FREE trial kit redeemable from Lancôme's sampling machine at the following locations:
Suria KLCC vending machine (Level 1, near Ben's) : 26th August – 16th September
Mid Valley vending machine (two locations) – Ground Floor, North Escalator : 26th August – 14th September
Ground Floor, Centre Court (during outpost) : 5th September – 11th September
That is a huge deal I know I wouldn't wanna miss! And I know you don't too, so get your booty over and have the best time shopping at Lancôme.
Exclusive #StrongerInsideOut Promotions
In conjunction with the campaign, you guys can look forward to a variety of exclusive promotions & sets – available for sale at both the KLCC and Mid Valley concourses, all physical Lancôme boutiques, lancome.com.my and through Lancôme's Facebook shop.
#1 Advanced Génifique Serum 30ml set, RM330. Save up to 41% when you purchase Advanced Genifique Serum 30ml set and receive a complimentary 4-piece gift set.
Advanced Genifique Eye Light Pearl set, RM335. Save up to 44% when you purchase Advanced Génifique Eye Light Pearl set and receive a complimentary 4-piece gift set.
Advanced Génifique Eye Cream set, RM295. Save up to 33% when you purchase Advanced Génifique Eye Cream and receive a complimentary 2-piece gift set.
Mid Valley Megamall Exclusive
Enjoy a complimentary personalised advanced skin analysis with Lancôme's Skin Screen Technology. Lancôme's cutting-edge technology – that combines tri-polar light technology, artificial intelligence, and advanced algorithms – means that the Skin Screen machine is capable of measuring 13 skin clinical parameters, with exclusive parameters like hydration and firmness. With the Skin Screen technology combined with a skincare questionnaire, shoppers will receive a tailored skincare routine to determine what their skin really needs in just 20 minutes.
Receive a personalized engraving service with purchase of any Lancôme product.
Facebook Live, On-Ground From Mid Valley Megamall
For the first time ever, Lancôme will be conducting a Facebook Livestream directly from Mid Valley's concourse on the 7th of September 2022 (Wednesday) at 8:30PM, with the beautiful hosts Sachie Amira and Natalie Chai. The Facebook Livestream will feature exclusive giveaways up for grabs for 6 lucky winners, relevant to both online and offline viewers. Interested? Then stay tuned to Lancôme's Facebook page for further details.
The Iconic Lancôme Advanced Génifique Range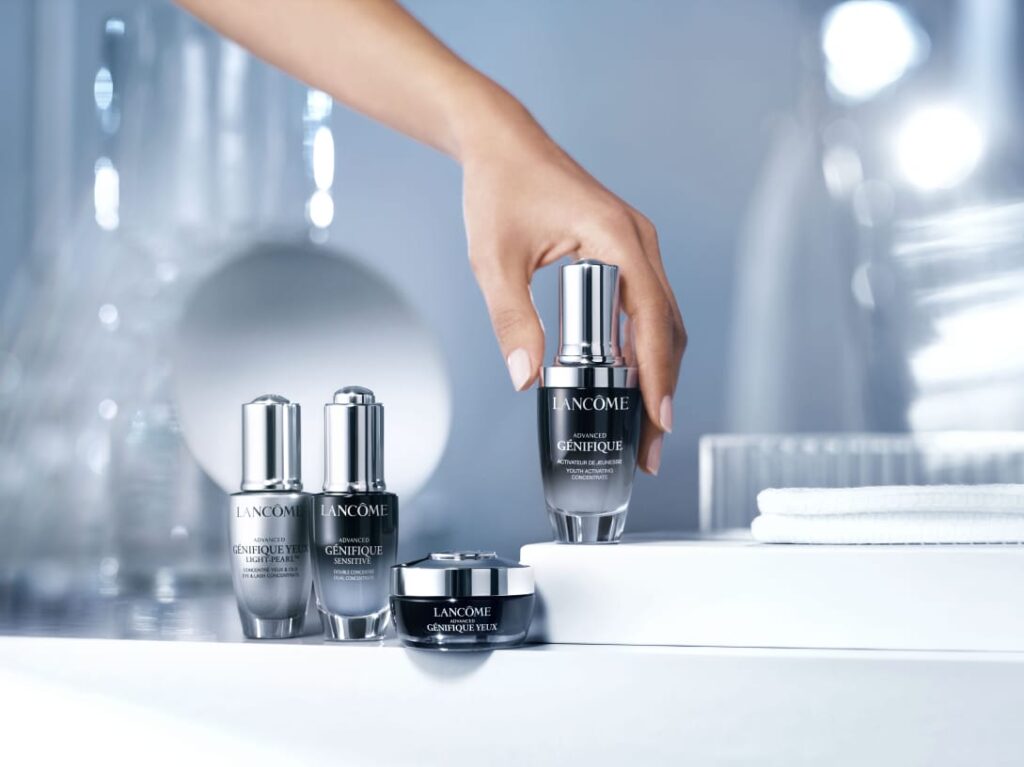 The Lancôme Advanced Génifique Anti-Aging Serum
Protecting the skin's microbiome layer is proven to be a crucial component in achieving a strong and healthy skin barrier. However, due to external stressors, the skin barrier is prone to vulnerability and the aging process begins when the skin barrier is weakened. As a result, Lancôme launched a new era of Advanced Génifique. Advanced Génifique delivers 30 million pre- and probiotics in each drop to strengthen the skin, layer by layer. Its patented formula consists of:
7 pre – and probiotic derived fractions – 3 prebiotics deliver an essential source of skin nutrients, while 4 probiotic fractions derived from organisms are good bacteria that provide health to their hosts suited for the skin.
Vitamin CG –  A stable, plant-based form of vitamin C that enhances brightness by improving the skin tone and quality.
Hyaluronic Acid – Maintains up to 1,000x its own weight in water to maintain essential moisture, plumping and smoothing the skin.
The Lancôme Advanced Génifique Yeux Light-Pearl Eye & Lash Serum
The new & improved Advanced Génifique Yeux Light-Pearl eye and lash serum contains 7 pre- and probiotic fractions specially chosen for their exceptional results on the skin's microbiome. In addition to that, it is also packed with caffeine extract to reduce puffiness, and arginine, which is known for strengthening and fortifying lashes. Engineered with a 360° patented stainless-steal cryo pearl, it enables accessing hard-to-reach areas while delivering an instant cooling sensation. Proven to be able to see visible improvements in puffiness, lines, and wrinkles in just 7 days.
The Lancôme Advanced Génifique Yeux Eye Cream
Is it just me or are you guys gifted with panda eyes too? Well, the Advanced Génifique Yeux Eye Cream is just what those tired eyes need. It instantly brightens the eyes and improves the look of dark circles within 7 days. Packed with millions of pre-and probiotic fractions, buckwheat seed extract, hyaluronic acid and vitamin CG, this eye cream helps tackle common under eye concerns.
Shop the Lancôme Advanced Génifique range here: @lancomeofficial. For more deets, visit Lancôme's website! 
More on skincare? Read these:
Local Skincare Brand Encorium® Wages War On Hyperpigmentation!