SANDRO's Fall/Winter 2022 Collection is here, and the autumn season just got so much better! This season, both the Men's and Women's Collections play with different patterns and styles, creating a unique selection of items that will be a great addition to your wardrobe. From seventies boarding school to 90's revival, there is bound to be something for every individual.
To start, let's take a look at SANDRO's Men's Collection:
Sporty Seventies Boarding School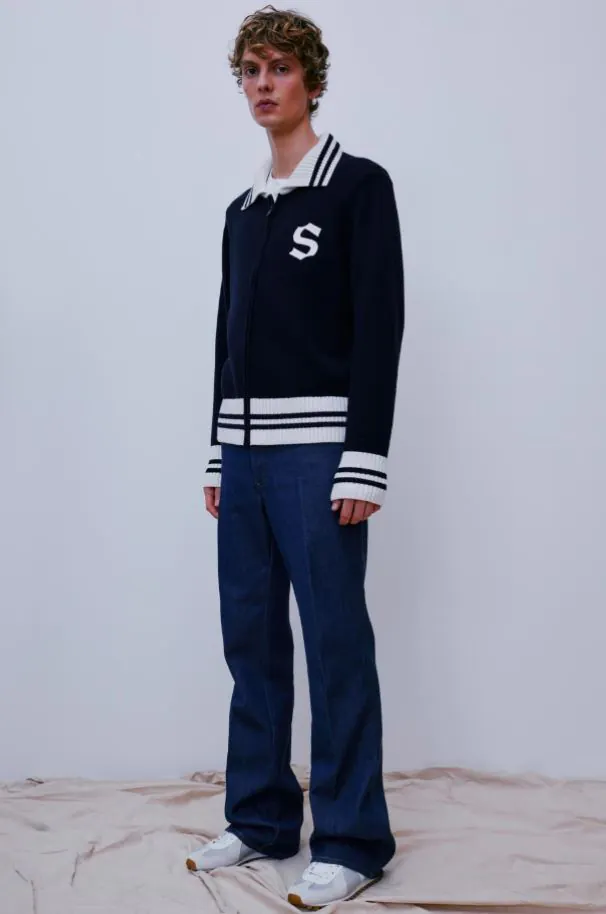 This season, the Sandro menswear aesthetic is inspired by the 1970s. Not to be mistaken with full-on flower power or Woodstock beatniks, this is a classic British athletic seventies vibe. The sporty elegance of famous English institutions such as Oxford and Cambridge influenced the design studio. Rugby players will recognise their trademark black and white or red and orange checkered shirts. The cardigan is reimagined as a zippered cycling jacket that can be worn over a looser-fitting wool pea coat. The sweatshirt features an updated logo inspired by the Bauhaus insignia. The Sandro S is worn proudly as a crest.
Seventies Chic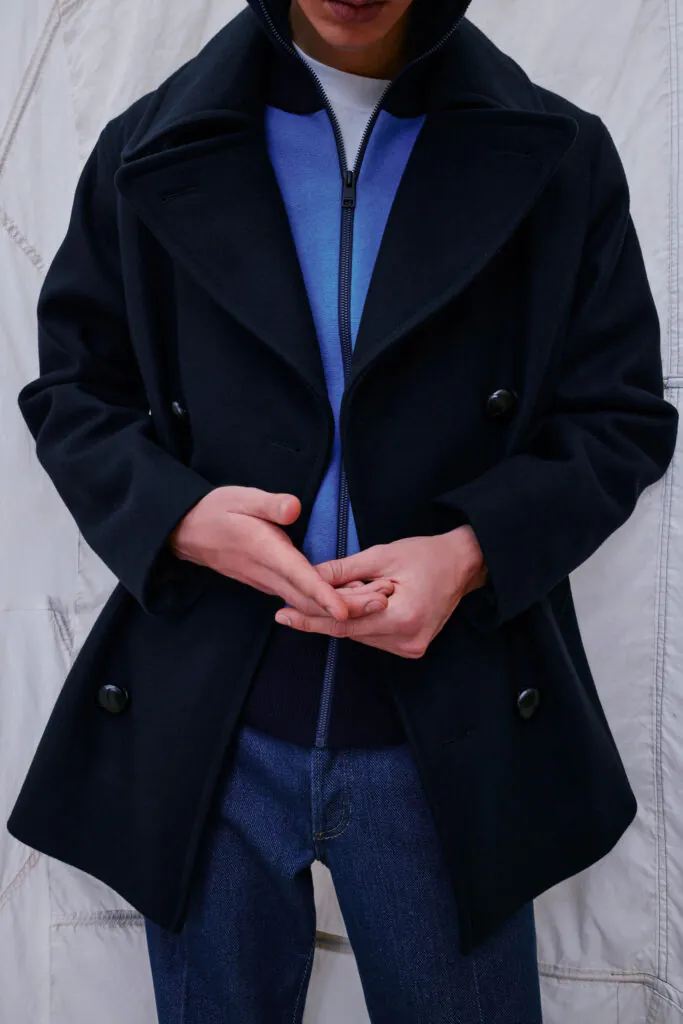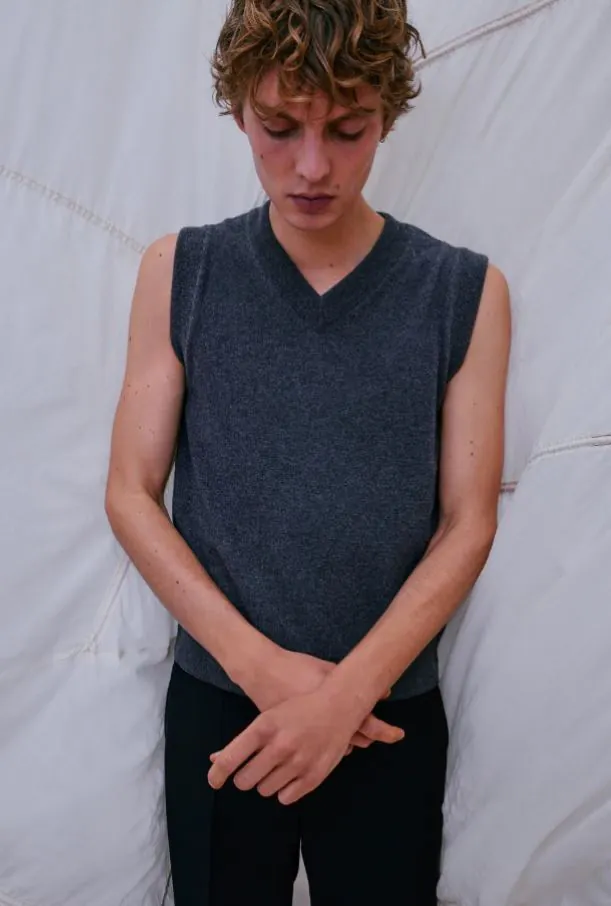 The legendary Sandro Men's tailoring, a mix of sportswear and formal heritage, is experiencing a metamorphosis. Nothing beats a traditional, sophisticated suit jacket that can be worn for any occasion.
The suits, which are available in various tones of grey, blue, and brown, may be dressed up or down to create cool or formal ensembles. In line with the simple aesthetic of the 1990s, the studio created a double breasted navy wool coat. It can be worn with raw denim flares to remove any sense of formality. Striped cotton shirts and sleeveless V-neck sweaters are wardrobe basics that can complete any look.
Australian Surfer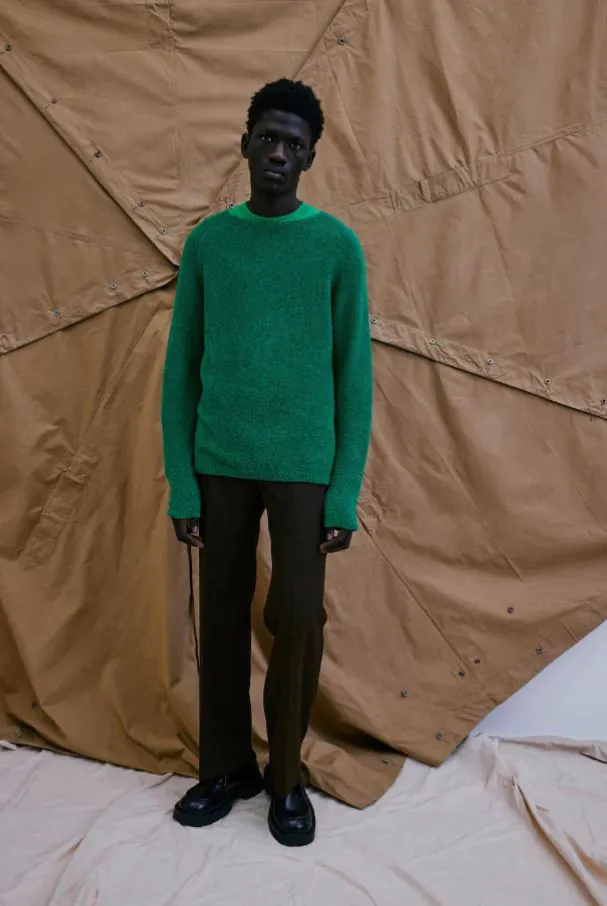 Despite the fact that winter is frequently associated with severity, the Sandro man stays calm and kind. Shades of beige, orange, and creamy yellow create a comfortable, peaceful atmosphere, reminiscent of a surfer relative visiting from Australia. We'd expect to see the ever-present stranded knit sweatshirt, vintage denim cargo pants, and loose-fitting boiled wool overshirts in his suitcase. He prefers a pair of thick black leather loafers or ecru trainers when he isn't barefoot.
Nineties Revival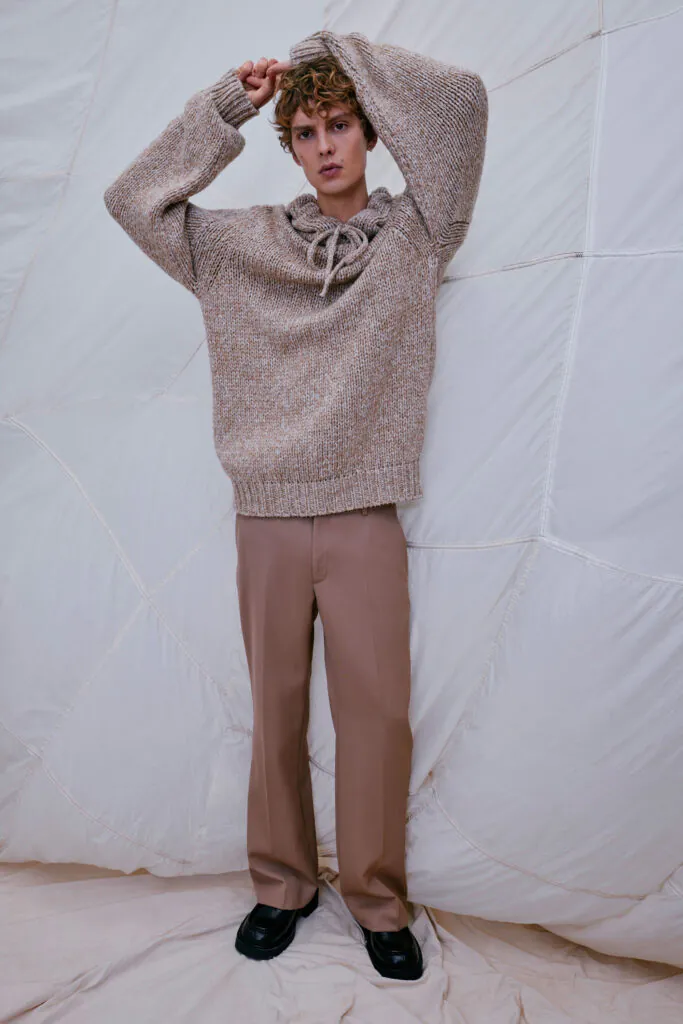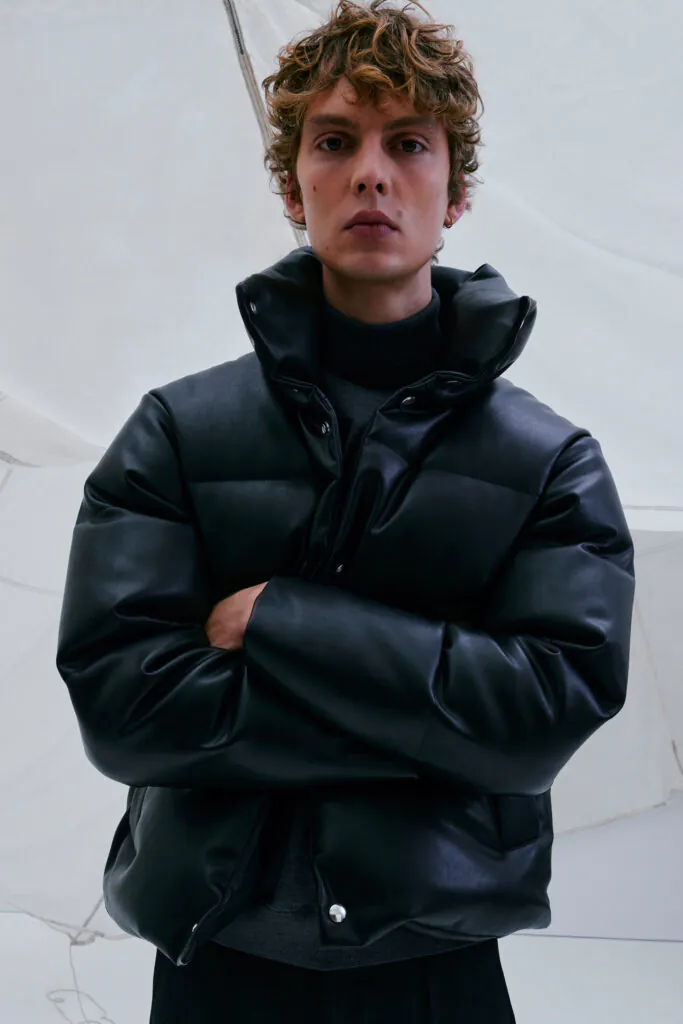 When the temperature drops, the Sandro man opts for a loose-fitting lambskin parka or an oversized puffy jacket from the 1990s. This laid-back appearance contrasts with the vivid green flashes that provide a dynamic touch to this season's clothing. Finally, the cross print has become a distinctive element in Sandro menswear. It will be seen this winter on knits and an enormous nylon puffer jacket in tone on tone black.
SANDRO's Women's Collection: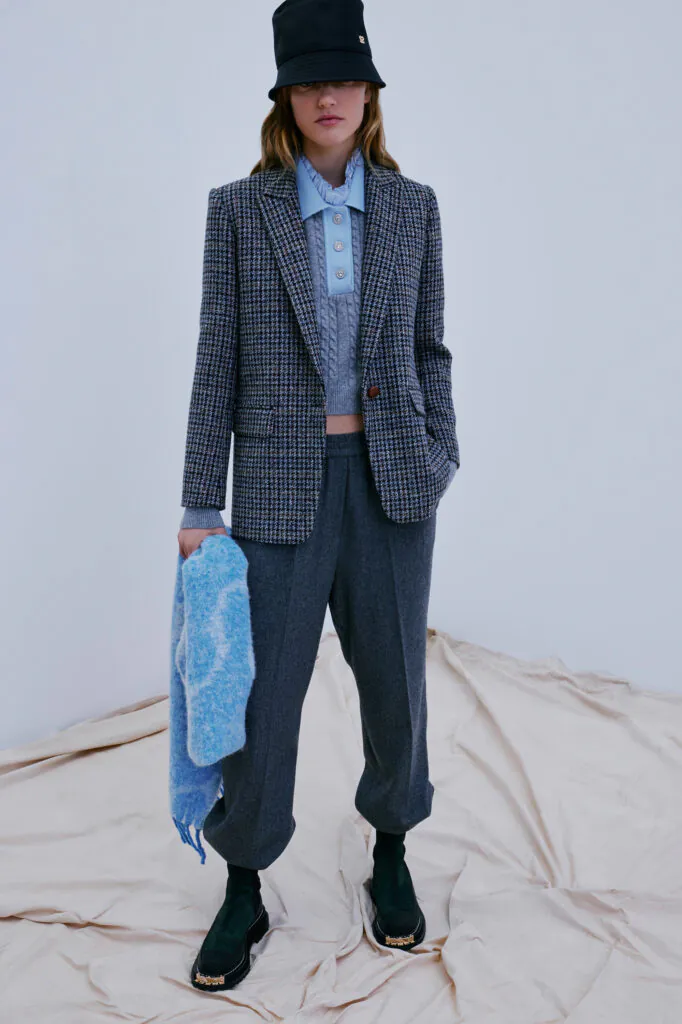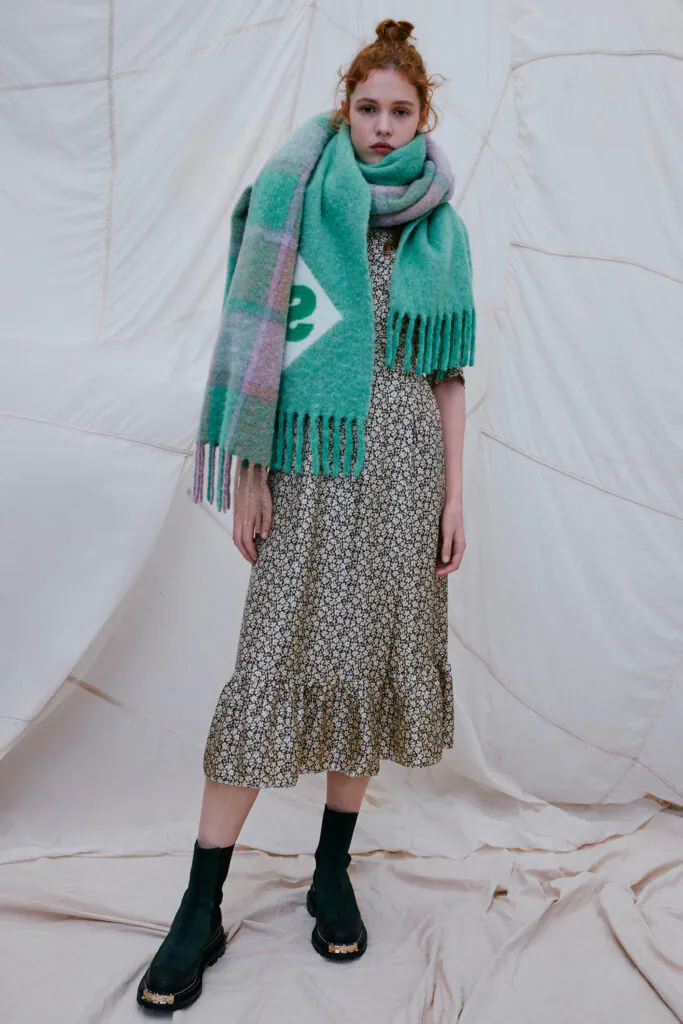 The Sandro woman manipulates time and space. Her favourite style tricks are changing codes and mixing opposites, and the Fall/Winter 2022 season is no exception. She introduces herself as a digital nomad who believes that the art of mixing without complications is the essence of style. Divided between a fast-paced daily life and a desire to travel, she stays true to herself by employing contrast and instinctively blending various influences.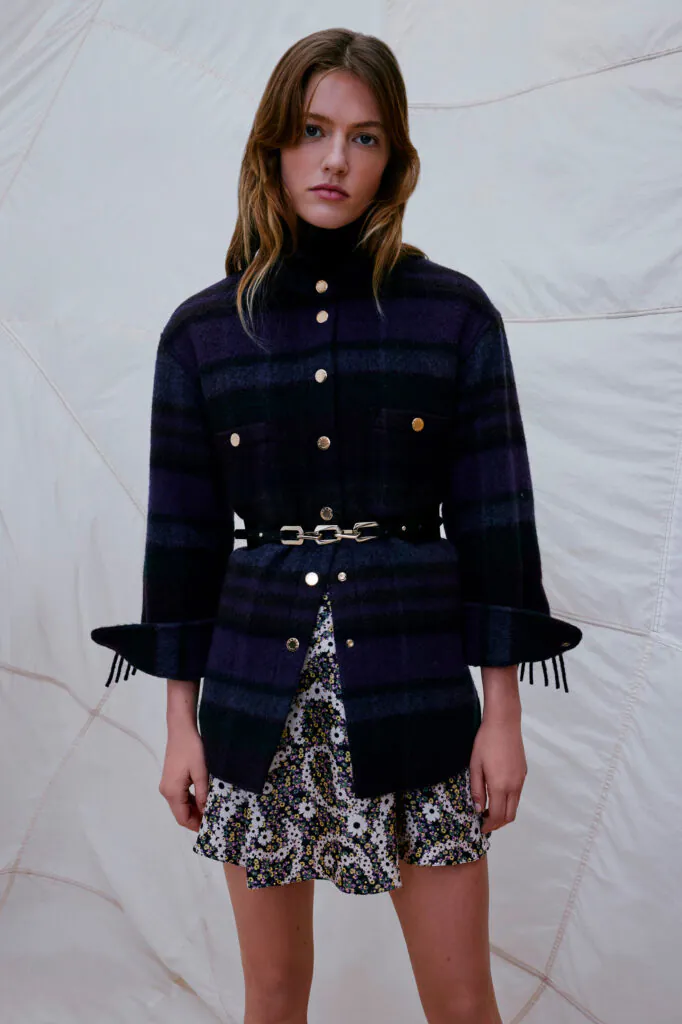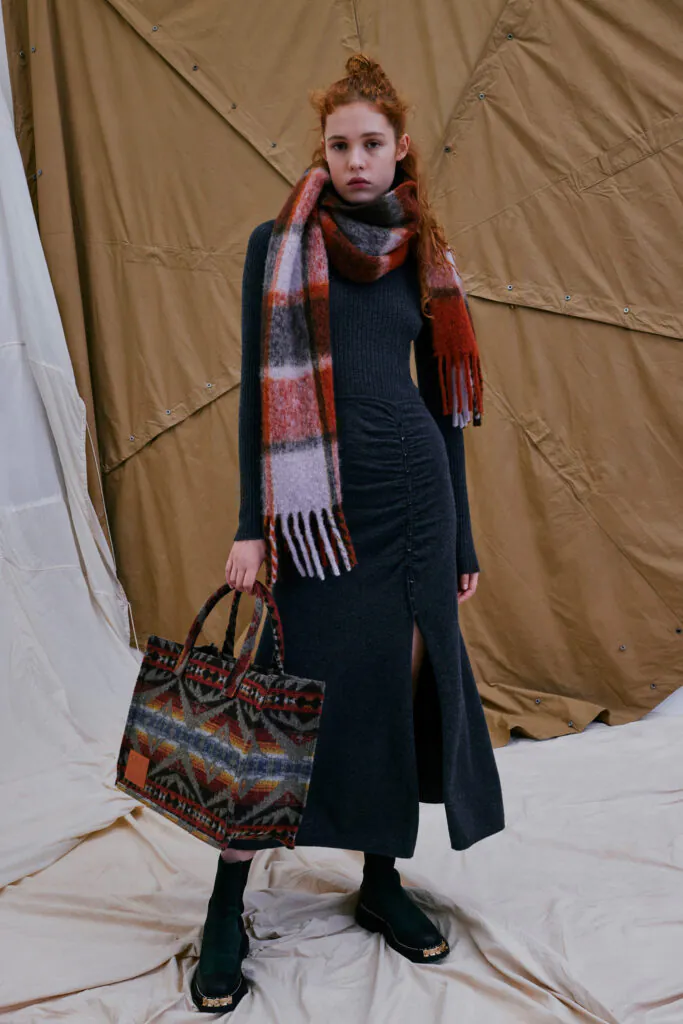 The Sandro woman frequently checks her rearview mirror. She keeps her preppy codes from her years in upper-class neighbourhoods. Her identity is defined by twisted jumpers, flowing dresses, and moccasins. She shakes and twists the codes, recomposing her look until she finds the right combination.
She imagines herself wearing tweed or houndstooth-patterned outfits with imposing boots; taking her cuts and fabrics from a man's wardrobe while remaining feminine; stealing her grandfather's jackets and wearing them with sportswear, such as striped jumpers borrowed from American football players or polo shirts with contrasting collars. If a warm jacket is one of her season's must-haves, she pairs it with a Britney Spears-style crop top.
She hasn't forgotten her party spirit beneath her first in class appearance. She completes her wardrobe with pieces inspired by clubbing chic, always diverse and surprising, like a revival of the 1990s at the Palace and the Bains Douches. Oversized shirts and shorts are worn with sexy and feminine knits.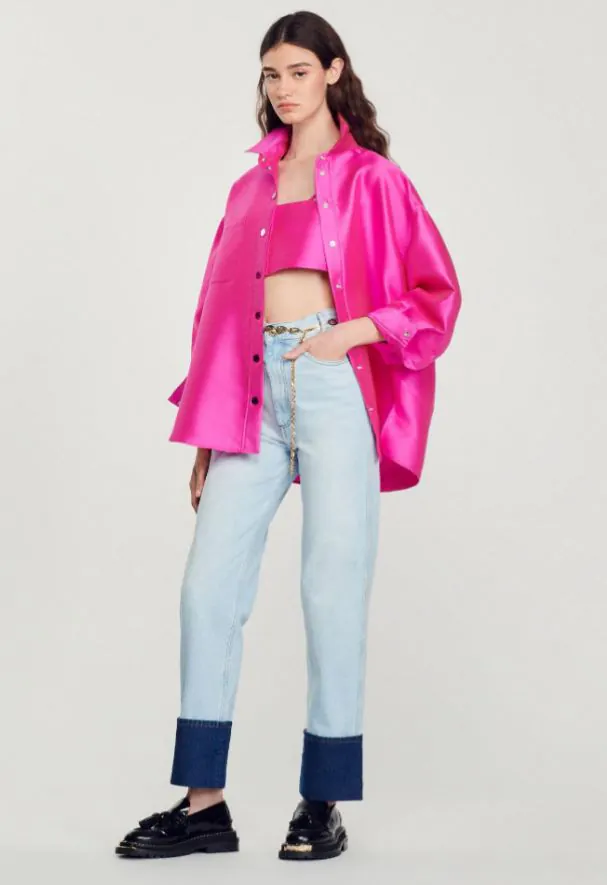 This season, jogging suits are worn with structured jackets, and the Navajo motif is superimposed on poplin stripes for a cool look in any situation. The Sandro woman no longer has any secrets in the masculine feminine game, and she freely moves between genres. Poking fun at codes, some of her pieces even appear to be genuine vintage. Her sheepskin jacket's leather appears to have been patinated by several seasons, and her jeans' fake wear is easily mistaken for an old favourite.
Paris or elsewhere, it is love that she dreams of.
More on fashion? Read these:
https://lipstiq.com/fashion/208720/simply-the-dress-uniqlo-launches-hana-tajima-collection/
https://lipstiq.com/fashion/208447/unify-yourself-with-unisex-fashion-look-dope/