Hola, babes! If you've read our previous articles on the cosmetic procedures that Kylie and Kim have had done to their faces, you can already tell what this article is going to be about. So, Khloe Kardashian – where do we start?! From the beginning, I guess.
Pretty sure everyone knows Khloe Kardashian – if you don't, then honestly, good for you. Cause you don't need to be involved in Kardashian dramas, that are just a waste of time. Before that, lemme just clarify that I have nothing against the Kardashians. In fact I, too, waste my time watching them because, maybe to a certain level, they are entertaining. Whatever – just wanted to get that out of the way so all you Khloe fans don't come at me.
Anyways, Khloe Kardashian debuted on the reality TV series 'Keeping Up With The Kardashians' with her sisters Kim and Kourtney, as well as the Jenner sisters, Kendall and Kylie, not forgetting her brother Rob Kardashian. Now, Khloe wasn't always considered a "Kardashian" due to her physique. If you remember the OG Khloe, you know she looked like this:
If you place her alongside her sisters Kim and Kourtney, you can tell this woman is just built differently. Not meaning to compare anyone here, and this is solely just to make a point, but Khloe was always looked at differently due to her not being physically like her sisters.
So, this led to Khloe growing up with low self-esteem. And, as much as I would like to say that she grew out of it and started loving herself, that just wasn't the case. Instead, she started to embark on a journey of changing her appearance bit-by-bit to somewhat resemble a "Kardashian". And that, ladies and gents, brings us to today's topic. What exactly has Khloe done to her EVERYTHING and most importantly, WHY? I mean, take a look at her tremendously obvious transformation:
Forget the whole face, even – I'm worried about how much that nose has been through!
WHY DID SHE DO IT?
Growing up in the Kardashian household, Khloe was constantly and mercilessly mocked by the press, the media and society merely for what she looked like. There were numerous times she was dubbed the "ugly Kardashian". She was surrounded by constant body-shaming for her weight, height and features.
Gurl, when I tell you she had it rough, this bish HAD IT ROUGH! I mean, imagine being publicly called ugly by BOTH the former president of the US, Donald Trump and EMINEM.
What's interesting is that Khloe wasn't always like this. What I mean by that is that she only started to develop low self-esteem after KUWTK launched.
"Interestingly enough, I was so confident and secure before the show. That's when I became hard on myself because I was like, 'Oh, this is how other people perceived me.' I became so insecure because of everyone else telling me." – Khloe Kardashian.
Khloe was often pushed into the background in favour of her more appealing sisters. There were times when Khloe was disregarded and her sisters were brought to the limelight – all because she wasn't "appealing".
"We did so many photoshoots where they would receive racks and racks of clothes and I was told by so many different stylists, I was given about two or three pieces of clothing, but not to worry because I would be in the background anyway." – Khloe.
Honestly, you may hate on her, but you gotta admit that what she went through was brutal for a girl. Like, if I were told these things, I would legit go into hiding and never come out.
HER PATERNITY TEST ALLEGATIONS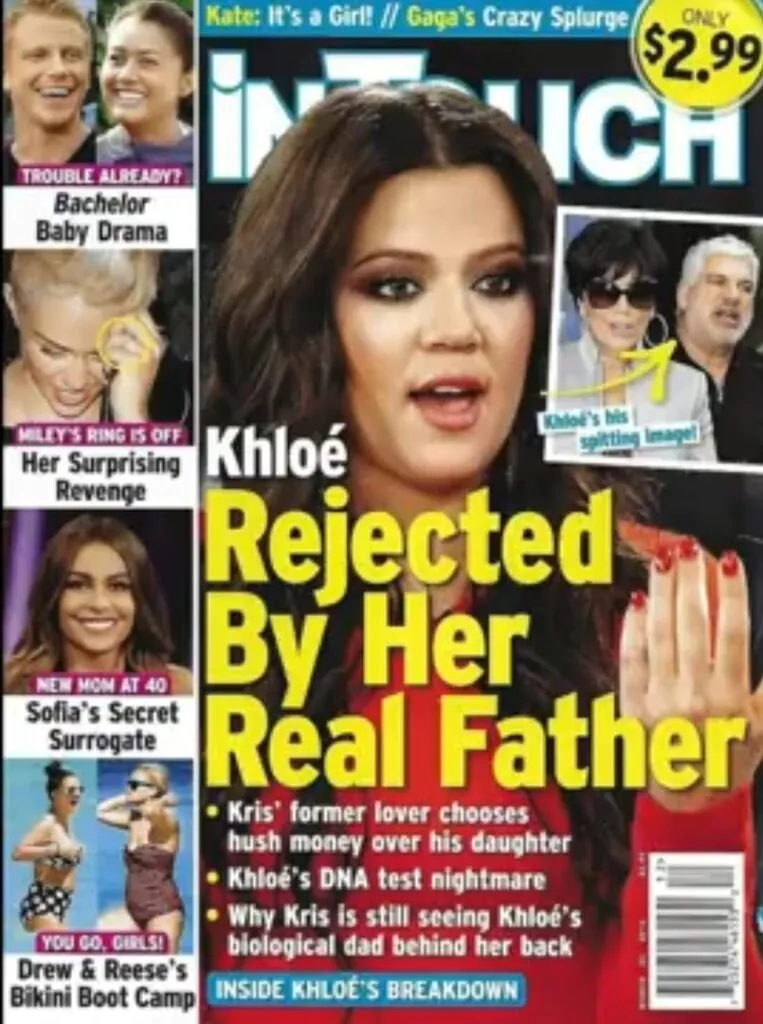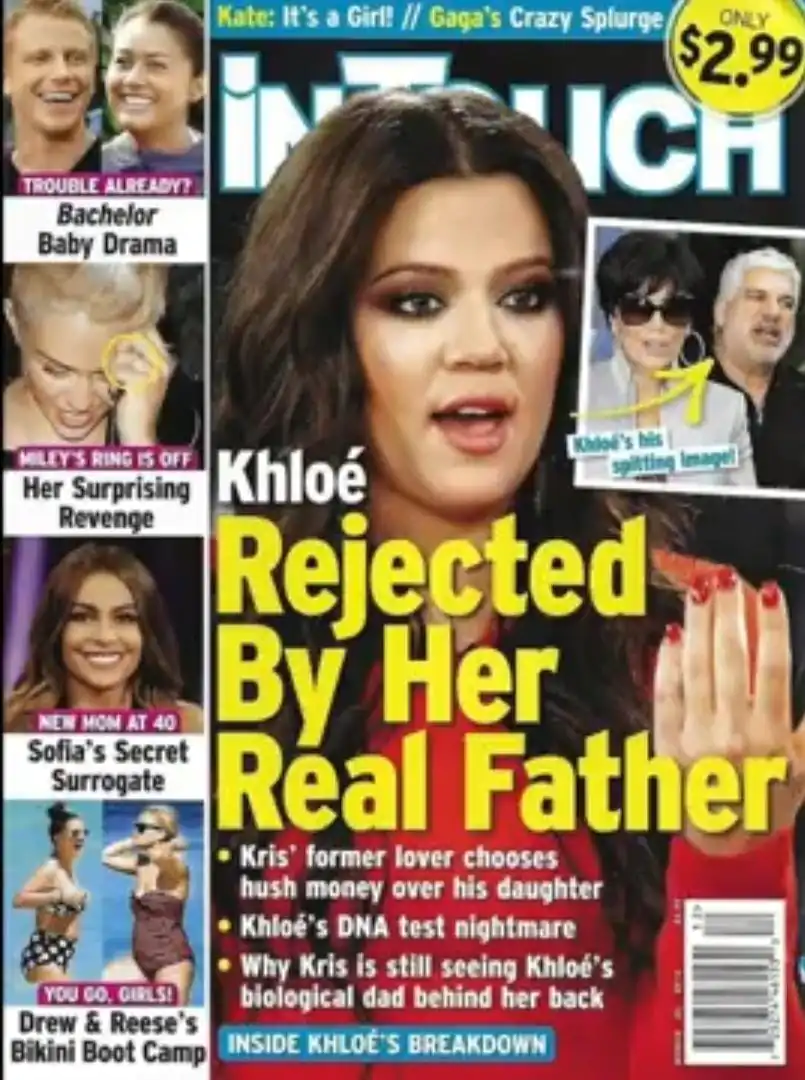 People even began making assumptions that Khloe isn't a Kardashian after all. From OJ Simpson to Lionel Richie, the public started guessing who the possible "real" father of Khloe Kardashian is. Which is really devastating for Khloe, because among the sisters, she was said to be the closest to her late dad, Robert Kardashian.
Gimme a moment to throw in my unpopular opinion here – it doesn't matter if Khloe is or isn't Robert Kardashian's daughter because if he considered her his, AND if she was raised as his, then in my eyes, Robert Kardashian was her father.
POSSIBLE PLASTIC SURGERIES 
Unlike Kylie Jenner, Khloe has been somewhat more honest and upfront about the drastic change to her appearance. She was asked in a TV interview once about her nose, to which she admitted having had rhinoplasty. Then again, are you sure it was only ONE nose job, Khloe? Cause gurl, your nose looks different each year, babe!
From what doctors online can tell from her obvious before and after photos, Khloe had undoubtedly had copious amounts of lip fillers over the years. Not to mention fillers in her chin, Botox of course, and maybe even an eye lift. Possibly even jaw sculpting.
But of course, since she never completely fessed up, these are only assumptions on the part of experts.
We can't forget her body. Khloe was always referred to as a curvy and thicc girl. Recently, however, she appears to have slimmed down to the core. It was rumoured that Khloe had undergone a BBL. A BBL is a Brazillian butt lift – the procedure involves sucking fat from a less desirable part of the body (like the stomach and back), and REINJECTING your own fat to a more eye-catching part of the body, like the derriere.
HER PHOTOSHOPPING SKILLS 
Our girl here has been called out multiple times for the heavy photoshopping and editing that goes into her social media posts. To be honest, having to still use filters and do heavy editing of your photos even after spending thousands of dollars on reshaping that whole body, is kinda humiliating.
People have accused Khloe of being obsessed with the "Instagram Baddie" personality. True – people LOVE to bring this girl down and constantly mock her – but to be fair, your actions do not help you, Khloe. Editing so many of your photos to the point that you look very different from what you are in reality isn't exactly reasonable or justifiable.
I mean, ever after undergoing so many changes, she still chooses to plump her lips, lift her brows, flatten her eyes, sharpen her jaw bone, etc. in all her photos. Which begs the question – what is she trying to prove and is she ever going to be satisfied with herself?
Anyways, guys – that was the whole rundown on the tea behind Khloe Kardashian's glow-up. Hope you guys enjoyed this little exposé. Until next time, thank you for reading!
More on celebrities? Read these:
https://lipstiq.com/celebrity-entertainment/208230/every-cosmetic-procedure-kim-kardashian-has-undergone/
https://lipstiq.com/celebrity-entertainment/208312/every-cosmetic-procedure-kylie-jenners-face-has-undergone/