From Boho style to shimmering gold, there's a tonne of inspiration for bikini lewks.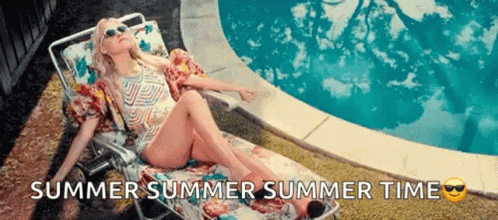 The holidays are upon us, and many Malaysians are going on vacay. And for many, that means the sun, beaches and of course, BIKINIS! Now, I have been dying to put on bikinis and going out in the sun, but that's not gonna happen anytime soon. Luckily, there's social media to cater to my fantasies. One good thing about what Instagram affords you – besides all the posting – is to live vicariously through your favourite celebs. Like, literally, all you have to do is see a bunch of celebs in bikinis and picture yourself in them. Not much, but at least it's satisfying, right?
Additionally, fire bikini photographs are among A-listers' most popular posts, which is ideal if you're seeking summertime outfit ideas, or just simply a diversion. So get ready for some WTF moments below!
1. Khloé Kardashian
Khloé scores again and again. If you know Khloé, you know she loves showing off her curves on social media and it's for obvious reasons. 'Pretty In Pink' – I really love how the pink bikini kinda like hugs Khloé's perfect body. It helps define her curves. Also, it gives this 'Barbie' kinda feel, with its soft, pink colour. But that's nothing compared to another bikini. In a gorgeous matching sparkling bikini suit, Khloé flaunts her incredibly defined abs. It all about the shimmer.
2. Camila Cabello
Camila keeps it simple but stylish at the same time. Take those awkward-to-wear-in-real-life tiny cropped cardigans and layer them over a string bikini for a stylish, carefree appearance. It's pretty cute and you can even wear it to the store! With the release of her first song since splitting up with her ex-boyfriend, and the celebration of her 25th birthday, Camila Cabello officially ushered in summer a few months early. I really like how the patterned bikini compliments her skin tone.
3. Dixie D'Amelio
Dixie donned the most gorgeous double-layer coral bikini (yes, there is just one bathing suit, not two!). Dixie showcased the sexiest string bikini while kneeling in the ocean in a lovely photograph that she shared on Instagram. The singer and TikTok sensation donned a coral bikini top and cheeky side-tie coral bikini bottoms, and she styled her long hair in lovely waves with tiny, micro braids to frame her face. Super cute – I'm gonna screenshot this shit!
4. Addison Rae
https://www.instagram.com/p/CdtSYEFJJYs/?utm_source=ig_web_copy_link
Her bikini collection is no joke!
In photographs taken in Hawaii, she followed the zebra-print dress with a pink set from Sant'Elia, with lace trim at the bottom. Yes, lace bathing suits – and I didn't even know that's a thing! More silver necklaces, a pearl chain worn around the waist, pink Crocs, and an identical pink knit outfit helped Addison complete her pink ensemble.
5. Sydney Sweeney
Hanging from a tree branch isn't a big deal for this actress. The fit beauty smiles modestly as she sits on this tiny stool, showing off her tiny black bikini with distinctive cuts and gold ring embellishments in this photo, and going entirely bare-faced. Simple, but elegant, I would say. Also, the beach isn't the only thing she needs for an alluring photo. Sydney posed for the camera wearing a multi-patterned blue and green bikini top and wrap. That marble bikini sure does bring out her 'bust'.
6. Hailey Bieber
Not a fan, but okay, only for the bikinis! Can't help but be fascinated by the string bikini Hailey Bieber wore while at the beach. The supermodel has the nicest collection of swimwear, and has recently been uploading tonnes of bikini pictures on Instagram. In a floral-print thong, no less! Hailey Baldwin is here to maintain those good vibes. The model showed off her suntanned body and made us long for the summer with her tie-dyed bikinis. Personal opinion: it would be nicer if those boobs were slightly bigger, but the ass is on point!
7. Dua Lipa
Perfecto! In this strapless aqua one-piece swimsuit from the 2000s, Dua is bringing the heat! The singer relaxed to soak up the sun while absolutely rocking the huge side cutout. It's not all revealing, but it does highlight her waist and thighs. I always have a thing for floral outfits, so I'm gonna go with Dua's floral bikini as my next favourite. Beside a stream, Dua seems relaxed while donning a little bikini decorated with vibrant flowers. The swimsuit includes strings on either side of the bottom and a top that ties in the front. The lush green grass helps bring out her outfit for a terrific photo.
8. Gigi Hadid
This blondie sure does know how to rock bikinis. Seems fond of her bathing suits! That's good, cause she created them! With Frankies Bikinis, Gigi Hadid released a line of bikinis and one-pieces that is a complete dream-fest of pastels and frills. Seems pretty simple to me, but what I like from her collection is the buttermilk-coloured bikini. With this charming and quirky bikini, you can enter the summer season in style.
9. Selena Gomez
'When you ready come and get it'- she sang that right! Selena has always been a passionate supporter of La'Mariette, which is owned by her best friend, Theresa Mingus. Furthermore, this bikini is not just slapping, but f*ckin' banging too. I really love the vibrant colour. Nothing but underboobs are slightly highlighted here. But just before you whine, there's another star that wore the same outfit…
10. Megan Thee Stallion
https://www.instagram.com/p/CbVJniZr1pv/?utm_source=ig_web_copy_link
https://www.instagram.com/p/CfmVRzCuRhx/?utm_source=ig_web_copy_link
Yes, Selena Gomez and Megan Thee Stallion appeared identical, purple wrap-around bikinis. We can't blame them for wanting to take them out for a summer drive, because they're just amazing. But it's obvious who did it better. The seductive gold string bikini in Meg's collection of bikinis is another one of my favourites. There's definitely lots of boob and booty going on, but I absolutely love it.
11. Simone Biles
Bikinis don't have to be all colourful and striking – and one star proved why. The Olympian kept it simple in a black swimsuit, and we adore the way she incorporates the upside-down bikini trend into her outfit! Apart from just good old black swimwear, Biles seems to have a huge thing for swimwear in vibrant colours. The neon bikini really does compliment her skin tone. Biles looks absolutely gorgeous!
12. Kendall Jenner
Is it just me, or is it getting hot in here? By the pool, Kendall Jenner was wearing a cobalt blue bikini bottom – but no bikini top. At least she won't have sun damage! And I must say, Kendall clearly enjoys two things: wearing itsy bitsy teenie weenie bikinis and flaunting her body in such outfits. She does, however, place a particular bikini by an Australian company called Sommer Swim above all other string bikinis. This boho style bikini is making my eyes pop. I really like how the gap in the bikini emphasises cleavage, and the stringed bottoms highlight your thigh.
13. Bella Hadid
Green with envy. Clearly the quarantine season meant nothing to Bella. In an emerald bandeau top with a ring in the centre and a pair of small string pants, Bella showed off her underboob and made heads turn. Ruched and a very low-cut sweetheart neckline were further features of the revealing dark green bikini top – and she wore a dark green string bikini bottom with it. I'm just jealous!
14. Nikita Dragun
My jaw is on the floor – I can't even comment on this except for… GOLD and CURVY ! While on vacation in Miami, Nikita showed off every single curve with this teeny, tiny gold monokini. Damn! She's the spitting image of a goddess!
15. Normani Kordei
To promote the release of her new single, "Fair," the former Fifth Harmony member flaunted her abs while donning a two-piece black triangle bikini and hefty silver chains. But forget that – I'm all about the gold stuff. For her 26th birthday, Normani was in Cabo and posed in a gorgeous gold bikini that she posted on Instagram. I'm literally screaming my lungs out. The well-known singer-songwriter reclined while in the sun, wearing a tiny, gold bikini that showed off her toned legs and beautiful abs.
More on celebs? Read this:
https://lipstiq.com/celebrity-entertainment/201794/6-celebrities-who-freed-the-nipple/
https://lipstiq.com/celebrity-entertainment/203851/from-bird-poop-to-bee-venom-celebs-their-crazy-facials/