When it comes to styling hair, nothing seems easier than buns. The bun is the most adaptable hairdo that has ever existed! Any occasion, activity, attire, state of mind, time of year, or personality can be paired with a bun. Even though bun hairstyles for long hair are a blessing from above, you can still rock some gorgeous bun styles if you have short or thin hair.
From flowing locks into a topknot or a low bun, to a messy and care-free bun, there are lots of bun styles to choose from. If you're worried about nailing the perfect bun style, we've got all the tips and tricks you need to do just that! Also, trying out these bun styles might make for Insta-worthy pics!
Classic Bun
A classic bun is a good option for people with natural hair since it keeps hair intact. For this style, make a ponytail and gather any stray hairs, and smooth the head before enclosing the base with an elastic band. Using bobby pins, secure the ponytail by wrapping the hair around the base and tucking the ends under the coiled hair. Apply hairspray to finalize the appearance and completely set the bun.
Big Bun
This style is ideal for a night out with girlfriends. But bear in mind that you'll need a second-day of unclean hair and a little assistance from your go-to dry shampoo if you want to achieve this much fullness. Start by putting a good amount of holding or moisturizing mousse in your ponytail. After that, finish off the appearance by bunning tiny to medium-sized pieces of your hair with a pin.
Upside Down Knot
This is a simple yet polished lewk that works for both the office and a weekend trip to the grocery store. Make a low ponytail and tease the top of your ponytail until a small ball of volume forms. Wrap the ends of the ponytail randomly around the base, flip the smoother bottom portion over the teased area, and secure with a pin. Once everything is smoothed out, take pleasure in the final appearance.
Messy Bun
If it's messy, it means it's an easy style to pull off. Creating this casual, sloppy bun is a cinch. To start with, use a texturizing hair spray to give your hair body and grit. Then turn your head over, draw your strands up into a high ponytail, and knot them off in a bun, removing as many strands of hair as you like – the messier, the better.
Topknot With Bangs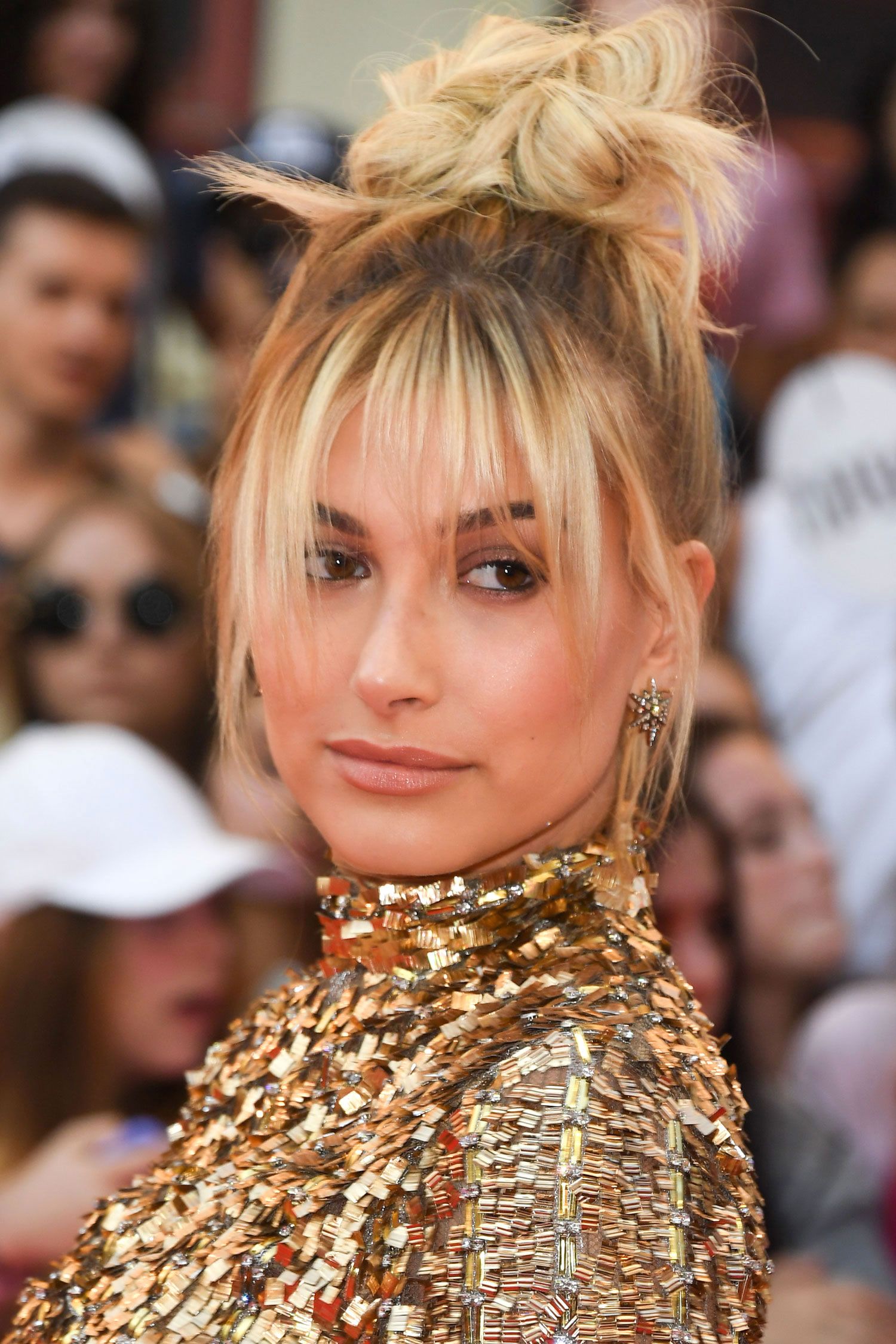 We wholeheartedly concur that messing up your bun is an easy way to make it more interesting. The interesting thing about this style is that bangs might easily be added. Beginning with dry hair, use some hairspray for added hold and texture. Once your hair is in a ponytail that reaches the highest point on the back of your head, brush it back. Simply twist it once it's all up, and secure it with a clear elastic band afterward. You can also do this style without the bangs.
Braided Bun
Braids are always a fun way to spice up your hairstyle. Aside from how stylish it is, the nicest thing about this style is that it looks even better on hair that hasn't been washed in a few days. Your hair should be loosely pulled back into a low ponytail with a few parts lifted around the crown of your head to soften the look. The ponytail should be divided into twelve 1 1/2-inch braids. Make each braid secure with a clear elastic band, leaving a tail of about an inch. Put the braids in a bun and secure them with pins. You can choose to braid from the roots or just stick to braiding your ends.
Loosely-tied Bun
The loosely-tied bun is a terrific daytime look that epitomizes boho chic. Begin by having neat, straight hair. Your hair should be glossed over at the ends or sprayed with shine spray before being pulled loosely back at the nape of your neck. One flip of the ponytail upwards will leave about an inch of hair hanging at the top. Take one or two pieces out of the loop, then tie it off. The rest of your hair should be secured with an elastic band.
Chignon Bun
A style you can pull off for work on a Monday and a party on Friday. From root to tip, work some shine serum through your hair. After that, pull your sleek hair back into a low ponytail. Make two divisions in the ponytail. Do the same with the second portion, wrapping it around the first bun after bundling the first one. Put bobby pins underneath the chignon to keep in place. To create face-framing tendrils, take a few strands out and curl them with a wide-barrel curling iron.
Super-Smooth Sock Bun
Need a stylish but simple hairstyle for a fancy event? We've got just the thing for you. First things first: to get this look, you'll need an extra-large sock bun or bun form. Make a sleek, sky-high ponytail with your hair. Roll your ponytail down after inserting it into the middle of the bun shape. After arranging the hair over the doughnut, wrap the entire bun with elastic bands and fasten. Leave out one section. To hide the elastic bands, wrap that part around the base of the bun and pin it in place.
Undone Side Bun
Even with a few stray hairs out of place, this simple yet stylish look manages to look put together. Decide which side you want to part on, and then move your strands over to the area behind the opposite ear. Using your hands, loosely twist your hair into a ponytail. Once you're happy with the placement, twist the ponytail into a bun and apply a good amount of hairspray to secure it in place after pinning the sides all the way around.
Half Bun
The half-bun is a trendy hairstyle that is appropriate for both a night out with the gals and a trip to the gym. Your hair's upper half should be divided. Make a ponytail at the top of your head by smoothing it back. Put the hair up in a bun and secure it with bobby pins. You can proceed after roughing up the down sides.
For a more sophisticated look, you can try the half up, half down braided bun. Start with braided hair and complete the traditional bun stages, leaving the bottom part of the hair out for a half-up, half-down appearance. You can choose to braid all your hair or just stick to braiding the bun part.
Avant-Garde Buns
Try a modernist, three-piece bun for a stylish but still manageable at-home style. On top of your head, secure hair into three high ponytails, one close to the other. To guarantee the centre bun has the most hair and hence the most height, create three buns on top of your head by following the traditional bun-making methods for each. If you have a beautiful long hair, this style will definitely look great on you.
Tail Out Bun
The addition of a small tail, which is made by leaving the end out and unpinned, gives this sleek updo a quirky twist. Put the hair in a ponytail and then complete the classic topknot by wrapping the tail end around the base, leaving a small portion of it exposed. The majority of the ponytail should be wrapped around the bun before being pinned in place to keep the tail out of the way. Add some hairspray to complete.
Mini Bun
A small bun looks great on people with thin or short hair and lets your outfit and accessories steal the stage. Follow the traditional bun instructions, making sure to smooth down any short or flyaway hair. The best part about this style is you're not limited to just one bun!
Double Buns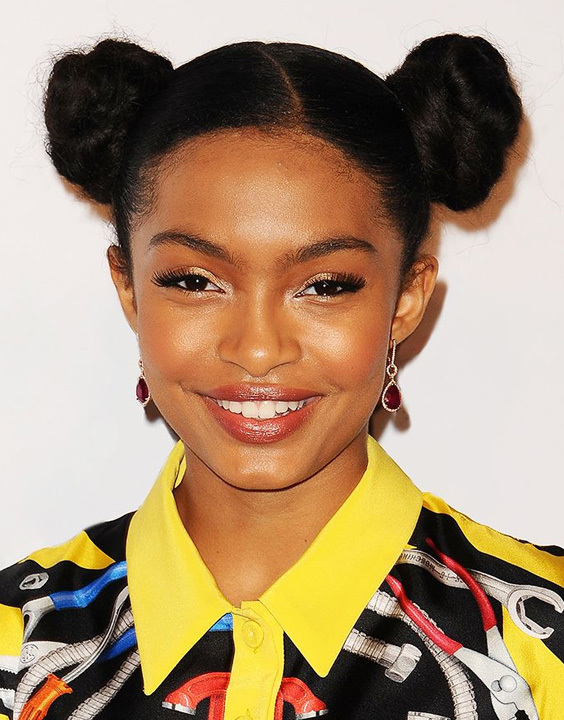 Why not double up the fun! Choose two buns if you want something different. A multitude of adorable accessories can be used to style this stylish tribute to the 90s. By forming two buns on either side of your head and removing some portions to frame your face, double up on the traditional bun technique.
More on hairstyles? Read these:
Say "I Do" To These 4 Easy-Peasy Wedding Guest Hairstyles That'll Spruce Up Your Look
I'm Hair-mazing! 5 Hairstyles That Make You Look Bougie And Expensive!