I might have broken multiple sushi-related rules here. YIKES!
One thing I've heard about food-obsessed Malaysians is that we LOVE sushi. Like, literally, almost every person I know is a maniac for sushi, and I can't tell why. The very first encounter I had with sushi turned my life upside down, and I swore to never eat sushi again. I ate this thing called the dragon boat, and the next thing I know, I was puking my lungs out.
After a couples of years, sushi is back to surprise me in a way I didn't really expect. Long story short: I was at an event at Pavilion KL, and we were invited for a tea ceremony. I didn't know the tea was at a sushi restaurant. You should have seen my face when I was at the entrance of the restaurant. But anyway, there was no turning back then. How did it go? What did I have? That's for you to find out.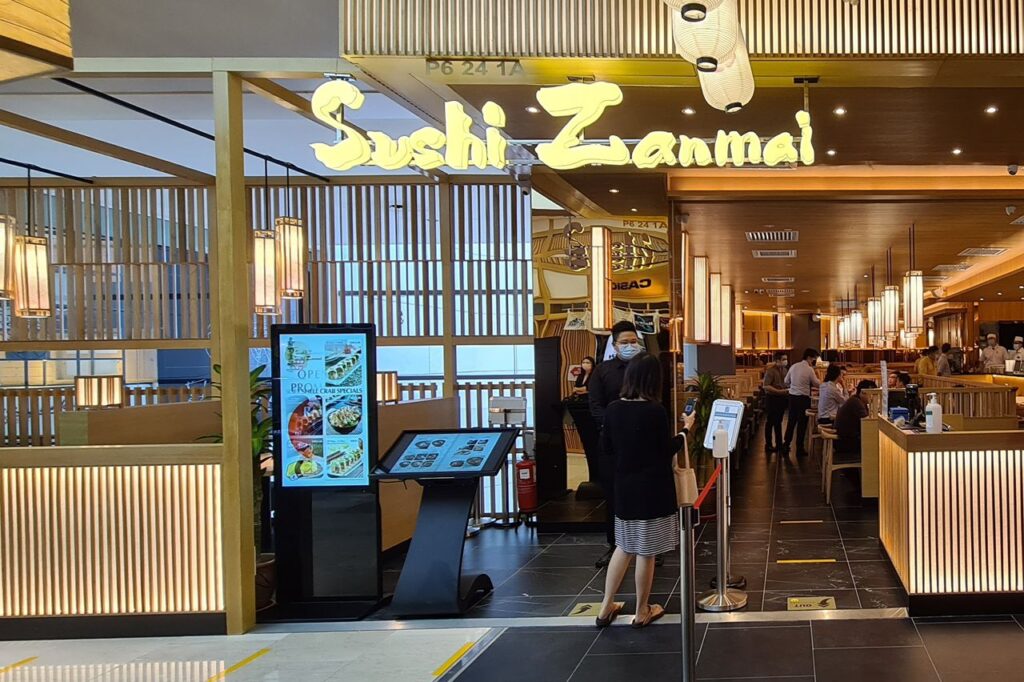 Sushi Zanmai is a familiar name to most Malaysians – the chain restaurant's Pavilion KL outlet is located at the famous Tokyo Street, on Level 6. It features more than 100 varieties of sushi and cooked food that are authentically Japanese. Stepping into this restaurant, I really admired its ambience. It looked cozy and warm. I also liked the wooden furniture that made it genuinely Japanese. Lighting-wise, it wasn't so bright, but warm – it felt nice to dine in that kind of atmosphere. Now, moving on to the food.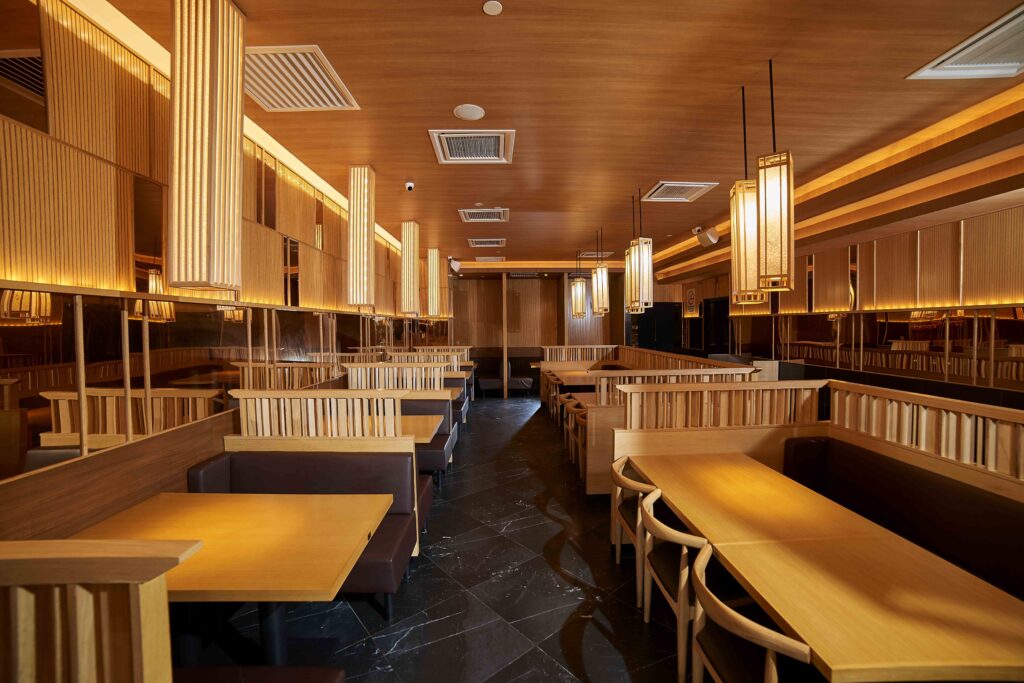 Starter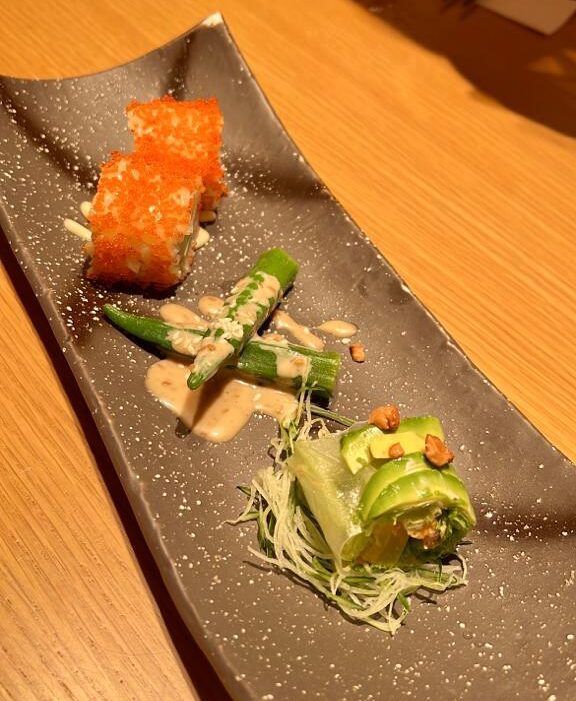 For the starter, they served us three different bites: Okura no Goma Sauce, Mini California Maki and Salada Harumaki. Since I'm an alien to the sushi world, I started off with something I'm quite familiar with, which is the Okura no Goma Sauce. This dish is basically cooked okra topped with sesame sauce. As expected, the taste was safe. I like how the okra was crunchy and the sauce was my favourite. You could pair the sauce with almost any salad. Next up, I tried the Salada Harumaki, which is salad wrapped in rice paper, topped with avocado and vegetarian dressing. A pretty safe bet and something I would order the next time I visit any sushi spot. Last but not least, the Mini California Maki – rolled sushi containing avocado, crabmeat and an omelette with flying-fish roe. I don't know what's with the long name, but this was average to me. Sushi is supposed to be eaten in one bite, but instead, I was just nibbling. But it felt like fire crackers were popping in my mouth – those were actually tiny red balls covering the sushi. The meat was all cooked, so it was okay. I just didn't like the rice – probably because of the texture.
Yakimono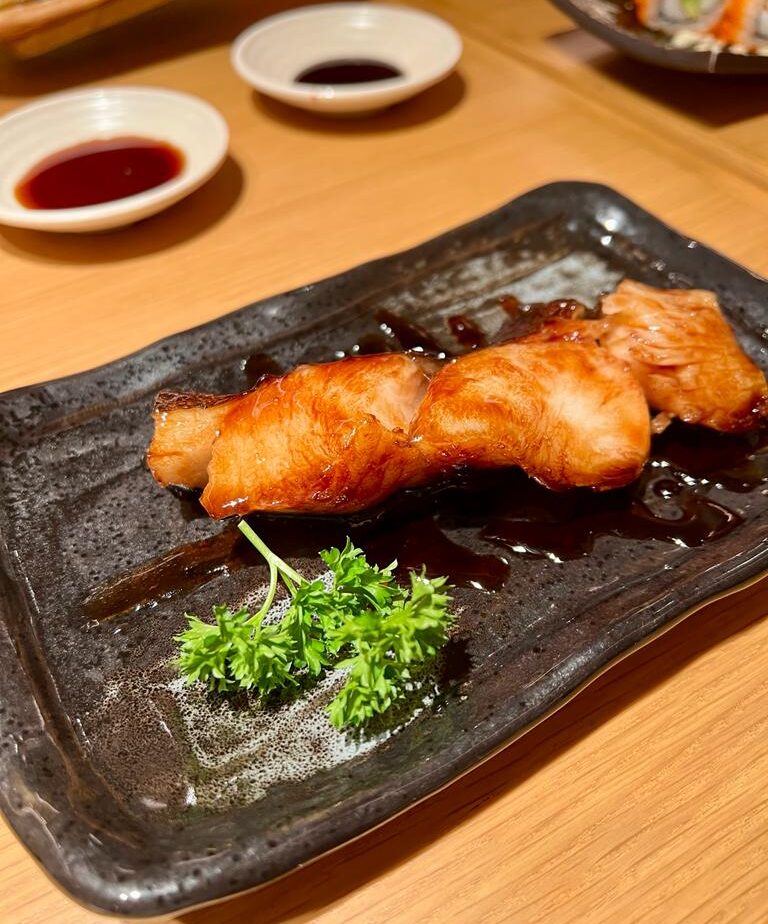 Yakimono is a term describing a variety of grilled or pan-fried Japanese food. The word "yakimono" refers to a dish cooked over direct heat: "yaki" means "grilled" and "mono" means "thing." So, for this course, we had Karasu Karei Teriyaki, a portion of Grilled Atlantic Flounder. Gotta be honest, this was the only thing I loved throughout the menu. The fish was fresh, super tender and the teriyaki sauce was amazing. The only thing I wish they would have done was serve it hot. Besides that, I really enjoyed eating the fish – and I was so glad the flavours were not alarming to me.
Sushi
You visit a sushi restaurant and they don't serve sushi? You're probably in the wrong shop. So, of course, for their main course, they served us five different types of sushi with 1 soup. I'll list down the sushi first:
Salmon Mentai– salmon roasted with cod roe sushi
Aburi Engawa– half boiled flounder fin sushi
Baby Hotate Mentai – baby scallop roasted with cod roe sushi
Sushi Ebi – cooked prawn sushi
Inari – sweet bean curd sushi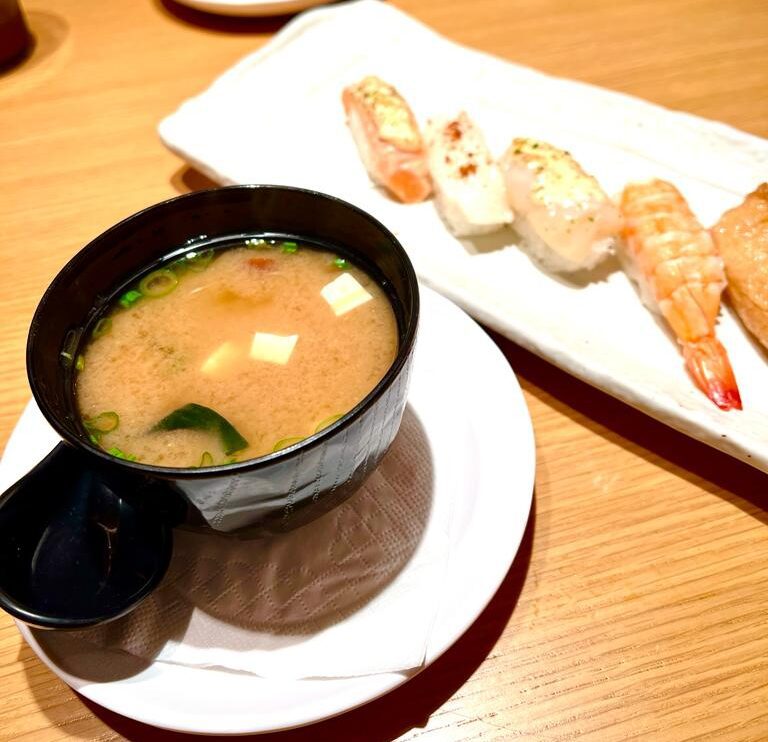 I decided to try the Miso soup first. I expected the soup to taste like the one I had at Shantouka Ramen – but nope, I was totally wrong. My colleagues seemed to enjoy the soup, but I did not. Leaving the soup, I decided to try the sushi. I went with Sushi Ebi first. Nothing surprising, just sushi rice topped with a thin slice of prawn, which would have tasted better with some soy sauce. Then I went for the Inari. My take on this – I think they added lots and lots of sugar instead of salt. It was SUPER SWEET! I kinda liked it, but the sweetness was a bit too much for me. I didn't fully eat the other three sushi offerings – just the top parts. Generally, they were all okay for me.
Dessert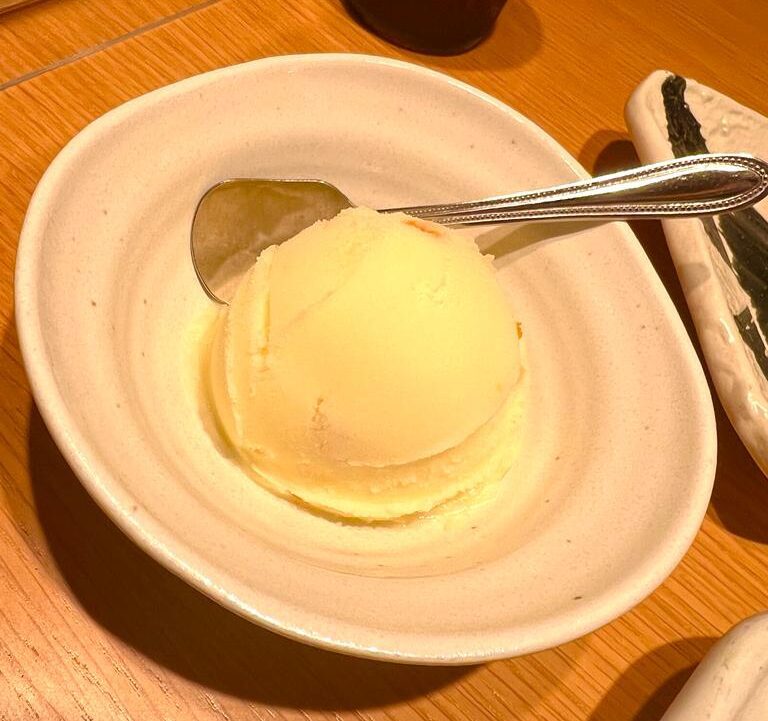 I was super excited for dessert, though, because I could no longer take in more sushi. The dessert served was a simple yet refreshing yuzu sherbet. Yuzu is a Japanese citrus lemon with a flavour somewhere between orange and lemon. It is very aromatic and has a very bold taste. A week ago, I had yuzu gin and desserts. They were not only sweet, but had a strong tang. So, sherbet? I expected that the flavour would be lighter. Of course, my guess was wrong. Just one spoonful, and I felt a punch of yuzu flavour in my mouth. I mean, since sherbet is like ice cream, I thought the flavour would be light and as it melted, it would be very balanced. However, the yuzu sherbet is no joke, and that's a really strong flavour for ice cream. Anyways, I enjoyed my sherbet, especially after a hearty meal I tried finishing up.
Okay, we've reached the end. Now, the important questions: Do I love sushi? Did I have a good time?
I wouldn't say 'love' or 'like', but I'd be open to try other sushi flavours. After all, there are more types of sushi to discover. My time at Sushi Zanmai was great indeed. Cozy ambience and two colleagues who seemed to have a thing for sushi, so that was nice. I did enjoy the free flow of lemon tea and green tea, which were super refreshing after the fishy meal. I guess there's more sushi discovering to do.
Oh – if you're there, do check out Tokyo Street for some feel-good Japan vibes. And be sure to take photos for your socials!
For more on Sushi Zanmai, check out their Facebook, Instagram and website.
More on food? Read this: