As delighted as we are when celebrities announce that they are getting married, we are more fixated and eager to see what wedding gown the bride will be donning. When it comes to conventional white wedding gowns, we've come a long way, and we're certainly not complaining about it. It's honestly refreshing to see a different take on your typical traditional wedding dress. Plus, one surefire way to make the public talk about a celeb wedding is for the bride to have a standout dress!
Some female celebrities have certainly made an impression for their choice of wedding gowns, to the extent that people are still talking about it to this day. If you're keen on knowing who they are, take a look at some of the most talked-about celebrity wedding gowns of all time.
Hailey Bieber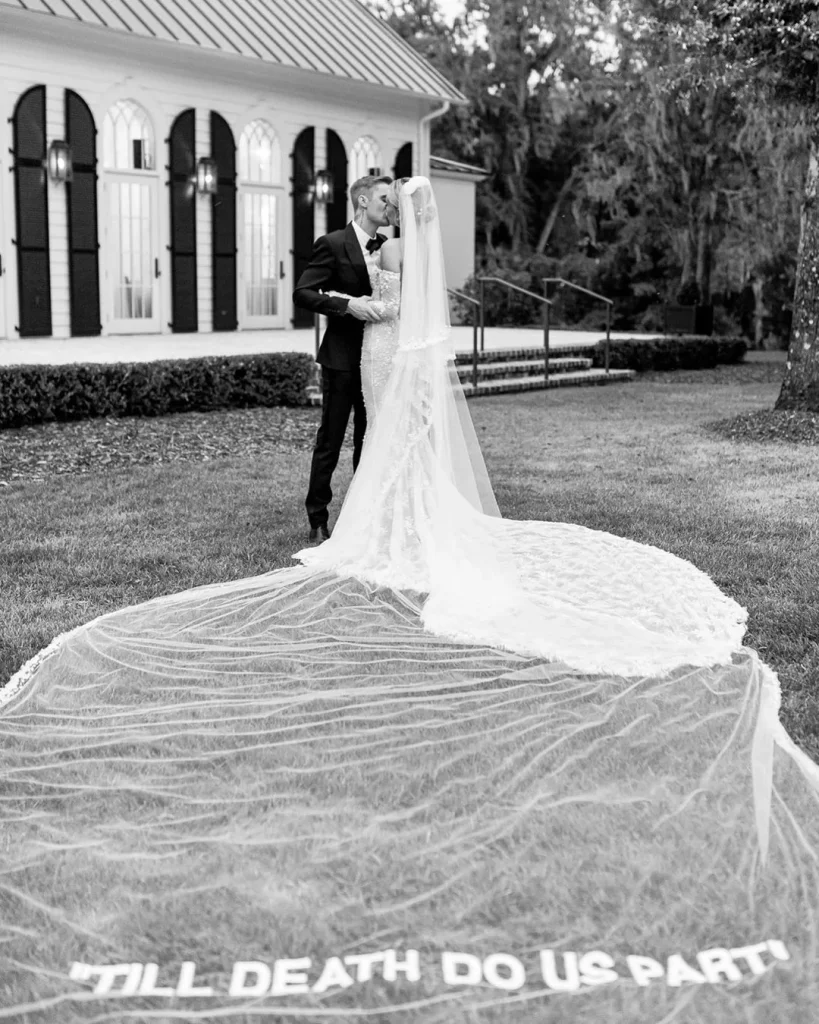 One of the most controversial celebrity couples to have married, in history – but that's a story for another day. In 2019, Justin Bieber married American supermodel and socialite, Hailey Baldwin, in the most talked-about wedding event of the year. When the bride went down the aisle in a bespoke, elegant and sensuous, off-the-shoulder lace wedding gown created by the late Virgil Abloh, she set the internet on fire. What certainly made the internet go wild was the cathedral-styled dramatic veil, topped off with an embroidered insignia: "TILL DEATH DO US PART".
With so much internet coverage of the married couple's antics, it's easy to say they're living up to the statement.
Nicola Peltz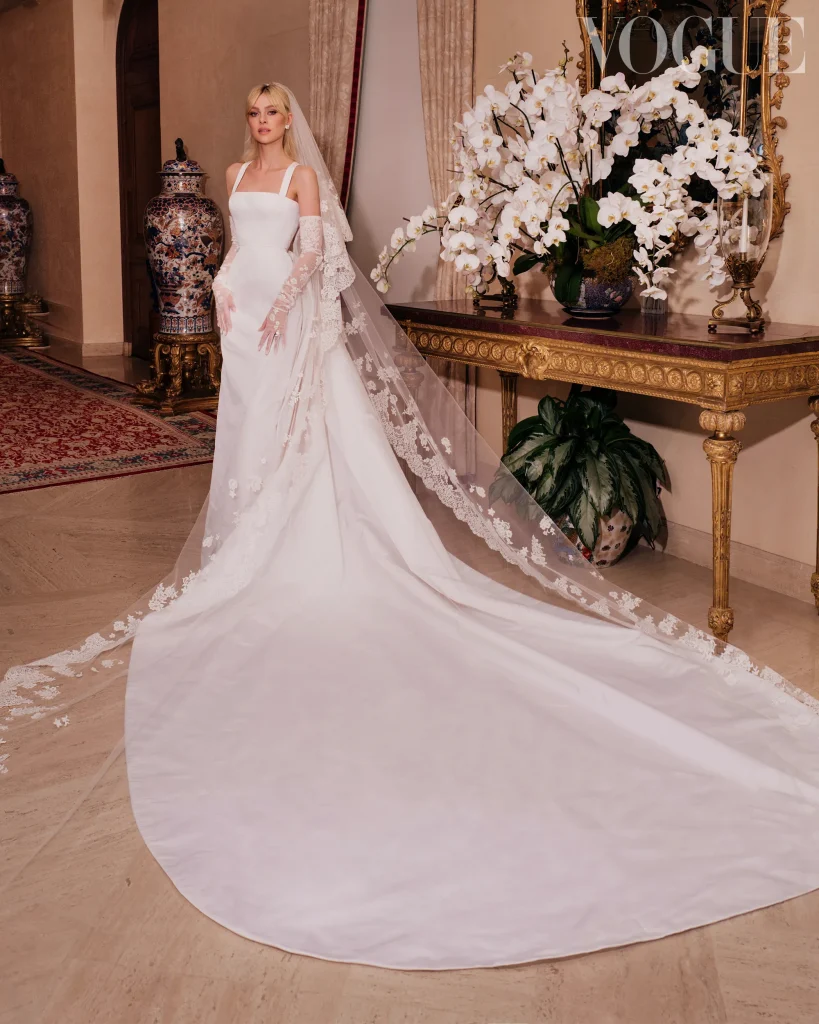 This year, we saw a few celebrity weddings, including Nicola Peltz and Brooklyn Beckham. The internet couldn't stop raving over Nicola Peltz's all-white Valentino wedding gown the day she married the Beckham scion. What certainly stood out was the dramatic train and lace veil to complete her wedding ensemble. It's difficult to deny that Nicola looked totally ethereal as she walked down the aisle, and it's without a doubt one of the greatest wedding dresses we've seen so far.
Izara Aishah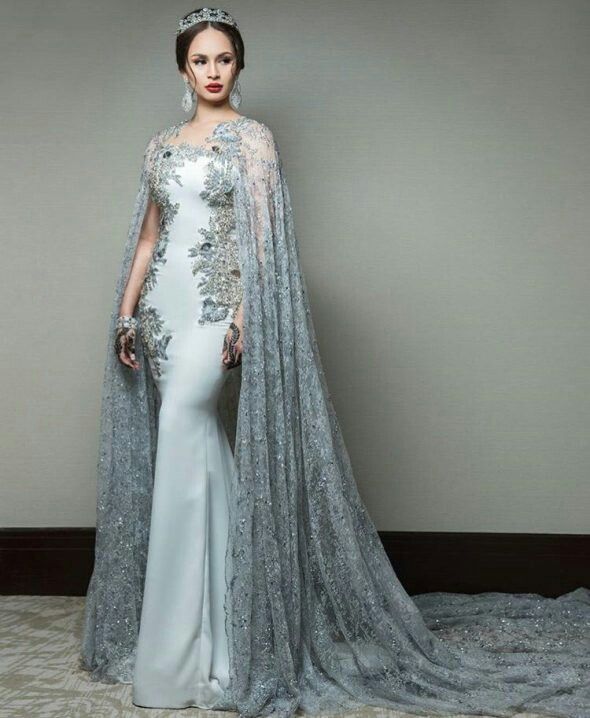 Izara Aishah's wedding ceremony is one Malaysians can never forget. Married to the CEO of Tune Music, Muhammad Adib Khalid, Izara Aishah's gorgeous solemnization was a fairytale come to life. We witnessed the starlet donning a few of couture-esque garments for her ceremonies – but the one that stuck out the most was her wedding reception dress that was just absolutely breathtaking.
Rizalman Ruzaini, the brilliant fashion designer, created a beautiful bespoke wedding gown for Izara Aishah that transformed her into a Grecian beauty. The silky gown was embellished with exquisite silver accents and a long beaded lace grey cape that draped elegantly down her shoulders. It's safe to say that when people think about Izara Aishah, the first thing that comes to mind is this dreamy wedding dress.
Princess Diana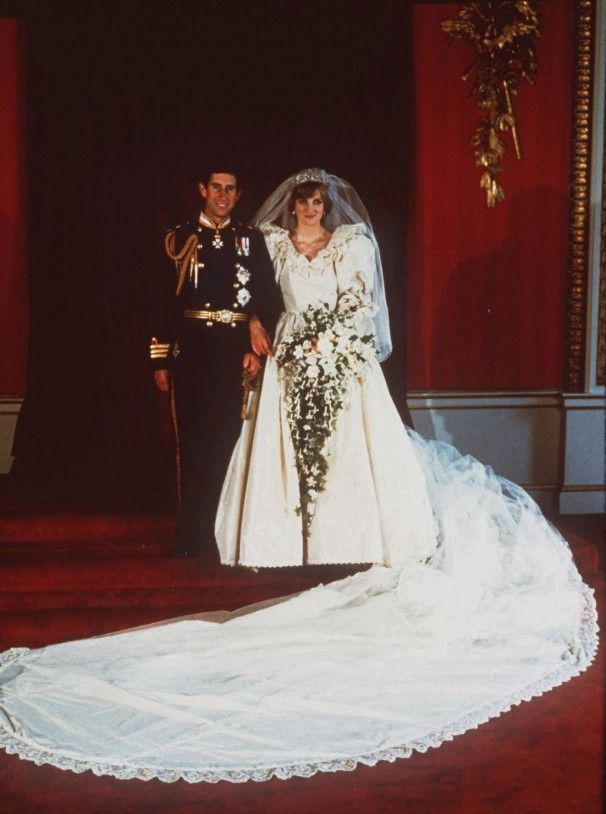 The matrimonial ceremony of Prince Charles and the late Lady Diana is still being talked about today. While some choose to converse about their rocky marriage, others prefer to talk about the dress she wore during her wedding day. The late princess was dressed in a lavish silk-taffeta, enchanting bridal gown with prominent puff sleeves. The 25-foot train decorated with 10,000 mother of pearl crystals and pearls sewn to the garment was the frosting on the cake for this bridal gown. The train was said to be the longest in the history of royal bridal gowns. If you're married to the royals, you might as well go big.
Lady Diana certainly set a precedent on wedding dresses, as we have seen people donning poofy sleeves and huge gowns as their bridal dresses throughout the years. A fashion icon she truly was.
Anzalna Nasir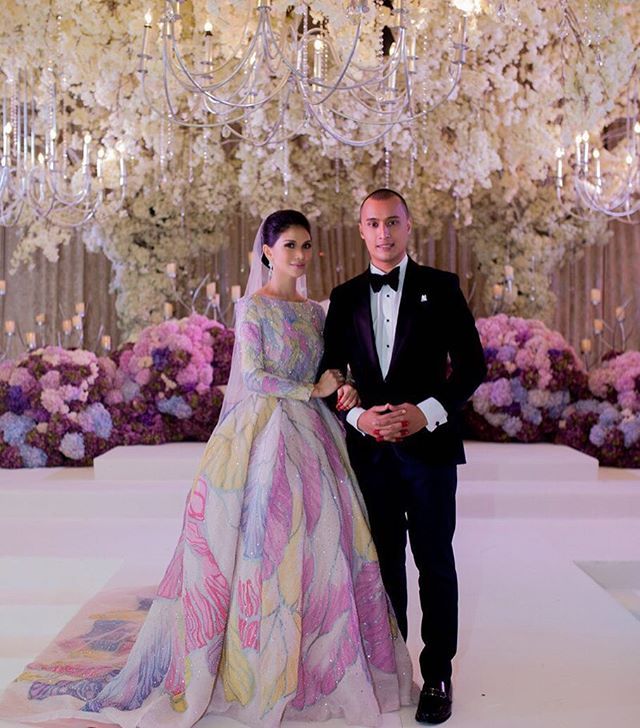 Another local celebrity that had the most exquisite bridal gown which we would be remiss not to mention is Anzalna Nasir. Anzalna Nasir finally married her longtime fiancé, Mohammad Hanif Mohamad Zaki, at the opulent grand ballroom of the Grand Hyatt Kuala Lumpur. The Malaysian actress and model truly looked like a princess as she dazzled her guests in her bespoke wedding gown, courtesy of The Cosry. The bridal dress sparkled and shined as she walked down the aisle and the hand-painted batik motif made the dress even more unique and chic.
Her dress made headlines nationwide and it's definitely one of the bridal dresses that we would never forget.
Kourtney Kardashian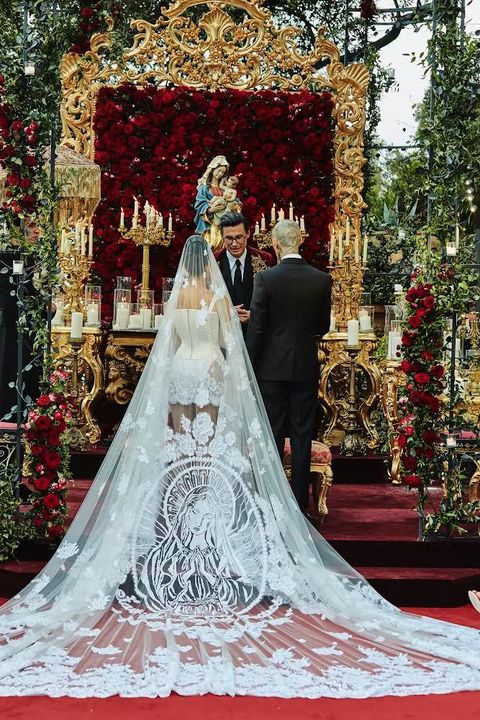 The wedding of the Kravis (Kourtney and Travis) was one of the most anticipated of this year. The pair exchanged vows in a lavish Italian wedding in Portofino, Italy. Since her relationship with Travis Barker, Kourtney Kardashian's style has shifted from her sophisticated LA appearance to a more edgy and darker mood, with her outfits mainly consisting of all-black pieces. So the internet assumed she'd wear black to her wedding ceremony – and boy, were they mistaken!
The reality star went down the aisle in the most scandalous gown imaginable – yet it was just right for her. Kourtney wore a Dolce & Gabbana wedding MINI gown – clearly influenced by 1960s Italian lingerie. The garment included a satin corset on top of a lace bodice, and the veil was the centrepiece of her attire, with an embroidered portrait of the Virgin Mary. While the dress wasn't black as we had hoped, it was definitely made for Kourtney Kardashian
More on celebrity fashion? Read these:
They Fell From The Stars: Fashion Trends Started By Celebrities!