TikTok has a reputation for producing some of the most amusing, interesting, and, quite bluntly, strange trends. But did you know that TikTok has expanded to include cleaning hacks? Cleaning isn't always a fun think to do. All that dust, built-up grime, and potent smells just make cleaning a big hassle.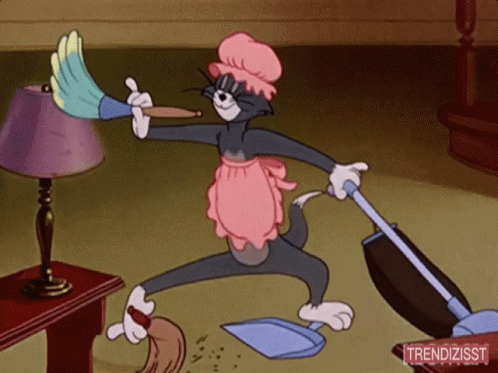 Fortunately, TikTok is here to assist! This app is jam-packed with spring-cleaning hacks and advice, including everything from DIY cleaning gadgets, to how to clean your ceiling fans. In no time, you'll be decluttering and trying out DIY cleaning solutions thanks to the brilliant tutorials.
Here's a list of easy cleaning hacks from TikTok:
1. Clean without chemicals
Every house has a distinct odour. However, some houses smell better (or, let's face it, worse) than others. After a long day at work or outside, the next thing we want is to return to home sweet home. Picture this: you've had a long day and the minute you open the main door, you smell that distinctive smell your home has. Simply soothing, isn't it? But what if you've not had time to clean – and notice weird smells lingering around? Don't worry, cause we've got the perfect solution for you.
Grab a pot and fill some water. Bring it to a simmer and add sliced lemon, mint leaves, and cinnamon powder/sticks. Now, simply allow this scent to penetrate and let it simmer until you whole house smells delightful. Who says only chemicals can do the trick!
2. Pan cleaning
This chore, in particular, annoys me the most. You buy expensive pots and pans and after using them only a few times, you notice this stubborn stain right underneath them. Of course, staying up late and scrubbing isn't a really good option. Luckily, there's a trick that comes in handy. All you need is some hydrogen peroxide and baking soda. Grab your stained pots or pans and spray on some hydrogen peroxide, followed by a good amount of baking soda on top. Let it sit for 10 minutes. Then, grab a sponge, spray some hydrogen peroxide on it and start scrubbing your pan. In no time, you'll have clean, good as new pots and pans.
3. Refresh your carpet
Who wants a smelly carpet? Not in my house! When your rug or carpet smells musty, you don't need to head to the laundry. Simply try this TikTok hack and your rugs will look fresh. In a jar, pour in some baking soda and add a few drops of your favourite essential oil. Close the lid and give the jar a good shake. Then, grab a handful of the mixture and sprinkle it on your rugs or carpet. Let it stay for about 10 minutes and vacuum.
4. Dusting your fan
This hack is definitely helpful, especially if you're someone with sinus problems. I find it hard when it comes to dusting my fan. Not to mention that you have to climb onto a chair or ladder to get the job done. However, TikTok has shared this amazing hack that might just make life easier. Skip the duster and grab a pillowcase instead, to keep any residual dust from your ceiling fan from dropping onto your newly cleaned sheets or freshly vacuumed carpet. Wrap the pillowcase securely around the entire fan blade and pull it slowly toward you to sweep up and catch the dust.
5. DIY disinfecting wipes
Why waste money buying disinfecting wiped when you can make your own reusable disinfecting wipe. This trick is definitely a life saver. All you need is some wash cloths and a few ingredients. To make your DIY disinfecting wipes, start by filling a jar with 2 cups of water, 1 cup of vinegar, 1/2 cup of rubbing alcohol, and a few drops of essential oil. Then grab your washcloths, put them in the jar and give it a good shake until the cloths are all soaked. Now, your disinfecting wipes are ready to use!
6. Clean water to mop
You know how we use the same water to mop, right? Well, this trick makes so much sense and it'll definitely make mopping worthwhile. Grab your usual mopping pail and place another pail inside. It sounds weird but just trust the process. Now, in the second pail, pour in your floor cleaner and water, just like you normally would. Dip your mop in the pail filled with soap and rinse in the original mopping pail. Confusing? The TikTok video should explain better. This hack is pretty genius, because you don't reuse the dirty water, but instead, use clean water to mop.
More cleaning hacks? Read this:
It's About Time The Pests Left Your Home! These Handy Tips And Tricks Will Get Rid To Cockroaches In No Time