KFC will always have a special place in our hearts. Birthdays, anniversaries, holiday festivities and even ordinary, everyday occasions – each has a KFC memory attached to it. Malaysians' common love for KFC (a.k.a. Kepci!) draws people together and helps create memorable moments. We've all grown up enjoying this world-famous Finger Lickin' Good chicken, and the affection continues to grow.
KFC is honored to be a member of Malaysia's fabric of society for almost five decades, with over 740 restaurants that serve Malaysians every day. KFC's commitments remain the same: to continually create alluring tastes and amazing moments for all, strictly according to uncompromising values and high quality to make every visit worthwhile. Therefore, KFC will implement a "Quality Taste Guaranteed" policy that will allow consumers to exchange any chicken that they perceive to be of poor quality in any way.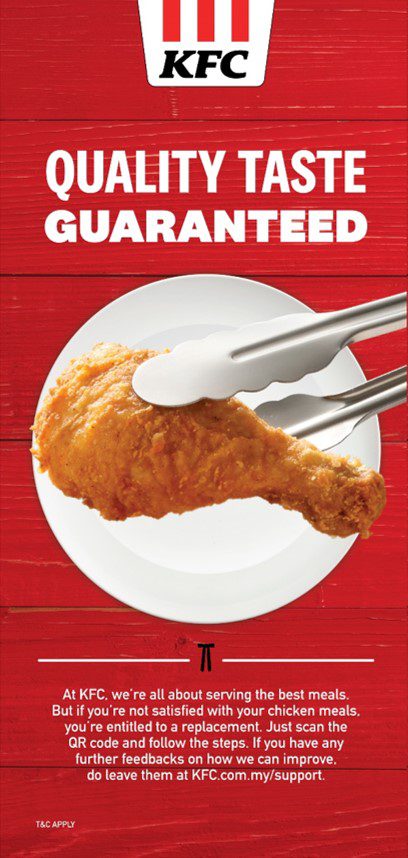 Customers can request a replacement by scanning the unique QR code supplied at the store, filling out and submitting the replacement form, and presenting the "thank you" page at the counter.
KFC is currently providing completely fresh Jimat Siang for a limited time only, giving us even more reasons to rekindle our love for KFC and eat warm and tasty meals. Jimat Siang offers even greater bang for your buck lunch combinations, with the starting price at RM7.99 from Mondays to Thursdays, between 12 noon and 2pm.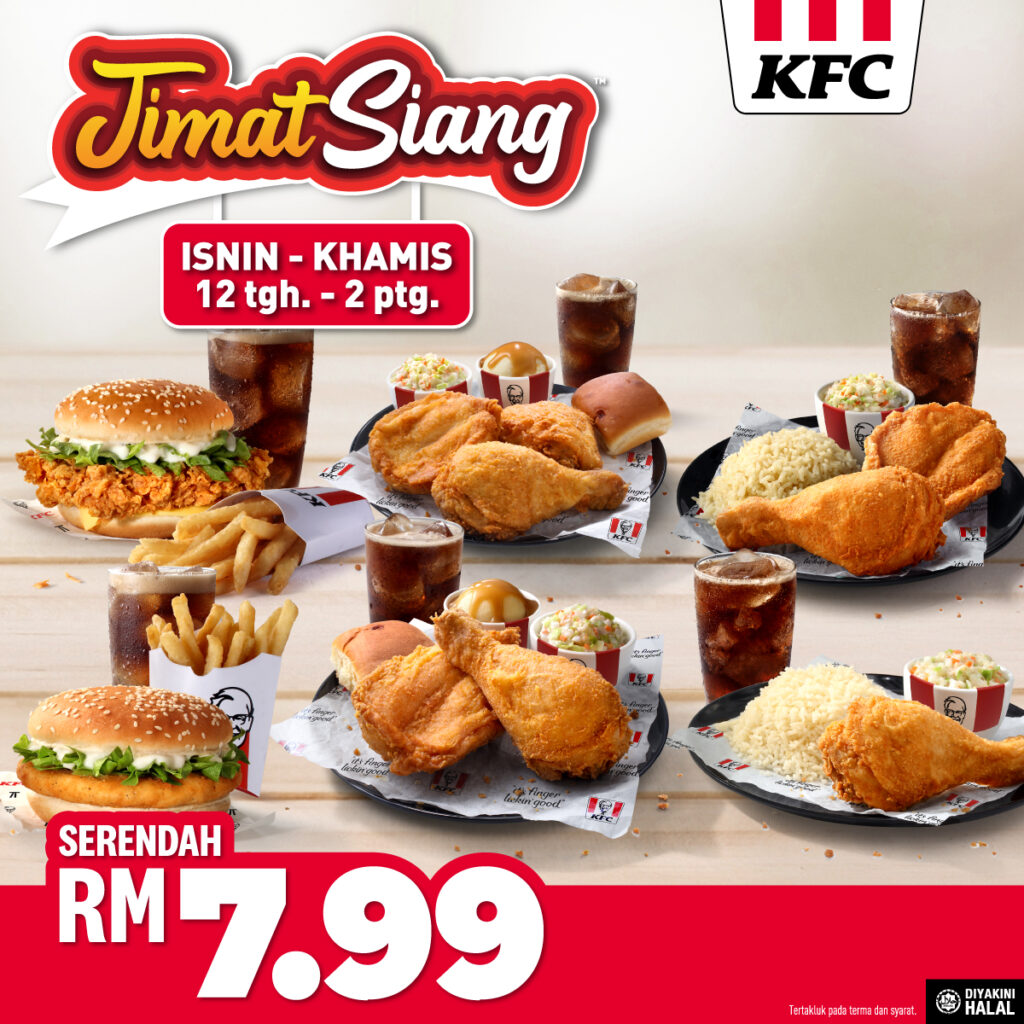 The fun doesn't stop there: in honour of KFC's secret recipe combination of 11 herbs and spices, KFC Malaysia teamed with outstanding local artists Wilson Ng, Book of Lai, and Arif Rafhan Othman to create 11 one-of-a-kind NFT artwork pieces.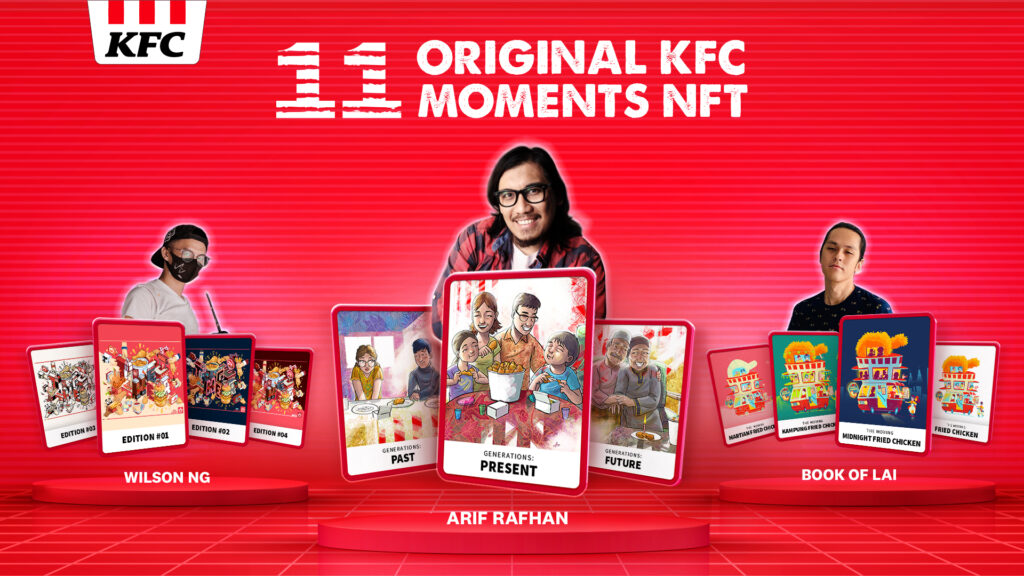 Starting today, fans can get their fingers on 8 of these special KFC NFTs – Original KFC Moments at OpenSea, the world's largest NFT marketplace, while the remaining 3 NFTs may be won by entering a social contest on KFC's Instagram page.
Did you think it was over? Not yet, since KFC is going bigger than ever!  KFC Malaysia has launched the KFC Klaw for Chicken Claw Machine housed by a gigantic KFC Bucket.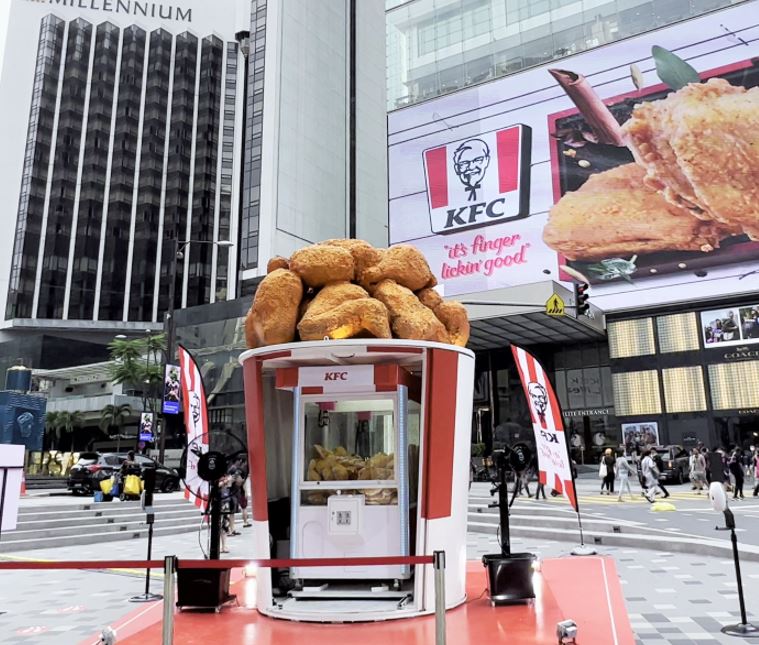 From today until June 9, 2022, KFC lovers who visit [email protected] Gallery will be clucking with delight as they can play and win KFC coupons and Drummie Plushies at predetermined dates and times. Other exciting highlights, such as a photo booth, are hosted here as well – so pay a visit and don't miss out on the fun!
More on KFC? Read this: 
What The Cluck? Lay's X KFC Launch Hot & Spicy Chicken Potato Chips (Yay!)