Ramadan is not only the holiest month of the year for Muslims, but it's also a time of fasting, spiritual reflection and self-improvement. For the duration of Ramadan, Muslims abstain from drinking and eating from dawn to dusk, and buka puasa or break fast with their loved ones by indulging in special Ramadan dishes, bazaar delicacies, or huge buffet spreads.
Managing physical activity and exercise during Ramadan isn't easy – especially when you are not eating and drinking. A survey by BMC Public Health found that 50% of fasting Muslims agree their physical activity decreased drastically during the four weeks of Ramadan.
But with the right steps, it is possible to incorporate exercise into your schedule, while being careful not to overexert your body. Those who are fasting can utilise mobile apps such as Muslim Pro to not only keep track of prayers and fasting times, but to also access relevant lifestyle content such as exercise routines and Ramadan recipes.
We spoke to fitness entrepreneur Nawal Alhaddad for her tips on how to incorporate exercise during Ramadan. Readers can also check out her series of step-by-step Ramadan-friendly work outs on the Muslim Pro app!
1. Start slow and steady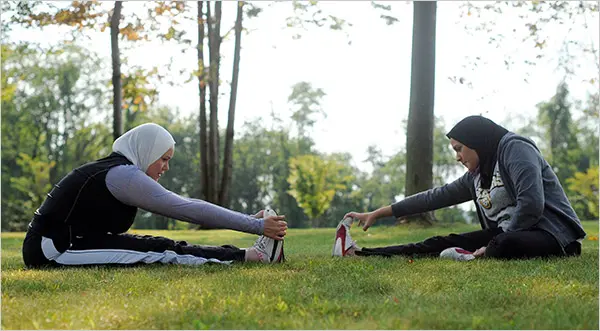 For anyone into fitness, a common goal is to 'go harder'; run one lap further, lift heavier weights, or exercise for 30 more minutes. While your body can usually sustain this added effort, during Ramadan (especially the first week) you should lower your workout intensity and take your workouts easier for a week or two until your body adjusts to your fasting schedule. This could look like doing fewer days of exercise, using lighter weights or doing shorter workouts. Ease your body into its new schedule and soon, daily exercise during Ramadan will feel natural.
2. Pick your time
During Ramadan, your typical workout timings may need some adjustment, mainly working around the fasting period and buka puasa timings. Nawal says her personal favourite time to workout during Ramadan is in the evening – about an hour before breaking fast – so you don't have to wait too long before your meal. Plus, exercise is the best way to build an appetite! If working out on an empty stomach isn't for you, consider working out at night, after you've broken fast. Or if you're an early bird, try exercising before or after your pre-dawn meal – it'll certainly be a great way to energise before starting the day!
3. A wholesome diet
During Ramadan we're surrounded with rich and delicious food – and while you can certainly indulge, it's also important to practise moderation and ensuring you're getting the nutrients your body needs. Especially if you choose to exercise during Ramadan, you should focus on consuming enough protein-rich foods to help your body recover from your workout and your fasts. Chicken and beef are the usual options that pop in your head when you think of protein, but also consider the variety of fish like tuna or salmon, and plants like black beans and lentils which can pack a protein punch. Limiting fatty or oily foods will also help to avoid that sluggish feeling when fasting – instead, load up on fibre-laden fruits or greens that will help you feel full and energised. Papayas, spinach and cauliflowers are some that top our list!
4. Try a new workout style
Your usual high intensity activities and workouts may not be as accessible during Ramadan, depending on your energy levels. Whether it's playing football with friends or maxing out your weights every week at the gym, these things can be hard to keep up with when you're fasting. Ramadan is the perfect time to try something new that allows you to continue moving your body, but perhaps at a different pace. Yoga is a great workout to build muscle strength while finding some relaxation at the same time. Alternatively, cycling and swimming are two lower-impact exercises you can perform at your own pace.
5. Listen to your body
Last and definitely not least, your body will tell you what you need – all you have to do is pause and listen. While exercise will lead to better overall health, it's important to note that your body needs time to adapt to new situations. If you're not at your fitness peak this Ramadan, don't worry. There are plenty of ways you can still keep fit without pushing yourself over the limit. It is important that you give your body the love it deserves this Holy month.
More on Ramadan? Read this:
https://lipstiq.com/ramadan/195827/fast-but-not-furious-safe-simple-exercises-you-can-do-during-ramadan/